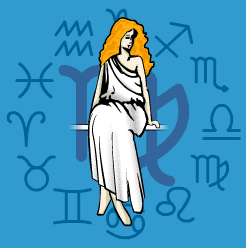 Virgo
August 24 - September 23
---
Your Birthday Horoscope
IF ITS YOUR BIRTHDAY TODAY your year ahead will be happy at home and more content within yourself, as well as revitalised and energetic socially. You won't hold back when it comes to heading for what you want and will sweep obstacles to one side. One partner may be preoccupied so be forgiving and let them wander as suits them. You won't be lonely, though you will need to put aside time to sort out practical domestic matters and untangle family dilemmas.
Today's Horoscope for Sunday August 25th
Your mind is wandering around restlessly and maybe you are too susceptible to persuasion by others. You pick up subtle clues from others and this can make you biased without realising it. You will hesitate to voice your opinion because you fear you won't be heard. Listen rather than talk, absorb and keep your own counsel. Though it's important to you that others appreciate what you're doing, so that means you have to go out of your way to please them.
The Weekly Outlook from 19th August
All the recent delays will disappear as red lights turn green and you'll be off. Your energy and enthusiasm will be shooting up and you won't allow anyone or anything to get in your way. You won't be backwards about speaking your mind and will enjoy leaping into discussions. You will be looking great, attracting favourable comments and compliments for the care you take over your appearance, and generally putting your best foot forward in social company.
Your Monthly Horoscope for August
Never one to push yourself forward, you'll be content to amble along letting others take the glory and do the running around for three weeks. This is your time in the year to step back, do less and find time for reflection and planning. You won't be overly sociable but will be getting in touch with your deeper feelings in quiet moments. Contented within yourself, you'll be happy to wait for your more ambitious plans to come to fruition. You'll be pondering on ways to improve your domestic set up by giving yourself more space. Family relationships should be purring along more harmoniously than for a while. Then after mid month your engine will start to rev and you'll be off, pushing obstacles to one side and allowing nothing to slow you down. Luckily you'll be able to stay tactful as well as energetic so shouldn't ruffle too many feathers. You'll be opening your eyes to new ways of looking at the universe and being open minded about other beliefs.
and Next Month's Horoscope for September
Your birthday Sun is getting a high-octane boost from Mars as well as chatty Mercury and charming Venus all in your own sign. So your feet won't hit the floor as you push ahead with vigour, sweeping obstacles to one side. You'll feel more vitality plus than for a while so no point in letting your super-charged energy and confidence go to waste. You'll be happier at home and with the family even if one member does take your good nature too much for granted. Treat a close partner with kid gloves since they'll either be preoccupied with their own concerns or drifting around in a haze. There's no sense in trying to pin them down until they are back in focus. In the final few days you'll be spending and saving money at the same time, keen to pamper yourself and also boost your security.
Year Ahead 2019
The good news is you'll feel happier at home, more content within yourself and be contemplating how best to improve your domestic set up. Relationships within the wider family will be easier as well with a generally hopeful mood about sharing ideals and hopes for the future. Which isn't to say you won't feel weighed down at times by the responsibilities that loved ones are landing on you. There'll be less time and energy for kicking up your heels socially. But that doesn't mean you shouldn't try to inject more adventure into your leisure activities and demand more attention for yourself. Your heart will yearn for more exciting trips and travel so make the effort to move out of your comfort zone once in a while. You'll be exploring new ideas and belief systems and opening your mind to a new view of the world. If those close scoff at your unconventional interests you won't care. April to June will find you battling ambitiously ahead, determined to make your mark and gain recognition for your talents. Though it'll be all too tempting to withdraw into your intimate surroundings and stay in your comfortable shell. After mid-year, you'll gear yourself up to sort out a long-term plans that gives you sensible goals to aim for and a practical strategy for making it work. A wider circle of friends will be around to keep you company and offer advice. In general you'll need to manage your finances with an eye to prevailing circumstances which won't be favourable for anyone. Tightening your belt and cutting out extravagances will boost your security and give you peace of mind. From December you'll move into a more buoyant, enthusiastic, sociable and confident phase which augurs well for 2020.