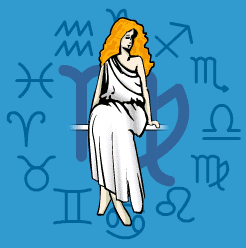 Virgo
August 24 - September 23
---
Today's Horoscope for Wednesday December 12th
You may be taking too narrow a view of one situation, selecting some facts and ignoring others for no good reason. More emotional than usual, you may be over-sensitive to the slightest whiff of criticism. Try not to sound too defensive, when most often it will not be necessary. You will have a more imaginative way of thinking and speaking than usual. This can be useful since you are absorbing a good deal of information from your surroundings, almost without noticing.
The Weekly Outlook from 10th December
You yearn to feel rooted, as if you belonged to a familiar place and to the people who make you feel most relaxed. You may also now have a chance now to work out how best to improve your intimate surroundings. You may be taking other people's comment too personally, fearing slights where none were intended. You are more sensitive and moody than usual, so will want to retreat into your shell if you feel your views are being attacked.
Your Monthly Horoscope for December
Having slowed down your recent busy schedule, you'll be luxuriating in quiet, indulgent moments at home or in familiar surroundings. You'll grab the chance of time for reflection to get perspective on events earlier in the year. Close partners will be speeding along and not always patient so you'll need to keep the peace. Though frankly you will duck and dive to avoid getting dragged into situations which are not of your making. Luckily everyday mates at work and in the neighbourhood will be appreciative and make you feel loved and wanted. There'll be charming encounters and fun conversations along the way as you smooth round rough edges and make yourself popular. Talking over domestic matters and having heart-to-heart chats with those close after the 12th will ease tensions. And by the 20th you'll be struck by a brilliant inspiration which will provide a solution to both cash and emotional concerns. Then in the final days you'll be off to play in a sociable and entertaining few days.
and Next Month's Horoscope for January
You may be overly serious as the New Year turns, determined to resolve confidential problems, financial and emotional and asking yourself probing questions about fundamental matters. What riles you is that you should be having fun, kicking up your heels and attracting attention. But those close will be demanding and breathing excitement into your social life will feel like hard work. Content yourself with plotting and planning how to attract more affection and enjoyment in coming months. Be persevering. Loved ones won't always be on your wavelength but there's no sense in hanging on too tightly. Handle your love life with a light touch, even if it takes an effort. There'll be chances to relax at home and snuggle down in familiar surroundings. You'll contemplate sprucing up the decoration to give you a lift. In the final days you'll be settling into a sensible practical rhythm, cracking on through the chores and staying fit. Good news will come about one family or domestic matter.
Year Ahead 2018
A busy busy, varied and enthusiastic everyday schedule will keep you on the run and never bored. Always a great chatter, you'll be communicating with even more exuberance and finding that your new more positive and tolerant approach is paying dividends. Suddenly your world will seem a brighter place with new contacts and fun encounters along the way.rnThere'll be less time for fun and social high-jinks since duty will get in the way and you may find it more difficult to be spontaneous and outgoing. Make the effort. You all too easily fall into being a workaholic. Remember you're an Earth sign and they always need some indulgence before they feel happy. Those close may be landing heavier responsibilities on you which will teach you valuable lessons about love. In giving to others you give to yourself.rnOne close partner will be vague, preoccupied or even downright evasive. And truthfully you won't be too sure of how committed you want to be. Search out more spiritual connections and you'll be more satisfied.rnJoint finances will continue to be up and down, sometimes great and at other times unexpected expenses will throw your budget out. So plan to save when there is surplus to tide you over the leaner times.rnThe first half year will be hard-working so you'll need to be on top efficiency form, as well as boosting your fitness and stamina when you can. After mid year you'll want more time for private reflection, to put the past into perspective.rnYou'll also from July be keen to widen your circle of friends and to be a better networker. Perseverance will pay off. Late in the year you'll be more content within yourself, relaxing happily at home, even in your own company. And planning how to expand your domestic setting to allow for more entertaining.