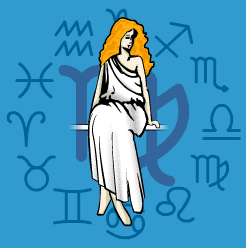 Virgo
August 24 - September 23
---
Today's Horoscope for Saturday December 03rd
A hidden Moon may make you possessive about material objects or about memories from the past. Be sentimental but don't hang on too tightly, or dig your heels in too much. You will need to stand firm until you find the answers you are looking for but then let go of whatever is not needed for the days ahead, roll with the flow. But do it sensitively where loved ones are concerned. They need nurturing and protecting not pushed into over hasty action which could arouse their resistance.
The Weekly Outlook from 28th November
Those close will be inclined to moan and groan for a day or so. Life won't be perfect. But what can you do? Get real for one thing. This is the way it is and once you accept the bottom line, then everything becomes much easier to handle. Be solid, down-to-earth, be dutiful and you will emerge with your halo polished. After midweek you'll be lively, upbeat and throwing yourself with gusto into whatever interests you, whether it's social, romantic or creative. Don't hold back from telling someone you fancy them.
Your Monthly Horoscope for December
Keen to be in charge, take the lead and issue orders, you'll be flying ahead but also aware that you want a chance to relax at home, or at least put your domestic life up as the priority. Roots, belonging and comfort will all be important to your peace of mind. Having loved ones around and forging stronger family ties will also be on your wish list. If you can hold back on demands and soften your approach, sweeping those close up in your enthusiasm, you'll make faster progress towards your goals. One partner may be evasive or uncertain so you'll need to forgive and forget if they aren't on your wavelength and giving you straight answers. Your sparkle will be out on display at parties and your mischievous line in witty comments will send your popularity soaring. There'll be no shortage of invitations or compliments, even more in the final ten days with the Sun moving through your chart area of entertainment and enjoyment. Generous support, even money, will come your way.
and Next Month's Horoscope for January
Year Ahead 2022
2022 will be your year of blossoming close relationships with Jupiter casting an expansive glow over your one-to-one bonds as well as your social interactions. After a few months this planet of good fortune will also attract money your way in windfalls, bonuses or acts of generosity. There will also be a definite shift from May onwards with positive changes ushering you away from the past into a new phase.rnYou'll still be sorting out everyday details and having to stay on top of practical chores early and late in the year. Your imagination will soar across the middle months as you aim higher and will be keen to broaden your horizons and find adventure and challenge. Throughout you need to keep an eye on fitness and health since you will be continuing to learn lessons about where your limits are. Over pushing yourself with work will run you out of energy, so pacing yourself and being sensible will be wise.rnOne close partner may be elusive, evasive or just vague and inclined to lean rather than offer solid support. Being caring and sympathetic will be the best way to cope. You won't be sure how much commitment and togetherness you want anyway, so standing back once in a while will make you feel better.rnFrom August onwards with Mars at your midheaven you'll be firing on all cylinders, pushing ambitious projects ahead and insisting that everyone close wakens up and toes your line. You may be accused of being bossy, but you know that a general wake-up call is needed if you're to make progress.