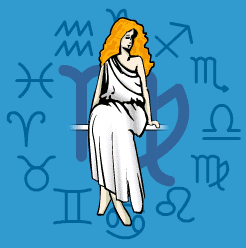 Virgo
August 24 - September 23
---
Today's Horoscope for Monday February 18th
You will be pushing aside indulgences and frivolities for a short while because you have decided to be more conscientious and responsible. Maybe this is because you feel that you aren't being appreciated or admired enough at the moment. Saturn has a habit of denting your self-confidence, but on the other hand it does strengthen your sense of self-discipline. Later on you'll cast off your cares and have a sense that circumstances are now beginning to shift in your favour.
The Weekly Outlook from 18th February
You want to share more this week. Togetherness will be the key to your happiness, both at home and at work. Although you have given in more than usual recently because you were feeling vulnerable and in need of support, now you reckon you have done enough. Maybe you reckon time for a little payback is due, in the nicest possible way. See where you can rally more indulgence for yourself, rather than always being the one who has to shift ground.
Your Monthly Horoscope for February
Your social life will bounce back to life with a sparkle as invites pour in and loved ones rally round with affectionate attention. Though you'll still be wrestling with secret, highly personal matters for the first two weeks. Try to be accommodating to what's being demanded of you. Not submissive or giving up what's your due, but not expecting to get everything you want. Have a care with money since there will be an unexpected turn of events towards mid month which will need to be budgeted for.rnKnuckling down to chores and getting organised is never a hardship for you and you'll be pleased at the modest progress you make, even if others aren't rushing in with praise. Looking after health and fitness will be important so grab every chance you get to wind down at home or in familiar surroundings. You will notice a growing sense of inner contentment so outer hitches and glitches will make less impact on your state of mind.rnFrom mid month you'll be ready for lift off, with a million bright ideas and lively opinions to keep your life humming along. You'll be yearning for travel or other ways to broaden your horizons. Close partners will pitch in with more practical assistance later so you won't feel you have to do everything yourself.
and Next Month's Horoscope for March
The more you give the more you'll get in a togetherness three weeks. Being a self-sufficient sign you won't always find it easy to ask for what you need and there will be times when certain close partners appear evasive or less supportive than you'd like. So you'll need to forgive and move on, knowing that co-operation, however imperfect, is better than flying solo. You will take comfort from ensuring that loved ones are looked after and you'll even crack on with the chores in good heart. Over eating could be a minor risk as you'll be tempted by richer and sweeter food. Despite everything you'll be spreading your vociferous opinions in all directions and be fine tuning preparations for your next pet projects for action late in the month. From mid month you'll have a determined set in your jaw and no one will distract you. After the 20th, you'll be playing your cards close to your chest and keeping your own counsel. Only those close will be let in on your innermost thoughts and feelings.
Year Ahead 2019
The good news is you'll feel happier at home, more content within yourself and be contemplating how best to improve your domestic set up. Relationships within the wider family will be easier as well with a generally hopeful mood about sharing ideals and hopes for the future. Which isn't to say you won't feel weighed down at times by the responsibilities that loved ones are landing on you. There'll be less time and energy for kicking up your heels socially. But that doesn't mean you shouldn't try to inject more adventure into your leisure activities and demand more attention for yourself. Your heart will yearn for more exciting trips and travel so make the effort to move out of your comfort zone once in a while. You'll be exploring new ideas and belief systems and opening your mind to a new view of the world. If those close scoff at your unconventional interests you won't care. April to June will find you battling ambitiously ahead, determined to make your mark and gain recognition for your talents. Though it'll be all too tempting to withdraw into your intimate surroundings and stay in your comfortable shell. After mid-year, you'll gear yourself up to sort out a long-term plans that gives you sensible goals to aim for and a practical strategy for making it work. A wider circle of friends will be around to keep you company and offer advice. In general you'll need to manage your finances with an eye to prevailing circumstances which won't be favourable for anyone. Tightening your belt and cutting out extravagances will boost your security and give you peace of mind. From December you'll move into a more buoyant, enthusiastic, sociable and confident phase which augurs well for 2020.