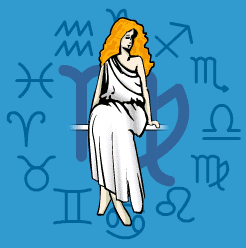 Virgo
August 24 - September 23
---
Today's Horoscope for Tuesday April 23rd
Push away the people who are awkward, back off from tricky circumstances and find a little niche in the office or at home where you can be in charge of all you survey. You want to give yourself the goodies of life. Neptune around in your opposite sign can bring in spiritual connections, or links with creative companions. This can be lovely, but it can also mean you find them rather inaccessible at times, as they disappear into their own inner world.
The Weekly Outlook from 22nd April
Maybe you are not being very practical this week but you can always sort out what is workable in a few weeks time. This is the exciting stage of allowing your visions to flourish. There may be fireworks in the air in terms of everyone's mood. It can be entertaining or it can be disruptive. It just depends how you handle it. Don't try to suppress what you want to say, but don't let it all out in too dramatic a way.
Your Monthly Horoscope for April
Although you'll be happy at home and contented within yourself, you'll feel at times you're pushing boulders uphill elsewhere in your life in the first three weeks. Confidential matters, both financial and emotional, will need attention and fixes found where there have been differences. At times it'll seem all work and no play since loved ones will be demanding and you won't find it easy to let your hair down and enjoy yourself spontaneously. Do what your conscience tells you is enough and then put down a few limits. With Venus in your opposite sign the affectionate support of one close partner won't be in doubt and you'll be in social demand so there will be some high points as well. From the 21st you'll be aiming higher, thinking bigger and talking more confidently, spreading your opinions around widely. Your feelings will be running hot and strong at the same time.
and Next Month's Horoscope for May
An earthy Taurus Moon will pitch your sights higher and lead you towards more adventurous plans. You won't want to be stuck in a rut doing the same old-same old, but will be venturing into the odd risk to waken up your life. This is a time to think big, speak confidently and broaden your horizons however you can. Your ambitions will also be on display since you've no intention of being outwitted or outdone by anyone. You'll work hard, put your foot down about others doing the same and be keen to see tangible results for your efforts. Just don't get carried away in the first week with the notion you can achieve everything at once. Going steadily will produce better results over the longer term. After mid month you'll be emotionally less intense and less secretive and more inclined to share with friends and team matters. Joint efforts will zing along and you'll be rewarded with praise and recognition from the right people. A high profile, hard working final ten days will find you sailing along in good spirits.
Year Ahead 2019
The good news is you'll feel happier at home, more content within yourself and be contemplating how best to improve your domestic set up. Relationships within the wider family will be easier as well with a generally hopeful mood about sharing ideals and hopes for the future. Which isn't to say you won't feel weighed down at times by the responsibilities that loved ones are landing on you. There'll be less time and energy for kicking up your heels socially. But that doesn't mean you shouldn't try to inject more adventure into your leisure activities and demand more attention for yourself. Your heart will yearn for more exciting trips and travel so make the effort to move out of your comfort zone once in a while. You'll be exploring new ideas and belief systems and opening your mind to a new view of the world. If those close scoff at your unconventional interests you won't care. April to June will find you battling ambitiously ahead, determined to make your mark and gain recognition for your talents. Though it'll be all too tempting to withdraw into your intimate surroundings and stay in your comfortable shell. After mid-year, you'll gear yourself up to sort out a long-term plans that gives you sensible goals to aim for and a practical strategy for making it work. A wider circle of friends will be around to keep you company and offer advice. In general you'll need to manage your finances with an eye to prevailing circumstances which won't be favourable for anyone. Tightening your belt and cutting out extravagances will boost your security and give you peace of mind. From December you'll move into a more buoyant, enthusiastic, sociable and confident phase which augurs well for 2020.