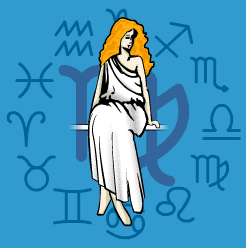 Virgo
August 24 - September 23
---
Your Birthday Horoscope
IF ITS YOUR BIRTHDAY TODAY your year ahead will be self-confident and outgoing, a time when you'll push old self-doubts to one side and despite demands from loved ones will step out boldly on the social scene. At times you'll need to push hard to stay spontaneous since duty will be pressing. But it'll be important to find a balance between work and play. Joint finances will require a firm hand and patience as well as flexibility. Only by sticking to your guns will you find a way of reaching fairer agreements.
Today's Horoscope for Saturday September 19th
You could feel badly done to since it's all work and no play for a while. Don't get gloomy since it is only a passing blip. Saturn always demands discipline and makes indulging yourself difficult. Where money is concerned you want to make more in partnership with others so you will be trying hard to co-operate. Though your determination to get your own way where emotional or confidential matters are concerned may make coming to necessary compromises difficult.
The Weekly Outlook from 14th September
Projects or activities which have become confused or been delayed need a sensible strategy to get them rolling again. You may feel puzzled initially about how best to tackle the problem but keep persevering and the answers will come. It might be a good time for house-cleaning, having a grand clear out and re-organisation. With the New Moon in your sign it is your time to make good resolutions for the year ahead. Decide how you want to change your image to match the person you want to become. Be bold and be yourself.
Your Monthly Horoscope for September
As you set foot into a new birthday year ahead with the Virgo Sun in place until the 22nd, you'll have a more determined look in your eye than usual. You'll know you have the confidence, ability and the favourable circumstances to forge ahead with your pet schemes and to be a stronger presence out on the social scene. Everyone you come across will sit up and take note when you sweep into rooms. OK so one close partner may be vague, uncertain or evasive, but you might as well leave them to their own devices and they'll come round eventually. The tricky dilemmas you've been struggling with in recent weeks, financial and emotional, you'll try to keep under wraps for this month though you know you've another few laps to run before you can hope to bring closure. A triumph on the 9th will make you glow with satisfaction and by mid month you'll reckon you're back in control of events. You may not be as sociable or romantic as usual but you won't be short of admiring company. Into the final week, you'll turn your attention to money to see how to improve your situation and give yourself more for spending.
and Next Month's Horoscope for October
Keeping your eye pinned firmly on your finances will be your priority in a fast-moving month where your plans and budget will have to keep pace with constantly changing circumstances. There'll be times where you feel lucky, other times you'll be inclined to spend to impress and yet other where you know that caution and austerity make more sense. If you can take the initiative to improve your long-term security and not be provoked or tempted into snap decisions then you will make headway. But you will need to play your cards close to your chest and stay persevering. You won't be entirely free to make all the decisions you'd like and will have to take the wishes of partners or others into account. Reaching fairer agreements will require a firm but flexible approach since you will have to compromise. Luckily charming Venus in your own sign from early till late month will make it easier to sweet talk companions into giving way. A busy schedule in the final week will oddly enough free you up as restrictions lift and you're on your way.
Year Ahead 2020
2020 will find you struggling to decide what you want to do about your lacklustre social and romantic connections. Circumstances appear to be conspiring against you wakening up your emotional life, at least early on. But don't be disheartened. There's nothing that determination and perseverance can't fix. OK loved ones will be landing heavier responsibilities on you so it will feel like all give and not much get. But gradually you'll see a light at the end of the tunnel. As you learn the lessons of true love in putting others needs before your own you'll find the rewards start to trickle through. Invitations and compliments will come your way and gradually you'll find your efforts to put others first have not been in vain. It'll still be a bumpy ride since it's that kind of year, with nothing staying settled for long. But there'll be social highs in March, June and November. And that will be all the more noticeable across the middle months of the year with Venus at your midheaven giving you the chance to sparkle in the right company.rnFrom March to July you will be landed with more work than usual so need to look after fitness and stamina. If you're putting energy out then you'll need to refill your reservoir. Pushing past your limits won't be a good idea.rnSorting out your finances and other confidential matters will be a preoccupation from July onwards till the New Year. There won't be quick n' easy answers so be prepared for a long haul with compromises needed along the way. There'll be endless distractions and some dramas along the way but you'll keep your head down and be rewarded by more security at the end of it.rnIn the final month you'll pull back to focus on home and family matters, aware that making long overdue changes is crucial. Ask for what you need from loved ones and don't be put off by their conflicting wishes. Put yourself first.