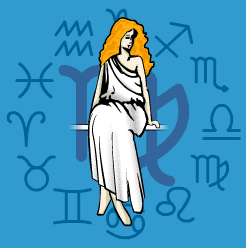 Virgo
August 24 - September 23
---
Today's Horoscope for Thursday July 09th
You will find yourself open to unconventional ideas and outlooks which will astonish those who knew you of old. You may be taken aback by certain events which blow up suddenly so keep your highly strung nervous system in hand. Aim for togetherness, for keeping things quiet, calm, harmonious and pleasant. And you'll be glad you did. Just ignore any niggling worries you have about close partners, since more than likely it will all be in your imagination.
The Weekly Outlook from 06th July
Although you know you really should be thinking long term, what you really want is to play away the day and enjoy yourself. Balancing the needs of the future with your instant desire for fun is part of the message of this week's Lunar Eclipse. Mars which is full of vim and vigour will give you a helpful nudge in the right direction. You'll be clear about what you want and how you intend to get it. Just try not to get impatient if anything or anyone gets in your way. Your fuse may be shorter than usual.
Your Monthly Horoscope for July
In a friendly, forward-looking three weeks, you won't go short of good company or intriguing plans for your next twelve months. You'll be swopping ideas and asking for advice from trusted mates, since the more options you review, the better decisions you'll make. At times your mischievous streak will prompt you to make comments that startle or shock others just to amuse yourself. The Lunar Eclipse in Capricorn hints about a need to share your attention. Loved ones will also want a look in and be clamouring for your presence so you may find yourself spread thin over the coming months. You'll be raring to go towards mid-month but may also go a step too far too fast and have to backtrack a few days later. It's no time to gamble or take risk with money or indeed to take a close partner for granted. You'll wind down in the final days, giving yourself a break and a much needed breather from too much rushing around.
and Next Month's Horoscope for August
Despite your best efforts at tucking yourself out of sight and taking it easy, there may be a difference of opinion early on. You won't mean to cause trouble but you'll speak the truth as you see it without fear or favour when a surprise turn of events blows up. You'll find the stop start mood continues as your enthusiasm for a secret scheme runs away with you no matter the cost. Then you'll find it wasn't such a hot idea after all. Keep reminding yourself that until the 23rd your main priority is to recharge your batteries, look backwards and learn the lessons of the past year and prepare for the new phase coming when your birthday Sun turns up later in the month. Be content to sit on the side-lines and letting others do the running around. You won't see eye to eye with a loved one towards mid-month but not making mountains out of a molehill will help. You will have confidential financial matters to sort out which will require perseverance and flexibility since you won't get it all your own way. From the 20th you'll be more upfront about what you want and will find you have the energy and opportunity to make faster progress. A loved one may be crotchety so you'll need to leave them to their own devices.
Year Ahead 2020
2020 will find you struggling to decide what you want to do about your lacklustre social and romantic connections. Circumstances appear to be conspiring against you wakening up your emotional life, at least early on. But don't be disheartened. There's nothing that determination and perseverance can't fix. OK loved ones will be landing heavier responsibilities on you so it will feel like all give and not much get. But gradually you'll see a light at the end of the tunnel. As you learn the lessons of true love in putting others needs before your own you'll find the rewards start to trickle through. Invitations and compliments will come your way and gradually you'll find your efforts to put others first have not been in vain. It'll still be a bumpy ride since it's that kind of year, with nothing staying settled for long. But there'll be social highs in March, June and November. And that will be all the more noticeable across the middle months of the year with Venus at your midheaven giving you the chance to sparkle in the right company.rnFrom March to July you will be landed with more work than usual so need to look after fitness and stamina. If you're putting energy out then you'll need to refill your reservoir. Pushing past your limits won't be a good idea.rnSorting out your finances and other confidential matters will be a preoccupation from July onwards till the New Year. There won't be quick n' easy answers so be prepared for a long haul with compromises needed along the way. There'll be endless distractions and some dramas along the way but you'll keep your head down and be rewarded by more security at the end of it.rnIn the final month you'll pull back to focus on home and family matters, aware that making long overdue changes is crucial. Ask for what you need from loved ones and don't be put off by their conflicting wishes. Put yourself first.