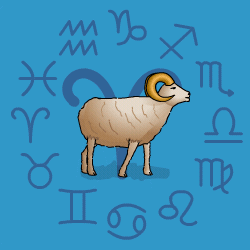 Aries
March 21 - April 20
---
Today's Horoscope for Friday October 18th
Constantly on the go, you'll be looking for challenging companions to keep you on your toes or picking up new activities to broaden your mind. Make the effort to reach out and ask for what you need. Though do realise in your excitement you may be saying things to others in a way that they don't understand. The words all just flow out like a flood. If you could stand back and be more thoughtful, organising your ideas before you leap ahead it'll help.
The Weekly Outlook from 14th October
Always pushed and pulled when the Full Moon is around, you may be especially sensitive aware since this week's is the one which falls in your own sign. Don't leap to any instant decisions since your judgement may be a little awry. Just try to keep a balanced view of your closest relationships and don't lose your sense of humour. Sometimes a joke can break tension or lift everyone's spirits when they have become obsessed about tricky situations to which there is no obvious answer.
Your Monthly Horoscope for October
Close partnerships may not be easy to keep harmonious but you won't be either in a mood or a position to fly solo for a few weeks. You will have a good deal on your plate, heavy responsibilities to shoulder and not a few problems to solve. Saturn and Pluto at your midheaven will insist you stick to the straight and narrow, so cutting corners and looking for the quick n' easy way out won't work. If there are setbacks and delays you'll need to be patient. If someone is acting unfairly try not to over-react. Be subtle and strategic and you'll get your own aback more effectively. Behind the scenes you'll be plotting and planning ways of reaching fairer agreements over cash or emotional matters. Your feelings will run hot and strong but you could be at risk of exaggerating in one situation. Luckily your enthusiasm will soar towards midmonth as good news comes through. An edgy final few days will find you playing your cards close to your chest.
and Next Month's Horoscope for November
If you focus on your social life you'll be enthusiastic, adventurous and in the mood for excitement and mixing with the fun crowd. Otherwise you'll be embroiled in confidential matters, pushing mightily to reach fairer agreements over finances or your intimate emotional life and finding it very slow going. Try to realise that your perseverance and struggle will pay off though it may take a few weeks. One close partner will be digging in their heels and refusing to budge before the 5th so you'll need to be tactful and strategic. Good news just before mid-month may seem like a lucky break but you'll create your own good fortune by being positive and determined. Mars, your ruler, moving into Scorpio from the 19th until early January will find you gritting your teeth harder and refusing to give way in keys discussions. But you won't be all battened down with a surge of exuberance keeping you afloat and chatting animatedly.
Year Ahead 2019
You'll be pushing extra hard as the New Year opens, determined to make your mark and to get your talents recognised. There'll be obstacles to overcome, requiring self-discipline and perseverance. Letting self-doubt slow you down won't be helpful and luckily Jupiter in Sagittarius will keep your enthusiasm from flagging. And what will give your efforts an additional nudge is your feeling that it's now or never for success. That isn't true but the motivation will help you to make progress in sticky times. The early Lunar Eclipse will also nudge you to remember that fun and friends are important as well as achieving your goals. Your fiery go-ahead, act-first and think-second approach won't always be ideal so you'll need to pace yourself and take your responsibilities seriously. That way you'll gain the respect of those whose judgement you trust. Your financial situation will be changing with some ups and downs but that's not necessarily a disaster, since there'll be luck as well as extra outgoings at times. You just need to budget well and save when there's surplus. From mid year you'll slow down and put home and family matters up as your priority. Changes will be on your mind both literally in terms of reorganisation and also as you contemplate what emotional adjustments are needed for peace, harmony and satisfaction ahead. Speak frankly and tactfully and listen carefully and you'll reach agreements which are fair to all. Distractions at work and from your community activities will get in the way so listening to your heart, not your head will be important. August will be a social feast with fun, romance and enjoyment on offer as loved ones rally round to shower you with attention. Close relationships will hit a strained phase in October and November which can be overcome if you bite your tongue and say less. A confident, lucky and successful few months kicks off in December to allow you to sweep away any lurking concerns.