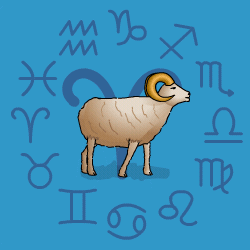 Aries
March 21 - April 20
---
Today's Horoscope for Friday July 01st
A great enthusiast you'll be promoting your favourite causes and will want to be the one who takes the initiative. In a dynamic mood with Jupiter in your own sign for months ahead bringing luck and vision, you will be likely to succeed. Even if you have problems you will find a silver lining. The world will be a more generous place for you than for most.rnBut try not to be possessive with loved ones. Have your entertainment and enjoyment without pinning them down, otherwise they may want to skip off.
The Weekly Outlook from 27th June
Be cool, calm, sensible and you'll find that you manage to complete one task neatly and tidily. All you have to do is stick to the straight and narrow, no matter what the distractions or irritations around you. From midweek you'll turn your attention to personal matters. If there has been a family difference recently, this will be the time to wipe the slate clean and start again. Don't wait to be approached. Reach out and spread a little harmony around and you'll get peace and calm.
Your Monthly Horoscope for July
A slow start will find you wrestling with questions about what comes next and how to handle tricky companions who want to call the shots. Duck and don't confront will be the answer. Sidestepping will be the fastest way out of a tight corner. If you can put aside three weeks to relax at home with loved ones or step back from too much running around it'll help. You will be motivated to get your finances knocked into better shape to allow you surplus for spending. Try to build up security before you let cash slide through your fingers. Everyday companions at work and in the neighbourhood will be thoughtful and appreciative which will keep your morale high. But having heart-to-heart chats with those close will be more appealing than racing around a busy schedule for a while. Towards the 20th you'll be back feeling crowded and unsure how to extract yourself from a tense encounter. Be strategic if not downright devious and within a few days you'll be back out into days of sunshine and roses with social invitations pouring in. The final days will be fun and enjoyable.
and Next Month's Horoscope for August
Sociable, charming and exuberant, you'll be on top of the world in one respect but also having to hang onto your hat through a roller coaster ride. There will be sudden changes and surprises, some of them financial, which you'll be inclined to react too quickly to and make snap decisions which may not be the best ones. If you can take the unexpected in your stride and turn challenges into opportunities for change then you'll do better. But keeping a firm grip on self-control and common sense will help. Luckily there will be relaxing, affectionate moments with loved ones and the family, allowing you to shut out distractions from elsewhere, If friends or team mates are not being cooperative or a future plan goes on hold, then be persevering in a steady way. After mid month the earlier problems will disappear or fade into the background as you speed into a busy everyday schedule for several weeks. You'll be working hard and not putting up with slow coaches or mistakes.
Year Ahead 2022
A slow start to 2022 need not be a bind since you'll relish the chance to enjoy quiet time, reflecting on recent events and coming to terms with yourself. You be learning to like yourself better and relax in your own company for the first few months. Then you'll bounce out revitalised and raring to go from May onwards, with luck on your side and the prospect of better times ahead.rnWhat will need your attention are your finances since the eclipses through the year highlight a need to take the initiative and not to amble along as before, hoping your guardian angel will keep you bountifully afloat. Getting a grip, take the right steps and making it happen will bring results.rnYou are nearly at the end of a longish phase of several years questioning where you are heading career-wise and in your life. By this stage you should have found a few answers that will bring you more of a sense of meaning, purpose and even vocation in the time ahead. A change in your plans may not come until the year after this but you will be reflecting on all the alternatives open to you.rnThroughout the year you'll be working hard to keep contact with friends and to ensure that team activities run smoothly. It may not be as easy as before but perseverance will pay off.rnJupiter moving through your own sign May to October and again from mid December into 2023 will zip up your confidence, enthusiasm and energy and with Mars, your ruler, in your chart area of high-speed movement and sharp talking from late August for nearly seven months you certainly won't be bored. A jam-packed everyday schedule will keep you on your toes. You won't suffer mistakes, delays or fools gladly so may ruffle a few feathers but that won't stop you speaking your mind and pressing ahead with vigour.