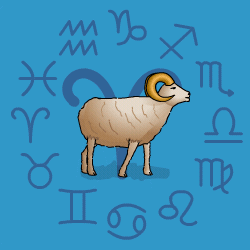 Aries
March 21 - April 20
---
Today's Horoscope for Tuesday December 10th
You won't be sitting still for long with the Gemini Moon keeping you moving smartly around a busy schedule, with more comings and goings, conversations, meetings and general chit chat than usual. You will want to have a wider range of interests and to get out of ruts and won't want to be bothered by details since you want to see the broad picture. Just watch you are not being impractical or unrealistic. Enthusiasm will carry you far but sorting out nuts n' bolts will be essential along the way.
The Weekly Outlook from 09th December
In order to make one important decision, you have to arrive at the correct standpoint yourself. This may mean delaying until you have pondered on various different possibilities. If you try to be all things to all people it will not work. Keeping your head in the clouds may be more exciting than putting your feet on the ground, but you cannot fly along endlessly. You will need to double check a few practical matters and get a grip of your organisation at some point. Once you have got firmer foundations you can springboard off after your grand and glorious visions.
Your Monthly Horoscope for December
Bubbling over with high enthusiasm and grand plans, you'll be setting yourself expansive goals for the future and working out how to inject more adventure into your life. Your reputation is due a boost with Jupiter moving across your midheaven from the 2nd for the next twelve months. Praise and recognition will come your way and almost anything you turn your hand to should work out better, faster and more successfully than you expect. Which isn't to say you won't have moments of uncertainty but you won't be distracted. Your social life will be special with invitations to flashy occasions where you'll put on quite a performance and charm all the right people. Good news on the cash front will keep you smiling mid month; though you will have to push hard behind the scenes to get the agreements you want with close partners. The Capricorn Solar Eclipse on the 26th is a time to make your mark, get your talents out on display and insist you are getting the attention you deserve.
and Next Month's Horoscope for January
You won't be short of strong opinions which you'll voice at the drop of a hat. You'll be keen to promote your pet causes and also to lift your life out of a rut and find more space for adventure. But work and chores will tie you down fairly rigorously through mid month with the heavy-duty Saturn Pluto in place at your midheaven. All you can do is be dutiful, self-disciplined and push indulgences to one side for a few days. The Lunar Eclipse in Cancer will distract you with the comforts at home. And although you need to find a better balance between your head and your heart in the months ahead this won't be the month to make it happen. You won't be as sociable or romantic as usual so pamper yourself in the quiet moments. Gradually you'll get your head up and start looking in a forward direction. Good friends will be around to ensure your morale is high and keep your mood optimistic so you won't lack company.
Year Ahead 2019
You'll be pushing extra hard as the New Year opens, determined to make your mark and to get your talents recognised. There'll be obstacles to overcome, requiring self-discipline and perseverance. Letting self-doubt slow you down won't be helpful and luckily Jupiter in Sagittarius will keep your enthusiasm from flagging. And what will give your efforts an additional nudge is your feeling that it's now or never for success. That isn't true but the motivation will help you to make progress in sticky times. The early Lunar Eclipse will also nudge you to remember that fun and friends are important as well as achieving your goals. Your fiery go-ahead, act-first and think-second approach won't always be ideal so you'll need to pace yourself and take your responsibilities seriously. That way you'll gain the respect of those whose judgement you trust. Your financial situation will be changing with some ups and downs but that's not necessarily a disaster, since there'll be luck as well as extra outgoings at times. You just need to budget well and save when there's surplus. From mid year you'll slow down and put home and family matters up as your priority. Changes will be on your mind both literally in terms of reorganisation and also as you contemplate what emotional adjustments are needed for peace, harmony and satisfaction ahead. Speak frankly and tactfully and listen carefully and you'll reach agreements which are fair to all. Distractions at work and from your community activities will get in the way so listening to your heart, not your head will be important. August will be a social feast with fun, romance and enjoyment on offer as loved ones rally round to shower you with attention. Close relationships will hit a strained phase in October and November which can be overcome if you bite your tongue and say less. A confident, lucky and successful few months kicks off in December to allow you to sweep away any lurking concerns.