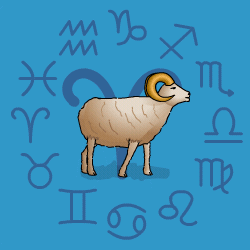 Aries
March 21 - April 20
---
Today's Horoscope for Saturday December 03rd
You will be charming everyone in sight. Able to communicate happily and harmoniously, you will be popular and welcome wherever you go. Though your moods will be changeable with the Moon around in your own sign, one moment outgoing and the next in withdrawn. Sensitive to slights, you may over-react, hear what was not intended or disappear behind a defensive barrier at a whiff of criticism. Try to put yourself into a loved one's shoes when you can. That way you'll know what's bothering them.
The Weekly Outlook from 28th November
Be cool, calm, sensible and you'll find you end up with one tricky task neatly and tidily done. All you have to do is stick to the straight and narrow, ignoring any distractions or irritations around. Once you have your feet clear and can pat yourself on the back for mission accomplished, you can head for a touch of excitement if not passion after midweek. You will put yourself out for that special person in your life and will be upfront about what you want.
Your Monthly Horoscope for December
Enthusiastic, adventurous and inspired you'll be looking to set your sights higher and be thinking big. Your plans may not all be practical and your opinions may not meet with universal agreement but you won't hold back. This is your time to let your visions flourish and follow your dream. You can always work out the nuts and bolts towards the end of the month. Speeding along you'll be cutting corners and getting impatient with delays and anyone who gets in your way. Try to be tactful otherwise you'll arouse resentment which will slow you down further. Gradually as Mercury, then Venus and finally the Sun start to move across your midheaven you'll be turning your attention to your ambitions and ensuring that others are paying attention to what you say. You'll spruce up your appearance and putting your best foot forward socially since you want to make a good impression on the right people. With great relief you'll welcome expansive, confident lucky Jupiter back into your own sign on the 20th and will take off like a rocket. You'll be taking the lead and insisting others follow behind.
and Next Month's Horoscope for January
Year Ahead 2022
A slow start to 2022 need not be a bind since you'll relish the chance to enjoy quiet time, reflecting on recent events and coming to terms with yourself. You be learning to like yourself better and relax in your own company for the first few months. Then you'll bounce out revitalised and raring to go from May onwards, with luck on your side and the prospect of better times ahead.rnWhat will need your attention are your finances since the eclipses through the year highlight a need to take the initiative and not to amble along as before, hoping your guardian angel will keep you bountifully afloat. Getting a grip, take the right steps and making it happen will bring results.rnYou are nearly at the end of a longish phase of several years questioning where you are heading career-wise and in your life. By this stage you should have found a few answers that will bring you more of a sense of meaning, purpose and even vocation in the time ahead. A change in your plans may not come until the year after this but you will be reflecting on all the alternatives open to you.rnThroughout the year you'll be working hard to keep contact with friends and to ensure that team activities run smoothly. It may not be as easy as before but perseverance will pay off.rnJupiter moving through your own sign May to October and again from mid December into 2023 will zip up your confidence, enthusiasm and energy and with Mars, your ruler, in your chart area of high-speed movement and sharp talking from late August for nearly seven months you certainly won't be bored. A jam-packed everyday schedule will keep you on your toes. You won't suffer mistakes, delays or fools gladly so may ruffle a few feathers but that won't stop you speaking your mind and pressing ahead with vigour.