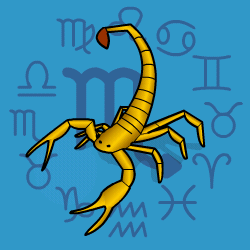 Scorpio
October 23 - November 22
---
Today's Horoscope for Saturday December 03rd
Maybe you will be putting on a great performance and a false smile to hide your real feelings. Try to be honest about what is really going on inside. Though it'll be a self-sacrificing day which means putting aside your need for indulgence to make sure that everyone else is getting what they want. Polish your halo and console yourself with the thought that being of service to others will give you reassurance. Your rewards will come in the days ahead, when more support is on offer.
The Weekly Outlook from 28th November
There is a saying that anything which shoots up fast like plants growing in a swamp, will wither just as quickly. Diamonds on the other hand which are produced slowly under great pressure last for ever. Applied to life it means that persistent effort over time will produce long lasting results. After midweek you'll be in a morale-boosting mood with loved ones and in return they'll be intent on making you feel good. You might be making money but more likely you'll be spending it liberally, so watch how you go.
Your Monthly Horoscope for December
Getting your finances knocked into shape will be a priority and part of the process will be to curb your temptation to spend. Wanting to impress others won't help to balance the budget if it involves being extravagant. It will feel like an uphill struggle at times since you won't get it all your own way but will have to reach agreements with those close which will take negotiations and flexibility. Don't get discouraged. Just keep your eye on your goal which is to improve your security over the longer term. There will be glimmerings of daylight and cheer along the way as opportunities start to open up to lift your enthusiasm. After the 10th your social life will be light-hearted, varied and intriguing as you mix with the fun crowd and explore new leisure venues and activities. Thoughtful gestures from everyday mates will make you feel appreciated. Into the final ten days you'll be fitter, attracting support with the chores and zipping along with no time to be bored.
and Next Month's Horoscope for January
Year Ahead 2022
2022 will be a year at a crossroads for you with the Eclipses moving through your opposite sign of Taurus and then Scorpio around your birthday. You will be facing significant decisions about your path ahead and need to be clear that whatever course you embark on is the right one. Resolving issues with a close partner will be your task across the middle months. Then from your birthday you'll need to plough an independent furrow, making your own judgements and not being distracted by anyone else's agenda.rnYou'll start the year in a mood of high confidence with old self-doubts being swept away. As you put a higher value on yourself so will others. You'll be popular socially and finding growing appreciation at work as well.rnThere may be tensions at home and in the family as you attempt to sort out old grievances and reorganise to give yourself a more orderly and secure base. It will be jolting and jangling at points since not everyone will be in agreement with your plans. But you'll persevere.rnAfter May you'll move through a few months with enthusiastic support at work and around the chores and you'll feel fitter than before.rnGetting to grips with confidential financial tangles will be your task in the final few months and there will be no quick fixes or easy answers. You'll need to stay persistent and be flexible.