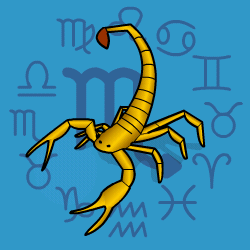 Scorpio
October 23 - November 22
---
Today's Horoscope for Thursday July 09th
In emotional partnerships you'll need to give each other space. Possessiveness on one side will only result in the other flying for freedom. There may be disruptions as one side or the other will rebel against ties and commitments. Shaky partnerships may go to the wall but long running ones will strengthen through this time of change and upheaval. The advice is to nurture loved ones but not mother them and smother them, because they won't take kindly.
The Weekly Outlook from 06th July
The Lunar Eclipse in your chart area of everyday communications will tend to get you bogged down in trivia so you could end up biased. If you can stand further back to see the full picture without losing sight of the details, then you will reach better judgements. Though you will not be suffering slowcoaches or fools gladly and need to watch you're not tripping over your feet as you go hashing and crashing around the place. Channel your energy in sensible directions.
Your Monthly Horoscope for July
Aiming high and thinking big, you'll be chatting animatedly about your plans to inject more adventure and stimulation into your life. Travel further afield would suit you best but if that isn't possible then you'll be exploring new interests, taking up unfamiliar hobbies and pushing hard to avoid routines. You may not always be practical or realistic but you won't be bored or boring. The Lunar Eclipse in Capricorn on the 5th setting a theme for coming months hints that paying attention to everyday details will be just as important as allowing your enthusiasm free rein. If you let your imagination take flight without limits you'll discover mid-month that you have to come down to earth and rethink your strategy. After the 22nd you'll insist on having a more prominent role at home and out in the community or at work. You won't downplay your achievements and will be rewarded with praise.
and Next Month's Horoscope for August
There may be distractions at home but you know you can't afford to take your eye off the ball at work and in your community activities. Pushing your ambitions ahead will be the priority. You are in the high profile three weeks of the year so you'll need to flaunt your talents and ensure the right people know what you are capable of achieving. Even with loved ones you'll be taking the lead and showing them the way. Much in demand for your views you'll be the one the influential people turn to when they want information or a sensible assessment. Your social life will be light-hearted, adventurous and stimulating. But you'll need to watch and pace yourself since you'll be inclined to take on board too many commitments and won't delegate as well as you might. Try not to be perfectionist especially towards mid month when chores will pile up and progress will be frustratingly slow. Not leaping in with hasty critical comments will help smooth relations around you. Into the final ten days you'll be into a friendly, forward looking few weeks and won't be short of good company or support. Travel carefully since you could be slightly accident prone.
Year Ahead 2020
2020 will be all about communication for you in an everyday schedule that will be challenging and pressured at times. You'll be inclined to take certain situations or comments to heart, looking for a hidden significance in everything. And being tempted to withdraw if your opinions don't meet with agreement. But it would be a mistake. Listen to feedback and where necessary alter your approach. Try, try, try again should be your motto and you will eventually get your message across. Gradually you'll notice a growing sense of confidence in speaking your mind and because you'll be tolerant and less blinkered, you will be respected for your views. And you'll begin to realise that what was holding you back wasn't bad luck but too limited an attitude on your side.rnYou will want more elbow room in close partnerships with each of you happy to allow the other to go their own individual way. It will mean that co-operation won't always be easy since it'll demand compromise. At home you'll be putting in effort after March to sort out practical problems and also to address any family tensions which emerge. If you go about it tactfully then you can clear old resentments out of the way once and for all. Though it won't always be easy to stay calm.rnFrom July onwards you'll be working exceptionally hard and staying on top of detail. You will tend to be a perfectionist, assuming you're the only one who can do tasks well, which means you'll land yourself with too many commitments. Looking after fitness and stamina will be important. And being cautious, since you could be slightly accident prone at times if you over burden yourself or get impatient with mistakes and end up tripping over your feet.rnTowards the year end you'll focus on your finances since being pro-active will bring results and be aiming for a calmer phase on the home front.