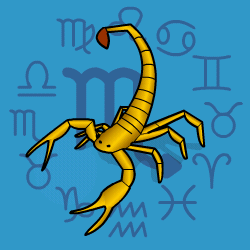 Scorpio
October 23 - November 22
---
Today's Horoscope for Friday July 01st
At times you can get carried away in your enthusiasm and promise more than you can reasonably deliver, and end up over stretched. You will not delegate well but must learn to cut down your commitments otherwise you will not cope. Either you need to offload the trivia onto other shoulders, or cut down the breadth of your schemes to a manageable size. If you make an effort and turn on the charm you won't find it difficult to persuade others to pitch in together without too much aggravation.
The Weekly Outlook from 27th June
If you can be patient and knuckle down to tackle small tasks in a meticulous way, you will fare better. But you'll tend to be erratic, dutiful for a while, then resentful at being tied down. Take time out to review your general life strategy. Your outlook does not remain static from childhood to old age. You constantly discard what no longer fits and take in new information which causes you to alter your approach. This is the time of year you review your beliefs and opinions.
Your Monthly Horoscope for July
Having been slogging uphill recently you have only a few days from the start of the month to find more support coming from close partners. They may be fired up and argumentative but if you throw your energy behind their plans you'll make fast progress together. And it beats having to do so much yourself. Your everyday schedule at work or in the neighbourhood will be busy and chatty, with plenty to keep you occupied and boredom well at bay. Your love life will be intense and secretive and you won't always let on what you are feeling not even to those close. Try not to look on the negative side of situations or be too dogmatic in discussions. Travel will be on your wish list and even if you cannot explore further afield, you'll be broadening your horizons in other ways. After midmonth, your social life will be lively and challenging in a positive sense. You'll move into your peak for the year from the 22nd for a few weeks when you'll be higher-profile and finding others look up to you. You'll glow with the attention but will need to keep working hard.
and Next Month's Horoscope for August
This should be your peak time of year for getting attention and being respected for your talents and achievements. But there will be complicated relationship dilemmas to handle with a close partner and a family member. No one will be in a mood to compromise and there could be rising tensions as well as sharp words spoken. Your best bet is to refuse to be provoked into saying too much in the heat of the moment or leaping into action recklessly. If you can maintain a strong grip on self-control you will do best though there's no doubt that one domestic situation will need ingenuity to settle it back down. Luckily you'll be in a mood to cover over certain feelings with a tactful smile and should manage to defuse quite a few awkward moments. After midmonth you'll sigh with relief though there will be confidential discussions running on into next month to resolve outstanding issues, financial and emotional. Friends will rally round with support.
Year Ahead 2022
2022 will be a year at a crossroads for you with the Eclipses moving through your opposite sign of Taurus and then Scorpio around your birthday. You will be facing significant decisions about your path ahead and need to be clear that whatever course you embark on is the right one. Resolving issues with a close partner will be your task across the middle months. Then from your birthday you'll need to plough an independent furrow, making your own judgements and not being distracted by anyone else's agenda.rnYou'll start the year in a mood of high confidence with old self-doubts being swept away. As you put a higher value on yourself so will others. You'll be popular socially and finding growing appreciation at work as well.rnThere may be tensions at home and in the family as you attempt to sort out old grievances and reorganise to give yourself a more orderly and secure base. It will be jolting and jangling at points since not everyone will be in agreement with your plans. But you'll persevere.rnAfter May you'll move through a few months with enthusiastic support at work and around the chores and you'll feel fitter than before.rnGetting to grips with confidential financial tangles will be your task in the final few months and there will be no quick fixes or easy answers. You'll need to stay persistent and be flexible.