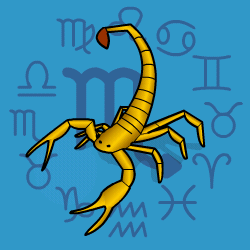 Scorpio
October 23 - November 22
---
Today's Horoscope for Wednesday August 04th
In demand for your views you'll be the one who has all relevant information down to the last detail. Just don't drown everyone in too many facts and figures. And try to put a brake on your expectations since you'll be impatient and wanting instant results. By going steadily with more discipline and care you will achieve more of substance. You'll also be able to get your views across to close companions, who otherwise could be left behind if you go charging ahead.
The Weekly Outlook from 02nd August
If you feel there are tensions at home or domestic problems which are getting you down, with less money or too much responsibility on your plate, cheer up since it won't last long. OK for a day or two it may be all duty and no frivolity, but if you knuckle down to get essentials done, you'll be pleased that you did. After midweek you'll throw aside caution and speak your mind. If you have been sweeping grievances under the carpet, forcing yourself into situations that aren't good for you, there won't be any necessity to do it for much longer.
Your Monthly Horoscope for August
This is your moment to shine or at least to take the lead and ensure others follow behind. Hiding away in a corner won't do. You need to demand recognition for your talents and achievements and ensure you get the credit you deserve. OK it'll mean hard work and pushing family or domestic distractions to one side, but you will end up in a stronger position. Try not to rock the boat with one close partner in the first week since it won't help. Be tactful and flexible and give them a long rein. Warm-hearted friends will keep you company and let you know how appreciated you are. They'll also be on hand when you want feedback on your future plans. You'll be surrounded by fun company throughout but after midmonth won't be as romantic or sociable as before. Giving to those close will store up goodwill for the days ahead so don't feel deprived. From the 22nd you'll be into a friendly, forward looking few weeks.
and Next Month's Horoscope for September
Energetic and decisive friends and team mates will hustle you along and not take no for an answer when they find you dithering about future plans. Looking backwards over your shoulder and getting sentimental about the way things used to be won't be an option. You'll be prompted to not only set new goals and ambitions but also work out the practical details of how to fulfil them. You won't be as sociable for the first ten days but thereafter will be back out on the party scene, looking good and attracting compliments for your appearance and your charming way of putting others at ease. A loved one may be vague, elusive or downright evasive but trying to pin them down won't get you far. You'll be better leaving well alone until they come back into line. The second half of the month will be slower going and require patience.
Year Ahead 2021
Your material security in terms of money are being highlighted by the Eclipses through 2021, which doesn't mean problems. It's more a hint that if you take the initiative with your long-term future in mind then you'll get better results. The first half year will find you suppressing the urge to throw money around to impress, knowing full well that saving more and getting new schemes underway will be a more sensible approach. Your other priority will be to resolve family tensions, sort out practical domestic problems and reach better agreements with close partners. You'll be kicking against restrictions, yet need to stay persevering when there is no alternative. Being tolerant of the differing needs of those close will help to maintain equilibrium. Both of you need to offer the other a good deal of space to pursue your own individual interests. From May for a few weeks and again late year your social self-confidence will rise and you'll push old self-doubts to one side, stepping out boldly. You'll notice an improvement out on the party scene and at work as well. As you put a higher value on yourself you'll find others do as well. From June onwards for a few months you'll be prompted to share, care, relate and co-operate in a different way both over emotional as well as financial matters. Changing the habits of a lifetime won't be easy but if you want fulfilment and prosperity ahead you'll need to try. Negotiating better agreements with those who share responsibility with you over money will require compromises on both sides and won't happen overnight. As a fixed, enduring sign, you'll be better placed than most to stand firm through the tricky patches. You'll take the rough with the smooth, enjoy the triumphs and sunny patches, and push on determinedly through the bumpier phases.