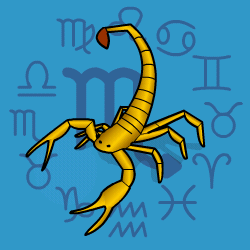 Scorpio
October 23 - November 22
---
Today's Horoscope for Wednesday December 12th
In a common sense mood at the moment, you'll be showing practical flair and determination. You may be slow to make up your mind but you will be absolutely unshakeable once your decisions are made. Your thinking and speaking is all directed to whatever has a practical or financial purpose, which is making you thoughtful. Other people may carp about your slowness but you know it is vital to get everything right, especially when it comes to your personal finances.
The Weekly Outlook from 10th December
The key thing at the moment is to learn the lessons of handling cash successfully. Maybe you are flashing it around extravagantly to boost your self esteem. You want to impress everyone around, but try to save for security as well. From mid week you will be more practical and keen to get details nailed down. Your concentration is good at the moment once you settle down to tasks. More stubborn than usual, you will dig your heels in quite hard.
Your Monthly Horoscope for December
Slowly and surely you'll be pushing ahead with a key aim of sorting out your personal finances and giving yourself surplus to spend. Keeping outgoings and incomings in balance will be what gives you security and peace of mind. Though it won't be easy in the first week since you'll be distracted by loved ones behaving in unexpected ways. Half the time they'll be boisterous and throwing caution to the winds, and the other half they'll be leaning on you. Try to calm them down and explain they need to stand on their own two feet. Luckily your diplomatic skills will be put to good use in getting your points across with tact. Stayin on top of detail will be easier from the 12th when your eagle eye will pick up any mistakes. Despite some confused moments you'll be on energetic form and revelling in parties and social events where you can be centre spotlight. In the final days you'll be racing round, on your toes and rarely bored.
and Next Month's Horoscope for January
You'll be nose to the grindstone in a challenging and demanding few weeks. Try not to be perfectionist since you will at times imagine you are the only one who can do certain tasks well and will overload yourself. Delegate where you can. Your everyday schedule will be slow going and over-packed so you'll need to streamline your efficiency, manage your time well and be resolute. If you feel cold-shouldered at any point with mates not listening to what you say, try another approach but don't give up. Not sounding too intense or forceful will also help. If you come on too strong then certain people will just back away. To compensate you'll be off spending on frivolities and indulgences to make yourself feel good. Why not? After mid month once you're over a couple of trying days you'll settle down to a quieter few weeks, happy to snuggle up at home and find time for quiet reflection as well as heart to heart chats with loved ones.
Year Ahead 2018
Your head and your heart will tug in opposite directions in 2018 which won't suit as emotionally intense a sign as yours. You like to be fully engaged. But needs must. First half year will be focussed on home and family matters, making adjustments, reorganising and finding a deeper sense of roots. If loved ones are vague or evasive, try to be forgiving rather than critical.rnA fairly heavy everyday schedule may weigh you down at times, making you want to withdraw, getting sensitive to those who won't listen at work or out in the neighbourhood. Maybe you need to change your approach. Be persistent in getting your message across, listen to feedback and find out what those around really want to hear. Being less dogmatic or forceful will help. Getting organised will be key, streamline your efficiency and manage your time well.rnSince nothing will stay the same for long at work, try to schedule in time for reflection and de-stressing, since you will get highly-strung at times. Be open to new methods and new approaches. Go with the flow and even if certain projects don't work, others will. One door closes, another opens.rnLuckily with Jupiter in your sign till November, your confidence will stay high and luck will be on your side. You'll attract enthusiastic responses from everyone you meet as well as resources. Late in the year, money will roll in faster. And probably disappear just as quickly since your spending will shoot up. Try to save some of your good fortune as you go.rnFrom July you'll be aiming to spread your wings to bring more excitement and adventure into your life. This'll be the time to find your vision and follow your dreams. Your ambitions will need a hefty push as well if you are to get the praise you want for your abilities. Don't be a shrinking violet. Take the initiative and make it happen over the next few months.