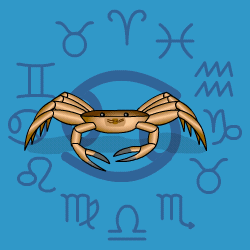 Cancer
June 22 - July 23
---
Your Birthday Horoscope
IF ITS YOUR BIRTHDAY TODAY your year ahead will be charming, seductively persuasive and restless. You won't sit still for a moment but will tend to scatter your energy in all directions. Persuade yourself to focus since you'll have important decisions to take about your path ahead. If you are more independent for a few months you'll have the freedom to make choices for yourself. Then you'll be able to move back closer to partners again in a better frame of mind.
Today's Horoscope for Sunday July 21st
Pluto around Venus at the moment is hinting at the need for change in one close partnership. It could just be a minor adjustment in the way you relate to each other. If you can allow changes to take place without fearing that you'll be handing over control, you will find that your connection deepens. You may spread yourself a little thin today. Get your list of priorities straight before you start, then tick them off as you go along.
The Weekly Outlook from 15th July
Whatever has become confused or delayed around you needs a sensible strategy to get it rolling again. You may feel puzzled initially about how best to tackle it all but keep persevering and the answers will come. You will be reviewing one close partnership, wanting more support and more independence. So it is a question of finding how to fulfil your needs without sounding too contradictory or making partners feel their needs aren't being met.
Your Monthly Horoscope for July
This is a key month is a turning point year for you with a Solar Eclipse in your own sign and a Lunar Eclipse tied into your opposite sign of Capricorn. You are at a crossroads and need to decide which path to follow in the years ahead. You'll need to consider all the alternatives carefully and decide for yourself. It's your life and needs to be your choices. Though obviously you will need to find a balance with partner's needs as well. Getting a grip of your personal finances will also be one of your priorities with Mars in the sign after yours all month. If you can curb a temptation to over spend and throw your energy into improving your situation it'll give you more peace of mind long term. Your plans will chop and change so you'll need to stay on your toes. Friends especially new ones will be unpredictable, at times exciting and at others exasperating but rarely boring.
and Next Month's Horoscope for August
With the Sun in the sign after yourself pleasure will be on your mind even if it costs. Try not to go too wild, either to indulge yourself or impress others. You need to put as much energy towards propping up your longer-term security and savings as you do towards spending. Your enthusiasm will be catching at work so you should be able to persuade mates to pitch in and take the strain off you in terms of chores. You'll be feeling healthy though perhaps also hungrier. Make sure you keep up your exercise and fitness regimes. After mid month you'll have less time for frivolities as you race into an ultra-busy everyday schedule for a few weeks. You'll get impatient with delays and other people's mistakes and express yourself directly when your temper gets up. Try to be persuasive and sweep those close up in your enthusiasm rather than being too forceful. Luckily you will manage to add charm when needed which will help as you set sail on an intriguing new path.
Year Ahead 2019
This is a key year for you with Eclipses in Cancer and your opposites sign of Capricorn. You\'ll sense you\'re at a crossroads and need to make major decisions about your path ahead and about close relationships. Partnerships may be strained as the year opens but the loyal bonds will remain steadfast. Only the shaky, flaky ones will go to the wall. What is vital is that you aim to be more adaptable and co-operative in the first half of the year, giving the needs of those close as much attention as you do your own. Health and work look well-starred with Jupiter in Sagittarius till December. You\'ll recover from minor ailments faster than usual and apart from weight gain you\'ll be on top form. More enthusiasm and support in your career will make for fun times with the promise of better pay and conditions. New friends will zip in and out of your life like fireflies - exciting when they\'re there but fairly erratic. They\'ll give you the courage to try out new and exciting ventures. What\'s for sure is that your plans for the future will be changing radically. By mid year you\'ll know certain resolutions which have been bubbling cannot be pushed aside any longer. A more independent phase for a few months will see you making your own choices, which may not always meet with agreement or approval. But you\'ll know that any commitments must be made by you and you alone. A more amiable mood in love and relationships will gradually set in from December onwards pointing to a more co-operative and sociable 2020.