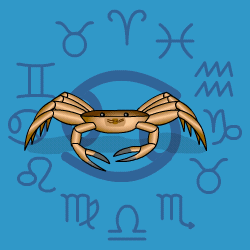 Cancer
June 22 - July 23
---
Today's Horoscope for Wednesday August 04th
Stubborn and determined you'll be digging your heels in hard over a cash matter. You'll be keen to get yourself better informed about how the land lies and what you can do to improve your security Once you have a clear idea you can keep those close up to scratch as well. It'll be important not to sound too uncooperative or intolerant. You have an edge in your words that may come across as criticism, which won't always be what you mean. But one way or another you intend to shake up situations that have got stuck.
The Weekly Outlook from 02nd August
You'll plan and organise well, being practical, sensible and working with an eye to detail. For that reason you'll find that you don't have to double-check everything later and redo things. After midweek freedom will be important and you'll reckon now is the time to rattle the bars of your cage. You've stuck yourself in a rut recently and others may have tied you down. You may not be tactful if anyone gets in your way or tries to corral crowd you. You'll make it clear you won't put up with interference.
Your Monthly Horoscope for August
You'll start the month feeling you're having to cope on your own without the support you're used to financially or emotionally. But it'll only be a fleeting dip before a friend motivates you to consider a change of direction. This will galvanise you into action and you'll be off in search of what sounds like an adventure. Sorting out your personal finances will be your main priority which means curbing your tendency to be tempted by indulgences and treats. Luckily a busy schedule will keep you distracted with thoughtful gestures coming from everyday mates at work and out in the neighbourhood. After the middle of the month the mood at home amongst family members will warm up considerably so you'll have a chance to snuggle down, relax and have heart-to-hearts chats. You'll ponder over schemes to improve the decoration since you'll want to organise more entertaining in your intimate environment. Into the final days you'll not be bored though you may get breathless keeping up with the speed of events as a busy schedule prods you into higher gear.
and Next Month's Horoscope for September
Racing along a busy everyday schedule you'll be talking constantly and getting impatient with delays and mistakes. You'll express your opinions in a forthright manner which may not always go down well. You could end up tripping over your feet or getting in a muddle if you don't slow down to prepare and plan sensibly. Write out to-do lists and tick off tasks as you go. There'll be a chance to relax and indulge at home for ten days and then you'll be off on the party trail with invitations flooding in. You'll be centre of attention with loved ones rallying round to shower you with compliments. Recent tensions with a close partner should be resolvable after the 17th. In the final ten days you will clear time to focus on home and family matters, snuggle up and stick close to familiar surroundings.
Year Ahead 2021
Into 2021 with high hopes and some fair winds behind you, there will be new opportunities financial and emotional hinting at better times coming. But you'll still need to cope with contradictory events, some bringing success and others landing you with responsibilities and problems to solve. The Eclipses point to a hard-working first half year with a need to boost your stamina however you can to be able to cope. And a quieter second half when you'll be given a chance to recharge your batteries and let others do the running around. With expansive Jupiter and restrictive Saturn both moving through Aquarius which is your chart area of confidential financial and emotional concerns, you will find that money news will be good and not so great at different times. More may come in with less effort than you might have expected. But you will also be thrown back on your own resources, not in a position to rely on anyone else's generosity and having to put your mind to reorganising your long-term security. Perseverance will pay off and it need not be a disaster as long as you don't take risks or expect miracles. Needless to say, your plans will chop and change since the world at large will be going through continuing unpredictability and a few jangled upheavals. Your emotions will follow a similarly up and down journey with greater intimacy coming in one relationship as Jupiter dissolves the barriers you have erected in the past to keep intimacy at bay. But you may also sense of coolness and separation in another. Try not to be resentful if you're landed with heavier responsibilities by a loved one since you may feel you're doing double-duty at points. You'll get your rewards in time. The ten weeks after the middle of May will find you with your head above the clouds, basking in the sunshine, with the opportunity to travel or broaden your horizons in other ways and pursue enthusiastic schemes. And once you've ambled through the final months of the year, you'll be on top form and raring to go just before next New Year.