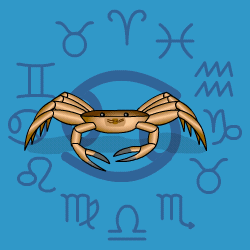 Cancer
June 22 - July 23
---
Your Birthday Horoscope
IF ITS YOUR BIRTHDAY TODAY your year ahead will be enthusiastic, confident and go-ahead as you attract praise and admiration for your talents and achievements. There will be favourable winds blowing you along but you will need to watch that over confidence doesn't make you careless. Hard work and self-discipline will bring longer lasting rewards. Getting to grips with financial matters will be down to you and you will grow in resilience by having to cope. You will change your plans frequently as you keep an eye open for new opportunities.
Today's Horoscope for Friday July 01st
Whatever you tackle should work well though the more effort you put in the higher your rewards and the more substantial ad long-lasting your achievements will be. Recognition and praise will be wonderful for your morale. But don't let over-confidence push you into getting careless. The Leo Moon will make you moody and fickle, pointing in opposite directions at once. Keen to treat and indulge yourself you may overspend which will make you anxious about getting your budget unbalanced.
The Weekly Outlook from 27th June
You will have endurance and stamina, but try not to force yourself into doing what you don't want to do. Too much will power can sometimes make you push past your limits and drain your energy. The New Moon in your sign midweek will make you self-sufficient or even self-absorbed. Both the Sun and Moon are in your birthday sign so you will want to do anything which makes you feel centre of attention, even if it is your own. And to kickstart new pet projects. A time for good resolutions.
Your Monthly Horoscope for July
Your birthday Sun for three weeks will keep your spirits high as you plot and plan good resolutions for the year ahead. Your energy and self-confidence will soar though you'll still have to contend with a close partner who will be digging in their heels. You'll have a clear idea of what will suit you and they will want to head in the opposite direction so there will be moments of deadlock when neither of you will budge. Try to agree to differ or give yourself permission to go your separate ways temporarily. Not that you'll be inclined to let go since your possessive streak will be to the fore. You won't be as sociable until after mid month but in the final days you'll make up for lost time. Indulging yourself on extravagances and presents will put a happy smile on your face though saving a little might be an idea as well for security.
and Next Month's Horoscope for August
Spending and saving money will be your two main preoccupations since you'll want to spoil yourself while keeping a watchful eye on your long term security. And given that your future plans are changing suddenly and shifting your outlook considerably you won't be clear about what comes next. Friends and team relationships may also be heated and not cooperative. If everything goes up in the air for two weeks you'll do best to stand back and wait for the dust to settle. Making impulsive decisions and reacting too emotionally to unexpected events won't bring the results you need. Just tread softly through a tricky few days. Accept you will be thrown back on your own resources and won't be on the receiving end of as much support or generosity as you might wish. Charm and tact will soothe a few tense moments early on and after the 11th you'll reckon treats are in store to make up for lacks elsewhere. A busy final ten days will blow the cobwebs away though circumstances won't allow you to be as pro-active as you might wish.
Year Ahead 2022
2022 will put you in the mood for travel as you step across the New Year. At the very least, if you're stuck in one place you'll want to broaden your horizons in other ways, taking up new hobbies and interests and aiming to inject adventure into your life. Your enthusiasm will soar and you'll be chatting animatedly to anyone who will listen.rnSorting out longer term plans will be a prompt from the April Taurus Eclipse since you can't drift along hoping for the best and playing away the day. Getting a definite strategy pulled together will take time but will be well worth it.rnJupiter moving across your midheaven from May onwards until December will bring success and recognition your way along with appreciation from workmates and those out in the community. Anything you tackle should bring results better and faster than you expect, so you'll be swinging along in good style.rnFinancial responsibilities may weigh heavily through the year but there'll be no escaping the chore of resolving problems and reaching for fairer agreements over money. You will feel thrown back on your own resources, emotionally as well as financially, since those close may not be in a position to be as generous or supportive as in the past. The benefit is you will emerge more resilient because of your experiences and having to cope.rnFuture plans will chop and change along with the company you keep. Friends will be there one day, not the next and back again later. You may get uptight about their unpredictability but they will be lively and stimulating when they are around.rnYou'll be pacing yourself from August onwards for a few months since certain projects will be on a go-slow and you'll need to pull strings behind the scenes rather than dashing ahead at full speed. But before the New Year you'll be back on a high and attracting compliments and attention.