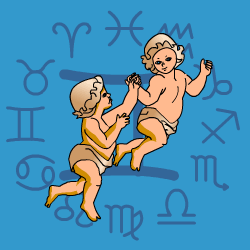 Gemini
May 21 - June 21
---
Today's Horoscope for Friday July 01st
You will be seeking out like-minded mates to help you with your latest schemes. Your knack for putting others at ease and your upbeat attitude will make it easy to widen your circle though you will need to slow down to get your message across. But be aware that new friends will sometimes be of the fair weather variety and won't stick around through tricky times. Keep a firm grip on old friends, whose loyalty is tried and tested. They may not be so vibrant, but they will always be there.
The Weekly Outlook from 27th June
There are times when throwing caution to the winds is for the best. But this isn't one of them. Be meticulous and attentive to detail. If anything labour the point and you will find by midweek you are glad you did. Then you can cast your eye six months or even a year ahead and work out where you want to be at that point financially as well as emotionally. Once you have set your goals, you then need to work out a practical plan for fulfilling them. You can't hope it all shakes down, give yourself a push.
Your Monthly Horoscope for July
A future plan may have to go on hold in the first day or so until you unpick an aggravating dilemma or manage to out manoeuvre whoever is standing in your way. You'll need to settle for some behind-the-scenes string-pulling since direct action won't bring results. Soft pedal and rope in the help of others wo may be in a better position to do the needful. You may be uneasy and impatient with Mars out of sight for a few weeks, but it will give you a chance to take certain schemes back to the drawing board and refine details. Money will be to the forefront of your mind with the Sun and Mercury in Cancer and you'll be keen not only to improve your situation but also have latitude to go off spending. Keeping your feet on the ground will help and not going wild with retail therapy. Some anchors will continue to drag around the 20th and the motto as ever is to accept what you can't change and change what you can. A busy final ten days will suit your butterfly temperament as you skip around chatting animatedly.
and Next Month's Horoscope for August
A busy everyday schedule will keep you running and boredom well at bay. Chatting constantly you'll be multi-tasking merrily and juggling different tasks at the same time which is how you like it. However there's no doubt there will be frustrations and irritations for three weeks as you push against restrictions and obstacles which are stopping you being as pro-active as you'd like. Patience is never your strength but needs must that you tread water through a few tricky moments as Mars and Uranus in the sign before yours rock the boat of those close. You won't be able to make fast progress but you can turn your ingenious mind to sorting out strategies for coping with complications for the first two weeks. Spending money on treats will be an enjoyable diversion and after the 11th you'll find thoughtful gestures coming your way from everyday mates. Gradually the tensions will ease and after mid month you'll be revving up as the red lights turn to green. After the 20th you'll be foot down on the accelerator and shooting ahead. Though you'll also take time out to relax at home.
Year Ahead 2022
2022 starts with lucky, confident Jupiter at your midheaven for four months, returning over the New Year, which will boost your status, bringing you respect and appreciation at work and in your community. Almost anything you tackle should work out well, better and faster than you expect. The winds of good fortune will be blowing behind you which will expand your confidence, at times too much so. Staying marginally more humble and cautious than you'll feel might be wise. Between May and December you'll be surrounded by enthusiastic friends and finding that team activities go with a swing. Your optimism will soar as you plan for the future.rnYou'll continue refining your ideas and opinions, informing yourself about a wide range of topics and sinking your teeth into challenging discussions since you'll want to stress-test your opinions and be able to abandon those that no longer fit present circumstances. This is in preparation for a higher-profile, responsible phase starting in a year's time. But you need to be prepared before you get there.rnThe Taurus and Scorpio Eclipses this year will prompt you to get a better perspective on the past and to let go whatever is not essential in the way of attitudes. Early and late in the year you'll be getting fitter, paying attention to your diet and exercise regimes in an effort to stay grounded and in touch with your physical needs.rnYou will sense you are nearly at the end of a gruelling few years financially and emotionally. You're on the final lap so there will be a few loose ends to tie up before you move into a new phase. This is a year of clearing out and tying a ribbon on the past.rnFrom August you'll be revved up and raring to go with Mars in your own sign for seven months ahead. You will get impatient with delays and mistakes and speak your mind directly. It won't always make you popular but you will make faster progress.