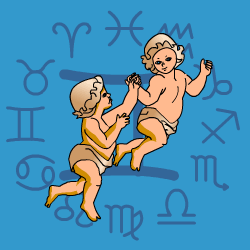 Gemini
May 21 - June 21
---
Today's Horoscope for Saturday December 03rd
There will be a good balance between feelings and duty. You will come across as sensible and in control of one situation. But it won't be a good idea to make up your mind instantly about one plan until you've had a chance to discuss it with trusted mates. Too much advice can make you confused. But not enough input and you could reach the wrong decisions. Listen carefully, sift and sort out all the ideas you have been given and when the time is right you'll know exactly what the options are.
The Weekly Outlook from 28th November
There are times when throwing caution to the winds is for the best. But this isn't one of them. Be exceptionally meticulous and attentive to detail. If anything labour the point and you will find by midweek that you are glad you did. Then you can afford to kick up your heels and play truant. Happy around loved ones and fun friends, you'll be vivacious and dynamic, . working hard to gain the approval of everyone around. As far as you are concerned nothing ventured, nothing gained.
Your Monthly Horoscope for December
You'll be firing on all cylinders and not taking no for an answer with assertive, go-ahead Mars in your own sign. But you know you can't do everything by yourself. You need help and support which will be on offer but that means being adaptable and less self-sufficient. If you go down the road of cooperation you'll make faster progress. Behind the scenes you'll need to haggle and negotiate to get fair agreements as the planetary shift into Capricorn turns your attention to either financial tangles or matters of fundamental concern to you. You'll be determined to transform one situation which will take time, trouble and dogged determination and mean letting go what has been familiar from the past. But in so doing you'll free yourself up for better times to come with more security on several fronts. Your optimism will soar in the final ten days and upbeat friends will rally round to keep your morale high. The New Year will approach so you'll be making plans and setting goals for yourself.
and Next Month's Horoscope for January
Year Ahead 2022
2022 starts with lucky, confident Jupiter at your midheaven for four months, returning over the New Year, which will boost your status, bringing you respect and appreciation at work and in your community. Almost anything you tackle should work out well, better and faster than you expect. The winds of good fortune will be blowing behind you which will expand your confidence, at times too much so. Staying marginally more humble and cautious than you'll feel might be wise. Between May and December you'll be surrounded by enthusiastic friends and finding that team activities go with a swing. Your optimism will soar as you plan for the future.rnYou'll continue refining your ideas and opinions, informing yourself about a wide range of topics and sinking your teeth into challenging discussions since you'll want to stress-test your opinions and be able to abandon those that no longer fit present circumstances. This is in preparation for a higher-profile, responsible phase starting in a year's time. But you need to be prepared before you get there.rnThe Taurus and Scorpio Eclipses this year will prompt you to get a better perspective on the past and to let go whatever is not essential in the way of attitudes. Early and late in the year you'll be getting fitter, paying attention to your diet and exercise regimes in an effort to stay grounded and in touch with your physical needs.rnYou will sense you are nearly at the end of a gruelling few years financially and emotionally. You're on the final lap so there will be a few loose ends to tie up before you move into a new phase. This is a year of clearing out and tying a ribbon on the past.rnFrom August you'll be revved up and raring to go with Mars in your own sign for seven months ahead. You will get impatient with delays and mistakes and speak your mind directly. It won't always make you popular but you will make faster progress.