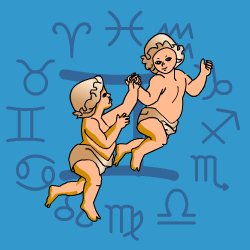 Gemini
May 21 - June 21
---
Today's Horoscope for Tuesday April 23rd
Both at home and at work, you want the solid, reassuring support of people who can be there for you. Regard setbacks in life and at work as learning lessons. They may bring humility and a deeper understanding of your purpose in life. Neptune is around dissolving your old will-driven approach to career and ambition. This feels strange at first but gradually you begin to adjust your hopes and see that there are more important things than fame, success and glory.
The Weekly Outlook from 22nd April
Do not be discouraged by what is not working out as quickly as you expected. Nothing comes together spectacularly well at this time of the year for you. Just have patience and what you want will all come right nearer your birthday. Where close relationships are concerned, it's not a time to hang on to security at all costs. Open up to new experiences. If you dig your heels in too much then you may find someone makes a break for freedom.
Your Monthly Horoscope for April
Surrounded by a wide circle of good friends you'll be raring to go with future plans. But before you get going you will need to sort out several confidential matters, financial and emotional. It will feel like trying to drive ahead with the brakes on so it'll be best to pause and honour old obligations or accept that certain realities can't be waved aside in an instant. Luckily one close relationship will be more than supportive, so even if you feel thrown back on your own resources much of the time, you'll know there is a helping hand when you're really in need. Your social diary will be full with invites to special occasions when you'll have a chance to impress all the right people and put on quite a performance. Into the final days you'll be mixing n' matching with your best buddies and welcome wherever you choose to go. Though you'll also want space for yourself to wind down and ponder on recent events and prepare for what will get under way in late May.
and Next Month's Horoscope for May
A stop-start few weeks will find you revving your engine but being held back by circumstances. You'll need to pace yourself and find a balance between quality down time to reflect and recharge your batteries in addition to pushing ahead with your pet projects. One close partner will be cheering you on though their advice will, at times, veer towards the over optimistic. So double check that you aren't being pushed too far too fast. There will be confidential matters and old problems that need your attention before you'll be free to speed ahead as you wish. Friends will boost your morale and you'll be welcome wherever you go, but you'll be less talkative than usual and keeping your own counsel a fair amount of the time. After mid month, you'll be less sociable, more focussed on knocking your personal finances into shape and getting an energy boost from the 21st as you set sail into a new birthday year ahead.
Year Ahead 2019
A slow start to the New Year will find you pondering fundamental questions about the whys, wherefores and whither of your life. Freeing yourself up from old obligations will be one priority. As a restless sign, one of the wanderers of the zodiac, you dislike being tied down. There will be no fast answers so you'll need to be persistent. At times you'll feel thrown back on your own resources with less support than usual, financially and emotionally. But through your experiences you'll grow stronger, more resilient and better able to cope ahead. Socially you'll be on good form, with your enthusiastic approach winning you compliments and admirers. One relationship will develop in ways you could not have imagined before. Other bonds in your life which have no potential for development will be quietly dropped with a minimum of regret. What will bring more fulfilment and satisfaction will be altering the way you share, care, relate and co-operate. Not a simple ask but the results will be well worth the effort. From April your engine will be revving and nothing will hold you back. OK at moments your over confidence will send you sailing into decisions that might have been the better of more thought and preparation but the momentum of your exuberance will carry you through three exciting months. From mid year you'll be focussed on sorting out your personal finances and taking the initiative to ensure you are building security for yourself ahead. You may be tempted to throw money around to impress but partners and circumstances will put the brakes on your wilder extravagances. Towards the New Year, there will be a surge of confidence as money and more support come your way, pointing to positive changes ahead.