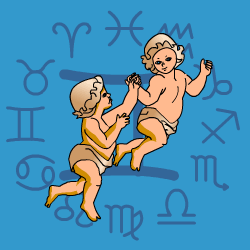 Gemini
May 21 - June 21
---
Today's Horoscope for Sunday August 25th
First thing today you will be racing around a good deal faster and will be chatting brightly about a million different things. But later in the day you need to belong, to be loved, cuddled and cosseted. so look for reassuring companions who will give you a little more help and support than usual and be an anchor for you. And ty to avoid overeating, because you will want to pamper yourself a bit, and avoid overreacting to certain situations
The Weekly Outlook from 19th August
In coming weeks at home and in family situations you may be noisier, more heated and wound up than usual. Certain pet projects at work or in your community activities will not be progressing as you'd hoped so you'll tend to take your frustrations home with you. Try to express your affection for those close. Throw energy into entertaining and planning get togethers. Which will prompt you to sort out your domestic arrangements so everything flows smoothly.
Your Monthly Horoscope for August
A fast-moving, busy and varied everyday schedule will keep you on your toes and smiling broadly. There's nothing you appreciate more than juggling with several projects and chatting to a wide selection of people. Thoughtful gestures from others will make you feel appreciated and you'll respond in like kind with compliments. One close relationship will also be on good form as you share your plans for the future together. There may be odd moments when you yearn to fly free and get away from everyday concerns but you'll know that comes later in the year. From the 18th you'll set to with vigour to reorganise at home and sort out projects at work and elsewhere which have got stuck. Backtracking and unpicking mistakes will be part of it. Try not to taker your impatience out on the family as you race around getting everything into ship shape order.
and Next Month's Horoscope for September
Close partners will be wildly enthusiastic if not exactly sensible, so you'll need to keep them on a tight rein. You'll be racing around at home to re-organise, clear up muddles and generally getting everything into ship shape order. Certain of your pet projects at work or out in the community are on a go-slow until early next month so you'll concentrate your energy on domestic and family matters for the time being. Any redecoration plans should be sorted in the first two weeks. Try to keep your feet on the ground since you'll tend to go sailing after high hopes and then get disappointed. From midmonth you'll party more, be in a mood to flirt and have fun. This is your chance to let your inner light shine out and be truly yourself.
Year Ahead 2019
A slow start to the New Year will find you pondering fundamental questions about the whys, wherefores and whither of your life. Freeing yourself up from old obligations will be one priority. As a restless sign, one of the wanderers of the zodiac, you dislike being tied down. There will be no fast answers so you'll need to be persistent. At times you'll feel thrown back on your own resources with less support than usual, financially and emotionally. But through your experiences you'll grow stronger, more resilient and better able to cope ahead. Socially you'll be on good form, with your enthusiastic approach winning you compliments and admirers. One relationship will develop in ways you could not have imagined before. Other bonds in your life which have no potential for development will be quietly dropped with a minimum of regret. What will bring more fulfilment and satisfaction will be altering the way you share, care, relate and co-operate. Not a simple ask but the results will be well worth the effort. From April your engine will be revving and nothing will hold you back. OK at moments your over confidence will send you sailing into decisions that might have been the better of more thought and preparation but the momentum of your exuberance will carry you through three exciting months. From mid year you'll be focussed on sorting out your personal finances and taking the initiative to ensure you are building security for yourself ahead. You may be tempted to throw money around to impress but partners and circumstances will put the brakes on your wilder extravagances. Towards the New Year, there will be a surge of confidence as money and more support come your way, pointing to positive changes ahead.