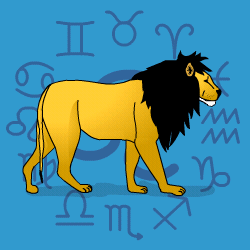 Leo
July 24 - August 23
---
Your Birthday Horoscope
IF ITS YOUR BIRTHDAY TODAY your year ahead will be lively, challenging and changeable with sudden surprises which means you'll need to stay alert to grasp new opportunities which come along. Close relationships will be wonderfully supportive at times and slightly distanced at other. If you take the rough with the smooth and value loyalty over passion, you won't have any major problems. Keep an eye on finances since you'll be spending extravagantly and may not always be getting the best advice.
Today's Horoscope for Wednesday August 04th
Chattering animatedly with a bright, curious turn of mind you will be spreading your enthusiastic opinions in all directions. But you could be racing ahead before companions have had a chance to absorb what you've said or point scoring or trying to have the last word, which won't go down too well. Have some sympathy for those whose minds work at a slow speed. They'll get confused because they aren't able to keep up with you. More speed and heat, less light.
The Weekly Outlook from 02nd August
The important people in your life will respect the way you're handling yourself. You clearly have good judgment and won't be going wildly into actions that you haven't thought through. One close partner may be a touch hesitant initially but they'll soon come round. Later there'll be surprises with sudden changes of direction opening new doors. You'll be on your toes ready to adapt to whatever comes your way since you know you can't afford to compromise any longer.
Your Monthly Horoscope for August
Your birthday Sun until the 22nd is always a morale-booster and energiser so even if one close partner is a touch cool over the first two days you will sail along in good spirits. You'll need to take unexpected surprises or changes of direction in your stride but there may be hidden benefits in what could initially seem unwelcome. Stay on the lookout for silver linings and pamper yourself with a few indulgences and you'll be fine. Your tendency to overspend will tail off after Venus moves into Libra which will direct your attention to charming everyone you meet and being showered with appreciation in return. Into the final days your determination to improve your finances will move up a notch or two and no one will prevent you demanding your dues and building up your security.
and Next Month's Horoscope for September
A sign reputed for flamboyant tastes and a yearning for an expensive lifestyle you always need cash on hand for indulgences and keeping up appearances. Your main focus will be improving your finances with an eye to the future, to build up security and also allow a little extra pocket money for treats along the way. You'll need to be careful since not all the information or advice coming your way will be reliable. Double check for yourself. Neptune can be misleading and cast smokescreens around so tread carefully. The mood at home in the family will be happier after the 10th with opportunities for heart-to-heart chats with loved ones and space to mull over your redecoration plans. Not that you will have much spare time after the 15th since your everyday schedule will speed up. You'll be running to keep up, not always patient but will be getting essentials cleared out of the way. Being too abrupt in your approach may ruffle feathers but you won't care since you intend to make waves and fast progress.
Year Ahead 2021
Your social and romantic life and close relationships will be moving through a blow-hot, blow-cool year in 2021 with nothing standing still for long, though it won't be as leaden and discouraging as last year. Certain relationships will blossom as you share new activities and hopes for the future together. Though there will be points where you will be looking with a critical eye at partners and pointing out their flaws, which needless to say won't go down well.If you can value loyalty above passion and recognise that trust and dependability are vital then you'll weather the chilly patches and emerge stronger as a couple. The Eclipses will prompt you to put effort and energy into your leisure activities for a few months. Putting yourself in the centre of attention and ensuring everyone else whether loved ones or friends is being given affectionate support will send your popularity soaring. After the middle of the year, you'll want to mix and match and be free to flirt and have fun with a wide circle of acquaintances and best buddies. You will have to contend with sudden changes of direction at work or in your life since there won't be anything too settled about the world at large. Tensions may surface as you fight a battle with yourself as to whether to stick to the tried and trusted or to venture into the unknown and tread an unfamiliar path. Your tendency will be to stick with what you know but taking the odd risk will help. After the middle of May for several weeks your luck with money will bring larger sums your way with less effort and that happy state of affairs will return before the New Year, so you'll be feeling more secure. Though Neptune will continue to hang around as it has done in recent years adding a layer of confusion to joint finances. You'll need to continue to be alert for unreliable advice coming your way from close partners and others.