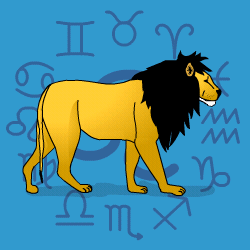 Leo
July 24 - August 23
---
Today's Horoscope for Friday July 01st
You'll be well informed and thoughtful, with opinions always ready to deliver. If you can remain open to alternative viewpoints, you will have a naturally easy way with companions, boosting their morale and sweep them up in your enthusiasm. You will want to learn more, to travel if possible and new friends from different backgrounds. Developing a knack of putting yourself into other people's shoes will help you know what they want. It'll stop you getting uptight about what isn't important.
The Weekly Outlook from 27th June
You may be impatient but circumstances won't allow you to lose your temper. Better by far to be discreet and plough on steadily, without looking to left or right. Focus on your long term goals and then immediate problems will seem smaller. New Moons heralds the start of a new phase. But it will start with the seed of an idea which needs to be planted and allowed to grow. If you put your wholehearted attention behind whatever you want to put into place over the next year you will see results in time.
Your Monthly Horoscope for July
Not over stretching yourself will be important at a couple of points. Circumstances may be irksome but you can't always move mountains over and there's no sense in trying. Be patient and the tide will turn. For the first three weeks anyway with the Sun moving through the sign before yours, you need to step back, wind down and take the chance to recharge your batteries. Let others take the strain while you have a chance to get recent events into perspective and plan what comes next. Not that you will be entirely idle since Mars moving across your Midheaven from the 5th will rev up your engine but you'll need to aim for a balanced schedule with time to relax and revitalise as well as push certain ambitions ahead. You will have strong opinions about the best way to handle certain situations which may not meet with general agreement so try to appear flexible even if you don't feel it. Your birthday Sun after the 22nd will boost your morale, your energy and your confidence and you'll shoot ahead, back to your sparkling best.
and Next Month's Horoscope for August
Your birthday Sun for three weeks will bounce up your morale and you won't hold back when it comes to grabbing attention and entertaining everyone in sight. But you will have to stay calmer than will come naturally as sudden changes of direction and odd reactions on the part of those close at work and elsewhere catch you unawares. Mars and Uranus at your mid heaven will make you decisive, hard-driving, not always cooperative and outspoken. One relationship will go through a sticky two weeks with more criticism around. Too much duty will interfere with indulgence which won't help your mood either. Luckily your ability to sprinkle stardust and charming words around will smooth out a few wrinkles after the 11th and while there will be some cool moments, on the whole you'll sail through unscathed. Into the final days you'll be looking firmly ahead, sorting out plans and getting to grips with your finances.
Year Ahead 2022
2022 will be a year when rebalancing your life will be crucial. You need to find a way of giving enough time to personal interests and your emotional life as well as pushing ahead with ambitions in the outside world. Your heart should take precedence up to May and later in the year and across the middle months you'll make your mark and attract recognition for your talents and achievements.rnWhat's better you'll also be on the receiving end of generosity either in cash or in kind. Money should come your way more easily for a few months and again over the New Year, bringing you peace of mind. There will also be beneficial changes allowing you to move ahead and away from the past with less regret than you might have expected. You'll still have to keep a weather eye out for unreliable advice or untrustworthy people but on the while you'll be more secure.rnClose partners will be critical at times and you may feel separated at points. But good relationships will strengthen. Staying on your toes to be ready for sudden surprises and changing circumstances will be wise, since nothing will be too settled for a while. After August energetic friends will rally round with robust advice and support for a few months. You won't have to go it alone.