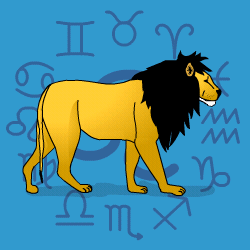 Leo
July 24 - August 23
---
Today's Horoscope for Sunday August 25th
Today you will have a bright, curious turn of mind as well as an active tongue. Spouting off opinions in all directions, you will be jumping onto the next point before companions have had a chance to absorb what you said. It's a time to be surrounded by mates, colleagues, the more the merrier as far as you are concerned. If you are part of group energy at the moment then you will get oodles of support and helpful hints.
The Weekly Outlook from 19th August
With Mars now moving through your personal finance chart area for a few weeks your energy will be channelled towards making more money and acquiring material possessions. You will want cash for security and to buy you the better things of life. Your tastes at the best of times run to the extravagant since you're designed for a five star lifestyle. And you'll find you're even more irresistibly attracted to the beautiful things of life.
Your Monthly Horoscope for August
With a reputation for being exuberant and outgoing, you're not a shrinking violet at the best of times. And this is definitely a high spot with your birthday Sun as well as charming and romantic Venus in your own sign and morale-boosting Jupiter holding hands across the zodiac. So you'll romp through the first two weeks in great style letting nothing damp your high spirits. After mid month you'll still be keen to treat yourself but also to get your personal finances knocked into shape to ensure you'll be secure ahead. You'll need to exert self-control to stop yourself going off on a spending spree. But if you get your ingenuity working you'll find ways of improving your situation and keeping the budget balanced. You know your life is changing direction and although there may be no major upheavals this month there will be hints late on of new possibilities.
and Next Month's Horoscope for September
Never one to stint yourself when it comes to indulgences you'll have your mind firmly fixed on money and what it can buy. But you'll want security as well as treats so will be putting extra effort into giving your financial situation a boost. Pleasure will need to be balanced by common sense. Though there will be times when you throw caution to the winds or sail off into a wonderful fantasy and then have to come down to earth with a bump. Just try to curb your tendency to take risks or gamble since it won't always turn out to your advantage. One last determined push around the 19th will tie up a few loose ends and you'll then speed into a varied, exciting everyday schedule with more people to visit and more discussions to keep you on your toes.
Year Ahead 2019
Duty may fight a battle with pleasure and you'll try to manage both but may end up draining your stamina. There will be chores piling up and demands on your time and energy, so you'll need to be firm about where your limits are and not over commit yourself. Any health or fitness issues which turn up need to be handled promptly for best results. Staying on top form physically will be the priority for the first half year. Luckily throughout the year Jupiter in fiery Sagittarius will keep your enthusiasm and self-confidence high, so you'll be in a mood to party as well. You'll be sweeping old self-doubts to one side, putting a higher value on yourself and finding that others do the same. So your popularity at work will increase. You'll sense that your life or your career are changing direction in ways you would not have imagined a few years back. Embrace the new and follow through on any original ideas without fussing too much about others' responses. You won't always be co-operative and will prefer to have your own niche where you can do your own thing. It'll be a time to try out new methods and techniques so don't be a stick-in-the-mud. August will be your high point and hot spot as you throw yourself wholeheartedly into enjoying yourself and making a mark. But in general the second half year will be quieter, with chances to turn inward and get the past into perspective and ponder on what is most personal to you. Throughout the year you'll have lucky breaks where you suddenly find that fortune shines on you, lowering your tension levels and making you smile. A final one turns up in December when more support at work and a health boost will put you on good for the New Year.