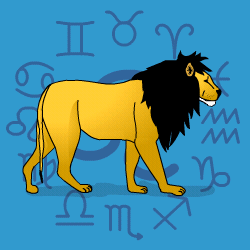 Leo
July 24 - August 23
---
Today's Horoscope for Thursday July 09th
You can expect sudden changes in your direction in life or your career. You must be free to do what expresses your individuality and not have to follow or fit in with other people's plans. This is a challenging, exciting and slightly insecure time when events will keep you constantly on your toes. Try and roll with the flow. Don't become possessive about property or hanging on sentimentally to memories from the past. You don't want to be throwing possessions or money away, but not clinging on too tightly is important.
The Weekly Outlook from 06th July
Although you really would like to disappear into a quiet space to put your feet up, your conscience will prod you into being helpful. Make sure you are looking after your health and energy, since you need to boost your stamina if you are pushing against the grain. Take a few shortcuts as well, since the faster you can relax again the better. Your achievements could be recognised in some small way. It may not be luck, more that you've decided you will project yourself with vigour.
Your Monthly Horoscope for July
Your conscience may nag you into doing more and being helpful. But really your priority will be to rest, relax, recharge your batteries and grab a chance to reflect over the past year and plan ahead. This isn't quite the time to be pro-active, at least for the first three weeks. So be patient and take the hint. Keeping your own counsel and listening rather than talking will give you valuable pointers. Towards mid- month you'll feel the urge to be more energetic with better news coming through. But don't race ahead too impulsively. It'll be stop start for a few days and if you over stretch yourself in excitement, you'll sag in the aftermath. Your birthday Sun from the 22nd will give you a boost physically as well as in terms of morale. You'll be firing on all cylinders and making quite an impression.
and Next Month's Horoscope for August
Your birthday Sun will fill you with warm-hearted exuberance and rising confidence so you'll step out boldly and be aware that everyone close is paying more attention to your great delight. Not that you'll necessarily always want to fit in. Early on you'll be rebellious and insisting on going your own way. A sudden change of direction will need to be negotiated swiftly so you can get back to enjoying yourself. You'll be thinking big and aiming high, keen to find adventure and ways of avoiding anything routine and dreary. You won't always be practical but you will be inspired and have faith in your ideas. Over committing yourself will be a slight risk as you leap excitably off after an exciting project in the first week and then discover you have to backtrack when you run into a road block. Your energy won't be limitless so try to be sensible. You may not be as sociable or as romantic as usual but you won't be short of good company. Into the final week you'll be pushing hard to improve your financial situation with half an eye to giving yourself more surplus to spend.
Year Ahead 2020
2020 may not be your favourite year as a fiery, inspirational, sailing-along-the-top-of-the-cloud-tops kind of personality. The heavyweight Saturn Pluto conjunction in sombre Capricorn will weigh you down at times with too much work, duty or demands on your energy. Staying fit and healthy will be crucial if your stamina is being tested and not pushing past your limits will be important. Learning to listen to your body and respect its needs may come hard since you're not naturally attuned to the earthly realm. But you won't get away with over stretching yourself. What will help is Jupiter following behind which is expansive, supportive, good for confidence and curing minor ailments.rnYour career path and general life's direction will follow the same roller coaster trajectory as last year. One moment you'll be up and the next moment you'll find everything slows down. Just as you lay solid plans you'll find events overtake you and they have to be revised in a hurry. So you'll need to always have Plans B, C and D up your sleeve for emergencies. You won't feel like co-operating or toeing anyone else's line so organise a corner where you can be in charge and please yourself.rnJoint finances will be under confused stars so don't trust all the information or advice coming your way.rnClose relationships will move into a cooler few months from March which won't be a problem where the bond is secure. But there may be more negativity or criticism hanging around and you'll tend to see the flaws in partner's behaviour rather than appreciate their plus points. Try not to go to extremes in your reactions.rnAfter mid year you'll be aiming high, keen to inject more adventure into your routines, with travel if possible. Though it'll be a bumpy ride out in the universe so staying close to home and finding a new hobby might be wiser.rnTowards next New Year your social life will be revitalised and you'll be less weighed down by practical concerns.