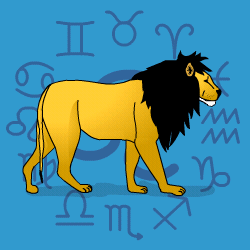 Leo
July 24 - August 23
---
Today's Horoscope for Tuesday December 10th
No one will miss your presence as you put on quite a show of wit. You appreciate your own ideas, and like listeners to be appreciative as well. Just don't exaggerate too much to make an effect, or embroider the facts to make a good story. You do need friends around to make you feel loved and appreciated. You want protection and advice about the long term. No one makes your mind up but you. But that doesn't mean testing out ideas and picking up more information will not be useful.
The Weekly Outlook from 09th December
Fitting in with the crowd can have its compensations since you have many more people around to flit amongst. But then you lose the rewards of intimacy and being the sole focus of someone special's attention. What you really want is both the freedom of a network of friends, and the adoration of close partners. It may test your ingenuity but it is possible. As long as you don't play too many games you should manage to twist the right people round your little finger. You will have a wicked smile on your face and several cards hidden well out of sight.
Your Monthly Horoscope for December
Balancing a busy social and work schedule won't be easy and if you are burning the candle at both ends, which looks likely, then you'll need to boost your stamina. The Sagittarius Sun until the 22nd will be fun-loving and outgoing with a pile of invitations coming your way and plenty of chances to sparkle in the spotlight at parties. But you'll also find that demands on your sense of duty won't diminish, indeed will increase towards the month's end. What will help is Jupiter moving into Capricorn for a year ahead since it will help with any health issues and minor ailments. It can expand your appetite so you may find that more exercise is required to keep your waistline in hand. On the work front you won't find it easy to delegate and may land yourself with too many commitments as your enthusiasm runs away with you. Keep a watchful eye on joint finances in the second week since there could be muddles. In the final days, you'll play less and make yourself available to serve others' needs.
and Next Month's Horoscope for January
Your passionate enthusiasm will soar along with your determination to enjoy yourself and get your own way. Just don't get too bossy with loved ones since they won't appreciate being ordered around. Remember also that your energy isn't limitless. A concentration of planets in Capricorn which for you rules work and fitness means you need to build up your stamina however you can and not push over a line of what feels comfortable. You can build up your general health if you take the right steps and keep applying yourself. The Lunar Eclipse in Cancer also hints that finding peaceful space to re-centre yourself and giving yourself a chance to wind down mentally will pay dividends, not just instantly but for months to come. Luckily Mars in Sagittarius will help you to keep you buoyant into the middle of next month. Your feelings will be intense and you'll be secretive, not letting on exactly what you want. Try not to shut close partners out. From the 20th you'll be sharing and caring more openly.
Year Ahead 2019
Duty may fight a battle with pleasure and you'll try to manage both but may end up draining your stamina. There will be chores piling up and demands on your time and energy, so you'll need to be firm about where your limits are and not over commit yourself. Any health or fitness issues which turn up need to be handled promptly for best results. Staying on top form physically will be the priority for the first half year. Luckily throughout the year Jupiter in fiery Sagittarius will keep your enthusiasm and self-confidence high, so you'll be in a mood to party as well. You'll be sweeping old self-doubts to one side, putting a higher value on yourself and finding that others do the same. So your popularity at work will increase. You'll sense that your life or your career are changing direction in ways you would not have imagined a few years back. Embrace the new and follow through on any original ideas without fussing too much about others' responses. You won't always be co-operative and will prefer to have your own niche where you can do your own thing. It'll be a time to try out new methods and techniques so don't be a stick-in-the-mud. August will be your high point and hot spot as you throw yourself wholeheartedly into enjoying yourself and making a mark. But in general the second half year will be quieter, with chances to turn inward and get the past into perspective and ponder on what is most personal to you. Throughout the year you'll have lucky breaks where you suddenly find that fortune shines on you, lowering your tension levels and making you smile. A final one turns up in December when more support at work and a health boost will put you on good for the New Year.