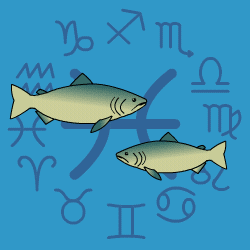 Pisces
February 20 - March 20
---
Today's Horoscope for Saturday December 03rd
You'll yearn to be pampered and will adore the better things of life - good food, drink, pleasant surroundings and sensuous clothes. Your need for security may push you one way and your desire for extravagances pull you the other. Blame it on the Aries Moon which is fickle and makes you point in opposite directions at once. You will have to weigh in the balance whether it is more important to be secure and protected or whether to wallow in your senses and spend.
The Weekly Outlook from 28th November
If you scatter off in all directions you will only end up hot and cross. Keep your energy under control and your focus steady. Mars will rev up your engine but with Saturn in aspect progress will be stop start. As soon as you try to shift into a higher gear you meet immoveable objects. Moving steadily and cautiously will bring better results. After midweek, you'll take steps to keep a loved one happy. You'll be lively and encouraging and boosting their morale.
Your Monthly Horoscope for December
Not everything will be running perfectly to plan but that won't stop you forging ahead, taking the led and expecting others to follow behind. This is your peak three weeks of the year so there's no sense in letting it go to waste. Flaunt your talents and achievements and demand recognition. Be bold and don't hide away in a corner. There may be a few differences at home since you'll get frustrated at what isn't going your way. But there's no sense in being uptight about what you can't change. Accept certain limitations and appreciate what is running successfully. A gradual shift into Capricorn by several planets will open up future possibilities which you will be discussing with friends. Your popularity will soar out in group activities after the 10th as your knack of putting others at ease will bring favourable comments. Money will roll in faster in the final ten days and possibly out again as the temptation to spend sends you off on impulse buys. You won't be short of good company as you sail into the New Year.
and Next Month's Horoscope for January
Year Ahead 2022
Jupiter in your own sign will start 2022 in good form since it brings with it a new cycle of growth, expansion, rising confidence and good luck. You'll be stepping out boldly and be meeting with good responses since your positive approach will go down well. Within a few months more money will roll through to give you surplus for treats and indulgences. Saving some of your good fortune will be wise but the temptation to spend may override caution.rnIn between times you'll be grappling, along with everyone else, with an unsettled stop-start mood. Your everyday schedule will be speedy and you're likely to be over honest at times. But you'll also have inward-looking phases where you mull over what needs to be abandoned from your life as no longer necessary. As a Water sign you hate letting go, but to keep life refreshed you need to go through changes once in a while.rnDon't be discouraged if old ambitions which once held your attention now seem stale. You're heading for a new cycle where you'll be enthused by new projects and activities. As you gradual adjust your outlook ahead to include new possibilities you will be encouraged and motivated to try what seems unfamiliar.rnInto the final few months you'll be zipping around at home, keen to get more organisation and order into your domestic setup. The family may not always be in agreement but if you persuade rather than force them into line they will lend a helping hand.