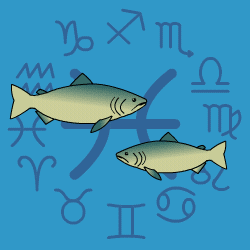 Pisces
February 20 - March 20
---
Today's Horoscope for Sunday July 21st
There is an old saying about treating loved ones like birds which are allowed to fly free. If you cage them they'll one day escape. But if you can trust enough to let them do what they want, they will more readily come back to you. The message being that clutching doesn't ever work in the long run. Maybe you will feel a little bit highly strung or wound-up today, but you will be absolutely on the ball where discussions are concerned.
The Weekly Outlook from 15th July
If you are too uncooperative and demand total control yourself, it may not get you the results you want with those close. Maybe you are absolutely right, but being right does not necessarily mean you win. If you end up in a push pull situation, you will only end up with a stalemate. Although you really want the chance to enjoy yourself, you know tomorrow won't look after itself. So you'll find time to set your goals and plan.
Your Monthly Horoscope for July
How to juggle an increasingly substantial pile of chores and find time for a lively social life is one of your dilemmas. The Cancer Eclipse is nudging you to acknowledge that you want and need more love and attention which means you need to get out there and start handing round hugs and compliments. What goes around comes around and it isn't just the problems. What you lack you must first give and it'll come back to you. There'll be no shortage of invites or admirers so you won't be feeling excluded. But there's no doubt that duty will call you frequently in the opposite direction as your responsibilities stack up. So staying fit and healthy will be a top priority if you're going to be burning the candle at both ends and spreading yourself in several directions at once. A friendship may cause you a moment's concerns towards mid month so you'll need to cope as best you can without over reacting. At times you may be inclined to speak first and think second which could get you into trouble. Slow down and don't feel you have to be all things to all people.
and Next Month's Horoscope for August
Not a practical sign by nature you'll have to push against the grain for a few weeks, sorting out details and getting better organised. Keeping yourself fit and healthy will also be on the agenda since you'll need to boost your stamina. Loved ones will appreciate a helping hand and you'll know you'll get your reward before the month's end. And indeed one triumph around the 7th will make your hard work seem worthwhile. You'll be praised and complimented for your achievements. From the 11th you may come across as overly critical since you'll spot flaws and mistakes, which can be useful but may not always go down well when you point them out. In the final dozen days you'll find more support on offer though since partners will be impatient you'll need to keep the peace. Your charms won't go unnoticed either at home or socially as you race through an exciting few days.
Year Ahead 2019
You much prefer to swim with the currents and drift with the currents, but needs must that you focus firmly early in the year on sorting out practical plans ahead. Certain friendships will be either less amiable than they once were or separated. So you'll treasure the mates around who are loyal and steadfast. They'll offer you advice which won't always be as upbeat as you'd like but they won't be wrong. Team relationships at work will require effort to get them running smoothly. If you are unsettled about a cool atmosphere, then try to break the ice and find a better way of ensuring co-operation. Your everyday schedule will be busy to the point of frantic at times so you won't be bored, but will need to be better organised. Your tendency of leaping out to speak the truth as you see it may not always go down well. Try to tone down honesty and add a little tact. Luckily your efforts should result in several successes or triumphs along the way so you'll be on the receiving end of recognition, praise and admiration from those whose judgement you trust. Neptune, your ruler, will still be in your own sign, making for some confusion or just a foggy state of mind at times. You won't always muster up the courage to be as pro-active as you'd like. In those times it'll be best to go with the flow and see where it takes you. What will waken you up after mid year is the desire to have a more exciting social life. You may be noticing a lack of attention or affection. The answer is to start handing out what you want for yourself. Shower compliments, hugs and kisses around and you'll be revitalised by the response. In December you'll begin to see how future plans can be made to work, with the enthusiastic support of new and upbeat friends.