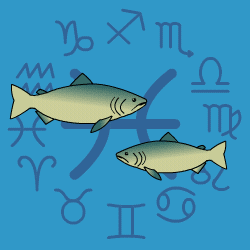 Pisces
February 20 - March 20
---
Today's Horoscope for Thursday July 09th
Your thinking will tend to go off in ten different directions at once. Don't over pack your schedule or get too wound up. Deep breathe once in a while and head for a calming corner to re-centre yourself. Keep reminding yourself you need to belong, to be loved, cuddled and cosseted. Look for reassuring companions who will give you help and support and be an anchor for you. Try not to overeat, because you will pamper yourself and avoid overreacting to certain situations
The Weekly Outlook from 06th July
Although you'll want the chance to have fun and enjoy yourself, you'll have a niggling thought about sorting out longer term schemes. If you play away the day, tomorrow may not look after itself. So it'll be wise to find time for preparation as well as entertainment. What's for sure is that you aren't going to take life lying down. You will be flying around at top speed, making things happen, wanting to achieve and having the potential to get things done. But try not to be confrontational or aggressive.
Your Monthly Horoscope for July
In a socially outgoing, flirtatious and fun-loving few weeks, you'll aim for the spotlight at parties and find loved ones rally round with affection and admiration. Friends will also be tugging at your attention so you may find yourself spread thin as you respond to demands for your company from various quarters. You've finally understood that the way to attract more attention and appreciation is to be responsive to everyone you meet. What you give out in heart-felt sentiments will come back to you. Keeping an eye on cash will be wise since you'll be tempted to jump hastily into decisions which may not be the best ones. Over optimism towards mid month will send you sailing towards one highly recommended scheme or plan which turns out not to be realistic. So try to stay calm, enjoy the good feelings around but take all advice with a pinch of salt and a memo-to-self to double check. The final ten days will bring work and duty back onto your agenda. Staying fit will be crucial since you'll burn the candle at both ends and keep playing as well as cracking on through chores.
and Next Month's Horoscope for August
A dreamer and visionary you are not in your element stuck with chores or having to tackle practical financial matters. But needs must and you'll have to knuckle down and accept the way life is for three weeks. Since you'll be putting energy out you'll need to boost your stamina by sticking to your fitness and diet regimes. Refuse to be hurried through a demanding everyday schedule and clear space to wind down every so often. You will be keen to improve your personal finances but going full tilt into schemes that are a touch overly optimistic won't be wise. If you take one such situation for granted as an easy win, you'll find out before mid month that your hopes were misplaced. Slow but sure and double check every inch of the way needs to be your motto. There will be fun distractions from a lively social life after the 7th with invitations and compliments coming your way. Your workload will lighten in the final week with more support on offer from a close partner. Money will still throw up odd irritating problems but you'll be coping well.
Year Ahead 2020
Your focus for 2020 will be almost exclusively on friends and future plans with such a build-up of planetary energy in Capricorn. You won't always be clear where you are heading or the company you want to travel beside since you'll be critical one moment and enthusiastically supportive the next. In a year of ups and downs and some dramas you'll need to watch not to be too accommodating of other people's wishes or indeed to be swept around by the prevailing wind. If you stick to your vision and keep your goals clearly in mind you'll avoid most of the pitfalls. A new friend will boost your morale and provide just the encouragement and motivation you need to keep you on track.rnHome will be happier with family tensions easing noticeably so you'll have a chance to relax and be indulged especially for a few months after April. During that phase you'll take the chance to mull over your options and decide what needs cleared out of your life. It may be old attitudes of mind that no longer fit with your present situation, old ambitions that no longer hold your interests or even certain friendships that have passed their sell-by date. You won't be making sudden decisions but will gradually see what you need to hang onto for the time ahead.rnTaking the initiative where your personal finances are concerned is the second half year's task. Getting a grip and then staying persistent will pay dividends though there will be a few distractions along the way. But you know you need to get more surplus accumulated if you're to feel secure and have extra for spending.rnBy the year end you'll be aiming high, knowing the only way to succeed will be to draw attention to yourself and your achievements. You'll take courage in both hands and demand recognition.