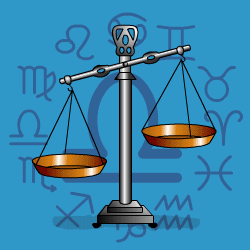 Libra
September 24 - October 22
---
Today's Horoscope for Wednesday December 12th
You are making it your business to know everything about everybody, since you want to have all the necessary facts at your disposal.rnBecause you see the truth of one situation clearly you may be coming across as critical, and could be too sharp in your comments if you speak before you think. Try to add tact and make it obvious you don't mean to cause harm. But you can also be flexible in your views when you have time to consider.
The Weekly Outlook from 10th December
More letters and phone calls than usual are keeping you on your toes, and short distance trips will keep boredom well at bay. You may be skimming the surface and cutting corners since there'll be less time for detail than usual. You are not about to let your feelings get in the way of your thinking since you want to be clear. But it does sometimes mean you sound too detached. Try to speak from your heart as well as your head.
Your Monthly Horoscope for December
Always chatty and quick-witted as an Air communication sign, you'll be on top form zipping round a busy everyday schedule. There'll be short distance trips, conversations and discussions aplenty, so much variety and little time for boredom. You'll need to write out to-do lists and sort out priorities otherwise you'll go round in circles. You'll be determined that only you can do tasks properly so may overload yourself with work at a time when your energy isn't limitless. Looking after fitness and health is vital and so is when to say no to yourself as well as to demands from others. Spending money on treats will be an irresistible distraction though some caution might be wise since you won't be entirely free to suit yourself where finances are concerned. A sudden turn of events around the 20th will provide an answer to one partnership dilemma and you'll have more freedom thereafter. Settling into a quieter, home-oriented few weeks after the 21st will keep you smiling.
and Next Month's Horoscope for January
Home, family and domestic matters will be your major occupation for three weeks. You'll know that changes are long overdue and will be drawing up plans for giving yourself the long term security you need. But it won't happen overnight or without a fair amount of persistence. Practicalities will need sorted first and then you'll be working out how to tackle emotional tangles within the family. Certain of your schemes or attitudes may not meet with approval but you're determined to cut loose from old restrictions and to find a way of connecting to the people who really matter in a more mature way. Your charm will work wonders with Venus, your ruler, in your chart area of everyday conversations. Thoughtful gestures from workmates and neighbours will keep your spirits high. You won't feel so hemmed in after the 20th with more fun and enjoyment on offer.
Year Ahead 2018
Your challenges in 2018 will be to breathe new life into your social and love life, your career and your friendship circle. So you won't go short of projects to keep you occupied and entertained. Early on if you are feeling unloved and overlooked, then you need to make an effort to hand out more affection and attention to others. What goes around, comes around and it isn't always the negative things. Then the invitations and compliments will start flowing your way.rnYou'll also be focussed on home and family matters, finding that a spot of reorganisation is required. Perhaps even thinking of moving in the not too distant future. If emotional tensions or old resentments surface then see the advantage of sitting down with loved ones for free and frank discussions which will clear them out of the way once and for all. Not that it will always be easy since certain family members may be resistant. Be calm, be tactful and keep chipping away.rnOne close partner will continue to be erratic and contradictory, here and then not here. Treat it as a blessing in disguise to give yourself the freedom you want to pursue your own interests. Be inter-dependent not dependent or possessive.rnLuckily money will flow through more easily to allow for treats, though it'll be an idea to save for a rainy day in future, rather than letting it slip through your fingers on frivolities.rnFrom July you'll want to make your mark and have your achievements recognised, so you'll be pushing ambitiously ahead. This won't be a time to be shy or hide away your talents. Bo bold and demand attention. It'll take hard work and effort but the rewards will come through.rnNew friends will turn up as well, widening your circle and providing you with more fun as well as linking you into good social networks. They will help with encouraging words of advice for your future plans and keep you on the right track.rnLate in the year your everyday schedule will move into a revitalised phase. You suddenly discover that what has been holding you back isn't bad luck, but too narrow an attitude. Being more positive will open new doors.