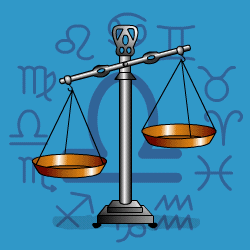 Libra
September 24 - October 22
---
Today's Horoscope for Tuesday June 18th
There is no point in sitting there feeling frustrated that loved ones aren't listening to you, or worse are disagreeing with you. Step being so defensive. Maybe you are scratchy about something that basically isn't important. You've got to pick your moment and your issue. With tact and ingenuity you will be able to bring difficulties out into the open and clear them out of the way once and for all. Think of what you want to get done and do it.
The Weekly Outlook from 17th June
The Full Moon falling in your chart area of everyday communications tends to get you bogged down in trivia. If you can stand further back to see the full picture, you will reach better judgements. Maybe you are feeling controlled by people who seem determined to have all the power. Often it is awkward to know how to handle them for the best. The more you push back, sometimes the worse they get, and you endup in those no win disagreements.
Your Monthly Horoscope for June
With a head bubbling over with enthusiastic ideas and exuberant opinions to spread in all directions, you'll be in your element for three weeks. You'll be hauling yourself out of ruts, getting away from routines and casting your eye to the far horizon. You'd adore to travel but if that's not possible then you'll aim for adventure closer to hand and be contemplating taking up a new hobby. Admittedly you won't escape hard work with Mars still at your midheaven all month and will be taking the lead, sounding a touch bossy at times. But you know if you show by example the benefits of making an effort, others are more likely to join in. There will be practical problems or emotional dilemmas at home for a few days after the 14th. Try to bite your tongue and say less since flaring up and flying off the handle will only prolong the tension and differences. Success will come your way in the final ten days with praise and compliments being showered on you for your achievements.
and Next Month's Horoscope for July
This will be an important month for you with the Solar Eclipse at your midheaven, very much a time to put self-doubt to one side and showcase your talents and achievements. Be bold and demand appreciation and respect. It'll take courage and effort but the results will be worthwhile. Hiding away in a corner won't pay dividends. Luckily you'll have strong team support from energetic friends who will rally round with support and motivation, ensuring you aren't waiting on luck to do it for you. Your social status will rise with compliments coming your way and invitations to rather special events giving you a chance to sparkle. There will be a few sticky practical or emotional matters requiring your attention at home or within the family just before mid month. Be straightforward but not too critical or possessive. You will have to spread your attention in several directions, balancing up the needs of your head and your heart. And will at times feel inclined to throw everything up in the air and not be so hemmed in. But over reacting won't help. Friends will be offering affectionate support in the final days.
Year Ahead 2019
Your everyday routines will be lively, enthusiastic and filled with fun encounters and new opportunities. Always a communicative sign, you\'ll excel yourself at putting your views across with a positive slant that brings favourable responses. You\'ll be more open-minded and find that by broadening your perspective luck comes your way. So you won\'t be holding yourself back. Your first priority early on will be to tackle home and family matters. It\'ll take effort and persistence but you\'ll know changes need to be made to bring you the security you want ahead. There may be tensions surfacing as old unresolved emotional issues come into the open. See the benefits of having a chance to sort them out once and for all, having given them a good airing. There may be minor tugs of war since not everyone in your close circle will have the same ideas about how to move ahead, so you\'ll have to be subtle and strategic. Being confrontational won\'t work. Finding time for friends and entertainment will also be on your agenda with the Leo Lunar Eclipse in late January pointing the way towards more sociable activities. Keeping a watchful eye on finances especially where you share joint responsibility with others - mortgages, credit cards, revenue etc - will be important with Uranus causing a few roller coaster moments. There\'ll be more comings and goings than usual which isn\'t necessarily a disaster, just that you need to save when there is surplus. From mid year you\'ll switch your attention to your career or community activities and take the initiative to ensure you are getting the recognition that your talents and achievements deserve. You will be distracted by emotional ties but try to keep your focus steady. By late in the year you\'ll be settling down in your own cosy nest and feeling contented within yourself.