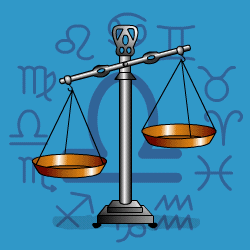 Libra
September 24 - October 22
---
Today's Horoscope for Friday July 01st
Your close relationships are moving through an expansive phase of several months as Jupiter brings an air of enthusiasm and tolerance to your encounters. Though you will tend to see what you want to see and attract yourself to charming but naive or unrealistic friends, who do not always deliver what they promise. Basically honest and fair-dealing yourself, you expect everyone else to be the same, which can set you up for disappointment. Find a trusted ally to open up to who can keep you on the right track.
The Weekly Outlook from 27th June
There is a saying that anything which shoots up fast like plants growing in a swamp, withers as quickly. Diamonds on the other hand which are produced very slowly under great pressure last for ever. Applied to life it means that persistent effort over time produces long lasting results. Don't dash into one situation expecting overnight miracles. You need to give new projects a constant push to make sure that you are building and building for the days ahead.
Your Monthly Horoscope for July
Your planned changes at home may be running into delays or obstacles so your best bet is to firm and flexible. Some problems you can shift with persistence and determination. Others you need to wait for the right time or accept a less than perfect outcome for a brief while. You will need to put your shoulder to the wheel to make progress over getting better agreements, financial and emotional. They won't be reached without compromise on both sides and may take some weeks so you'll need to be persevering as well as patient. Luckily you'll also see progress with other ambitions and be feeling on the crest of a wave as praise and recognition come your way. There's no sense in being a shrinking violet so muster up the courage to push yourself into the spotlight. Your social life will be adventurous as you mix with a fun crowd and explore new activities and venues. Friends will be around in the final days making you feel popular.
and Next Month's Horoscope for August
Always renowned as a tactful and well-balanced personality, you'll struggle to maintain a calm smile through a unsettled first two weeks with fast-moving and changeable circumstances prompting speedy reactions. Financially and emotionally you won't be able to rely on anything staying the same. Luckily you are a resourceful sign, overflowing with initiative, so will find a way to adapt. But not leaping in to get back at situations which initially seem unfair will be vital. Be as secure in your identity as you can and proceed in a steady manner. There are deep-seated changes ongoing with Mars and Uranus in your chart area of transformation. If you can regard that as positive and a chance to shift into a better situation then you'll do well. If you can continue to charm the right people and keep up appearances your popularity will stay afloat. Loved ones may be demanding and you won't be socialising as much as usual. But you'll be pleased to step back and take a well-earned rest in the final ten days. Let others take the strain while you rest and recharge.
Year Ahead 2022
2022 starts on a note of enthusiasm in your working life and where fitness is concerned. Your energy levels will be high and the only downside maybe an expansion in your appetite. But in general you should recover from minor ailments faster and be ambling along in good form with the support of those close to make your burden of chores lighter.rnGetting a firm grip of your finances will be a priority with the eclipses now in Taurus and Scorpio. Not overspending to impress and taking the initiative to boost your long term security will be wise. You can't afford to rely on a wing and a prayer to solve problems or keep you afloat. Definite action will produce results.rnYour social life may be in the doldrums for the second year running which will be unsettling and loved ones will be demanding. But as you shoulder responsibilities for them you will gradually understand that love is not all picnics and roses, but involves effort and self-sacrifice as well.rnYour feelings will switch unpredictably from hot to cold and you won't always or indeed ever be clear about what you want. Partners may become confused by your erratic approach so be considerate and explain what lies behind your switch-on-switch-off moods. From May onwards all your close relationships will blossom. Sharing activities and future plans will revitalise bonds which have become stale. You'll see clearly which connections in your life have potential for development ahead and build on the. Any which have passed their sell-by date will be dropped with a minimum of regret.rnInto the final months you'll be flying high, broadening your horizons, searching for adventure and spreading your robust opinions in all directions.