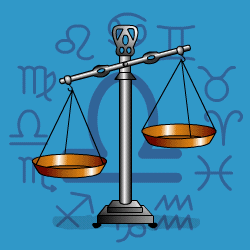 Libra
September 24 - October 22
---
Today's Horoscope for Wednesday October 23rd
You will put extra effort into getting the budget in ship shape order. You will be determined to earn more for a few weeks, or manage what you already have more sensibly. Though your spending is also likely to shoot up. The key thing is to learn the lessons of handling cash successfully. Try not to flash it around extravagantly to boost your self-esteem. You'll be slow to make up your mind. But once you get on track nothing will budge you.
The Weekly Outlook from 21st October
You'll be drawn more even than usual to the good life, and all it brings with it, which never comes cheap. But you will not be happy unless you can boost your savings and security as well. Leaping recklessly into telling those at home exactly what you think of them in an over-abrasive way may be tempting but it could backfire. It's just won't be easy to moderate what you're trying to say. You'll grit your teeth, hold your tongue and then overdo it.
Your Monthly Horoscope for October
In bouncing good form with your birthday Sun in place as well as vibrant Mars, so you won't be taking life lying down. You'll be forging ahead exuberantly, pushing obstacles to one side and not putting up with nonsense. This is your time to plan out your next twelve months so you'll have your thinking cap on. But for all the go-ahead mood, there'll be a pile of domestic tasks to plough through and a few family tensions and tangles to resolve. You know in your heart of hearts that radical changes have to be made and even if it takes a while and considerable effort you'll keep on pushing until you've made the adjustments necessary for your peace of mind. Not everyone close or in the family will be in agreement with your schemes but that should not be allowed to distract you. You'll be indulging your extravagant streak along the way, treating yourself to beautiful and expensive presents. In the final week you'll also turn your mind to ways of increasing your income or giving yourself more security so the budget should be better balanced by then. Though there'll still be a few ratchety moments at home before the month closes.
and Next Month's Horoscope for November
Dynamic Mars in your own sign until the 19th will keep your eyes pinned firmly ahead and you won't allow any distractions to slow your progress. There may be some tensions at home or within the family in the first week but thereafter you'll sail ahead in good style. Thoughtful gestures from everyday mates at work or in the neighbourhood will make you aware you don't have to move far to find appreciation and affection and you'll be charming in response. But really the focus will be on your personal finances all month with the Sun and then Mars in Scorpio. You may be tempted to spend but putting concentrated effort into boosting your security would be more sensible. The more you can put your foot down and demand your dues the better. No one should be allowed to pull the wool over your eyes or short change you. You'll be flying along in the final days, talking constantly and be on top form.
Year Ahead 2019
Your everyday routines will be lively, enthusiastic and filled with fun encounters and new opportunities. Always a communicative sign, you\'ll excel yourself at putting your views across with a positive slant that brings favourable responses. You\'ll be more open-minded and find that by broadening your perspective luck comes your way. So you won\'t be holding yourself back. Your first priority early on will be to tackle home and family matters. It\'ll take effort and persistence but you\'ll know changes need to be made to bring you the security you want ahead. There may be tensions surfacing as old unresolved emotional issues come into the open. See the benefits of having a chance to sort them out once and for all, having given them a good airing. There may be minor tugs of war since not everyone in your close circle will have the same ideas about how to move ahead, so you\'ll have to be subtle and strategic. Being confrontational won\'t work. Finding time for friends and entertainment will also be on your agenda with the Leo Lunar Eclipse in late January pointing the way towards more sociable activities. Keeping a watchful eye on finances especially where you share joint responsibility with others - mortgages, credit cards, revenue etc - will be important with Uranus causing a few roller coaster moments. There\'ll be more comings and goings than usual which isn\'t necessarily a disaster, just that you need to save when there is surplus. From mid year you\'ll switch your attention to your career or community activities and take the initiative to ensure you are getting the recognition that your talents and achievements deserve. You will be distracted by emotional ties but try to keep your focus steady. By late in the year you\'ll be settling down in your own cosy nest and feeling contented within yourself.