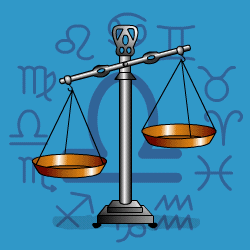 Libra
September 24 - October 22
---
Today's Horoscope for Thursday July 09th
You want to breathe more inspiration into your emotional life, so you need to start thinking along new lines. You want deeper meaning, a different sense of purpose, to go beyond ordinary living and find something really different. Though your mental state may be affecting your body slightly more than usual. If you're feeling jittered and jangled you could end up with creaks and groans and low energy.rnMake sure you're putting energy into eating well, resting, relaxing and exercising.
The Weekly Outlook from 06th July
The Lunar Eclipse falling at the lowest point of your chart is not gloomy, but it is a warning that you need to draw back slightly from too much work and ambition to consider your feelings more. You cannot allow your head to over-rule everything and forget your heart. Slow down and enjoy being instead of constant doing. Though you won't find it easy to slow down with your bright, breezy and bouncy mood. Remember you can work well with others, because you'll push them in the direction that you want to go.
Your Monthly Horoscope for July
This won't be a time to hide your light under a bushel or be silent about your achievements. Be bold and get your talents out on display since the right people will respond with praise and respect. Loved ones in the family may complain they are getting less of your attention so you will need to schedule time for them, but your priority must be to push your ambitions ahead. If you take the lead others will follow along behind. And yes, there may be a few differences of opinion about your approach but you won't let that slow you down. Good news about a domestic matter towards mid-month will be heartening though you could over-react in your enthusiasm. Be cautious as well as positive. In the final ten days you'll be surrounded by fun friends and supportive team mates, keen to help you sort out your plans for the next year.
and Next Month's Horoscope for August
In your element with friends, team mates and close partners all rooting for you and standing by with support, advice and the odd helpful push. You'll be happy for others to take the lead or go with group decisions, which doesn't mean you won't get impatient if anyone tries to tie you down or control you. You'll be tolerant of others freedom and expect the same in return. You'll be promoting yourself with vigour and finding companions appreciate the direct approach. Just try not to go wild with impulse decisions over money or react too quickly when a sudden change turns up early on. Holding yourself in check may not be easy since you'll be in an adventurous mood and a family member may be egging you on. But if you move too far too fast on a home or domestic matter, you'll need to backtrack before the middle of the month as your plans hit a stop sign. Thereafter you'll proceed with more caution and in the final days decide to step back and let others do the running around while you rest and relax. There'll be one minor domestic crisis but nothing you can't cope with.
Year Ahead 2020
2020 will be your year for reorganising your home and domestic life and finding that major changes in relationships within the family have to be negotiated. It'll feel like an uphill struggle at times but you need to be persistent, put in the leg work and stand firm about what you need for yourself for the future. Because of the contradictory nature of the influences around, you'll find it's one foot forward and one foot backwards. There will be moments of contentment and moments of drama, some tensions spilling into the open and old resentments getting finally cleared out of the way.rnYou'll be on an emotional roller-coaster in odd patches as sudden events crop up unexpectedly which throw your plans off track. But you'll keep your eye firmly on your goals and won't lose your equilibrium for long.rnJoint finances will need care since more money will come and go that usual which means you have to budget for an uneven flow of income. It needn't necessarily be disastrous, just fast-changing and unpredictable.rnYour energy won't be limitless so don't over push yourself when you feel like slumping. You will want to be helpful but over stretching yourself to ensure that others are being looked after won't be sensible.rnLuckily your social life will be lively and adventurous across the middle months of the year. And close partners will be firing on all cylinders from July onwards which could lead to arguments but not if you co-operate with their plans. That way you'll make progress faster.rnThe eclipse cycle will focus you on home matters for the first half year and ambitions in the second half. Then as you head for the New Year into 2021 you'll be racing around a busier schedule, be into a sociable phase and finding your self-confidence is soaring.