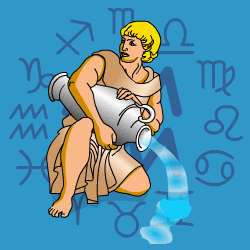 Aquarius
January 21 - February 19
---
Today's Horoscope for Sunday July 21st
It may that that you are feeling a little bit stuck where one relationship is concerned. It's just a passing cloud, so give yourself a shake and try to be more positive. Looking on the worst side of any situation will always throw up flaws. This is definitely not a day for sitting still. You will be whizzing around on short-distance journeys, writing more letters than usual, making phone calls galore. You feel you just have to talk, talk, talk.
The Weekly Outlook from 15th July
Try to let go of old patterns of behaviour that have been holding you back. Change is never simple but you will benefit from abandoning what is not in your best interests. When the Moon falls in the sign before yours, you really want to retreat into a protected space. But since this is the Eclipsed Full Moon this week you are pulled between the conflicting wants and oughts. You have a strong sense of duty but also your own needs to consider.
Your Monthly Horoscope for July
Knuckling down to hard work won't just be your main concern for this month but for a few after that with the Cancer Eclipse pushing additional chores, even jobs your way. So you'll need to do whatever you can to boost your stamina and keep yourself in good shape. At times you may feel under rewarded and under appreciated for your efforts so taking pride in what you do for its own sake will help. Close partners will be fairly wound up and raring to go which will mean a few differences of opinion at times. Try to throw your energy into co-operative schemes which will save wasting energy. Though it won't always be easy with a few upheavals or sudden changes of circumstance at home and amongst the family. Keeping your less positive thoughts to yourself will help you to overcome a few discouraging days towards mid month. Least said, soonest mended. Then you'll be trying to find a balance between the duty you owe to others and the duty you owe to yourself - not giving so much you end up feeling deprived. There'll be more support and affection coming your way in the final days.
and Next Month's Horoscope for August
Normally an independent sign who loves to be part of group energy, you will be revelling in one-to-one support for a few weeks. One specially affectionate close partner will be there for you, whispering sweet nothings in your ear. You'll also be in demand socially for your knack of making everyone you meet feel special. But it'll be twosomes you crave, not your usual friendly mix n' match scenario. Looking ahead you'll have high hopes about a future plan and be keen to follow your dream. After mid month you'll knuckle down to the nitty gritty of sorting out confidential tangles before you can move ahead decisively. It may feel like a step backwards but in reality you'll be laying stronger foundations for yourself as you reach out to make better agreements with those close. Be persistent and listen to feedback. Progress may be slow but you will have strokes of inspiration that help point the way.
Year Ahead 2019
Looking ahead you'll see rosy glows on the far horizon with great possibilities in the future. A wide circle of enthusiastic friends will be boosting your self-esteem and handing out helpful advice, which may veer to the over-confident at times, so be sure to double check. But for all that you'll be more inward looking, asking yourself in the quiet moment probing questions about what you really want to be doing with your life. Certain old ambitions have lost their fire and you know you need to let them go and find better for the future. You'll also be clearing out old baggage, whether emotional or old attitudes of mind that have passed their sell-by date. The Solar Eclipses early and late will prompt you to dig deeper for answers. House moves are a possibility or renovations and changes in your domestic setup, as you're drawn to a more modern feel for your intimate surroundings. You'll be restless as well emotionally with changes ongoing within the family. At times you may feel insecure as old certainties seem to disappear. But in future you will reconnect where it really matters in a different way. Your finances will be rebalancing from early on as you decide that sharing and caring and co-operating is more sensible than going it alone. Revising your fitness and health routines and regimes will be on your mind from July onwards for several months. Not over-committing yourself and draining your energy unnecessarily will be one tip. Remembering to stay positive another, since your state of mind will affect your body. If you feel discouraged then your physical fitness will sag. As you near the year's end you'll find that you become more contented in your own protective niche and with yourself. Your hunches will prove spot on about how you can give yourself a more fulfilling time ahead.