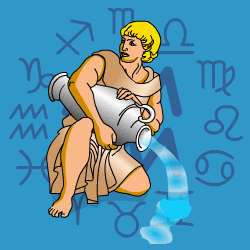 Aquarius
January 21 - February 19
---
Today's Horoscope for Saturday December 03rd
You will be whizzing around at speed. Check out in advance whether what you're doing is necessary. You could be rushing so fast you don't stop to think things through. If you can speak to companions in a cooler way, they'll connect better. But you may get too close to subjects under discussion or chatter incessantly about nothing much. You'll tend to mix emotion and logic together haphazardly, getting in a muddle as a result or being more biased than you imagine.
The Weekly Outlook from 28th November
Certain people will be a nuisance and getting in your way which could be discouraging or dent your self-confidence. Maybe you will have to get out of their way but you can also say when enough is enough. Stand up for yourself but do it tactfully. After midweek you'll be in the mood for fun and getting on well with those close. You'll also be reaching out to make new connections and be keen to ensure that everyone you meet is left smiling.
Your Monthly Horoscope for December
Friends will be around to offer support, advice and lively company as you sort out your plans for the longer term. Firing on all cylinders, you'll be upbeat and keen to get your own way as well as pack as much enjoyment as you can into every day. Loved ones will be dancing to your tune but may occasionally complain they are being bossed around. Sweeping them up in your enthusiasm will work best. After the 6th you'll be keeping your own counsel and listening rather than talking. You'll offer a sympathetic ear to those in need but be reluctant to speak out too loudly in case your views do not meet with agreement. A busy social patch will start to wind down after the 10th so you'll be pampering yourself in the quiet moments. In the final ten days Jupiter moves into Aries which will brighten your everyday routines with fun encounters and lively chat. You will want to take it easy all the same and step back for a few weeks to reflect and recharge.
and Next Month's Horoscope for January
Year Ahead 2022
Despite the ups and downs, stop-start feel as 2022 gets under way, you'll at least have the satisfaction of knowing your finances are in better shape. The winds of good fortune will be blowing behind you for several months ahead and again at the year's end bringing money your way. You'll be spending liberally so may not end up with much surplus but you'll be happy to spoil yourself.rnJust have a slight care since Neptune is still hanging around in Pisces which tends to make you careless or overly generous and taken in by sad stories. So you'll need to protect yourself.rnThe year will be divided between phases where you push work and outer ambitions ahead, early and late, and the middle months where you focus on home and family matters. Putting changes in place in your domestic life and family relationships to bring you more comfort and contentment will be a priority. There will be disruptions and unsettled patches so you'll need to steer a middle course and try to keep loved ones in good humour.rnYou'll sense you are slowly coming to the end of an old cycle in your life. The new phase won't get underway just yet, but this is a phase for tying up loose ends and getting prepared. Getting a grip of certain situations which seemed out of your control will be important but you'll need to tread softly and not expect overnight results.rnFrom August onwards till the New Year you'll be on a roll with high vitality and passionate enthusiasm sending you into a pro-active, spirited few months. You won't be holding back, will want your own way and be throwing yourself into enjoying yourself in a major way.