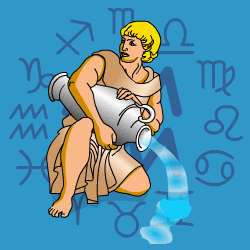 Aquarius
January 21 - February 19
---
Today's Horoscope for Tuesday December 10th
Your concentration will wander and you'll get bored listening to feedback. Instead you'll be theatrical and dramatic, cracking jokes and demanding attention. You'll be popular, charming and persuasive. This is the entertaining Moon of the month for you, so you've no intention of letting it slide by without making a definite statement. Keen to be at the centre of group activities, you'll be an odd mix of tolerant and obstinate.
The Weekly Outlook from 09th December
Sometimes in the rush and scramble of coping with everyday matters and an active social life, you lose track of what you really want for yourself. Allowing that vital inner spark to shine out is more important than fitting in with everyone else's expectations at least for a day. There is an old saying about treating loved ones like birds which are allowed to fly free. If you cage them they will one day escape. But if you can trust enough to let them do what they want, they will more readily come back to you.
Your Monthly Horoscope for December
In a friendly, forward-looking three weeks you won't be short of company or advice. You may not be socialising or enjoying romance as much as usual, but you won't be left alone. At times your mischievous spirit will want out to play so you'll speak or act in a provocative way just to make an impact and entertain others. You'll also be laying down the law and sounding bossy at times. Pushing dynamically towards your goals you'll expect everyone around to be as motivated as you and to toe your line. This may not always go down well so try enthusiastic persuasion first before getting too forceful. But you will also become gradually aware in the background of a growing inner contentment and the capacity to be happy in your own company. This comes from Jupiter moving into the sign before yours on the 2nd to stay for a year. It'll help you get perspective on the past and to come to terms with many personal dilemmas. A quieter, reassuring final few days will also have chances to flirt and have fun.
and Next Month's Horoscope for January
High energy friends may be pushy or argumentative at times but they won't let you sit idle. They'll be determined that you should keep planning ahead and not allow past regrets to hold you back. But for all that you will have moments of introspection where you want to shut yourself away and ponder on highly personal and secret matters. Just don't get too inward-looking or isolated since it won't help. There will be helpful advice coming your way from an unexpected source and your own intuition will guide you if you can listen to it in quiet moments. Spending money will be a fun distraction and you'll be tempted by all manner of irresistible treats and indulgences. This is never your best month of the year and you will be sorting out work and practical matters as well as giving yourself quality time for yourself. Sorting out how much energy and attention you want to give to others and how much to yourself will be a question for months to come. Your birthday Sun after the 20th will bounce up your enthusiasm and exuberance. And even a sudden change at home won't be enough to dent your good humour.
Year Ahead 2019
Looking ahead you'll see rosy glows on the far horizon with great possibilities in the future. A wide circle of enthusiastic friends will be boosting your self-esteem and handing out helpful advice, which may veer to the over-confident at times, so be sure to double check. But for all that you'll be more inward looking, asking yourself in the quiet moment probing questions about what you really want to be doing with your life. Certain old ambitions have lost their fire and you know you need to let them go and find better for the future. You'll also be clearing out old baggage, whether emotional or old attitudes of mind that have passed their sell-by date. The Solar Eclipses early and late will prompt you to dig deeper for answers. House moves are a possibility or renovations and changes in your domestic setup, as you're drawn to a more modern feel for your intimate surroundings. You'll be restless as well emotionally with changes ongoing within the family. At times you may feel insecure as old certainties seem to disappear. But in future you will reconnect where it really matters in a different way. Your finances will be rebalancing from early on as you decide that sharing and caring and co-operating is more sensible than going it alone. Revising your fitness and health routines and regimes will be on your mind from July onwards for several months. Not over-committing yourself and draining your energy unnecessarily will be one tip. Remembering to stay positive another, since your state of mind will affect your body. If you feel discouraged then your physical fitness will sag. As you near the year's end you'll find that you become more contented in your own protective niche and with yourself. Your hunches will prove spot on about how you can give yourself a more fulfilling time ahead.