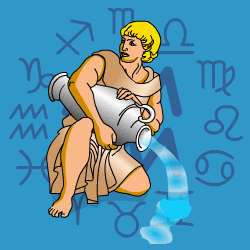 Aquarius
January 21 - February 19
---
Today's Horoscope for Wednesday August 04th
With Mercury in Leo, your opposite sign, for another week you'll be chatty, tactful and persuasive. Your skilful way of expressing yourself and desire to keep the peace will be doing wonders for your popularity. Though you will tend to race around so fast that you won't always take time to think through what you say sensibly. There may be muddles if you cut corners and don't allow yourself to take a considered view of important matters. More haste less speed.
The Weekly Outlook from 02nd August
This won't be a week to spend money indulgently or overdo excesses of any kind. You'll be realistic about what you can achieve and plan ahead effectively. Mistakes may surface but you'll also get results where you've prepared well. After mid week the winds of change will blow through, opening you up to excitement and thrills. If you are clinging on at home to security and stability, you may feel on edge since you won't be able to predict what comes next. If you let go, you might enjoy yourself more.
Your Monthly Horoscope for August
Togetherness will make your world go round so being cooperative and fitting in with a partner's plans will be the way to go for three weeks. In the first few days you'll be fidgety, dancing backwards and forwards which won't make it easy to hold your relationship steady but thereafter you'll settle down and all will be harmonious. Your feelings will be intense, running hot and strong, so you'll have likes and dislikes with not much in between. If you can moderate your responses it'll help you be more persuasive. Coming across as intense and forceful will not bring helpful responses. After the middle of the month your social life will be light-hearted, adventurous and not only entertaining but also informative. Exploring new venues and mixing with new fun friends will keep you on your toes and rarely bored. Though you won't be distracted from your main priority which is forging better agreements with those close and building stronger securities for yourself ahead.
and Next Month's Horoscope for September
A chatty, independent-minded sign, you never appreciate being hemmed in. But sometimes you do have to tackle confidential dilemmas which requires you to tuck yourself away until you find a way through the tangle. Stay persevering but be prepared to be flexible as well since you won't get it all your own way when aiming for better financial or emotional agreements. Keep in mind that the end result of your efforts will be greater security. Out on the social scene, you'll pin on your brightest smile so no one will guess what's going on in private. The right people will be charmed by your knack of complimenting them and make them feel special. From mid month you'll be released from restrictions and an intense past few weeks and be keen to fly higher and stretch your wings. Talking with great enthusiasm you'll be motivating and encouraging those close and planning to travel further afield in the time to come.
Year Ahead 2021
With the momentous Jupiter Saturn conjunction in your own sign kicking off a new year in 2021, you can guarantee there will be an opportunity to get off onto a better footing. Jupiter will bring enthusiasm, optimism and luck with improved relationships and resources being drawn your way. At the same time sober, sensible Saturn hints that getting a grip of practical problems and clearing out of your life what is no longer essential will be a priority. So you'll bounce between exuberance and caution and it may feel a stop start time. If you can aim for slow but steady progress you'll be fine. There will be upheavals at home especially early on which won't make it easy to stay calm but smoothing over differences will be wise given that the year will bring its ups and downs in the family and in your domestic environment. If you can embrace change as a challenge to test out what is less familiar and see that as positive rather than the opposite, you'll do well.The Eclipses will set up one theme for the first half year of friendships and future plans. You won't let the grass grow under your feet since you know tomorrow won't look after itself. Your social circle will widen which will give you fun company as well as good advice.More money will roll in for a few weeks after the middle of May and again near the new year into 2022, so you'll be treating yourself to the odd indulgence. Later in the year you'll be letting your hair down and kicking up your heels on the party scene. If you've been feeling short on love, affection and attention now is the time to remedy that by handing out compliments and hugs. What you give out will come back to you.