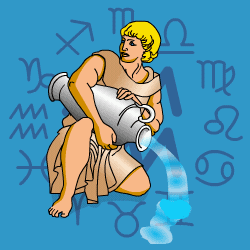 Aquarius
January 21 - February 19
---
Today's Horoscope for Monday March 25th
You will be skipping around a busier routine than usual at the moment. There may be less time for depth than you might like since you'll be pulled in different directions, with more correspondence than usual to handle. You will not want too much togetherness and will prefer to be one of the gang. As far as you are concerned there is safety in numbers. Don't overreact to a stray comment since within minutes the situation will have changed again.
The Weekly Outlook from 25th March
You want tangible gestures of affection to make you feel appreciated and wanted, either in cuddles or in presents. Venus in the sign after yours makes you emotionally rather fixed, at times rather possessive, even jealous. Try to be more flexible this week. Your love life is definitely due for a creative change. Admit to yourself if things have become a little dull and routine. Use your ingenuity to zip up the mood and introduce livelier and more fun-loving activities.
Your Monthly Horoscope for March
A financial tangle needs to be sorted sooner rather than later. Looking the other way and hoping for the best won't work. You know your long-term security is important and since you also enjoy indulgences, you'll need to balance the budget. Changes at home will give rise to a few heated differences of opinion. If you can throw your energy into reorganising and avoid coming across as bossy where loved ones are concerned, you'll get through the necessary tasks faster and with less hassle. Friends will be erring on the over-hopeful side when it comes to advice. Enjoy their support but double check for yourself. Deep inside you know there are certain decisions only you can make and you can't rush those until you have considered all of your options. An exuberant final few days will find you on your toes, revitalised, chattering animatedly, finding more money for treats.
and Next Month's Horoscope for April
Zipping along a speedy everyday schedule you'll be talking constantly and scattering in all directions at once. Managing your time well, getting more efficient and communicating clearly will all be crucial if you're not to slow yourself down. There will be moments where your secret worries distract you. Try to keep things in perspective. You know certain elements of your life have to change, with whatever is not essential for the future pruned out. Enthusiastic and exuberant friends will keep your morale high and although their advice may err at times on the overly optimistic they'll generally be of benefit to you. Spending money will prove all too tempting since treats and extravagances will catch your eye. From the 21st you'll turn your attention to home and family matters with the aim of putting significant changes in place. It'll cause a small upheaval and won't always be met with agreement but you will be heading in the right direction.
Year Ahead 2019
Looking ahead you'll see rosy glows on the far horizon with great possibilities in the future. A wide circle of enthusiastic friends will be boosting your self-esteem and handing out helpful advice, which may veer to the over-confident at times, so be sure to double check. But for all that you'll be more inward looking, asking yourself in the quiet moment probing questions about what you really want to be doing with your life. Certain old ambitions have lost their fire and you know you need to let them go and find better for the future. You'll also be clearing out old baggage, whether emotional or old attitudes of mind that have passed their sell-by date. The Solar Eclipses early and late will prompt you to dig deeper for answers. House moves are a possibility or renovations and changes in your domestic setup, as you're drawn to a more modern feel for your intimate surroundings. You'll be restless as well emotionally with changes ongoing within the family. At times you may feel insecure as old certainties seem to disappear. But in future you will reconnect where it really matters in a different way. Your finances will be rebalancing from early on as you decide that sharing and caring and co-operating is more sensible than going it alone. Revising your fitness and health routines and regimes will be on your mind from July onwards for several months. Not over-committing yourself and draining your energy unnecessarily will be one tip. Remembering to stay positive another, since your state of mind will affect your body. If you feel discouraged then your physical fitness will sag. As you near the year's end you'll find that you become more contented in your own protective niche and with yourself. Your hunches will prove spot on about how you can give yourself a more fulfilling time ahead.