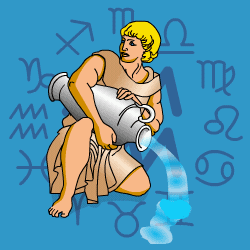 Aquarius
January 21 - February 19
---
Today's Horoscope for Thursday December 13th
Try not to over react to other people's comments. Sometimes you get yourself worked up about things that are not as important as you make them out to be. Try to give yourself some space to just wind down today. It may be that you have put someone on a pedestal and they're going to turn out not to be up to your expectations. This may not be their fault: you were perhaps a bit unrealistic in the first place.
The Weekly Outlook from 10th December
In a friendly, forward-looking week, you are in your element in group efforts at the moment, keen to see that everyone pulls in the same direction. Though your concentration is wandering a little and you are getting very bored with having to listen to feedback. So you may say things that startle other people just to amuse yourself. By all means put your original ideas out, even if they may sound whacky and off the wall. Some will go down well.
Your Monthly Horoscope for December
On top form socially, you'll be charming all the right people and putting on quite a performance. Invites to special occasions will boost your morale and mix you in elevated company. Friends won't be in short supply either and the first three weeks will be a time to mix n' match with as many as you can. You'll be sorting out long term plans, picking up hints and advice. Your lively sense of humour will keep everyone entertained even if you go too far at times. Your personal finances need care and attention since you want more security and the surplus to spend as you please. In addition you may get in a muddle by not keeping an eye on detail or being overly generous. After mid month you'll gradually wind down and prepare for a less helter skelter schedule in the final days.
and Next Month's Horoscope for January
You'll be foot on the accelerator, moving and talking at high speed, not always patient with delays and others' mistakes but no one will be half-asleep around you. Once in a while you'll need to pause and ask yourself whether you are running away from highly personal issues that need attention. Give yourself quality time to sort out what you need to jettison from your life that no longer works. Don't get discouraged or gloomy about what you're leaving behind. Be hopeful that better will come soon to take its place. Affectionate friends will be around to make you feel appreciated and welcome and pull you out when you are getting too introspective. In the final days you'll cast off a good many cares and put your best foot forward. One close relationship will be under your review and if you can sit down for a heart to heart, you'll reach better agreements for the future. On the 25th a significant morale boost will signal a green light for a plan that is close to your heart.
Year Ahead 2018
What do you want out of your life and your closest relationship? Those are your key questions through 2018 with the Eclipses in your own and your opposite sign. You'll start in a more independent frame of mind, making up your own mind what your priorities are. Though that will gradually change through mid year as you work out how to improve your emotional life. At that point being less self-sufficient and more adaptable will be the key to greater fulfilment. You can't be an island unto yourself.rnJupiter at your midheaven will bring success your way, so whatever you touch at work or in your community activities will work out faster and better than you expect. You'll glow with pleasure at the appreciation coming your way.rnHaving to juggle the demands of an extra-busy everyday schedule will scramble your brain at times, so stay focussed, make out to-do lists and take every chance you can get to wind down and de-stress. Money muddles may occur since you'll overlook important details or leave it to someone else. Going on a wing and a prayer usually doesn't work well where finances are concerned. So be sensible, better organised and not overly generous.rnKeeping an eye on health and fitness will also be an idea from July onwards, since you'll need to boost your stamina however you can. And not overload yourself. If you can reach better agreements with close partners then they can help take the load off your shoulders.rnLate in the year a wider circle of fun and enthusiastic friends will brighten your spirits.