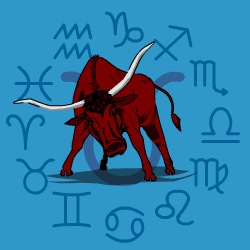 Taurus
April 21 - May 20
---
Today's Horoscope for Saturday September 19th
You won't be in a position to issue ultimatums or be pro-active for a while ahead. But you will work well behind the scenes and pull strings effectively. The roundabout route may well be the best one so do not think of yourself as timid, just sensible. If there are practical problems at home then knuckling down to find a solution will clear it out of the way. Face the bottom line and the only way from there is upwards. If you take it step by step you'll get there.
The Weekly Outlook from 14th September
You'll examine closely what is no longer necessary in your life. Nothing lasts for ever in the same form. In nature with the seasons comes new growth, then flowering, then decay, before the cycle starts over. In the same way you need to see what has passed its sell by date, and let it go. Later in the week you'll have a chance to get your glad rags on and kick up your heels socially and will want to know how to keep the good times rolling for months and months to come. No one will damp your spirits.
Your Monthly Horoscope for September
An earthy Virgo Sun will brighten your spirits and keep your social life swinging along in good style. You'll be inundated with invitations and compliments with plenty of chances to shine in the spotlight. Loved ones will rally round to make you feel appreciated and adored. Your plans will chop and change along with your opinions but gradually you'll begin to see a way ahead with better news coming in from friends a distance away or abroad. Venus, your ruler, moving across your midheaven from the 6th for several weeks will find you putting on quite a performance on special occasions and charming all the right people. Taking time out to settle practical details won't be a problem with Mercury in Libra till late month. Your eagle eye will spot mistakes and find solutions. There will be less time for fun after the 22nd and you'll know you need to put duty before pleasure once more.
and Next Month's Horoscope for October
Hard work will be unavoidable so you'll need to turn your attention to staying fit and finding ways of boosting your stamina. You'll continue to feel boxed in as you have done for some months with Mars trapped in the sign before yours so need must that you accept what you can't change. Coming across too forcefully with your opinions won't be persuasive so if you tone down your approach and aim to sound positive then you'll far better. Loved ones will rally round to make you feel appreciated and they'll bring out your mischievous streak. Your mood will flip from high to grumpy but after an enthusiastic surge around the 19th you'll be less stressed late in the month with more support on offer.
Year Ahead 2020
2020 will be your year to revise your outlook, opinions and philosophy of living. Challenges to your mindset may be unsettling initially but if you can keep an open mind and listen to feedback then you'll gradually come to understand which attitudes have passed their sell-by date and need to go. Enlightenment won't come quickly or easily but you'll be given a helping hand along the way and gradually you'll find your old enthusiasm revives as you raise your sights higher.rnYou know this phase of your life marks out a distinct change from what has gone before with Uranus moving through your own sign for another few years. Not normally a rebellious sign or one who is happy with fast-moving change you'll surprise yourself by rocking the boat from time to time and insisting on going your own way no matter the reaction.rnNot that you'll turn into a carefree hippie since hard work and heavier responsibilities will come courtesy of Saturn at your midheaven for a few months from March onwards. There may be setbacks or small mountains to climb in April so you'll grit your teeth on and push harder. From midyear you'll revise your tactics and step back, allowing others to take the driving wheel, while you give subtle hints from the passenger seat.rnHave a care all year when travelling since there will be delays and disruptions throughout which won't make for fast progress. Always keep a plan B up your sleeve for emergencies.rnSpending money on treats and indulgences will be a welcome distraction in the months after April, since you'll be comforted by a few luxuries. But the swing of the eclipses towards your financial houses does indicate that taking the initiative to improve your situation and security will be helpful. Ambling along hoping for the best won't work. Being pro-active and determined to put long overdue changes in place will make all the difference.