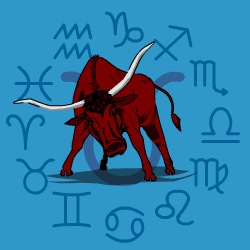 Taurus
April 21 - May 20
---
Today's Horoscope for Wednesday August 04th
This is your time to talk over emotional and domestic matters after your recent busy patch. But try not to take a loved one's off-hand comments too personally, fearing slights where none were intended. Recognise that you are extra sensitive and will want to retreat into your shell if arguments flare up where you feel your views are being personally attacked. At one point your boredom threshold will be low and you may get ahead of yourself and won't keep track of what you're planning to do.
The Weekly Outlook from 02nd August
You won't be racing around in a rackety fashion, taking risks or being boisterous. If anything for a few days you'll be understated. But your restrained mood won't last all week since you'll suddenly get the wind in your sails and go full steam ahead. Try not to be too headstrong and take responsibility for the consequences of what you decide to do. If you move too fast you may later wish you hadn't. Don't stick in one place, if it feels unbearable, but don't go too wildly over the top.
Your Monthly Horoscope for August
All you'll want is to snuggle down at home with loved ones and have a chance to mull over recent events. You will have a few duties or dilemmas to tackle in the first week, but nothing will distract you from relaxing and winding down. You won't be shutting the doors entirely since you'll have invitations piling up to visit family members and social mates. Your sunny personality, charm and mischievous line in patter will ensure you're welcomed wherever you go. Over eating could be a hazard after the middle of the month since you'll be in the mood for pampering but your busy party schedule won't be slowing down. Far from it as the Sun moves into your chart area of love, laughter, entertainment and enjoyment after the 22nd for four weeks. You'll insist on suiting yourself, going your own way and won't care what feathers you ruffle.
and Next Month's Horoscope for September
Fun, entertainment, enjoyment and games will be your main priorities as you sail ahead with exuberance, high energy and passionate enthusiasm. You will want your own way and may get bossy with loved ones but that apart you'll be on vibrant form. Just try not to come on too strong. Gentle persuasion will work faster than throwing your weight around. Over eating could be a minor risk early on but once Venus moves into your opposite sign after the 10th you'll be so boosted by the affection and compliments coming your way you won't think about food. Gradually you'll ease back on the party spirit and make room for responsibilities and duties. Work will loom large after the middle of the month so staying fit will be important. Putting yourself out to ensure others are getting the support they need won't feel like a burden.
Year Ahead 2021
Hard work will be inevitable as heavier responsibilities will be landed on you throughout 2021 but you will be rewarded with praise and a boost to your reputation. As long as you stick to the straight and narrow and are conscientious you won't go far wrong. Whatever you attempt should work out better and more easily than you expect. However you will have moments when you want to kick up your heels and please yourself, no matter the consequences. But rocking the boat too much with partners or at work may not bring the results you want. It will, in general, be a roller-coaster year, with sudden changes and some tensions. Which is where your steady unflappable temperament will come in handy. You will be an invaluable help to those around since you'll stay calm and continue to plough the same furrow no matter what sudden changes there are. But even you know that where relationships and money are concerned you will need to share, care, relate and co-operate in a different way. Letting go the habits of a lifetime won't be easy but you will benefit greatly and find greater fulfilment and security if you can manage it. January and February will be problematic months with upheavals and disruptions. You will be powering ahead, not always patient with delays but it won't be easy to stick to a straight course. Your optimism will soar after May for a few months and friends will rally round with enthusiastic support. Your social circle will widen so you won't be short of invitations or good company. At times you'll lack motivation or commitment when it comes to sorting out longer term plans. You'll drift, dither and put off making firm decisions. For the sake of your financial security you'll need to push yourself especially from June onwards. Towards the New Year you'll have reached a significant crossroads in your life and be making up your mind which path to choose ahead. It needs to be your choice and will only be reached after a good deal of reflection.