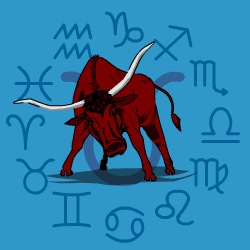 Taurus
April 21 - May 20
---
Today's Horoscope for Friday July 01st
All you want to do is chill out, preferably with your feet up. In the quiet moments you will be developing a love of what lies beyond reality. Hidden sources of strength will appear which you never knew you had to help you through the challenges of your everyday routines. As you relax you'll understand yourself better and see that listening to your own inner judgement is for the best. You know that protecting yourself, by disappearing into times of peace and quiet will bring benefits.
The Weekly Outlook from 27th June
If you can make your goals modest then you'll crack on through tasks and be praised for your efforts. But if you aim too high, become too enthusiastic you could come unstuck. It's all a question of attitude and approach. Everyone around knows your heart is in the right place but they may not always be clear what you are driving at. Collect your thoughts before you dash into discussions. You know you need to get more method and discipline into your everyday schedules, and this could be the week to start.
Your Monthly Horoscope for July
There's no sense in putting your foot down hard and insisting that others agree with your opinions. You'll only end in a stalemate and irritated with neither side willing to budge. If travel plans are backed up initially, be patient. From the 5th zippy Mars moving into your sign for a few weeks will rev up your engine, give your courage and motivation so you'll power ahead, not always tactfully, since you'll reckon that making waves will not matter if you can cut through confusion and indecision. Treating yourself with presents and overspending on indulgences will be all too likely until after mid month and highly enjoyable. There will be a few intense discussions along the way so you'll need to keep up your good resolutions about not sounding too dogmatic. A mood shift will occur after the 18th with appreciative gestures from everyday mates, more chances to talk over family matters with those close and a general slow down much to your relief. You'll put your feet up at home and relax.
and Next Month's Horoscope for August
Home will be where your attention is focused and you'll yearn for a peaceful three weeks to relax and have time to reflect over recent events as well as have heart-to-heart chats with loved ones. But however much you try to be tactful and keep conversations light-hearted, you're likely to be in a mischievous not to say disruptive mood. Mars in your own sign gives you dynamic drive and with firecracker Uranus added into the mix you'll sizzle with surplus energy and impatience. You won't sit still for long but remember circumstances may not allow you to be as free as you might wish. Be realistic and realise your words will carry weight in the right places if you work out a sensible strategy for getting your message across. Into the final ten days you'll be less hyper and more focused on getting your finances knocked into shape as well as being determined to enjoy the fun social few weeks ahead.
Year Ahead 2022
2022 will start on a note of high optimism with good friends all around and an encouraging set of plans and goals to work towards. You'll appreciate variety and choice in your social circle and be pleased to have a wide range of trusted mates who can be relied on to give you good advice. OK at times they may be a touch overly hopeful but they won't be discouraging.rnThis will be a year at the crossroads for you with the Eclipses falling in Taurus and Scorpio. You'll be making crucial decisions about which path to follow in coming years. After your birthday for a few months you'll walk and more independent path as you sort out your decisions. Later in the year you'll include close partners in on your thinking.rnYour rebellious streak will be in evidence since you will want to stand out from the crowd but you won't be able to duck hard work, duty or responsibility. So you'll dance backwards and forwards between phase when you stick to the straight and narrow and others when you kick over the traces to suit yourself.rnThere will be a sense of an old cycle ending this year and the new one won't get underway until 2023, so you'll be tying up loose ends, plotting, planning and preparing for what comes next.rnThe second half of the year may be more inward looking and you will appreciate having a chance to wind down and enjoy your own company. There will still be dilemmas, financial and emotional, to resolve which will require perseverance and compromise. Being firm and flexible will be the way to get a result eventually which will bring you peace of mind and security.