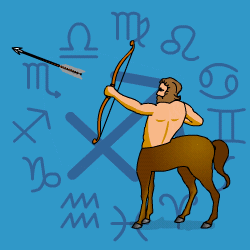 Sagittarius
November 23 - December 22
---
Today's Horoscope for Monday February 18th
It may be that there's too much work and not enough time for pleasure. Try to face up to the reality of the situation and do whatever you need to do, and then you can relax and be more indulgent later on. Although you may not be very self-disciplined, you can get a good deal done because you'll cut a few corners. Try and make some changes in your immediate surroundings; then everything is going to go a great deal better.
The Weekly Outlook from 18th February
Domestic and family security is more important to you at the moment than usual. You want to step back from your recent busy schedule to take stock, and frankly to put your feet up more regularly. Though even if you do spend time out of sight at home or with loved ones, you still have a yen for more attention and prominence at work or in your community activities, so see where you can give your ambitions more of a nudge.
Your Monthly Horoscope for February
A zippy, dynamic month you'll be scattering in all directions, talking constantly and going on short distance trips. You'll need to manage your time well, communicate clearly and get organised otherwise you'll end up going in circles. Your confidence will stay high and your senses that your luck is holding good will get positive proof along the way.rnThrowing yourself wholeheartedly into enjoying yourself and ensuring that loved ones follow your lead will also be high on your to-do list. Though have a care with money since over spending early on could cause friction. And temptations will loom large with frivolous indulgences catching your eye.rnThose close won't always be in a mood to fit in with your plans so there may be fireworks towards the 13th. And you won't back down either. If you are playing games or taking part in sports be more cautious than you'll feel around the same time since you could be marginally accident prone.rnSettling into a steady work routine after mid month won't put you in joyous mood but needs must and you'll get a great deal done by sheer will power. Try not to land yourself unnecessarily with extra chores by criticizing the efforts of others. You could find yourself landed. Putting as much attention towards keeping fit and boosting your stamina as you do towards duty will help.rnIn the final days you'll be happy to take more time out at home or in familiar surroundings and relax. You won't avoid the nuts n' bolts of keeping life running at a practical level but there will be a chance to wind down and get recent events into perspective.
and Next Month's Horoscope for March
Slowing down to spend more time at home and focus on family and domestic matters will be appealing but you won't manage it exclusively. There will be a pile of chores in front of you and your sense of responsibility will keep you nose to the grindstone at times. Try not to be perfectionist and delegate when you can otherwise you'll end up over committing yourself and over-stretching your stamina. A loved one may not act as you had hoped so try to forgive and move on rather than getting stuck in disappointment. Everyday companions at work and in the neighbourhood will go out of their way to make you feel appreciated which will help. Gradually due to your own stalwart efforts you'll begin to get your finances knocked into better shape. From the 20th you'll toss cares to one side and be off to enjoy yourself, flirting and having fun.
Year Ahead 2019
With lucky, expansive Jupiter, your ruler, in your own sign for eleven months, you'll have moments of soaring confidence. Better relationships in general and resources coming your way are the gift of Jupiter, and also the message that what you give out comes back to you ten-fold. For all that you'll be preoccupied with tedious matters like money. Tightening your belt and cutting out indulgences will need to be the order of your budget as you instil more order into your finances with an eye to your longer-term security. It'll take perseverance and grit to move ahead with your plans but where there's a will there's a way. At work you'll notice a new spirit of defiance as you opt for a niche where you can follow through on your own ideas and not always be feeling others' instructions. You'll want to spread your wings and be free to suit yourself which may cause a few waves, but you won't care. Where health is concerned, you may be a touch nervy or highly strung so finding ways of winding down and re-centring will help your physical stamina. At home there may be a few muddles or disappointments since not everything will be coming up to expectation. Try to accept that perfection isn't possible and reality takes a bite out of every dream. Be happy with what you have and be forgiving if loved ones are sometimes preoccupied or evasive. Finding a new way of sharing, caring, relating and co-operating will be key to the second half year with the Cancer Solar Eclipse shining a light on all joint ventures, financial and emotional. Old habits die hard so it won't all be easy but if you can make a super-human effort to change then you'd find more fulfilment and satisfaction as the months go on. Money will finally start to come in faster towards the year end, setting you up for a more prosperous 2020.