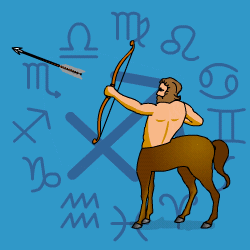 Sagittarius
November 23 - December 22
---
Today's Horoscope for Friday July 01st
As you are learning to be more confident and like yourself better, you are finding that other people do as well. You don't feel the need to apologise for your shortcomings. In coming months you will be enjoying a brighter lifestyle where you can have fun. Your social charms will be out on display. Companions may envy you but they will also crowd round hoping to be cheered up. An attack of the wandering feet will make it tricky to settle down to anything requiring concentration. But why should you? Let your imagination soar.
The Weekly Outlook from 27th June
Leaping recklessly into telling others what you think of them in a direct way may be tempting but it could backfire. It won't be easy to moderate what you're trying to say. You either under-do it or overdo it. Your feelings will be intense for a few days which tells you what you need to know about one intimate partnership. If you can lay your cards on the table in private, firmly but tactfully, then you are likely to get better understandings in future.
Your Monthly Horoscope for July
You'll be in an unusually practical mood and have a steely glint in your eye since you'll know that getting to grips with a cash matter or situation is of prime importance. You won't be able to dip in, find a quick fix and move on but will need to dig in your heels and be both determined and flexible. You'll need to compromise to get a solution which everyone regards as fair so cooperation and negotiation will be vital. In an untypically secretive frame of mind you will plough on until you see a light at the end of the tunnel. Luckily one close partner will be affectionate and good for boosting your morale. Social mates as well will rally round. On the 20th you'll give one last mighty push and then turn your mind to more entertaining interests. Restrictions will lift along the the intensity of the past weeks and you'll be keen to broaden your horizons and find adventure.
and Next Month's Horoscope for August
You'll be in demand for your views through an unsettled two weeks with surprising events catching everyone unawares. You'll smooth out a few wrinkles and put everyone's mind to rest though you will be coping with as many hitches and glitches as anyone else. They key thing is not to over commit yourself and assume you are the only one able to do tasks well. That way you'll over stretch your stamina. Don't feel you have to prove yourself by redoubling your efforts. Be secure in what you have accomplished so far and if companions don't get the message then keep repeating yourself. Your social life luckily will be in an adventurous phase from the 11th and after midmonth the roller coaster mood will calm down. Into a hard-working final few days you'll be taking the lead and expecting others to follow behind. Close partners will be fired up and raring to go and if you can get their cooperation you'll make fast progress together.
Year Ahead 2022
The good news for 2022 is a happier more relaxed mood at home and within the family so you'll be able to snuggle down, feeling relaxed and contented. You'll even be considering ways of expanding your domestic setup to give you more space and to allow for more entertaining of friends and relatives.rnThen as the year proceeds you'll bounce out exuberantly into a sociable few months with party invitations flooding in and votes of appreciation from loved ones and others. Your self-confidence will soar and as you put a higher value on yourself so will those around at work as well as elsewhere.rnThough there will still be periods when you keep yourself to yourself and mull over the past, coming to terms with what has been. Across the middle months you'll be keen to get fitter and will be reviewing your lifestyle choices to see whether a change of diet or exercise regime would help to boost your stamina.rnGetting your message across in your everyday routines will require persistence and a change of approach. Don't be put off if close companions don't listen, be bold and keep repeating yourself. From August onwards you'll be keen to pull together on cooperative projects. Partners may be heated at times but if you throw yourself wholeheartedly behind their schemes all will go well.