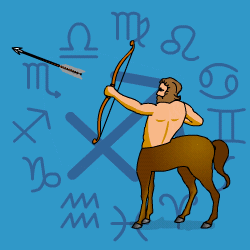 Sagittarius
November 23 - December 22
---
Your Birthday Horoscope
IF ITS YOUR BIRTHDAY TODAY your year ahead will be a time to spruce you your appearance and put you best foot forward. Looking great and attracting compliments you'll charm everyone you meet. A close partner may be fired up and raring to go so you'll need to calm them down at points and iron out any problems their abrasive approach causes. But if you harness your energy to theirs you'll make fast progress. At home you'll tackle practical muddles to instil more organisation and ensure all the family are pulling together.
Today's Horoscope for Saturday December 03rd
You'll be determined and have the energy to improve your surroundings or life situations. Move cautiously, try tact not foot stamping for best results. Your emotions will be changeable and impressionable, at times causing you to be sentimental. With loved ones try not to be too possessive. Maybe you will feel like clinging more than usual but it won't be wise. Have your entertainment and enjoyment without pinning them down otherwise they may want to skip off elsewhere.
The Weekly Outlook from 28th November
You won't be able to assert yourself with circumstances stacked against you which means you can't make much of an impression. Issuing ultimatums will not make any difference, so hold yourself back until the tide turns in your favour. There's no reason to get gloomy since this only a temporary blip. After midweek you'll be on better form. You may not be practical but you will be have everything you need in the way of treats, presents and indulgences.
Your Monthly Horoscope for December
Your birthday Sun will give you a bounce for three weeks as you set foot on your personal year ahead, making good resolutions, setting goals and forging ahead with enthusiasm. Sprucing up your appearance and attracting compliments you'll be making a stir. One close partner will be in a forceful mood so it won't always be easy to keep the peace. Arguments will flare but if you can cooperate then you'll make faster progress together rather than being stuck in endless differences. Your key focus will increasingly be to ensure your finances are in order as the month wears on. You'll insist on nailing down the details, reading the fine print and arguing to toss so that you are being fairly dealt with. After the 10th you'll allow yourself the odd treat and indulgence which may get out of hand in the final days. Try to aim for moderation. Your confidence will soar after the 10th for several months which will have a positive effect on your social life and also at work as others put a high value on your presence and personality.
and Next Month's Horoscope for January
Year Ahead 2022
The good news for 2022 is a happier more relaxed mood at home and within the family so you'll be able to snuggle down, feeling relaxed and contented. You'll even be considering ways of expanding your domestic setup to give you more space and to allow for more entertaining of friends and relatives.rnThen as the year proceeds you'll bounce out exuberantly into a sociable few months with party invitations flooding in and votes of appreciation from loved ones and others. Your self-confidence will soar and as you put a higher value on yourself so will those around at work as well as elsewhere.rnThough there will still be periods when you keep yourself to yourself and mull over the past, coming to terms with what has been. Across the middle months you'll be keen to get fitter and will be reviewing your lifestyle choices to see whether a change of diet or exercise regime would help to boost your stamina.rnGetting your message across in your everyday routines will require persistence and a change of approach. Don't be put off if close companions don't listen, be bold and keep repeating yourself. From August onwards you'll be keen to pull together on cooperative projects. Partners may be heated at times but if you throw yourself wholeheartedly behind their schemes all will go well.