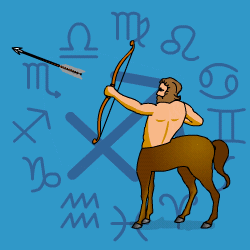 Sagittarius
November 23 - December 22
---
Today's Horoscope for Wednesday August 04th
You see no reason to hold back with your opinions so close companions may need to brace themselves. You won't be malicious, but you will be keen to get at the truth in one delicate situation. Your hunches will probably turn out to be accurate but you will be wound up and nervy. You'll do well if you have to focus on tasks that require a sharp eye and a quick brain. But for humdrum, run-of-the-mill chores you will tend to jump to conclusions and be slapdash.
The Weekly Outlook from 02nd August
You won't slither round the edges of problems or expect others to do the heavy lifting or the chores. You'll be willing to put your back into difficulties and come out pleased what how much progress you make. Then you'll throw duty and responsibility to one side and be rebellious. Try to let your energy out in a positive and controlled way. Don't rock the boat or do anything too hasty. You can't afford to bury your head in the sand and look backwards but you don't need to turn everything on its head.
Your Monthly Horoscope for August
Aiming high, thinking big and determined to broaden your horizons and find adventure, you'll be bouncing with enthusiasm. Travel would suit you best but there will be others of keeping your adrenaline running. Taking up new hobbies will be one outlet for your restless energy. There will be a few hitches and glitches in the first week, with a misunderstanding and communication muddle. Be persistent about getting your message across clearly and don't fly off the handle. Getting impatient and outspoken won't help. You'll be in demand socially and charming all the right people with invites to special occasions giving you a chance to shine. You'll also be popular for your witty and wise way with words, having all the relevant information at your fingertips when others ask. Affectionate friends will make you feel appreciated after midmonth and you'll be into a high profile, hard-working four weeks from the 22nd.
and Next Month's Horoscope for September
In a lively, assertive and downright competitive mood, you'll be putting your foot down hard and insisting that everyone jump to attention when you come round. You'll be working hard yourself to achieve your ambitions and progress various projects and you'll expect everyone else to be as focused as you. Try to remember that loved ones may not all be as energetic as you. If you expect too much you'll be disappointed. Let them drift along if that's what they want. Warm-hearted friends will fill in the gap until the 10th and thereafter you'll pamper yourself in the quiet moments and be glad of the chance to relax. Your priority from mid month onwards will be to set your plans for the coming year and decide how to action them. You won't be short of supportive mates or good advice.
Year Ahead 2021
You'll be standing at a crossroads in your life in 2021 poised to make significant decisions about your path ahead. Being an adventurous and restless sign, you always relish the prospect of change and embracing the new. So you won't shy away from mulling over different alternatives and planning with enthusiasm. You'll be more independent-minded for a few months since you know you have to make your own choices. Your everyday schedule will be jam-packed and unpredictable with chance encounters, fun conversations and the odd sticky moment where you feel cold-shouldered and have to find a new approach if you want to get your views across. Managing your time well will be vital if you're not to end up running round in circles. Money won't be quite the pressing concern it was last year though you'll still be pushing mightily hard to ensure you stay in control of your finances and in a position to upgrade your long-term security. And since the world at large will be going through an erratic economic phase you'll need to take care. Jupiter, your ruler, moving into Pisces, your chart area ruling home and family matters, from May for ten weeks and again over the New Year into 2022 will make you more contented at home, with improving contacts with family. You'll plan how to expand your intimate surroundings to allow for more entertaining and give yourself space.From the middle of the year onwards you'll be less self-sufficient and turning your attention to your close relationships. Being more adaptable and sitting down with partners to work out what adjustments are needed to give both of you more fulfilment will help, if you can manage it. By the year end you'll be on track for new beginnings.