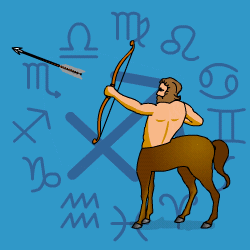 Sagittarius
November 23 - December 22
---
Your Birthday Horoscope
IF ITS YOUR BIRTHDAY TODAY your year ahead will be chatty, restless, straight-speaking and quick-witted. Your confidence and enthusiasm will stay high. Though you will need to sort out muddles at home and amongst the family with tact and tolerance. Loved ones will be preoccupied or vague at times so let them drift along at their own pace. Your personal finances will need attention since putting security above indulgences and getting better organised will be a high priority.
Today's Horoscope for Wednesday December 12th
You'll be quick witted and at times rather outspoken, so will need to pause to think before you speak. Mates could be startled by your direct comments. Your restless mind is coming up with original inspirations but you won't always be good at following your ideas through. Maybe you are trying to juggle too many balls in the air at once. Your boredom threshold is low so you may jump into action, just to avoid the tedious process of making considered decisions.
The Weekly Outlook from 10th December
This is your birthday month so you intend to suit yourself. This is the time of year to lay down plans for the next 12 months. Work out what will suit you, get cracking with plans and once you've got yourself together concentrate on close relationships. Spouting off opinions in all directions, you'll jump onto the next point before companions have a chance to absorb what you said. You could also be point scoring which may not always go down well.
Your Monthly Horoscope for December
Life at home may be all over the place but your spirits will be high with your birthday Sun in place. You'll be upfront, exuberant and keen to get cracking with new resolutions. Last month's confidence dip will be gone so you'll forge ahead. Loved ones in the family will not be in agreement with all of your plans or your desire to reorganise your living space. If you sweep them up in your enthusiasm you'll do better than getting into endless arguments. You will in the first week be disappointed in their attitude, but you know that turning dreams into reality takes time and effort so you'll keep persevering. Pampering yourself in the peaceful moments in the absence of anyone else doing it will help. An expected social high spot on the 20th will find you in a mischievous mood keen to push restrictions to one side. The final days will be indulgent and expensive and you'll have fun.
and Next Month's Horoscope for January
Your energy and passionate enthusiasm will soar as you set out to make your mark and get your own way. Loved ones may find themselves having to dance to your tune when you're around which may not always go down so well. If you can sweep them up in your exuberance you'll do better. However the real priority for you this month is getting your personal finances knocked into order. Which will mean cutting back on extravagances and also oddly enough loosening your grip slightly. If you try to over control where money is concerned it may backfire or you'll stop the flow. Charm and flattery will get you almost anywhere after the 7th with Venus in your own sign, so start handing out the compliments. Loved ones may spring a few surprises towards the 20, but in the final days you'll be into a speedy, lighter, brighter few weeks.
Year Ahead 2018
All you really want in 2018 is a chance to put your feet up in peace and quiet, and be content. Even your own company won't be a hardship at times. As you mull over highly personal matters and put the past into perspective, you'll find you feel better about yourself.rnThere won't, however, be as much chance as you'd like to steer clear of frantic activity. The first half year will find you deluged with trips to make, people to talk to and general busyness. You'll need to streamline your efficiency and manage your time well if you're to pack everything in.rnMaking a dedicated effort to reorganise and retrieve your finances will also be a priority. Saturn now in Capricorn hints there may be less to play with than in the past, a need to tighten your belt and put in some serious thinking about how you can maximise your assets and build your security long term. Inspiration will come in quiet moments to put you on the right track.rnYour social life will be sparkling at times and rather bare at others, so you'll find that it's feast or famine. Loved ones, especially children, may be a touch erratic or rebellious. And you may be disappointed about not having the ideal home and family life you'd like. Be realistic and forgiving and you'll feel happier.rnFrom mid year, you'll be keen to broaden your horizons and find new interests, or, ideally, travel further field. Whether you're taking up new hobbies and studies or on the road to adventure, you'll feel more energised.rnDeeply personal and confidential matters, both financial and emotional, will also preoccupy you. Persuading yourself to change the habits of a lifetime and share, care and cooperate in a more engaged way may not be easy but it will bring its rewards.rnLate in the year lucky, enthusiastic Jupiter moves into your sign to start a new 12 year cycle of good luck and expansion in your life.