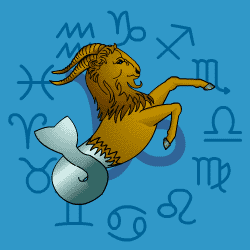 Capricorn
December 23 - January 20
---
Today's Horoscope for Tuesday April 23rd
You will be picking up subtle hints of the unspoken needs of close companions. Watch that you're not pulled into carrying everyone else's problems. Protect yourself from being drained or getting dragged into activities that don't interest you. This may be a difficult time to keep secrets since they seem to slide out into the open at quite the wrong moment. Nor is it the right time to be absolutely blunt. Try to lay your cards on the table firmly but tactfully.
The Weekly Outlook from 22nd April
You won't worry about voicing your feelings this week. More than anything you want to be applauded, so you will be hamming it up madly at times, but so charmingly everyone will clap even harder. Though later in the week there may be conflicts and disagreements. If there are then you need to try to regard them as useful. They will bring hidden tensions out into the open and that way you can clear them out of the way for good.
Your Monthly Horoscope for April
Usually bubbling with initiative with several projects on the go, you'll be taking a break for three weeks, giving yourself a chance to wind down and spend more time at home with the family. Putting down roots will be more important than outside ambitions for a while. You'll also have a chance to sit down for heart-to-heart chats with loved ones and to plan any domestic improvements or reorganisation that you've been pushing to one side recently. When you are out and about thoughtful gestures and comments from everyday mates at work or in the neighbourhood will make you smile and you'll be equally charming in response. Into the final few days you'll be kicking up your heels socially and not caring what anyone else says or thinks. You'll go your own way no matter what.
and Next Month's Horoscope for May
A fun-loving, sociable and flirtatious Taurus Sun for three weeks will put the sparkle in your eye. Although often described as an overly serious sign, you do have a highly indulgent and sensuous side and clearly there are opportunities now for that facet of your personality to come out to play. Which isn't to say there isn't a pile of chores on your plate, but you'll be keen to burn the candle at both ends and play as hard as you work. Putting attention towards health and fitness will help; and curbing your tendency to assume there is nothing you can't pack into the days. Towards mid month you'll have a reassuring sense that you've got your life under control. Close partners will be firing on all cylinders after the 16th so you'll swing along faster by their side. Work, health and all matters practical will come to the fore in the final days.
Year Ahead 2019
You're at a crossroads and the eclipses early and late are urging you to decide which path to follow ahead in the years ahead. Standing still and clinging onto the past won't work. Luckily you've got ambition and initiative so will work out a practical plan for what you want to happen. Admittedly within the restrictions of prevailing circumstances which will need to be accepted and worked round. A time for serious thought and then determined action. You'll be more independent-minded for the first few months since you know your choices have to suit you rather than anyone else. Careful consideration will be required since whatever decisions you make will not be easily reversed. In quiet moments you'll notice a growing sense of inner confidence and self-worth, with flashes of inspiration or intuition to guide you. A secret adviser may also appear to help you clarify your thoughts. Loved ones, children especially, may be rebellious, so you'll have your hands full trying to work out how best to cope and give them the freedom they want. Truthfully you'll also want to kick up your heels and have more elbow room socially and romantically. Though your social life will be erratic, switch-on switch-off, exciting one moment and rather sparse the next. There may be muddles and miscommunications in your everyday schedule so you'll need to be precise and double check that what you say is understood correctly and the same for what you hear. By mid year you'll be in a better position to know how to improve your closest relationships. Being less self-sufficient and more adaptable will bring you closer. Though you may also have one partnership under review, as you weigh up the pluses and minuses. Try not to dwell too much on the negative. Loyalty will be more important than passion. Your confidence will soar in the final month with luck coming your way as you recognise you've turned a corner into better times.