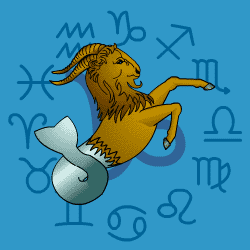 Capricorn
December 23 - January 20
---
Today's Horoscope for Tuesday June 18th
Try to channel your energy into tricky problems that you can attack with vigour. If you are having heart to heart chats with loved ones you will be very straightforward. Just remember to stay tactful. If you can remain cool and serene as well as dynamic then everyone will be respectful of what you are saying to them. Beware a tendency to look at life from the most negative point of view. Be persevering and don't try to take shortcuts.
The Weekly Outlook from 17th June
Since the Full Moon falls this week you'll be pulled between the conflicting wants and oughts. Your sense of duty says work and service to others comes first. But you also have your own needs to consider. Be slightly more on guard than usual for a few days. You could attract yourself to the wrong kind of people. So double-lock doors and windows and don't walk down the wrong side of the road. There's no reason to be worried, just be sensible.
Your Monthly Horoscope for June
Hard work isn't ever a worry to a sign as dedicated to you about getting organised and staying on top of practicalities. You'll knuckle down for three weeks to clear the decks of a pile of chores. Staying on top form physically will also be a priority since energy going out needs to be replenished. You'll tend to over eat since rich and sweet treats will tempt you. Try to keep your exercise regimes rolling along. In between times you'll be dreaming wonderful dreams but not always being realistic. Try not to set yourself up for a disappointment by expecting too much. Close partners will be running on high-octane fuel and be inclined to argue at times. You'll need to keep the peace and will make faster progress if you can throw your energy behind their ideas. Around mid month you'll need to stay persevering and grit your teeth through a sticky few days. In the final ten days there'll be more support and togetherness and less aggravation.
and Next Month's Horoscope for July
This month will find you at your most determined and secretive as you push slowly ahead against a fair amount of resistance. You know you won't get it all your own way in negotiations over joint financial or emotional matters but will need to be flexible and try to reach a solution that is fair to all sides. But it won't happen overnight. So make up your mind that it may be a few weeks before you see the results of your efforts. By that time you'll be feeling more secure and glad you made a stand for what was right. The Cancer Solar Eclipse followed by a Lunar Eclipse will find you reviewing one close relationship trying to decide what adjustments you need to make to bring you more fulfilment in the time ahead. Loved ones won't always be co-operative and truth to tell you'll have the odd rebellious moment yourself. Just try not to go overboard or cause too many ructions since you won't always feel this independent-minded. You will be in demand socially so you won't be flying solo.
Year Ahead 2019
You're at a crossroads and the eclipses early and late are urging you to decide which path to follow ahead in the years ahead. Standing still and clinging onto the past won't work. Luckily you've got ambition and initiative so will work out a practical plan for what you want to happen. Admittedly within the restrictions of prevailing circumstances which will need to be accepted and worked round. A time for serious thought and then determined action. You'll be more independent-minded for the first few months since you know your choices have to suit you rather than anyone else. Careful consideration will be required since whatever decisions you make will not be easily reversed. In quiet moments you'll notice a growing sense of inner confidence and self-worth, with flashes of inspiration or intuition to guide you. A secret adviser may also appear to help you clarify your thoughts. Loved ones, children especially, may be rebellious, so you'll have your hands full trying to work out how best to cope and give them the freedom they want. Truthfully you'll also want to kick up your heels and have more elbow room socially and romantically. Though your social life will be erratic, switch-on switch-off, exciting one moment and rather sparse the next. There may be muddles and miscommunications in your everyday schedule so you'll need to be precise and double check that what you say is understood correctly and the same for what you hear. By mid year you'll be in a better position to know how to improve your closest relationships. Being less self-sufficient and more adaptable will bring you closer. Though you may also have one partnership under review, as you weigh up the pluses and minuses. Try not to dwell too much on the negative. Loyalty will be more important than passion. Your confidence will soar in the final month with luck coming your way as you recognise you've turned a corner into better times.