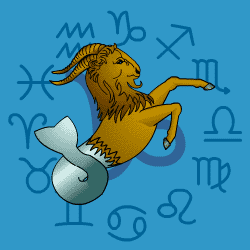 Capricorn
December 23 - January 20
---
Today's Horoscope for Saturday December 03rd
You'll feel like taking responsibility and be ploughing ahead in good style. You will be self-disciplined and want hard working. This in turn should rub off onto close mates who will pitch in with more enthusiasm as well. When you get the chance to have a private moment in peace and quiet, you'll reflect on a personal matter which has been tucked into the background. If you let things come to the surface in your mind you will be able to sort them out.
The Weekly Outlook from 28th November
If you muster up patience and knuckle down to doing tasks that require meticulous attention to detail, you'll make modest progress. But you'll be erratic, dutiful for a while and then you'll fly off for more entertaining diversions. After midweek, you'll be aiming to pamper and indulge yourself. You'll want to be surrounded by what smells nice, tastes nice, feels nice, are nice, all the better things of life. Once you are thoroughly spoiled you'll feel everything is in tune.
Your Monthly Horoscope for December
Nothing will be gained by trying to push back the tide so you might as well wind down, give yourself a chance to recharge you batteries and recentre for three weeks. Use the time wisely to plan and prepare. Then you will bounce out revitalised, with all your ducks in a row ready to forge ahead. Sitting still won't come easily with Mars in Gemini, your chart area of hard work, since you'll constantly be needling yourself to do more. Finding a balance between essential chores and rest and relaxation time will be crucial. Gradually through the month you'll emerge from your cocoon to express your views and to socialise. You'll spruce up your appearance and attract compliments and admirers. After mid month you'll move into a contented phase at home and within yourself which will last for several months ahead. And your birthday sun will give you a morale boost as well.
and Next Month's Horoscope for January
Year Ahead 2022
Your newly found positive attitude will make all the difference in 2022 as you recognise that in the past being blinkered has caused you to misjudge your capacity for making friends. Your increased tolerance means you'll listen with interest to a wide range of opinions and be happy to agree to differ when necessary.rnThrough the middle of the year you'll relax contentedly at home with family tensions easing. Planning how to expand your domestic setup to give yourself more elbow room and also to allow for more in-house entertaining will keep you happily occupied.rnNot that you'll be throwing money around since you know you have to save, cut out indulgences and put long term security before short term frivolities. Your finances will be unsettled and you'll constantly change your mind about what you want. Loved ones will be equally erratic and unpredictable so you'll need to give each other space.rnAs you move into the final months of the year you'll get your head down and be working hard, since there will be demands on your time and energy. Getting fitter and boosting your stamina will be vital.