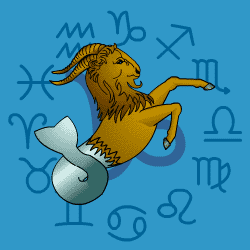 Capricorn
December 23 - January 20
---
Today's Horoscope for Saturday September 19th
The Moon at a tricky aspect to Saturn and Pluto could make you come across as chilly and stand offish. Deep down inside you may be feeling shy or preoccupied. Try to open up to those close and explain what is going on with you and what you need. Work or your pet projects will be frustrating since slow progress is likely with Mars lingering at the base of your chart. Do not feel a failure just recognise that achievements will come later on. Be patient.
The Weekly Outlook from 14th September
If you feel blocked and that nothing is budging do not get discouraged. There are pressures working behind the scenes, which will allow you to turn your life round soon. In a few days' time you will look back and know that your perseverance and determination through tough times made a real difference. Once your feet are clear of old obligations and problems, there will be favourable winds urging you on to broaden your horizons in whichever way you choose in the time ahead.
Your Monthly Horoscope for September
Your adventurous spirit will send you looking for broader horizons, exciting companions and new projects into which you can sink your teeth. Your schemes may not always be practical but you'll let your imagination soar. Good luck will be with you largely because a combination of positive thinking and determination on your part is guaranteed to bring rewards. There may be a few muddles and communication glitches since you won't always concentrate on detail. But on the whole you'll be getting on top of problems and as the month wears on planning sensibly. There may be arguments at home with loved ones since not everyone will want to move at your speed. Try to sweep them up in your enthusiasm. Your emotional reactions will be intense so you'll tend to magnify your likes and dislikes. Into the final days you'll be flying high, attracting attention and ensuring that what you want goes.
and Next Month's Horoscope for October
Ambitious and keen to take the lead, you'll be redoubling your efforts to gain the right kind of attention. Though there will be distractions and diversions with irritations at home and amongst the family as well as delays to certain pet projects. So you'll need to grit your teeth and just keep ploughing ahead despite obstacles. Loved ones may not be as co-operative as you might like but flying off the handle and getting snappy won't help to keep them in line. Be prepared to forgive and forget and move on. There will be enough pluses for you to reckon the minuses are manageable and you will come out ahead as long as you keep your focus steady and don't give up. Your social life will be adventurous with a fun crowd around and new venues or leisure activities to explore. Into the final days you won't need to take so much strain since you'll be surrounded by supportive friends and team mates.
Year Ahead 2020
2020 for you will start the way it intends to go on, with challenges to your resourcefulness and determination as you stand at a crossroads in your life. You know that leaving the past behind, clearing the decks of what is no longer essential for the future is crucial now. So you'll set to with a will and ensure that you are not letting sentiment stand in the way of common sense. At times you'll be a touch discouraged about the consequences of the decisions you've made but that won't last long. You know like a gardener pruning bushes, you will be stimulating new growth ahead. The difficulties will come first and the rewards will follow not far behind with March, June and November seeing you on a successful and confident track.rnYou will have to take care financially for a few months after March and again in December which needn't mean disaster, just that circumstances will prompt you to save rather than spend and put long term security above short term indulgences.rnYou'll be more independent for the first few months but from May onwards lending a helping hand to loved ones will come easily and they'll be appreciative of your efforts.rnAn action-packed second half year at home will find you racing around, not always patiently, getting everything knocked into shape. You will be frustrated since certain projects are on a go-slow so you need to keep pushing or backtrack to unpick mistakes before forging ahead. It'll be a stop-start year, with fast progress at times and then obstacles will start to pile up. Luckily you're a sign overflowing with initiative and good at thinking your way round dilemmas and finding inventive solutions.rnThe eclipse cycles gradually move away from your own sign so by the year end you'll be less stressed and into a more reflective phase. Money will roll in faster through December though your savings campaign needs to continue at the same time.