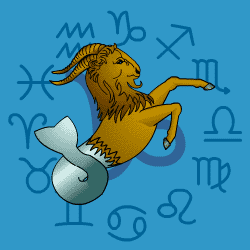 Capricorn
December 23 - January 20
---
Today's Horoscope for Friday July 01st
You will be surrounded by family members in good humour. Recent tensions will be receding though you now realise that space is as important as tolerance since you want everyone to have the elbow room to relax. You may find it tricky to let go of outworn possessions. Be sentimental but don't hang on too tightly, or dig your heels in too much. Roll with the flow and let go whatever is not needed for the days ahead. What you will be aiming for long term will be an open house policy for those closest and friends to come visiting.
The Weekly Outlook from 27th June
If you scatter off in all directions you will end up hot and cross. Mars will rev your engine but in aspect to Saturn, you will find it is all stop start. As soon as you try to shift into a higher gear you meet a delay. Move slowly and rely on those close for moral support. There is no doubt that you need another half before you will feel secure. You may have to be less self- sufficient and more adaptable to ensure that partners are on your wavelength. You may have to give before you get, but it will be worth it.
Your Monthly Horoscope for July
When you feel challenged or under pressure you get resourceful since you have initiative to spare and resilience. You've been pushing boulders uphill in one family matter recently but that will not be necessary after the 5th. Suddenly your passionate enthusiasm and physical energy will soar and you'll be forging ahead. Loved ones may complain that you're coming across as bossy but you will insist that everyone is on their toes and following your lead. Have a slight care if you are playing games since you will tend to go crashing ahead. Luckily you will have the support of one close partner and the mood at home will be supportive. You'll be sorting out plans to expand your domestic environment to give yourself a sense of space. Later in the month confidential matters, financial and emotional, will require your attention so you'll keep your head down and be realistic. You won't get it all your own way but will need to shift ground slightly in order to reach new agreements.
and Next Month's Horoscope for August
Slow but sure needs to be your motto as you push on determinedly, sorting out better agreements on confidential matters, financial and emotional. You won't get it all your own way so will have to negotiate to reach a fair deal with those you share joint responsibility with. Remember when it feels like a slog that you will emerge more secure and clearer about your path ahead once you have settled the key issues. You will be inclined to get uptight and even erupt emotionally at certain points since you will be feeling strongly. But saying or doing too much in the heat of the moment will only land you in hot water. If you can take the long view, you will realise that this too will pass and by mid-month you'll start to wind down and wish you hadn't been so hasty. Into the final days you'll be working hard in a steady way and setting yourself higher goals, looking to broaden your horizons ahead.
Year Ahead 2022
Your newly found positive attitude will make all the difference in 2022 as you recognise that in the past being blinkered has caused you to misjudge your capacity for making friends. Your increased tolerance means you'll listen with interest to a wide range of opinions and be happy to agree to differ when necessary.rnThrough the middle of the year you'll relax contentedly at home with family tensions easing. Planning how to expand your domestic setup to give yourself more elbow room and also to allow for more in-house entertaining will keep you happily occupied.rnNot that you'll be throwing money around since you know you have to save, cut out indulgences and put long term security before short term frivolities. Your finances will be unsettled and you'll constantly change your mind about what you want. Loved ones will be equally erratic and unpredictable so you'll need to give each other space.rnAs you move into the final months of the year you'll get your head down and be working hard, since there will be demands on your time and energy. Getting fitter and boosting your stamina will be vital.