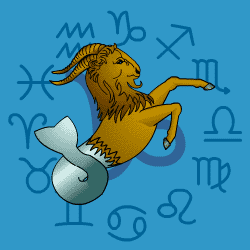 Capricorn
December 23 - January 20
---
Today's Horoscope for Friday October 18th
Learning to be content in your own company is one gift of Jupiter moving through the sign before yours for several months. It may also bring a special person into your life who will act as an adviser and spiritual guide. Inspiration will come in the quiet moments. Though today others may demand a good deal so watch you don't end up feeling resentful. Do what makes you feel virtuous, but don't let anyone push you further than you are willing to go.
The Weekly Outlook from 14th October
All you really want is to tuck yourself out of sight in familiar surroundings and allow yourself to be indulged. Even your own company will not be a hardship for a short time. Your busy schedule will not allow you to play truant for long, but you need a break along the way. This is the time to make room for creative change in your life. Let go old patterns of behaviour that have been holding you back. You will benefit from abandoning what is not in your best interests.
Your Monthly Horoscope for October
You'll be forging ahead, taking the lead and expecting others to follow along behind. This is your peak profile time of the year when you work extra hard but also gain the recognition and attention you deserve for your achievements and talents. Those close may complain you're being bossy but you'll be keen that everyone works as hard as you do and doesn't idle along. Your popularity amongst friends and team mates will soar since you'll have a knack of making everyone feel good. You won't want tied to just one relationship but to be able to fly free when it suits you socially. At times you may be overly defensive at work and coming on a little too intensely. Into the final week you'll be happy to throw your energy into group activities rather than being out on your own taking the strain. Loved ones may be unco-operative and there'll be an irritating obstacle to overcome.
and Next Month's Horoscope for November
You'll be laying down the law, taking the lead and expecting others to follow along behind. Mainly they'll be impressed by your hard-working approach so will be happy to pitch in but only if you don't get too controlling. Lighten up and recognise that not everyone has your motivation. If you sweep them up in your enthusiasm you'll get on faster. A concentration of energy in Scorpio this month hints that team efforts will be the way to go where everyone pulls together. You'll be keen to sort out your game plan for the next year or two so you will set time aside to get your thinking cap on. Friends will be of help since they'll be encouraging you and giving you the confidence to head for what seems most important. Socially and romantically you'll be lying low and having a quieter time until the 26th. Then you'll bounce out revitalised onto the party circuit.
Year Ahead 2019
You're at a crossroads and the eclipses early and late are urging you to decide which path to follow ahead in the years ahead. Standing still and clinging onto the past won't work. Luckily you've got ambition and initiative so will work out a practical plan for what you want to happen. Admittedly within the restrictions of prevailing circumstances which will need to be accepted and worked round. A time for serious thought and then determined action. You'll be more independent-minded for the first few months since you know your choices have to suit you rather than anyone else. Careful consideration will be required since whatever decisions you make will not be easily reversed. In quiet moments you'll notice a growing sense of inner confidence and self-worth, with flashes of inspiration or intuition to guide you. A secret adviser may also appear to help you clarify your thoughts. Loved ones, children especially, may be rebellious, so you'll have your hands full trying to work out how best to cope and give them the freedom they want. Truthfully you'll also want to kick up your heels and have more elbow room socially and romantically. Though your social life will be erratic, switch-on switch-off, exciting one moment and rather sparse the next. There may be muddles and miscommunications in your everyday schedule so you'll need to be precise and double check that what you say is understood correctly and the same for what you hear. By mid year you'll be in a better position to know how to improve your closest relationships. Being less self-sufficient and more adaptable will bring you closer. Though you may also have one partnership under review, as you weigh up the pluses and minuses. Try not to dwell too much on the negative. Loyalty will be more important than passion. Your confidence will soar in the final month with luck coming your way as you recognise you've turned a corner into better times.