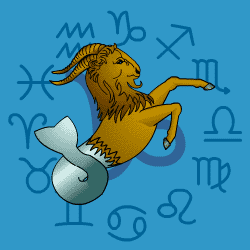 Capricorn
December 23 - January 20
---
Today's Horoscope for Tuesday December 10th
You will hesitate to voice your opinions because you fear you will not be heard. Listen rather than talk, absorb and keep your own counsel. Boosting your stamina will be crucial since you are being landed with a good many chores. So you need to watch your diet, not in the sense of eating less but more sensibly, and give yourself food that is of positive benefit rather than pulling your energy down. Just don't get obsessed with everything being perfect.
The Weekly Outlook from 09th December
You may be seduced by the thought that doing less would make you feel better. But you know if you exert yourself you will feel more virtuous and it will probably bring you more energy.rnWhere one relationship is concerned you may be feeling a little bit stuck, or insecure. It's just a passing cloud, so give yourself a shake and be more positive. You want something unusual, more intense in your love life or your social life. Just make sure you know what you are doing before you start.
Your Monthly Horoscope for December
A mixter maxter few weeks ahead is on the menu with a hidden Sun bidding you stand on the side-lines and let others do the running around. You need a chance to reflect over the past year and do planning and preparation for the year to come. But Mars in Scorpio will surround you with dynamic friends and team mates all keen that you shouldn't stand idle and waste time. They'll push you energetically into forward gear and not allow you to linger. And last but not least expansive Jupiter moves into your sign on the 2nd to stay for a year ahead. This will boost your confidence, attract good luck and give you an enthusiastic drive to start new projects and get cracking. You'll keep your own counsel after the 9th until you sort out what your real priorities are. A charming smile will slide you through any tough spots and a stroke of good fortune on the 15th will allow you to wind down. Then from the 22nd your birthday Sun will bounce you into a lively few weeks and rarely have you felt so positive about what is coming next.
and Next Month's Horoscope for January
This will be a crucial turning point month for you with a Lunar Eclipse in your opposite sign and a gathering of planets in Capricorn. In a serious mood you won't be as sociable or fun-loving as before, because you know that certain matters need a firm hand, realistic decisions and persistence. You may complain about tough conditions but you will have the grit and persistence to see dilemmas through to a solution. Just don't get overly negative or shut yourself away. Sometimes you look too much on the downside and forget to keep your sense of humour handy. You'll be juggling your own needs and concerns with those of a close partner and won't always feel you have the balance right. That will be an ongoing theme for the next few months so you'll need to keep it in mind. Everyday mates at work and in the neighbourhood will shower you with votes of appreciation and make you feel popular. Into the final ten days your mood will lighten and you'll set off to spend happily.
Year Ahead 2019
You're at a crossroads and the eclipses early and late are urging you to decide which path to follow ahead in the years ahead. Standing still and clinging onto the past won't work. Luckily you've got ambition and initiative so will work out a practical plan for what you want to happen. Admittedly within the restrictions of prevailing circumstances which will need to be accepted and worked round. A time for serious thought and then determined action. You'll be more independent-minded for the first few months since you know your choices have to suit you rather than anyone else. Careful consideration will be required since whatever decisions you make will not be easily reversed. In quiet moments you'll notice a growing sense of inner confidence and self-worth, with flashes of inspiration or intuition to guide you. A secret adviser may also appear to help you clarify your thoughts. Loved ones, children especially, may be rebellious, so you'll have your hands full trying to work out how best to cope and give them the freedom they want. Truthfully you'll also want to kick up your heels and have more elbow room socially and romantically. Though your social life will be erratic, switch-on switch-off, exciting one moment and rather sparse the next. There may be muddles and miscommunications in your everyday schedule so you'll need to be precise and double check that what you say is understood correctly and the same for what you hear. By mid year you'll be in a better position to know how to improve your closest relationships. Being less self-sufficient and more adaptable will bring you closer. Though you may also have one partnership under review, as you weigh up the pluses and minuses. Try not to dwell too much on the negative. Loyalty will be more important than passion. Your confidence will soar in the final month with luck coming your way as you recognise you've turned a corner into better times.