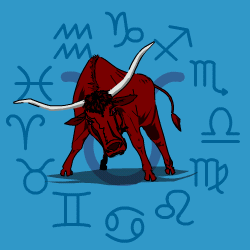 Taurus
April 21 - May 20
---
Today's Horoscope for Tuesday October 17th
You are keen to see justice done and fairness. What you say comes across as tolerant, well-balanced and impartial, but you won't budge on what you truly believe. Your comments and opinions are sensible so try to rely on your own judgement. You have a tendency at the moment to take other people's views too much into account. You will be throwing yourself wholeheartedly into sports, love affairs or activities with children. You are coming across as dramatic in action, prone to theatrical gestures.
The Weekly Outlook from 16th October
This week your personal freedom is what is important to you, so you have decided to rattle the bars of your cage. You have got stuck in a rut recently, or other people have tied you down. It may not be the most diplomatic and tactful of times because if people get in your way or try to corral you, you are definitely not going to put up with it. So you really do need to get certain things straight as simply and quickly as possible.
Your Monthly Horoscope for October
Trying to balance a busy social schedule with a fair pile of chores won't be easy, so you'll need to pace yourself. Luckily your physical energy will be high along with your enthusiasm, so your mood will not be dented no matter what. Try to lighten up slightly since coming across too forcefully won't be persuasive. The 3rd and 5th will be seductive, sociable, passionate so whatever else is going on there'll be entertainment around. One cash or highly personal matter will require a cool head and a silent tongue around the 11th. Saying too much in the heat of the moment won't help. Thereafter you'll be sweetness and light, buoyed up by a sense that all of your close partnerships are moving into better times. Over the coming year you'll be sharing more activities together and will see clearly which bonds in your life have the potential for development. Those without you'll quietly move away from with little regret. Towards the month's end there'll be a really happy encounter that will go in your scrapbook for the future.
and Next Month's Horoscope for November
Love and affection will be flowing your way and your social popularity is sure to rise, so you'll be in a glad-handing mood, and getting compliments and admiring glances from several directions. So very much a time to co-operate, schmooze and turn on the charm. There'll still be a pile of chores which can't be avoided and since you reckon only you can do them well, you may be over-burdening yourself unnecessarily. Delegate more and be less perfectionist then you'll have more energy for fun. You'll be pleased that a new approach to your finances is taking shape and you'll be keeping a sharp eye on detail. Towards the 19th you may get entangled in a no-win discussion which will just waste your time. Duck and smile sweetly. In the final days you'll be keeping your head down and not sharing with anyone but those close what your plans are.
2017 Year Ahead
Try as you might you still can't get a handle on what comes next. At times you'll decide not to bother pushing yourself into decisions for the longer term. But the February Pisces Eclipse hints that drifting and daydreaming won't help. Get the best advice you can and set plans in gear. Your circle of friends will widen and change so you'll have plenty of sounding boards to test out new ideas.rnYour health will stay buoyant with ailments disappearing faster than usual. The only downside of Jupiter in Libra is that you'll tend to overeat, so you may not to push yourself into exercising more to burn off the surplus.rnYou may still feel you are carrying too many burdens on your own, where money and your intimate emotional life is concerned. But the experiences of this time is making you stronger, more resilient and is getting your financial situation knocked into better shape. By the year end you'll be glad you stood your ground.rnWhile it may not be spectacularly successful or overly social, especially in the first half year, you are heading in the right direction. Just regard this as a time to lay foundations and make preparations. By 2018 you'll be ready to rock n' roll.rnFrom August onwards the Leo Eclipse will prompt you to take it easy and spend more time with the family and sorting out domestic matters, pushing outer ambitions down as a lower priority for a few months. Your close relationships will improve noticeably in the final three months with more support and the chance to share more activities together. Socially and at work, your enthusiastic approach to everyone you meet will pay dividends.