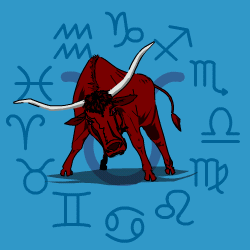 Taurus
April 21 - May 20
---
Today's Horoscope for Thursday October 18th
With Mars at your midheaven you're putting your foot down hard on the accelerator to push your ambitions ahead. At times this can make you seem unsympathetic to the needs of those less motivated. You may find it difficult to understand people who lack your drive, but remember that everyone is different. For yourself if you want more recognition then cater for the needs of those around you at work. Be caring and kindly and you will get the compliments you desire.
The Weekly Outlook from 15th October
Early in the week an affectionate partner will help you understand what makes your life fit together as a whole. You will want things to be harmonious and secure. You will be gliding over unpleasant edges, sliding round tricky situations and moving towards the people you really want to be around. Later on no one will accuse you of lacking courage or being too timid as you push rivals out of the way. You definitely intend to make your mark.
Your Monthly Horoscope for October
Hard work won't be in short supply with the Sun in a decidedly unglamorous area of your chart for three weeks. So knuckle down, do what needs done and don't expect too much praise. Just pat yourself on the back for what you achieve in a modest way. At times as you forge ahead you may wonder why those around are dragging their heels. Getting bossy isn't the answer. Be understanding that they're not as motivated as you. Looking after health and fitness will be important since you'll be putting energy out. Luckily the affectionate support of a close partner will keep you in good spirits. You'll also be in demand out on the social scene for your knack of making everyone you meet socially feel special. In the final week you'll feel inclined to stage a minor rebellion or rock the boat in some way with a close partner. Be cool, you may want to backtrack from impulse decisions a few days later.
and Next Month's Horoscope for November
Togetherness will be one of your themes this month and you'll want a helping hand to lighten your load. Socially you'll be in demand for your knack of making everyone you meet feel special. Partners will appreciate your selfless actions in making them happier. It won't be a strain since you know you'll get your rewards on that front soon. Your dedicated efforts to push one project ahead will be showing progress. Beneficial changes will creep up gradually from week 2 onwards for a year ahead as you make the transition from the past to the future much more easily than you expect. Money will also come in with less effort from partner's generosity or just sheer luck. You'll start to drop your defences so close partners will be moving closer. Energetic friends will spur you on after midmonth, keen to ensure you sort out long term plans and enjoy yourself. A more confidential phase starts in the final week with a generous present or dollop of cash coming in.
Year Ahead 2018
Your Eclipse year in 2018 divides into an ambitious, high-flying phase first half; and then after midyear, a home and family focussed phase. Making your mark and getting your talents out on display early on will be a priority. This is no time to be a shrinking violet. The support and enthusiasm of close partners will be there for you throughout. Not only will they keep your hopes high, you'll enjoy sharing more activities with them and dreams.rnYou won't feel as restricted financially and emotionally as you have been over the past two years. But your experiences have made you more resilient and given you the experiences which will stand you in good stead ahead. Your restlessness will not diminish.rnIndeed by mid year you'll be ready to throw caution to one side and be as rebellious and independent-minded as you please. This will be a major turning point for you, running on for years to come. You won't care what anyone says or thinks, you'll walk your own path. Just try not to get too heavy in discussions, since you'll be challenged on your viewpoint at times and may perhaps have to adjust your outlook. Money will roll through more easily towards the year end either through partner's generosity, joint ventures or just plain luck. You'll also be lowering your defences and inviting more intimacy into your life.