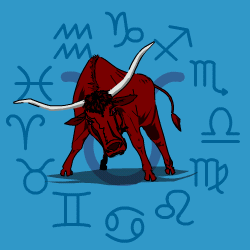 Taurus
April 21 - May 20
---
Today's Horoscope for Wednesday March 29th
Maybe you need to seek out someone to talk to, whom you respect and look up to. They will help you enormously and put your thinking straight. Maybe you're seeing things from far too one sidedly. So broaden your view a little bit. See one tricky situation not more clearly, but with a softer view. Joint finances may be tighter than they have been before, or your partner's cash situation is such that they cannot be as generous as they were. You have to carry heavier responsibilities.
The Weekly Outlook from 27th March
Nothing will be gained by racing around at high speed when your energy and motivation are low. There will be more benefit to finding quality time for yourself when you can ponder, plan and understand where you have gone wrong recently. Companions may be needing help, but you need to put down some limits as well. Later in the week try to make creative changes in your life because you then will have the confidence and good luck behind you.
Your Monthly Horoscope for March
If you're dithering about one future project or irked by an evasive friend, then just give it a few days and the dust will settle. Your restlessness may not find a productive outlet for a while so use the time wisely to chat over possibilities with your best buddies. You'll take delays and even setbacks in your stride because you'll know your instincts are right. Then from the 10th you'll be revved up and raring to go, pushing aside obstacles and putting your foot down hard. You may not always be tactful but you will waken everyone around up. Just don't expect maximum support since you'll still have to rely on your own inner strength and resilience. You'll be able to give yourself a break in the final ten days and let others do the running around for a few weeks. You'll still be plotting, planning and nudging in a discreet way, but not being as pro-active for a while.
and Next Month's Horoscope for April
You won't know whether to push or pull, be pro-active or drift along. The Sun in the sign before yours till the 19th hints you need to take it easy, find time for quiet reflection and recharge your batteries. But Mars in your own sign will rev up your engine, making it difficult to stay idle. Just try to pace yourself especially when arguments arise in the first ten days. Live and let live and agree to differ. Travel plans will be blocked and you'll feel tempted to push on through obstacles. But taking the long way round might be quicker in the end. Affectionate friends and team mates will keep you company and boost your morale. After mid month you'll start to see the light at the end of one tunnel and will suddenly forge ahead in better spirits. You'll put extra effort into getting the budget straight in order to afford treats and present. Your birthday Sun in the final days will give you the confidence and adrenaline you need.
2017 Year Ahead
Try as you might you still can't get a handle on what comes next. At times you'll decide not to bother pushing yourself into decisions for the longer term. But the February Pisces Eclipse hints that drifting and daydreaming won't help. Get the best advice you can and set plans in gear. Your circle of friends will widen and change so you'll have plenty of sounding boards to test out new ideas.rnYour health will stay buoyant with ailments disappearing faster than usual. The only downside of Jupiter in Libra is that you'll tend to overeat, so you may not to push yourself into exercising more to burn off the surplus.rnYou may still feel you are carrying too many burdens on your own, where money and your intimate emotional life is concerned. But the experiences of this time is making you stronger, more resilient and is getting your financial situation knocked into better shape. By the year end you'll be glad you stood your ground.rnWhile it may not be spectacularly successful or overly social, especially in the first half year, you are heading in the right direction. Just regard this as a time to lay foundations and make preparations. By 2018 you'll be ready to rock n' roll.rnFrom August onwards the Leo Eclipse will prompt you to take it easy and spend more time with the family and sorting out domestic matters, pushing outer ambitions down as a lower priority for a few months. Your close relationships will improve noticeably in the final three months with more support and the chance to share more activities together. Socially and at work, your enthusiastic approach to everyone you meet will pay dividends.