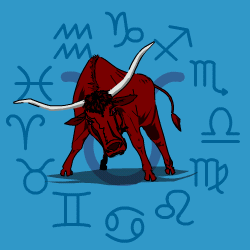 Taurus
April 21 - May 20
---
Today's Horoscope for Friday February 24th
You may sometimes feel lonely and under loved at the moment. But time spent on your own need not necessarily be lonely, since you will have a chance to connect to your own deeper feelings or indeed creative talents. Remember also that this is only a temporary phase and will soon be over. You've got to put your energy into doing things in a new and different way, really get out of your rut and make sure that other people are being well looked after.
The Weekly Outlook from 20th February
Maybe you are feeling powerless and frustrated about a situation you don't seem to have much say over. Just don't respond in like kind and try to ride roughshod over other people. Try to find a third way. All those new plans you have been mulling over in recent days can now be given a sensible push. You need to sort out your game plan for the next 12 months. But don't stop at thinking. Make a few decisions and put them into action.
Your Monthly Horoscope for February
This is your peak time of year for work ambitions or your community activities so there'll be no chance of hiding away in a corner. Nor should you want to. Be bold, get your talents and achievements out on display, and take the lead. You won't be as sociable or romantic for a few weeks but you can always pamper yourself in the quiet moments. There'll be plenty of support and enthusiasm around the chores and you'll be feeling healthy, so you'll crack on in good spirits. The Lunar Eclipse on the 11th is a hint that you do need to find a better balance between your head and your heart in the months ahead, between your home and your outside activities. Friends will rally round after the 18th to keep you company and hand out advice when you run into what will feel like a road block or a deadlocked argument. Try not to jump to conclusions or be too reckless. Stay calm and consider all your options.
and Next Month's Horoscope for March
If you're dithering about one future project or irked by an evasive friend, then just give it a few days and the dust will settle. Your restlessness may not find a productive outlet for a while so use the time wisely to chat over possibilities with your best buddies. You'll take delays and even setbacks in your stride because you'll know your instincts are right. Then from the 10th you'll be revved up and raring to go, pushing aside obstacles and putting your foot down hard. You may not always be tactful but you will waken everyone around up. Just don't expect maximum support since you'll still have to rely on your own inner strength and resilience. You'll be able to give yourself a break in the final ten days and let others do the running around for a few weeks. You'll still be plotting, planning and nudging in a discreet way, but not being as pro-active for a while.
2017 Year Ahead
Try as you might you still can't get a handle on what comes next. At times you'll decide not to bother pushing yourself into decisions for the longer term. But the February Pisces Eclipse hints that drifting and daydreaming won't help. Get the best advice you can and set plans in gear. Your circle of friends will widen and change so you'll have plenty of sounding boards to test out new ideas.rnYour health will stay buoyant with ailments disappearing faster than usual. The only downside of Jupiter in Libra is that you'll tend to overeat, so you may not to push yourself into exercising more to burn off the surplus.rnYou may still feel you are carrying too many burdens on your own, where money and your intimate emotional life is concerned. But the experiences of this time is making you stronger, more resilient and is getting your financial situation knocked into better shape. By the year end you'll be glad you stood your ground.rnWhile it may not be spectacularly successful or overly social, especially in the first half year, you are heading in the right direction. Just regard this as a time to lay foundations and make preparations. By 2018 you'll be ready to rock n' roll.rnFrom August onwards the Leo Eclipse will prompt you to take it easy and spend more time with the family and sorting out domestic matters, pushing outer ambitions down as a lower priority for a few months. Your close relationships will improve noticeably in the final three months with more support and the chance to share more activities together. Socially and at work, your enthusiastic approach to everyone you meet will pay dividends.