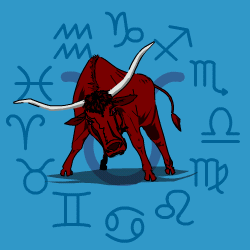 Taurus
April 21 - May 20
---
Today's Horoscope for Tuesday January 24th
The Moon in tricky aspect to Venus just briefly may make getting out of bed more difficult than usual since you want pamper yourself. Your lazy steak will be more obvious than usual, which if you are normally too active, will be no bad thing. You will want to smooth down rough edges, and make everything around as pleasant and comfortable as possible even in the face of difficulties. You will notice a ray of sunshine around home and in your emotional relationships to keep you glowing.
The Weekly Outlook from 23rd January
You really want to give your reputation a boost and get the recognition which your talents deserve. But you know you can't just rest on your laurels. You need to give new projects a hefty push to make sure that you are building for the days ahead. Get your head and heart together and make it happen. Your emotions are easily stirred and perhaps you are harbouring old unspoken resentments about hurts from the past. Don't brood.
Your Monthly Horoscope for January
Keen to push ahead with all speed, you'll feel strangely lethargic and indecisive as the New Year dawns. You'll be swithering about making plans since you won't be sure which way you want the year to go. One friend will be acting in a way that disappoints you but if you bear with them and wait, it'll all shake down. Your enthusiasm will stay high through a few delays and dramas up to the 7th and beyond. Luckily there will be enough warm-hearted company around to keep you smiling and feeling welcome whenever you choose to be out and about. You'll be over indulging at points so you'll need to step up your exercise regimes. Keep an eye on joint finances since a mistake could surface around the 19th and you'll need to be calm in finding a solution. It'll be up to you so don't expect those close to help. Then after the 19th you'll be flying high and insisting that you get recognition.
and Next Month's Horoscope for February
This is your peak time of year for work ambitions or your community activities so there'll be no chance of hiding away in a corner. Nor should you want to. Be bold, get your talents and achievements out on display, and take the lead. You won't be as sociable or romantic for a few weeks but you can always pamper yourself in the quiet moments. There'll be plenty of support and enthusiasm around the chores and you'll be feeling healthy, so you'll crack on in good spirits. The Lunar Eclipse on the 11th is a hint that you do need to find a better balance between your head and your heart in the months ahead, between your home and your outside activities. Friends will rally round after the 18th to keep you company and hand out advice when you run into what will feel like a road block or a deadlocked argument. Try not to jump to conclusions or be too reckless. Stay calm and consider all your options.
2017 Year Ahead
Try as you might you still can't get a handle on what comes next. At times you'll decide not to bother pushing yourself into decisions for the longer term. But the February Pisces Eclipse hints that drifting and daydreaming won't help. Get the best advice you can and set plans in gear. Your circle of friends will widen and change so you'll have plenty of sounding boards to test out new ideas.rnYour health will stay buoyant with ailments disappearing faster than usual. The only downside of Jupiter in Libra is that you'll tend to overeat, so you may not to push yourself into exercising more to burn off the surplus.rnYou may still feel you are carrying too many burdens on your own, where money and your intimate emotional life is concerned. But the experiences of this time is making you stronger, more resilient and is getting your financial situation knocked into better shape. By the year end you'll be glad you stood your ground.rnWhile it may not be spectacularly successful or overly social, especially in the first half year, you are heading in the right direction. Just regard this as a time to lay foundations and make preparations. By 2018 you'll be ready to rock n' roll.rnFrom August onwards the Leo Eclipse will prompt you to take it easy and spend more time with the family and sorting out domestic matters, pushing outer ambitions down as a lower priority for a few months. Your close relationships will improve noticeably in the final three months with more support and the chance to share more activities together. Socially and at work, your enthusiastic approach to everyone you meet will pay dividends.