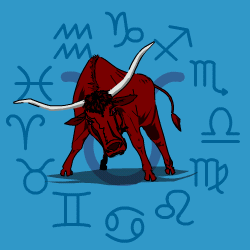 Taurus
April 21 - May 20
---
Today's Horoscope for Sunday January 21st
You'll be surrounded by team mates, colleagues, companions, the more the merrier as far as you are concerned. If you are part of group energy then you get oodles of support and quite a few helpful hints. Close relationships should also less tense, though you may have to beware a tendency to take partners too much for granted or rely totally on their advice which is not always realistic. They have a sunny-side-up mentality which is morale boosting, but sometimes wise to take with a pinch of salt.
The Weekly Outlook from 15th January
Watch that you don't get too headstrong and rash this week. You need to take some responsibility for the long-term consequences of what you decide to do. Don't go too wildly over the top. Try to make creative changes in your life because you now have the confidence, and the good luck behind you. There is likely to be a change in circumstances that you almost couldn't have dreamt about. Things do just begin to turn themselves round.
Your Monthly Horoscope for January
With the wholehearted support of one close partner and good social mates, you'll go far. In an adventurous mood, you'll be aiming high, keen to broaden your horizons and bring more excitement into your life. OK so there may be travel delays or differences of opinion early on. But with patience and a softer approach in discussions, you'll overcome whatever is standing in your way. Your social circle will be wide with more fun activities to enjoy. But it is that special other who will boosting your morale and encouraging you to follow your dream. They will firing on all cylinders and happy to throw their energy behind your plans. Just after midmonth you'll know which relationships really do have potential for development. Venus and the Sun at your midheaven later will find you in a higher profile situation, charming all the right people and attracting rather intriguing invitations.
and Next Month's Horoscope for February
The Sun at your midheaven always pushes you into a higher profile position at work and at home. So you'll take the lead for three weeks, expect others to follow along behind and insist your achievements are appreciated. Hard work won't be in short supply but the rewards in terms of praise and recognition will roll through. The Solar Eclipse midmonth indicates that you need to be bold to make your mark. OK there will still be confidential dilemmas of a highly personal nature, either financial or emotional or both, which will preoccupy you in quiet moments. Stamina is your strength so stand firm and be persistent about reaching better agreements, no matter how long it takes. You'll see results by mid March. One close partner will be unflagging in their support, even when certain friends prove to be a touch disappointing. In the final days you'll throw yourself happily into team and group efforts, relieved that others are there to share your vision.
Year Ahead 2018
Your Eclipse year in 2018 divides into an ambitious, high-flying phase first half; and then after midyear, a home and family focussed phase. Making your mark and getting your talents out on display early on will be a priority. This is no time to be a shrinking violet. The support and enthusiasm of close partners will be there for you throughout. Not only will they keep your hopes high, you'll enjoy sharing more activities with them and dreams.rnYou won't feel as restricted financially and emotionally as you have been over the past two years. But your experiences have made you more resilient and given you the experiences which will stand you in good stead ahead. Your restlessness will not diminish.rnIndeed by mid year you'll be ready to throw caution to one side and be as rebellious and independent-minded as you please. This will be a major turning point for you, running on for years to come. You won't care what anyone says or thinks, you'll walk your own path. Just try not to get too heavy in discussions, since you'll be challenged on your viewpoint at times and may perhaps have to adjust your outlook. Money will roll through more easily towards the year end either through partner's generosity, joint ventures or just plain luck. You'll also be lowering your defences and inviting more intimacy into your life.