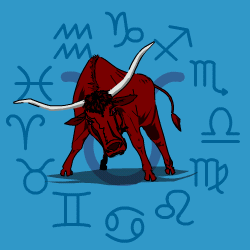 Taurus
April 21 - May 20
---
Today's Horoscope for Tuesday June 27th
Your mind is rattling with ideas which you will spout in all directions. There may be no very concrete conclusions or decisions come out of it all but if you don't start the process with vigour then you will not have the right ingredients when it does come to making your firm commitments. You are in a searching mood at the moment wanting to ferret out fascinating bits of information, using your mind for research. Your mind is razor sharp, witty and fast moving.
The Weekly Outlook from 26th June
The outcome of whatever you are tackling this week should be better than you had hoped. Fiery Mars in good aspect to lucky Jupiter will produce results as long as you keep your feet on the ground and don't let an adrenalin rush send you off to do anything too wild. You do have more confidence now. If you normally get stage fright about opening your mouth, that should disappear and you will be delighted at your ability to assert yourself.
Your Monthly Horoscope for June
Always a pleasure loving and indulgent sign, you will be excelling yourself this month with plenty of chances to shower yourself with whatever feels, tastes and smells good. You'll also be keen to improve your financial situation but distractions early on may interfere with your best intentions. Your social life will be back on top form after a quiet few weeks and you'll be attracting compliments and admiring glances wherever you go. Pouring oil on any tensions, you'll be keen to keep everyone sweet. Though you will on occasion get snappy with delays and mistakes, since your busy everyday schedule will keep you on the move. Midmonth you may have to cutback slightly on the retail therapy since a close partner may be less generous than you had expected. But your ingenuity will come up with the right answer to smooth over any criticism. You'll be even speedier after the 21st so will need to write out lists otherwise you'll end up going round in circles. Don't let your enthusiasm run away with you and over commit yourself energy-wise.
and Next Month's Horoscope for July
You'll find it tricky to keep your opinions to yourself and will let your impatience show if you run into delays or mistakes. Just be wary of starting arguments that get you locked into no-win discussions. Wind down the voltage and say less for a few days. Your capacity for being steady and enduring through tough situations will see you through. Distracting yourself with a spot of retail therapy will also put you back into good spirits and indeed all month you'll likely to find indulgences and extravagances all too tempting no matter what they cost. You'll find time in a busy schedule for heart to heart chats with loved ones and to sort out practical domestic and family matters. After midmonth you'll be increasingly restless, inclined to jump out into acting impulsively and being outspoken. Try not to get too bossy at home. Give yourself a chance to have a break and relax.
2017 Year Ahead
Try as you might you still can't get a handle on what comes next. At times you'll decide not to bother pushing yourself into decisions for the longer term. But the February Pisces Eclipse hints that drifting and daydreaming won't help. Get the best advice you can and set plans in gear. Your circle of friends will widen and change so you'll have plenty of sounding boards to test out new ideas.rnYour health will stay buoyant with ailments disappearing faster than usual. The only downside of Jupiter in Libra is that you'll tend to overeat, so you may not to push yourself into exercising more to burn off the surplus.rnYou may still feel you are carrying too many burdens on your own, where money and your intimate emotional life is concerned. But the experiences of this time is making you stronger, more resilient and is getting your financial situation knocked into better shape. By the year end you'll be glad you stood your ground.rnWhile it may not be spectacularly successful or overly social, especially in the first half year, you are heading in the right direction. Just regard this as a time to lay foundations and make preparations. By 2018 you'll be ready to rock n' roll.rnFrom August onwards the Leo Eclipse will prompt you to take it easy and spend more time with the family and sorting out domestic matters, pushing outer ambitions down as a lower priority for a few months. Your close relationships will improve noticeably in the final three months with more support and the chance to share more activities together. Socially and at work, your enthusiastic approach to everyone you meet will pay dividends.