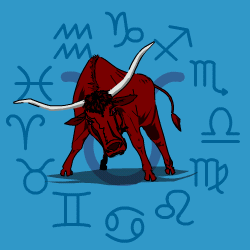 Taurus
April 21 - May 20
---
Today's Horoscope for Tuesday June 19th
If you can stay flexible, tolerant and open-minded then all your working relationships will go with a swing. Don't over blow your prospects or promise the earth. Neptune around mildly now is a great healer, not in a dramatic way but by gently soothing. It disappears very quickly in the hurry and scurry of modern living. If you can connect to it then you find not just that you feel physically better but that you also a deeper sense of meaning and purpose.
The Weekly Outlook from 18th June
More letters and phone calls than usual are keeping you on your toes, and a good many short distance trips will keep boredom well at bay. But you may be skimming the surface and cutting corners, since there will be less time for detail than usual. Affectionate Venus is close to fiery Mars later on this week. This combination means that you will be getting on tremendously well with those close and making a real effort to make connections.
Your Monthly Horoscope for June
Your charming way with words will bring favourable responses from everyday mates at work and in the neighbourhood. They'll be appreciative in return. Though one friend may be acting evasively and not answering straight questions. Try to be forgiving rather than critical since they may be preoccupied for reasons they aren't willing to divulge just yet. You'll be swithering and dithering abut one future plan but there's n sense in forcing yourself before the time is right. Just coast along and keep a weather eye on your personal finances. You'll be tempted to spend which will be fun, but taking the initiative to improve your security moving ahead will also be a good idea. Loved ones at home will be keen to pamper you after mid month so you'll relax and enjoy. Though a busy schedule after the 21st will need to be fitted in round indulgent moments. If there's a difference of opinion towards the 27th or even travel delays, stay calm and it'll all blow over.
and Next Month's Horoscope for July
Skipping along at speed, you'll be talking constantly and scattering your energy in all directions. Close partners will be keeping up offering helpful hints and constant encouragement. At times you may come across as bossy since you'll expect everyone to follow your lead. But your enthusiasm will be infectious as long as you don't get too forceful. There may be delays in travel plans towards mid month or differences of opinion. Try to be tolerant and open to feedback from those who don't agree. The Cancer Solar Eclipse hints that organising your everyday routines to streamline your efficiency will assist in the months ahead of a busy schedule. So will getting your views across clearly and succinctly. Don't race ahead so fast that you forget to check that you've been understood. After the 22nd you'll slow down to spend more time at home and be making decisions about how to reorganise your family and domestic life ahead.
Year Ahead 2018
Your Eclipse year in 2018 divides into an ambitious, high-flying phase first half; and then after midyear, a home and family focussed phase. Making your mark and getting your talents out on display early on will be a priority. This is no time to be a shrinking violet. The support and enthusiasm of close partners will be there for you throughout. Not only will they keep your hopes high, you'll enjoy sharing more activities with them and dreams.rnYou won't feel as restricted financially and emotionally as you have been over the past two years. But your experiences have made you more resilient and given you the experiences which will stand you in good stead ahead. Your restlessness will not diminish.rnIndeed by mid year you'll be ready to throw caution to one side and be as rebellious and independent-minded as you please. This will be a major turning point for you, running on for years to come. You won't care what anyone says or thinks, you'll walk your own path. Just try not to get too heavy in discussions, since you'll be challenged on your viewpoint at times and may perhaps have to adjust your outlook. Money will roll through more easily towards the year end either through partner's generosity, joint ventures or just plain luck. You'll also be lowering your defences and inviting more intimacy into your life.