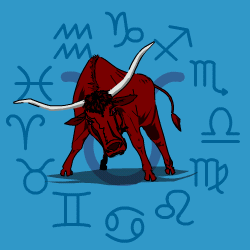 Taurus
April 21 - May 20
---
Today's Horoscope for Monday August 21st
Tuck yourself quietly out of sight, preferably at home, and think about what changes you can make in your life that will bring you more emotional comfort and security over the next twelve months. You want to feel there is a reassuring nest which you can retreat to when the outside world gets too aggravating. OK, you may feel a little bit jittery or uptight, but it's a sense of good restlessness, that everything is beginning to shift for you.
The Weekly Outlook from 21st August
If there have been any family differences or rifts recently, this could be the right time to wipe the slate clean and start again. Don't just wait to be approached. Try to reach out and see where you can spread a little more harmony around. This is more for your sake than anything else because you really want peace and calm. Persistent effort over time will produce long lasting results. Just don't dash in expecting overnight miracles.
Your Monthly Horoscope for August
Sinking back into the welcoming arms of the family and loved ones, or indulging yourself in familiar surroundings is top of your wish list. You won't feel the need to be out and about as much as usual. Not that you'll be entirely quiet since you'll be voicing your opinions forcefully at times. Try not to block out feedback. The powerful Full Moon on the 7th will have you wavering about one project, not knowing whether to follow your head or your heart. Wait before making a firm decision. Really your priority must be building more security in your home life. Changes and adjustments may be necessary, both emotionally and physically, so work out what you want and then start planning. This is not the time to be aiming for great things in the outside world. You'll be building better foundations for yourself. In the final days there'll be fun, parties and a chance to shine in the spotlight.
and Next Month's Horoscope for September
This is your time of the year to kick up your heels and have fun. Your energy will soar along with your passionate enthusiasm and you'll demand the right to do your own thing. You also find yourself bossing loved ones around, so try to tone down your requests. One friend may be evasive or lack lustre so don't expect miracles of support. Be forgiving and they'll snap back to old form at some point. You'll be drifting at times, not clear what your future plans should involve. When in doubt, it's probably best not to commit yourself since you'll only make the wrong decisions. The atmosphere at home will be harmonious and indulgent so you'll relax with loved ones and even consider ways of sprucing up the decoration. Just keep the budget in mind since you'll find heavier expenses turn up and need to be paid. In the final days you'll be balancing work and play, so need to get your health and fitness plan up to speed to give you extra energy.
2017 Year Ahead
Try as you might you still can't get a handle on what comes next. At times you'll decide not to bother pushing yourself into decisions for the longer term. But the February Pisces Eclipse hints that drifting and daydreaming won't help. Get the best advice you can and set plans in gear. Your circle of friends will widen and change so you'll have plenty of sounding boards to test out new ideas.rnYour health will stay buoyant with ailments disappearing faster than usual. The only downside of Jupiter in Libra is that you'll tend to overeat, so you may not to push yourself into exercising more to burn off the surplus.rnYou may still feel you are carrying too many burdens on your own, where money and your intimate emotional life is concerned. But the experiences of this time is making you stronger, more resilient and is getting your financial situation knocked into better shape. By the year end you'll be glad you stood your ground.rnWhile it may not be spectacularly successful or overly social, especially in the first half year, you are heading in the right direction. Just regard this as a time to lay foundations and make preparations. By 2018 you'll be ready to rock n' roll.rnFrom August onwards the Leo Eclipse will prompt you to take it easy and spend more time with the family and sorting out domestic matters, pushing outer ambitions down as a lower priority for a few months. Your close relationships will improve noticeably in the final three months with more support and the chance to share more activities together. Socially and at work, your enthusiastic approach to everyone you meet will pay dividends.