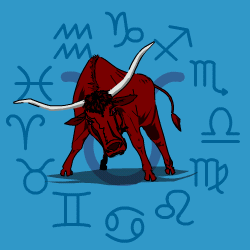 Taurus
April 21 - May 20
---
Today's Horoscope for Saturday November 25th
Uranus challenges you in a minor way - it says to you, "Hey, come on, there's another way of living life." You could move too quickly and leap to conclusions, go off and do things that maybe you might have thought through a little bit more carefully. But on the other hand, sometimes you need to shake yourself up and, even if you're scattered and you make rather impulsive decisions, it makes you feel that life is more fun and it gets rid of tension.
The Weekly Outlook from 20th November
This week you have a yearning for something more intense, so could become infatuated with someone new. This could be the trigger for a new relationship that will last. Though it can also bring up jealousy or envy in relationships you already have, so watch your step. From midweek if your love life feels a struggle, just remember that perseverance will pay off. You need intense connections with partners who are able to match your emotional depth.
Your Monthly Horoscope for November
Love and affection will be flowing your way and your social popularity is sure to rise, so you'll be in a glad-handing mood, and getting compliments and admiring glances from several directions. So very much a time to co-operate, schmooze and turn on the charm. There'll still be a pile of chores which can't be avoided and since you reckon only you can do them well, you may be over-burdening yourself unnecessarily. Delegate more and be less perfectionist then you'll have more energy for fun. You'll be pleased that a new approach to your finances is taking shape and you'll be keeping a sharp eye on detail. Towards the 19th you may get entangled in a no-win discussion which will just waste your time. Duck and smile sweetly. In the final days you'll be keeping your head down and not sharing with anyone but those close what your plans are.
and Next Month's Horoscope for December
In a highly restless mood, you'll want to take a bold move. But be wary of leaping before you look, since you'll only have to backtrack a few days later. Ask yourself instead what is it that you really want to be doing with your life and plan sensibly before pushing forward. The problem is you've probably no clear idea but dislike being stuck. Just take it calmly otherwise you'll trip over your feet. Close partners will be firing on all cylinders after the first week so you'll need to keep pace with them. Co-operation will work better than getting into arguments. Take time out to mull over a few confidential matters which are hanging fire until you reach agreements with those close. You'll clear the air by the end of the month. In the final days you'll find that travel delays are more likely so you'll need a Plan B up your sleeve or other ways of occupying yourself while you wait. Happily you'll be surrounded by fun and stimulating friends.
2017 Year Ahead
Try as you might you still can't get a handle on what comes next. At times you'll decide not to bother pushing yourself into decisions for the longer term. But the February Pisces Eclipse hints that drifting and daydreaming won't help. Get the best advice you can and set plans in gear. Your circle of friends will widen and change so you'll have plenty of sounding boards to test out new ideas.rnYour health will stay buoyant with ailments disappearing faster than usual. The only downside of Jupiter in Libra is that you'll tend to overeat, so you may not to push yourself into exercising more to burn off the surplus.rnYou may still feel you are carrying too many burdens on your own, where money and your intimate emotional life is concerned. But the experiences of this time is making you stronger, more resilient and is getting your financial situation knocked into better shape. By the year end you'll be glad you stood your ground.rnWhile it may not be spectacularly successful or overly social, especially in the first half year, you are heading in the right direction. Just regard this as a time to lay foundations and make preparations. By 2018 you'll be ready to rock n' roll.rnFrom August onwards the Leo Eclipse will prompt you to take it easy and spend more time with the family and sorting out domestic matters, pushing outer ambitions down as a lower priority for a few months. Your close relationships will improve noticeably in the final three months with more support and the chance to share more activities together. Socially and at work, your enthusiastic approach to everyone you meet will pay dividends.