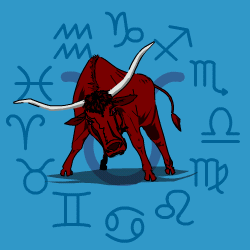 Taurus
April 21 - May 20
---
Your Birthday Horoscope
IF IT'S YOUR BIRTHDAY TODAY your year ahead will be good for close relationships of all varieties. Your positive enthusiasm will boost your popularity. Any bonds which have no potential for development will be quietly dropped with a minimum of fuss. Your restlessness will soon get an outlet from mid year with Uranus setting you free to walk your own path with no cares about what others think or so. You'll have strong opinions which you'll want to share. Just remember gentle persuasion works best.
Today's Horoscope for Saturday April 21st
What you sometimes lack at the moment is optimism. When you get gloomy, remember you could be taking a rather narrow viewpoint. Saturn is around which can make you doubting or suspicious. That damps down your enthusiasm and spontaneity. Your mind will be more active than usual and you are curious to learn more about almost everything. Anyone who disagrees with you will have a fight on their hands as you defend your position with vigour and vehemence. Remember that gentle persuasion often works better than brute force.
The Weekly Outlook from 16th April
New Moons are always the start of something new, even though it may not be obvious at the time, Just be clear that you need to put your wholehearted attention behind the scenes into whatever you want to put into place over the next year.rnLater in the week you will be bouncing around with more enthusiasm and gusto than usual. Having been held back recently by setbacks, delays or just low energy and motivation, you will now be forging ahead.
Your Monthly Horoscope for April
Travel delays and differences of opinion will dog you all month, so you'll need to be stalwart and just keep pushing determinedly on. Toning down your opinions may help to sidestep problems in some discussions, but you won't be quiet for long. Luckily Venus in your own sign will allow you to turn on the charm and smooth round rough edges. Try to remember that disagreements can be learning lessons since they'll open your eyes to new viewpoints and shouldn't be dismissed too readily. By the 14th you'll be encouraged by the support of one close partner and be seeing your way ahead together more optimistically. Then the Sun moving into your own sign will lift your spirits and energy from the 20th to start you on a new birthday year, making good resolutions. Perseverance will pay off in a sticky few days up to the 26th.
and Next Month's Horoscope for May
Your birthday Sun aligned across the zodiac with Jupiter will put you in good humour, hoping for miracles and finding that your luck does hold. Though a hint of caution would not go amiss. Close partners will be enthusiastic though not always realistic so take their advice with a pinch of salt. You'll continue spreading your opinions around vigorously, keen to inform everyone within earshot. By mid-month you'll be in the mood to set off on a new adventure, unconcerned what anyone says or thinks. You'll throw tradition and convention to one side and step out boldly to be yourself. A wardrobe and image makeover will be in order as you want to show a different face to the world in the time ahead. More independent-minded, you won't always want to co-operate so you'll need to come to an agreement with those close which allows for a longer rein. After mid-month you'll be pushing ambitiously ahead and turning your attention to improving your finances.
Year Ahead 2018
Your Eclipse year in 2018 divides into an ambitious, high-flying phase first half; and then after midyear, a home and family focussed phase. Making your mark and getting your talents out on display early on will be a priority. This is no time to be a shrinking violet. The support and enthusiasm of close partners will be there for you throughout. Not only will they keep your hopes high, you'll enjoy sharing more activities with them and dreams.rnYou won't feel as restricted financially and emotionally as you have been over the past two years. But your experiences have made you more resilient and given you the experiences which will stand you in good stead ahead. Your restlessness will not diminish.rnIndeed by mid year you'll be ready to throw caution to one side and be as rebellious and independent-minded as you please. This will be a major turning point for you, running on for years to come. You won't care what anyone says or thinks, you'll walk your own path. Just try not to get too heavy in discussions, since you'll be challenged on your viewpoint at times and may perhaps have to adjust your outlook. Money will roll through more easily towards the year end either through partner's generosity, joint ventures or just plain luck. You'll also be lowering your defences and inviting more intimacy into your life.