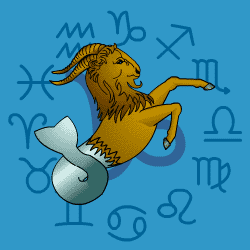 Capricorn
December 23 - January 20
---
Today's Horoscope for Thursday May 25th
Pluto around Venus today is hinting at the need for change in one close partnership, and it could just be a minor adjustment in the way you relate to each other. If you can let go and allow changes to take place without fearing that you will be handing over control, you will find your connection deepens. This isn't the most glamorous time of the year at work for you, but it could just be the right circumstances for you to re-organise some of your methods.
The Weekly Outlook from 22nd May
This week you definitely want to be close to that special someone. You'll sidle up and tell them how you feel about them. You'll flutter your eyelashes, even be slightly manipulative. But it should work exceptionally well if you are subtle. The New Moon in your chart area of health and work comes round once a year to nudge you into getting more practical about your body and daily schedule. Find ways of boosting your stamina.
Your Monthly Horoscope for May
Sparkling with confidence and in the mood for fun, you'll be partying, flirting and having fun. Loved ones will rally round with compliments and gestures of affection. Accept all the invitations coming your way and don't think of hiding away for a moment. Admittedly you'll have a pile of work on your plate as well. But if you stop being perfectionist, imagining you're the only one who can do things well, and delegate more you'll free up energy and time for enjoyment. By the 9th you'll reckon you've found the right balance and will be in control. Watch out for muddles before mid-month either because you mishear a message or aren't clear in what you're saying. Stop to check. Your sense of humour will rescue a few tricky situations. You'll find success comes your way along with increased respect. And even though there'll be no let-up in the demands on you, there will be enough compensations to keep you smiling.
and Next Month's Horoscope for June
In a varied and over packed schedule you'll need to manage your time and energy well. Hard work won't be in short supply as chores pile up so you'll need to stay fit and healthy. You'll also be out and about socially, feeling popular, and enjoying play and entertainment times. One close partner will be pro-active, and occasionally impatient, so you'll need to act as peacemaker where necessary. You'll get on better if you resolve to co-operate in joint schemes and not argue. You will have a moment of self-doubt mid month, but don't get disheartened since it's only a passing cloud. Letting go of what you don't need for the future is what this phase of your life is about, so keep clearing out whether it is outworn possessions or attitudes of mind that no longer fit your present circumstances. Praise and recognition will keep you smiling, though you'll need to keep some humility in hand later otherwise you'll imagine that everything is possible. And then end up disappointed.
2017 Year Ahead
Slowly but surely you'll be clearing out of your life whatever no longer fits or is useful for the future. Whether old attitudes of mind, outworn ambitions that no longer fire your enthusiasm, or even friendships which have outlived their zing. You may feel cut adrift from old moorings at times and there will be continuing upheavals and disruptions at home. But all of this is moving you towards a time when you'll be able to re-establish better foundations and emotional securities.rnHappily Jupiter at your midheaven for nine months should bring success to your career and social standing. Praise and admiration will come your way and whatever new projects you attempt should work out well. There will be muddles in your everyday life with Neptune around, so it'll be important to keep your head clear and double- check that you've understood correctly what everyday mates are saying. And try to stay on top of detail and be precise yourself in getting your views across.rnYou'll notice a tendency to be overly secretive or too controlling in your approach to those close. Ease up and stay open to feedback. You'll be persuasive and have influence over those around and your life, but you'll make progress faster if you understand yourself and your motivations better.rnThe August Leo Solar Eclipse will prompt you to share, care and relate in a new way over financial and emotional matters. You'll need to push yourself to be less self-sufficient and more co-operative. Your optimism will soar after October with a wide circle of new friends boosting your morale.