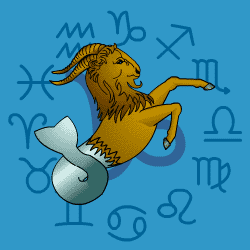 Capricorn
December 23 - January 20
---
Today's Horoscope for Tuesday January 24th
You will find yourself flying into action at home. You are determined to sweep the furniture and the family into shape but do beware a tendency to be a little too fierce or aggressive. You are essentially a good organiser but you are having to force yourself at the moment to be in control of practical situations. You feel certain old ambitions have lost their fire and are no longer what you want. Give yourself time to decide what you want to be doing in the long term.
The Weekly Outlook from 23rd January
Cast your eye six months ahead and work out where you want to be at that point, financially as well as emotionally. Once you have set your goals, you then need to work out a practical plan for fulfilling them. You can't just hope it all shakes down so give yourself a push. You need to throw your energy into DIY or reorganising otherwise the poor family will continually be getting told off for their shortcomings.
Your Monthly Horoscope for January
You'll be in full-steam ahead mode with your birthday Sun in place backed up by ultra-determined Pluto. Just try not to over control everything in your environment or be too secretive. Open up to loved ones and share more. If there are communications glitches and misunderstandings early on, check out what you thought you hear before responding. Happily thoughtful gestures from everyday mates at work and elsewhere will keep your morale high and you'll be murmuring soothing words of cheer in return. A sudden upheaval at home or a flash insight into an emotional or family dilemma will prompt you to a hasty decision. Try to pause for thought before leaping into action, especially around the Full Moon in your opposite sign on the 12th. After an aggravated spat around the 19th, you'll sail into a few weeks when you'll want to pamper yourself, spending for pleasure but also making an effort to improve your financial circumstances.
and Next Month's Horoscope for February
Although known as a workaholic, you do have a pleasure-loving streak and often push to earn more to indulge your extravagances. This month will find you in the mood for spending and pampering and with success coming your way, more of that should be possible. But keeping the budget balanced will be vital if you're not to disrupt your security. At home you'll be planning to improve the decoration, wanting more elegance and colour around. The mood in the family will be harmonious and affectionate so any recent tensions should disappear. Try to involve close partners in any decisions over money especially since you'll need to be fair to both of you. There will be rumblings of irritation from one family member towards the month's end which will be unsettling. Try not to rise to the bait. If you stay calm, it'll shake down.
2017 Year Ahead
Slowly but surely you'll be clearing out of your life whatever no longer fits or is useful for the future. Whether old attitudes of mind, outworn ambitions that no longer fire your enthusiasm, or even friendships which have outlived their zing. You may feel cut adrift from old moorings at times and there will be continuing upheavals and disruptions at home. But all of this is moving you towards a time when you'll be able to re-establish better foundations and emotional securities.rnHappily Jupiter at your midheaven for nine months should bring success to your career and social standing. Praise and admiration will come your way and whatever new projects you attempt should work out well. There will be muddles in your everyday life with Neptune around, so it'll be important to keep your head clear and double- check that you've understood correctly what everyday mates are saying. And try to stay on top of detail and be precise yourself in getting your views across.rnYou'll notice a tendency to be overly secretive or too controlling in your approach to those close. Ease up and stay open to feedback. You'll be persuasive and have influence over those around and your life, but you'll make progress faster if you understand yourself and your motivations better.rnThe August Leo Solar Eclipse will prompt you to share, care and relate in a new way over financial and emotional matters. You'll need to push yourself to be less self-sufficient and more co-operative. Your optimism will soar after October with a wide circle of new friends boosting your morale.