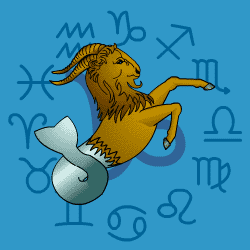 Capricorn
December 23 - January 20
---
Your Birthday Horoscope
IF IT'S YOUR BIRTHDAY TODAY your year ahead will be upbeat, exuberant, a time when you reckon you can turn your dreams into reality. A combination of luck and positive thinking plus determination will bring results. Friends will be urging you on and while their advice may not always be realistic they'll boost your morale. Muddles in everyday communications may occur since you'll be vague, so push yourself to double check. Changes at home will bring you fewer restrictions.
Today's Horoscope for Tuesday January 16th
The only thing to watch now is not to get too pushy. It doesn't happen with most people, because really you'll normally be a little bit under-confident, and the current influences just lift you up a bit. But people who are amazingly arrogant go right over the top with these influences. You have had recently a time of making decisions on your own and but now you are happy to submerge your stronger feelings in group situations, though co-operation will not always be easy.
The Weekly Outlook from 15th January
If you have been compromising too much, the influences around this week will break you away from restricting circumstances. You may need courage but later you'll be glad that you found the chutzpah to go with the flow and put a foot into the unknown. Watch that you're not overspending, because usually with Jupiter influences you find that money is easy-come/easy-go; if it sails in one hand, it just sails out the other.
Your Monthly Horoscope for January
Your birthday Sun at this time of year usually gives you a lift but you'll be more serious now. You'll be reorganising your life and your wardrobe wanting to revision your image to suit your new sophisticated approach. Try not to be too defensive when meeting people. You will warm up later but it could be off-putting. Luckily enthusiastic and dynamic friends will be around to give you a nudge and keep you looking ahead. Your optimism will be high since you'll sense better times are coming. You'll be in your element in group activities at work and in your leisure hours, with everyone pulling together. Towards midmonth there'll be an unsettled mood at home or within the family. Take it in your stride and refuse to be rushed into hasty decisions. Treats and indulgences will loom large after the 18th as you decide a spot of pampering is in order.
and Next Month's Horoscope for February
As an ambitious, practical and traditional sign, having your finances in order and enough money to keep up appearances is always important to you. Especially now you'll be taking the initiative to improve your situation. There is a slight risk of you spending to impress but your main motivation will be to give yourself a comfortable lifestyle and security in the time ahead. Your optimism will be high with enthusiastic friends lending a hand with encouragement and sensible advice. Thoughtful gestures from everyday mates will make you feel appreciated. It may not be grand passion but it'll warm your heart all the same. Your charming way with words will keep them happy in return. Behind the scenes you may be frustrated at slow progress in one pet project. Be patient. All will come right next month. Keep pulling strings discreetly and wait for the tide to turn. Staying on top of detail and communicating clearly especially around the 17th will avoid mishaps. Thereafter you'll be speeding ahead in good style.
Year Ahead 2018
Your optimism will keep you sailing along in good spirits through 2018. Friends, new and old, will be around to boost your morale and keep your focus on what's coming next. Not all of their advice may be realistic though it'll always be cheering to hear. Just check out in advance before making decisions for yourself. Keep networking since the universe is behind you.rnBut for all that you will be more serious at times with Saturn now in your own sign making it clear you have to keep your feet on the ground. Part of its influence will be to prompt you to clear old baggage of any variety that you no longer need, out of your life. Whether in possessions, attitudes of mind or even people you no longer have common interests with. Think of a plant being pruned back, which stimulates new growth in time. Then apply that to your life. Just don't be too standoffish or give in to self-doubt which could happen in odd moments.rnYou'll be busily sorting out your personal finances in the first few months, taking the initiative and ensuring that your long term security comes before indulgences. Then after July you'll be keen to reorganise joint finances, where you share responsibilities with others. The Leo Eclipse will nudge you into changing the way you handle co-operative agreements, financial and emotional. Be open to the idea that maybe your old approach is outworn, so trying new terms of engagement would work better.rnClose relationships will be going through a period of adjustment also from July for a few months as you seek to reach new understandings both internally as you ask yourself what you really want, and with partners. You will feel unsettled at home, wanting to say on the move, perhaps anticipating another relocation soon. All of which makes it tricky to put down roots. But you will be aiming ultimately for more freedom.rnLate in the year you'll sigh with relief at getting more time to yourself.