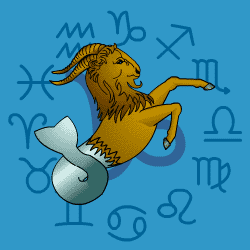 Capricorn
December 23 - January 20
---
Today's Horoscope for Wednesday March 29th
If you get tunnel-visioned, you'll spot things you might otherwise have missed. This is not a time to fly high or to do anything too dramatically exciting. This is a time to be cautious. Sometimes you need to slow yourself down to see things more clearly. Jumping ahead too fast may not bring the results you want. You are essentially a good organiser but you are having to force yourself at the moment to be in control of practical situations.
The Weekly Outlook from 27th March
Putting down roots and finding a sense of belonging is especially important with the new Moon at the lowest part of your chart. It makes you sensitive to any lacks in your emotional life so you want to be surrounded by everything that feels comforting and reassuring. Later in the week the energies will lift up your confidence so you can almost make things happen - you end up in the right place at the right moment.
Your Monthly Horoscope for March
A busy, varied everyday schedule for three weeks will keep you on your toes. Though you'll need to watch that carelessness or confusion doesn't send you running round in circles at times. Be clear in what you say and double check that you've always understood what others' comments really mean. Home and family relationships will be heated until the 9th so you may feel restricted. But thereafter your energy and passions will soar and you'll demand your own way in no uncertain terms. You'll be throwing yourself wholeheartedly into having fun and playing games. Just try not to boss loved ones around since they won't appreciate it. You'll find time for heart to heart chats after mid month and gradually wind down your helter skelter lifestyle to put your feet up more regularly in the final days. Loved ones will be affectionate and you'll be pleased with a minor triumph at work or in the community on the 30th.
and Next Month's Horoscope for April
Really all you'll want is to curl up at home and snuggle up close to loved ones. The Sun at the base of your chart until the 19th, is a chance to take time out and reconnect to your roots and those you feel most comfortable around. Thoughtful gestures from everyday mates at work and in the neighbourhood will keep you smiling and your charming way of putting yourself across will win you new friends. Your energy and passionate enthusiasm will be high so you'll throw yourself with great delight into playing games and enjoying yourself. Just have a care not to be overly defensive or too rigid with loved ones in the first ten days. Ease up. A family or emotional surprise mid month will set your mind racing along new lines. You'll want to be free to suit yourself. More fun and more hard work will turn up in the final days so you'll need to balance your schedule and turn attention to health and fitness.
2017 Year Ahead
Slowly but surely you'll be clearing out of your life whatever no longer fits or is useful for the future. Whether old attitudes of mind, outworn ambitions that no longer fire your enthusiasm, or even friendships which have outlived their zing. You may feel cut adrift from old moorings at times and there will be continuing upheavals and disruptions at home. But all of this is moving you towards a time when you'll be able to re-establish better foundations and emotional securities.rnHappily Jupiter at your midheaven for nine months should bring success to your career and social standing. Praise and admiration will come your way and whatever new projects you attempt should work out well. There will be muddles in your everyday life with Neptune around, so it'll be important to keep your head clear and double- check that you've understood correctly what everyday mates are saying. And try to stay on top of detail and be precise yourself in getting your views across.rnYou'll notice a tendency to be overly secretive or too controlling in your approach to those close. Ease up and stay open to feedback. You'll be persuasive and have influence over those around and your life, but you'll make progress faster if you understand yourself and your motivations better.rnThe August Leo Solar Eclipse will prompt you to share, care and relate in a new way over financial and emotional matters. You'll need to push yourself to be less self-sufficient and more co-operative. Your optimism will soar after October with a wide circle of new friends boosting your morale.