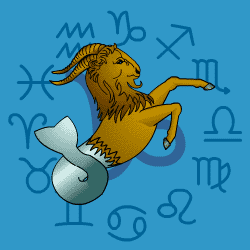 Capricorn
December 23 - January 20
---
Today's Horoscope for Tuesday October 17th
You are spending a good deal of time discussing future possibilities now, and you need mates around as sounding boards for your brighter inspirations. Your livelier friends will adore you because you are up on the latest advances and not harping on about how things used to be. You will be enthusiastic in promoting your strongly held beliefs. Riding into battle and waving the banner of your pet cause is one of your main hobbies at the moment.
The Weekly Outlook from 16th October
The influences around this week will break you away from your recent restricting circumstances. You may need a bit of courage, but later you will be glad that you found the chutzpah to go with the flow and put a foot into the unknown. Regard anything new as positive and alive.rnLuckily you will also be out in the swing of things socially. You will feel popular in team relationships at work and in leisure activities.
Your Monthly Horoscope for October
You won't be backwards about voicing your enthusiastic opinions to anyone who'll listen. And will be filled with a sense of adventure, wanting to lift your life out of a rut. Raise your sights and think big. This isn't the time to be cautious. You're in your highest profile phase of the year, so you'll take the lead with loved ones and social mates, or at work, insisting that others follow along behind. You'll be rewarded with recognition and praise for your achievements. Just try not to be too controlling or defensive. Open up and let your vulnerabilities show, since it will draw the right people towards you. Over the coming year you'll widen your circle of friends considerably and find your optimism rises. Looking ahead you'll see rosy glows on the far horizons. OK some new acquaintances may just be there for the good times not the bad or be unrealistic, so don't rely on them too heavily. Your old, tried and trusted buddies will be the ones to hang onto. In the final days you'll push ambitiously ahead, insisting that others jump to attention and work as hard as you.
and Next Month's Horoscope for November
A new crowd of fun and lively friends will put you in good humour so suddenly the horizons looks brighter than before. Your optimism will be high as well as your morale since your way of putting everyone at ease will do wonders for your popularity. The only thing to watch is not to take all their advice as sound since some will tend to be unrealistic though they mean well. And don't forget old, loyal and trusted friends since they may prove more steadfast in the long run. On certain personal matters you'll be keeping your own counsel, saying less and listening more. But nothing will stop you pushing ambitiously ahead with your pet projects. Even the family may find themselves bossed around. Just try not to go over the top. Sweeping them up in your enthusiasm will work faster with less hassle. Into the final week you'll sink back and take stock, happy to sit on the sidelines and let everyone else do the running around.
2017 Year Ahead
Slowly but surely you'll be clearing out of your life whatever no longer fits or is useful for the future. Whether old attitudes of mind, outworn ambitions that no longer fire your enthusiasm, or even friendships which have outlived their zing. You may feel cut adrift from old moorings at times and there will be continuing upheavals and disruptions at home. But all of this is moving you towards a time when you'll be able to re-establish better foundations and emotional securities.rnHappily Jupiter at your midheaven for nine months should bring success to your career and social standing. Praise and admiration will come your way and whatever new projects you attempt should work out well. There will be muddles in your everyday life with Neptune around, so it'll be important to keep your head clear and double- check that you've understood correctly what everyday mates are saying. And try to stay on top of detail and be precise yourself in getting your views across.rnYou'll notice a tendency to be overly secretive or too controlling in your approach to those close. Ease up and stay open to feedback. You'll be persuasive and have influence over those around and your life, but you'll make progress faster if you understand yourself and your motivations better.rnThe August Leo Solar Eclipse will prompt you to share, care and relate in a new way over financial and emotional matters. You'll need to push yourself to be less self-sufficient and more co-operative. Your optimism will soar after October with a wide circle of new friends boosting your morale.