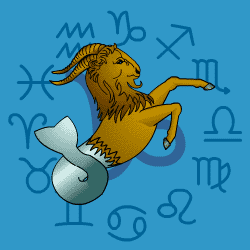 Capricorn
December 23 - January 20
---
Today's Horoscope for Thursday October 18th
You will be keen to make more money since a rather flashy lifestyle will appeal to you and you want to indulge yourself in the short term. But first you have to decide what your priorities are. There are other values and interests which can lift your spirits when you are feeling low. Finding the right balance between idealism and materialism is important at the moment. Though you need to get your finances in order or you will feel vulnerable.
The Weekly Outlook from 15th October
Positive influences will make you friendly towards almost everyone you meet. You will be wonderfully diplomatic, writing the letters you've been leaving to one side, pouring oil on troubled waters, and telling the wonderful people in your life how positively you feel about them. Your long-term security will be more important to you than usual so you are pushing hard to acquire more money and possessions. You will fight to defend your rights and ensure that you get your due rewards.
Your Monthly Horoscope for October
At your peak for the year as far as outer activities are concerned, you'll be taking the lead and expecting others to follow behind. At home, at work and in your community activities you'll be taking a more prominent stance. It'll mean hard work but you'll be rewarded with praise, respect and recognition for your efforts. Loved ones may complain about being neglected but you'll have time later in the year to put them up as a priority. Sorting out your personal finances will be high on your wish list, and you'll have no intention of letting the grass grow under your feet. Friends and team mates will be offering sensible advice and pitching in with support. You may be inclined to over control one situation just before the 12th so try to ease back. You won't feel you have to take all the decisions in the final week since there'll be more help around. Though loved ones may be in a contrary mood and not exactly cooperative.
and Next Month's Horoscope for November
More serious even than usual at the moment you'll be mulling over what you want to clear out of your life and what to hang onto for the future. Whether it is old attitudes of mind that have passed their sell-by date or even relationships which no longer make sense to you, you'll take your time about deciding what will bring satisfaction ahead. There'll be no rush so weigh up your options carefully. Friends will be around to act as sounding boards, offering support and advice. But really your own judgement will be what matters. After the 8th you'll be happy to spend more time in your own company, which is when inspiration will hit you. You'll be tying up loose ends of financial matters till mid month, pleased with what you've achieved recently. Then you'll speed into a busy everyday schedule, making your displeasure known when you hit delays and mistakes. Wind down when you can after the 22nd and let others take more of the strain.
Year Ahead 2018
Your optimism will keep you sailing along in good spirits through 2018. Friends, new and old, will be around to boost your morale and keep your focus on what's coming next. Not all of their advice may be realistic though it'll always be cheering to hear. Just check out in advance before making decisions for yourself. Keep networking since the universe is behind you.rnBut for all that you will be more serious at times with Saturn now in your own sign making it clear you have to keep your feet on the ground. Part of its influence will be to prompt you to clear old baggage of any variety that you no longer need, out of your life. Whether in possessions, attitudes of mind or even people you no longer have common interests with. Think of a plant being pruned back, which stimulates new growth in time. Then apply that to your life. Just don't be too standoffish or give in to self-doubt which could happen in odd moments.rnYou'll be busily sorting out your personal finances in the first few months, taking the initiative and ensuring that your long term security comes before indulgences. Then after July you'll be keen to reorganise joint finances, where you share responsibilities with others. The Leo Eclipse will nudge you into changing the way you handle co-operative agreements, financial and emotional. Be open to the idea that maybe your old approach is outworn, so trying new terms of engagement would work better.rnClose relationships will be going through a period of adjustment also from July for a few months as you seek to reach new understandings both internally as you ask yourself what you really want, and with partners. You will feel unsettled at home, wanting to say on the move, perhaps anticipating another relocation soon. All of which makes it tricky to put down roots. But you will be aiming ultimately for more freedom.rnLate in the year you'll sigh with relief at getting more time to yourself.