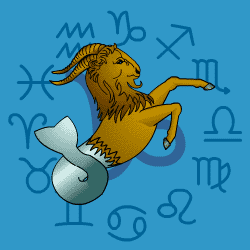 Capricorn
December 23 - January 20
---
Today's Horoscope for Monday August 21st
You have to be sure of your facts and sure of your ground before you move. But if all the details are tied down, you willrnbe pleased at the result in the days to come. You need out of your cage, you need away from things which are dull and boring. And although you may not be very self-disciplined, you can probably get a great deal done, because you can just be experimental and take the odd tiny little risk.
The Weekly Outlook from 21st August
Your feelings are more intense than usual this week. But maybe that tells you what you need to know about one intimate partnership. If you can lay your cards on the table in private, firmly but tactfully, then you are likely to get better understandings in future. If you can make your goals rather modest then you'll probably get everything done really well. But if you aim too high, become uppity, you could come unstuck.
Your Monthly Horoscope for August
Looking at your life from the outside, others will see a succession of successes or at least a veneer of confidence and optimism. The truth is behind the scenes you'll be wrestling with tricky financial and emotional dilemmas. The Eclipse falling in the most confidential area of your chart means you won't be sharing many of your private reflections. Yet the hint is there that you need to alter the way you share, care, co-operate and relate to bring yourself more security and satisfaction ahead. Changing the habits of a lifetime is never easy but you will need feedback from partners to give you a steer on what's needed. Happily with Venus in your opposite sign, there'll be love and affection on offer until the 26th from one special person. And you'll be in demand socially as well. In the final days you'll be freed of restrictions and the need for discretion, and be flying higher.
and Next Month's Horoscope for September
Your enthusiasm will soar so you'll be setting your sights higher, willing yourself to inject more excitement and interest into your life. You'll be voicing your opinions loud and strong to anyone who'll listen. There will be some muddles along the way because Neptune is spreading around a few smokescreens. Either you won't be getting your thoughts together coherently or you'll misunderstand what is being said to you. Slow down and insist that everyone is clear, yourself included. Your feelings will run hot and strong but you'll keep them out of sight. Try to open up to a close partner who'll give you a sense of perspective since you may be exaggerating your likes and dislikes. In the final days you'll be flying high and putting your grand plans into gear, getting praise for your achievements and feeling you're on the crest of a wave.
2017 Year Ahead
Slowly but surely you'll be clearing out of your life whatever no longer fits or is useful for the future. Whether old attitudes of mind, outworn ambitions that no longer fire your enthusiasm, or even friendships which have outlived their zing. You may feel cut adrift from old moorings at times and there will be continuing upheavals and disruptions at home. But all of this is moving you towards a time when you'll be able to re-establish better foundations and emotional securities.rnHappily Jupiter at your midheaven for nine months should bring success to your career and social standing. Praise and admiration will come your way and whatever new projects you attempt should work out well. There will be muddles in your everyday life with Neptune around, so it'll be important to keep your head clear and double- check that you've understood correctly what everyday mates are saying. And try to stay on top of detail and be precise yourself in getting your views across.rnYou'll notice a tendency to be overly secretive or too controlling in your approach to those close. Ease up and stay open to feedback. You'll be persuasive and have influence over those around and your life, but you'll make progress faster if you understand yourself and your motivations better.rnThe August Leo Solar Eclipse will prompt you to share, care and relate in a new way over financial and emotional matters. You'll need to push yourself to be less self-sufficient and more co-operative. Your optimism will soar after October with a wide circle of new friends boosting your morale.