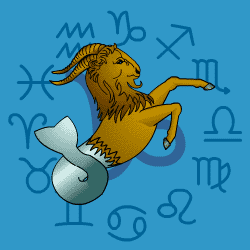 Capricorn
December 23 - January 20
---
Today's Horoscope for Saturday April 21st
Straight ahead is your motto of the moment, and if obstacles or people get in your way, you will get impatient, sweeping them to one side, not always diplomatically. Try adding a veneer of tact. That can be a faster way of getting your own way since you will ruffle fewer feathers and arouse less resistance. You are tough with a great deal of endurance, stamina and dogged persistence. Sticking out difficult situations is your great strength, though you may find it more difficult to be flexible.
The Weekly Outlook from 16th April
If there have been any family rifts recently, this could just be the time to wipe the slate clean and start again. Don't wait to be approached. Try to reach out and see where you can spread a little harmony around. More for your sake than anything else, you want peace and calm. Later in the week the Sun is in your chart area of self expression, so you will be more dramatic, fun-loving and attention seeking than usual.
Your Monthly Horoscope for April
Trying to make yourself sit still is never easy for you, but for three weeks your focus should be on home and family affairs. Give yourself the chance to put down roots, relax more often and open up when you can in heart-to-heart chats. You'll be fairly direct at times, rather defensive at others, not always keen to hold back with opinions or the impulse to act on the spur of the moment. Try to put yourself in others' shoes and understand their difficulties in understanding your unpredictable motivations. Out on the social scene, you'll be a hit with invitations and compliments coming your way. Loved ones will be turning their attention and appreciation onto your entertaining and charming ways. If anything your pleasure-seeking instincts will blossom further in the final days. You'll sparkle with the sheer enjoyment of being yourself and valued as a fun companion. That is when you can stop being overly serious.
and Next Month's Horoscope for May
In the mood for a party or at least for playing, you'll be in entertaining gear. Loved ones and social mates will rally round with compliments, attention and invitations galore. Looking ahead you'll be optimistic with exuberant friends pointing the way ahead. Just realise that not all of their advice will be realistic or practical. Mars will continue to rev up your engine till mid month so you'll be sweeping obstacles to one side and not taking no for an answer. Thereafter you'll decide to kick up your heels even higher and toss caution and convention to one side. You'll take your enjoyment, romantic or otherwise, in exactly the way that suits you without worrying about anyone else's reaction. Loved ones will be offering their affectionate support and you'll be in demand socially after the 19th. Though you won't avoid hard work in the final days. If you're burning the candle at both ends, you'll need to boost your stamina however you can.
Year Ahead 2018
Your optimism will keep you sailing along in good spirits through 2018. Friends, new and old, will be around to boost your morale and keep your focus on what's coming next. Not all of their advice may be realistic though it'll always be cheering to hear. Just check out in advance before making decisions for yourself. Keep networking since the universe is behind you.rnBut for all that you will be more serious at times with Saturn now in your own sign making it clear you have to keep your feet on the ground. Part of its influence will be to prompt you to clear old baggage of any variety that you no longer need, out of your life. Whether in possessions, attitudes of mind or even people you no longer have common interests with. Think of a plant being pruned back, which stimulates new growth in time. Then apply that to your life. Just don't be too standoffish or give in to self-doubt which could happen in odd moments.rnYou'll be busily sorting out your personal finances in the first few months, taking the initiative and ensuring that your long term security comes before indulgences. Then after July you'll be keen to reorganise joint finances, where you share responsibilities with others. The Leo Eclipse will nudge you into changing the way you handle co-operative agreements, financial and emotional. Be open to the idea that maybe your old approach is outworn, so trying new terms of engagement would work better.rnClose relationships will be going through a period of adjustment also from July for a few months as you seek to reach new understandings both internally as you ask yourself what you really want, and with partners. You will feel unsettled at home, wanting to say on the move, perhaps anticipating another relocation soon. All of which makes it tricky to put down roots. But you will be aiming ultimately for more freedom.rnLate in the year you'll sigh with relief at getting more time to yourself.