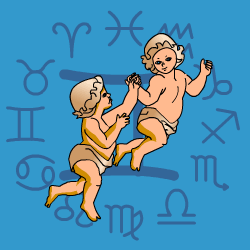 Gemini
May 21 - June 21
---
Today's Horoscope for Monday August 21st
Trying to manage your time better, streamline your efficiency and clear up communication muddles is a high priority. There may be nothing obvious at the moment, but if you take steps early on you can prevent situations blowing up in future. Walk don't run. You just want to be away from restrictions, away from restraints, away from things which are maybe pulling you back or pushing you into a corner. And you aren't as rash as you sometimes are.
The Weekly Outlook from 21st August
Everyone around you knows your heart is in the right place but they may not be entirely clear about what you are driving at. So try to collect your thoughts before you dash into discussions at the moment. You know you need to get more method and discipline into your everyday schedules, and this could just be the week to start. If you can be patient and knuckle yourself down to doing things in a very meticulous way, you will fare better.
Your Monthly Horoscope for August
You'll be in your element, rushing around at high speed, juggling several balls in the air at once. Non-stop-go where your feet and tongue are concerned. Loved ones will rally round and you'll be firmly putting old self-doubts to one side. There will be a few behind-the-scenes anchors dragging so you'll need to accept what you can't change when you get stuck. Two things are vital with such an emphasis on communication. The first is that you keep the big picture in mind rather than getting overly tangled in detail. The other is that you string your thoughts together and get your message across clearly. You'll need to manage your time well and become more efficient not just for the now but also for the months ahead. Pampering yourself with treats and luxuries will prove all too easy. From the 20th you'll be in a dilemma, anxious to move ahead at all speed, yet also aware you need down time at home with the family to recover your breath and relax.
and Next Month's Horoscope for September
If none of your community or work projects are moving ahead at the speed you'd like, then use the time wisely to reorganise at home. Loved ones may not appreciate getting swept into place or having their home comforts rearranged, so try to motivate and encourage rather than getting irritated. You will feel directionless at points, so try to be as helpful as you can. That way you won't mind if not everything goes your way. Luckily your charming way with words will win you friends and smooth round any awkward moments. By the 9th you'll feel on top of one dilemma, will have learnt where you went wrong and won't be caught out again. Close partners will be preoccupied midmonth and may come across sounding critical or negative. Try not to take it to heart. They loyalty won't be in doubt even if they are out of sorts. From the 20th your mood will soften and the family will be in a mood to pamper you. Your social diary will fill up fast so you won't be short of fun outings or compliments.
2017 Year Ahead
As the sign of the twins, you have a reputation for being both light and shade, sometimes enthusiastic, at others veering to the dark side. 2017 will offer you a chance to live both to the full. Jupiter until October will find you playing away the day, throwing old self-doubts to one side and stepping out exuberantly onto the social scene and at work. Your positivity will be infectious and since you'll be putting a higher value on yourself so will everyone else.rnBut you'll also continue to wrestle with highly confidential and secret dilemmas which will prompt you to ask searching questions about the fundamentals of your life and those close. You'll want to tear down pretence and get down to the roots of problems. You may feel trapped by old obligations but that is nothing new so you'll accept what you can't change and be determined about putting new schemes in place when you can. New friends will be mavericks, not always around, but they will open your mind to new ideas.rnClose relationships will continue to be cool but the loyal bonds will stay rock solid. Try to curb criticism since it won't help. If you stand steady, there'll be a real opportunity for you both to move forward together with new agreements in place. Affectionate friends will be more in evidence than before.rnAt work, the message is as last year, be as helpful as you can and don't push for ego-centred ambitions. Oddly enough, the more caring you are, the more successful you'll be. From October onwards you'll find a more enthusiastic mood around at work, with support and a fun around. Your health will also get a lift from Jupiter in Scorpio for the year ahead.