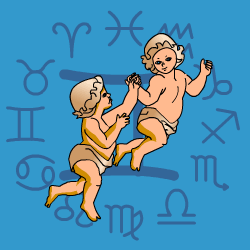 Gemini
May 21 - June 21
---
Today's Horoscope for Friday August 17th
You will be racing around a good deal faster in coming days and chatting brightly about a million different things. Though you won't let your feelings get in the way of your thinking since you want to be clear. Try not to sound cool or too detached.rnThough in general tensions in relationships, especially at work, should be easing. There is more support and encouragement around you. Improved job conditions and more praise will be in the offing.
The Weekly Outlook from 13th August
If there is a crisis you will handle it well since you can muster up a cool head. You have taken a while to make up your mind about one important decision, but now you're on track you don't intend to budge. If you find yourself worrying, push it to the back of your mind. Your imagination could be running riot. What you fear usually never happens and is a waste of energy. Be positive, and aim for companions who are morale boosters.
Your Monthly Horoscope for August
Always a chatty, restless, multi-tasking sign you'll be in your element, zipping here, there and everywhere at speed. Your everyday schedule will be varied and rarely boring but you'll need to write down to-do lists and prioritise otherwise you'll end up running in circles. Managing your time well, getting better organised and communicating clearly will be important over coming months. Try not to be provoked into hasty responses early on. Rising to the bait will only prolong a stick situation. Happily Venus moving into Libra on the 6th will sparkle up your social life bringing in invitations and new admirers. And loved ones will rally round with attention. You may get frustrated after mid-month as old tangles reappear, financial or emotional, which you hoped you'd left behind. There'll be no option but to buckle to and look for answers. They'll be slow to come so be patient as well as firm. You'll slow down in the final days taking time out to spend at home with the family and getting recent events into perspective.
and Next Month's Horoscope for September
Tucked away happily at home and surrounded by the family, you'll be content to let life idle by until the 23rd. Giving yourself a chance to reflect on recent events will put them in perspective and you'll also be recharging your batteries. The more you talk to loved ones the better agreements you'll get for the future and old muddles can get sorted. You'll be free of the foot-dragging mood of the past few weeks over confidential matters as Mars moves into Aquarius on the 11th. You'll be aiming high, thinking big and spreading your enthusiastic opinions around. A matter involving money and your domestic life will be resolved to your satisfaction and you'll be forging ahead in good spirits. After mid month you'll need to put the brakes on one scheme since over-confidence could send you in a direction that wouldn't be wise. You'll be restless and wound-up, so take a deep breath and do nothing in haste. In the final few days you'll be in a party mood.
Year Ahead 2018
More serious than usual as 2018 opens, you'll be carrying heavier responsibilities, financial and emotional, for loved ones and partners. You will feel thrown back on your own resources for a while but will grow stronger as a result of coping and the lessons you learn will stand you in good stead for the future.rnLuckily you'll feel healthy and recover quickly from minor ailments with Jupiter in Scorpio till late year. Workmates will be enthusiastic and supportive so you should whizz on through your chores. If old obligations weigh on you, this is no new thing, just a reinforcement of the message that no life is entirely carefree. Change what you can and accept what you can't. That way comes peace of mind.rnAdventurous and zany friends will keep you well entertained early on, with plenty of fun diversions. Keep your sights high and aim to broaden your horizons however you can. A sea change midyear will find you exploring secrets and your own hidden depths. Life will bring moments of insight and enlightenment especially in the quiet times.rnA busy phase after midyear means you'll need to manage your time well, streamline your efficiency and start making out to-do lists otherwise you'll end up running in circles. Money should come in through your own efforts, though overspending to impress won't be wise. Late in the year close relationships of all varieties will flourish. Your positive approach will prove infectious so your popularity will soar.