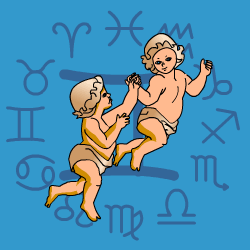 Gemini
May 21 - June 21
---
Today's Horoscope for Sunday April 22nd
You genuinely want to be of service and make everyone's life easier. Having the energy and the right support around you will mean that you can make faster progress. Although you may be resentful about old obligations, whether they are over cash or other emotional matters. Perhaps it reminds you of the influence others hold over you. You need to keep reminding yourself that you cannot be an island unto yourself. There will always be ties and promises, agreements which have to be honoured.
The Weekly Outlook from 16th April
All those new plans you have been mulling over recently can now be given a sensible push. You need to sort out your game plan for the next 12 months. But don't stop at thinking - make a few decisions and put them into action. After midweek you will be feeling rather retiring, not at all pushy. This is always your time in the year to step back, take stock in order to recharge your batteries. Take time out and let others do the running around.
Your Monthly Horoscope for April
You may feel you are trying to sail ahead with the anchor dragging for a few weeks. Your eye will be firmly pinned on future plans and your inclination will be to be out and about with friends. But old obligations, emotional and financial, will need to be faced and fixed, before you'll be free to pursue your own interests. You'll be digging deep for answers and feeling stuck at points. Compromises will be needed to reach better agreements with those close or those you handle financial responsibilities with. Just be persistent and flexible and you'll be clear of the major obstacles within a few weeks. Luckily you'll be feeling energetic and will receive encouraging news about health or work on the 14th and 24th. Organise your schedule to take some down time in the final days to get perspective on recent events and recharge your batteries.
and Next Month's Horoscope for May
This should be your month for taking it easy, sitting back and letting others do the heavy lifting, at least until the 21st. It'll be a great time for pondering, planning and recharging your batteries before your new birthday year starts. Working quietly behind the scenes, pulling strings and being invisible will bring best results. You will have a good many confidential matters on your plate, financial and emotional, which are being slow to resolve, so be patient and persistent. Say less after the 13th and listen more. You may get restless and feel restricted but this won't be the time to toss caution aside. Whatever happens you'll gain insights into your past and deeper feelings which will help in the days ahead. You will want to raise your sights from mid-month and to bring more adventure into your life. You'll be spreading your enthusiastic opinions around and moving faster. Then the Gemini Sun in the final ten days will boost your morale and your energy.
Year Ahead 2018
More serious than usual as 2018 opens, you'll be carrying heavier responsibilities, financial and emotional, for loved ones and partners. You will feel thrown back on your own resources for a while but will grow stronger as a result of coping and the lessons you learn will stand you in good stead for the future.rnLuckily you'll feel healthy and recover quickly from minor ailments with Jupiter in Scorpio till late year. Workmates will be enthusiastic and supportive so you should whizz on through your chores. If old obligations weigh on you, this is no new thing, just a reinforcement of the message that no life is entirely carefree. Change what you can and accept what you can't. That way comes peace of mind.rnAdventurous and zany friends will keep you well entertained early on, with plenty of fun diversions. Keep your sights high and aim to broaden your horizons however you can. A sea change midyear will find you exploring secrets and your own hidden depths. Life will bring moments of insight and enlightenment especially in the quiet times.rnA busy phase after midyear means you'll need to manage your time well, streamline your efficiency and start making out to-do lists otherwise you'll end up running in circles. Money should come in through your own efforts, though overspending to impress won't be wise. Late in the year close relationships of all varieties will flourish. Your positive approach will prove infectious so your popularity will soar.