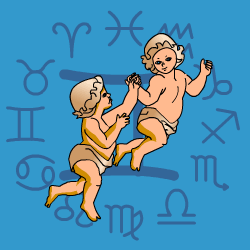 Gemini
May 21 - June 21
---
Today's Horoscope for Monday September 25th
If you can push frivolities to one side temporarily and do the practical, solid, sensible, get-it-all-together kind of tasks, you could get a lot of stuff cleared out of the way once and for all. Then you will deserve a break and can disappear off to play truant. You'll be serious about your responsibilities in close relationships at work or at home. It may not all be wild ecstasy, indeed at times it feels rather a slog, but your efforts will be rewarded at the right time.
The Weekly Outlook from 25th September
Sometimes you get too security conscious and end up forgetting about taking some risks in life. Always keep your options open otherwise life gets too routine. Towards the weekend you may find yourself idling the time away, not concentrating on what is under your nose. But you could also find a connection with someone new - a bond that you can't put into words but certainly feels good. Follow your instincts since they will be spot on.
Your Monthly Horoscope for September
If none of your community or work projects are moving ahead at the speed you'd like, then use the time wisely to reorganise at home. Loved ones may not appreciate getting swept into place or having their home comforts rearranged, so try to motivate and encourage rather than getting irritated. You will feel directionless at points, so try to be as helpful as you can. That way you won't mind if not everything goes your way. Luckily your charming way with words will win you friends and smooth round any awkward moments. By the 9th you'll feel on top of one dilemma, will have learnt where you went wrong and won't be caught out again. Close partners will be preoccupied midmonth and may come across sounding critical or negative. Try not to take it to heart. They loyalty won't be in doubt even if they are out of sorts. From the 20th your mood will soften and the family will be in a mood to pamper you. Your social diary will fill up fast so you won't be short of fun outings or compliments.
and Next Month's Horoscope for October
A stop start two weeks will frustrate your plans to kick up your heels and enjoy yourself. Old obligations may weigh heavily, financial or emotional. But needs must that you accept what you can't change and just keep trucking. You'll throw your energy into reorganising at home and making your intimate surroundings look brighter and more elegant. Try not to be too sharp with the family or one close partner since it won't help. From mid month you'll be feeling healthier, happier and finding that those close are more than prepared to share the chores and be supportive. You'll be a sparkling presence out on the social scene, with loved ones showering you with compliments and attention. Your physical passions and energy will soar from the 22nd. Though you'll need to pace yourself since a heavy workload will go hand in hand with a zippy social life. Over eating may be a minor hazard.
2017 Year Ahead
As the sign of the twins, you have a reputation for being both light and shade, sometimes enthusiastic, at others veering to the dark side. 2017 will offer you a chance to live both to the full. Jupiter until October will find you playing away the day, throwing old self-doubts to one side and stepping out exuberantly onto the social scene and at work. Your positivity will be infectious and since you'll be putting a higher value on yourself so will everyone else.rnBut you'll also continue to wrestle with highly confidential and secret dilemmas which will prompt you to ask searching questions about the fundamentals of your life and those close. You'll want to tear down pretence and get down to the roots of problems. You may feel trapped by old obligations but that is nothing new so you'll accept what you can't change and be determined about putting new schemes in place when you can. New friends will be mavericks, not always around, but they will open your mind to new ideas.rnClose relationships will continue to be cool but the loyal bonds will stay rock solid. Try to curb criticism since it won't help. If you stand steady, there'll be a real opportunity for you both to move forward together with new agreements in place. Affectionate friends will be more in evidence than before.rnAt work, the message is as last year, be as helpful as you can and don't push for ego-centred ambitions. Oddly enough, the more caring you are, the more successful you'll be. From October onwards you'll find a more enthusiastic mood around at work, with support and a fun around. Your health will also get a lift from Jupiter in Scorpio for the year ahead.