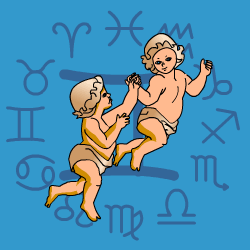 Gemini
May 21 - June 21
---
Today's Horoscope for Thursday October 18th
You will be aiming high today, thinking big and spreading your opinions around vigorously, keen to find more adventure and stimulation. In a restless mood, you want to be anywhere other than where you are. But if you are stuck in the one place, go talk to exciting friends, find some stretching book to read, email round the world or just dream of faraway shores. Order more holiday brochures. You really can't be bothered with practical routines at the moment.
The Weekly Outlook from 15th October
You will find it easier to express words and feelings in a way that have nothing to do with logic. Bring a little beauty or romance into your week and hand round your good feelings. Make the effort to go on a short trip since it could bring happiness. After midweek you have to watch a tendency to be too strong in your opinions since you will feel very evangelical. Luckily your truthful and straightforward approach should catch general enthusiasm.
Your Monthly Horoscope for October
Fun, love and laughter will keep you in good spirits for three weeks with the Sun in your chart area of romance and entertainment. You'll have an appreciative audience with loved ones rallying round to compliment and adore you. You will have odd moments where you feel stuck, held back by old obligations you can't shake off or by circumstances beyond your control. But in general you won't let anything dent your good humour. Over indulgences may be a temptation since richer and sweeter food will be all too irresistible. And exercise won't be tempting either. You'll be spreading your enthusiastic opinions in all directions keen to convert those around to your views. But getting too forceful may backfire. Gentle persuasion will work faster and with less aggravation. After mid month your restlessness will spill over into what may turn out to be badly-thought through schemes. Take time to ask yourself why you feel hemmed in and whether there isn't a better way of giving yourself elbow room. Duty will take priority in the final week so you'll need to get organised and more practical.
and Next Month's Horoscope for November
Balancing a heavy work-load and a busy social diary won't be a problem since you're adept at juggling several things at once. But boosting your stamina will be important. Put as much attention towards keeping fit as you to towards the chores. Delegate where you can since you may fall into the trap of thinking only you can do certain tasks well and you'll overload yourself. Your passionate enthusiasm and sparky personality will help party invitations to roll in so you won't be short of lively entertainment in your leisure hours. Close relationships will move into an easier and more hopeful phase from the 11th lasting for a year ahead. You'll share more activities and hopes together and be clear about which bonds in your life have real potential. Any that don't you'll quietly let drop with a minimum of fuss. From mid month you'll be ambitious, working even harder and be expecting everyone around to dance to your tune. If you can be co-operative as well as pro-active, then you'll get more support.
Year Ahead 2018
More serious than usual as 2018 opens, you'll be carrying heavier responsibilities, financial and emotional, for loved ones and partners. You will feel thrown back on your own resources for a while but will grow stronger as a result of coping and the lessons you learn will stand you in good stead for the future.rnLuckily you'll feel healthy and recover quickly from minor ailments with Jupiter in Scorpio till late year. Workmates will be enthusiastic and supportive so you should whizz on through your chores. If old obligations weigh on you, this is no new thing, just a reinforcement of the message that no life is entirely carefree. Change what you can and accept what you can't. That way comes peace of mind.rnAdventurous and zany friends will keep you well entertained early on, with plenty of fun diversions. Keep your sights high and aim to broaden your horizons however you can. A sea change midyear will find you exploring secrets and your own hidden depths. Life will bring moments of insight and enlightenment especially in the quiet times.rnA busy phase after midyear means you'll need to manage your time well, streamline your efficiency and start making out to-do lists otherwise you'll end up running in circles. Money should come in through your own efforts, though overspending to impress won't be wise. Late in the year close relationships of all varieties will flourish. Your positive approach will prove infectious so your popularity will soar.