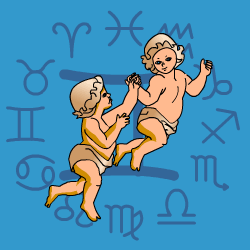 Gemini
May 21 - June 21
---
Today's Horoscope for Tuesday June 27th
You may be positively prophetic today in a tiny way, getting a glimpse of a possibility of something to come. But don't run away with the idea that you can always trust your hunches. Not all of them turn out quite as you expect. Luckily you will be more inclined to read the fine print in money matters, being quite pernickety about the tiny details. You are thinking along lines that are practical and conservative, which means you will come up with sound and productive ideas.
The Weekly Outlook from 26th June
Don't bite off more than you can chew or over-commit yourself this week. If you can keep yourself under a certain amount of control, put down a few limits, then you'll be really pleased with the results of your activities. You will be in a high flying, real dynamo of a mood, and it's just wise not to get ahead of yourself and lose really good opportunities. Later you may be spoiling for a disagreement but squabbles won't get you anywhere.
Your Monthly Horoscope for June
Your birthday Sun always bounces you up after a few weeks in the doldrums last month. You'll be making quite a stir when you step out and be meeting with favourable responses. Ok so you'll be directionless and indecisive at times early on, not sure which way to face work-wise or in general. Just drift for a day or so and don't force yourself into commitments until you are sure. You won't be as romantic or sociable for a few weeks, preferring to pamper yourself in quiet moments and be helpful to loved ones when you can. Your focus will be on giving your personal finances a sharp boot into better shape. Persistence and determination will pay off, if you avoid taking unnecessary risks and keep a brake on your spending. A close partner may be critical, feeling downhearted or just preoccupied mid month. Don't take it to heart. Just recognise that the true bonds in your life will stay loyal even through the chilly patches. Into the final ten days you'll be pushing ahead not only to boost your cash situation but also to give yourself treats. Just don't gamble or take risks, since your confidence may push you into taking a step too far.
and Next Month's Horoscope for July
There are times when determined persistence pays off and other times when accepting what you can't change is the wisest course. Pluto is digging its heels in for the first ten days in the most confidential area of your chart, which means that either financial and emotional dilemmas won't find a fast answer. Happily Venus moving into your own sign on the 3rd will make it easier for you to put on a charming smile and go with the flow. You'll be looking great and attracting compliments for your appearance all month. Clearly it won't be a time to overspend until you sort out exactly where you stand. There'll be fun social occasions along the way though your increasingly busy schedule especially after mid month won't allow for as much entertainment as you'd like. You'll be speeding ahead, pushing obstacles aside and getting irked by delays.
2017 Year Ahead
As the sign of the twins, you have a reputation for being both light and shade, sometimes enthusiastic, at others veering to the dark side. 2017 will offer you a chance to live both to the full. Jupiter until October will find you playing away the day, throwing old self-doubts to one side and stepping out exuberantly onto the social scene and at work. Your positivity will be infectious and since you'll be putting a higher value on yourself so will everyone else.rnBut you'll also continue to wrestle with highly confidential and secret dilemmas which will prompt you to ask searching questions about the fundamentals of your life and those close. You'll want to tear down pretence and get down to the roots of problems. You may feel trapped by old obligations but that is nothing new so you'll accept what you can't change and be determined about putting new schemes in place when you can. New friends will be mavericks, not always around, but they will open your mind to new ideas.rnClose relationships will continue to be cool but the loyal bonds will stay rock solid. Try to curb criticism since it won't help. If you stand steady, there'll be a real opportunity for you both to move forward together with new agreements in place. Affectionate friends will be more in evidence than before.rnAt work, the message is as last year, be as helpful as you can and don't push for ego-centred ambitions. Oddly enough, the more caring you are, the more successful you'll be. From October onwards you'll find a more enthusiastic mood around at work, with support and a fun around. Your health will also get a lift from Jupiter in Scorpio for the year ahead.