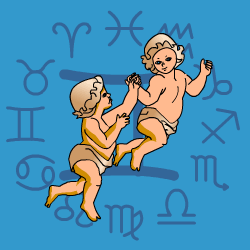 Gemini
May 21 - June 21
---
Today's Horoscope for Sunday September 22nd
Mates admire your courage for being so outspoken, though at times they wonder about your lack of humility. Still nothing ventured, nothing gained as far as you are concerned at the moment. If you are holding back from a serious discussion with workmates or close companions then maybe you need to think of some way of breaking the ice. You could be jumping the gun on something you only half heard. Check it out before jumping to conclusions.
The Weekly Outlook from 16th September
Mates secretly admire your courage for being so outspoken, though at times they will wonder about your lack of humility. Still nothing ventured, nothing gained as far as you are concerned at the moment. If you have anyone in your care you need to act towards them calmly. Though it'll be difficult to stay reasonable later in the week. Everyone will be pound up. Certainly you'll need to void tramping on anyone's corns because it could backfire.
Your Monthly Horoscope for September
Close partners will be wildly enthusiastic if not exactly sensible, so you'll need to keep them on a tight rein. You'll be racing around at home to re-organise, clear up muddles and generally getting everything into ship shape order. Certain of your pet projects at work or out in the community are on a go-slow until early next month so you'll concentrate your energy on domestic and family matters for the time being. Any redecoration plans should be sorted in the first two weeks. Try to keep your feet on the ground since you'll tend to go sailing after high hopes and then get disappointed. From midmonth you'll party more, be in a mood to flirt and have fun. This is your chance to let your inner light shine out and be truly yourself.
and Next Month's Horoscope for October
A fun loving Libra Sun should bring thoughts of romance, games, entertainment and enjoyment. And there will be time and space for all of the above. But you will also run into irksome problems which only you can tackle, either financial or emotional, or both. At times you'll complain that the universe is treating you less fairly than others as you'll be left to find the answers and put them into practice on your own. The one consolation is that you'll find you're stronger and better able to cope than you might have imagined. So you'll be able to pat yourself on the back. Towards mid-month a partner will step in with a helping hand and words of cheer so you'll know you're moving in the right direction. Gradually duty and work will take over so you'll need to push aside socialising to settle down to sort out practical matters. Try not to force through a decision on money late on with a loved one since it may backfire.
Year Ahead 2019
A slow start to the New Year will find you pondering fundamental questions about the whys, wherefores and whither of your life. Freeing yourself up from old obligations will be one priority. As a restless sign, one of the wanderers of the zodiac, you dislike being tied down. There will be no fast answers so you'll need to be persistent. At times you'll feel thrown back on your own resources with less support than usual, financially and emotionally. But through your experiences you'll grow stronger, more resilient and better able to cope ahead. Socially you'll be on good form, with your enthusiastic approach winning you compliments and admirers. One relationship will develop in ways you could not have imagined before. Other bonds in your life which have no potential for development will be quietly dropped with a minimum of regret. What will bring more fulfilment and satisfaction will be altering the way you share, care, relate and co-operate. Not a simple ask but the results will be well worth the effort. From April your engine will be revving and nothing will hold you back. OK at moments your over confidence will send you sailing into decisions that might have been the better of more thought and preparation but the momentum of your exuberance will carry you through three exciting months. From mid year you'll be focussed on sorting out your personal finances and taking the initiative to ensure you are building security for yourself ahead. You may be tempted to throw money around to impress but partners and circumstances will put the brakes on your wilder extravagances. Towards the New Year, there will be a surge of confidence as money and more support come your way, pointing to positive changes ahead.