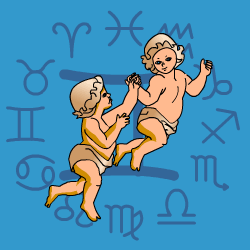 Gemini
May 21 - June 21
---
Today's Horoscope for Sunday June 24th
More stubborn than usual, you are digging your heels in quite hard. You are taking a rather hard-headed line at the moment, focussing on what is practical and sensible. If you push for self-centred aims and ambitions at work or in your community activities, then you will end up feeling disillusioned or disappointed. But if you can act in a spirit of caring for others, then you will find almost without trying that you go gain respect and admiration for your efforts.
The Weekly Outlook from 18th June
The key thing at the moment is to learn the lessons of handling cash successfully. Maybe you have been flashing it around extravagantly to boost your self esteem. You want to impress everyone around, but try to save for security as well.You'll want to give yourself things that smell nice, taste nice, feel nice - all the better things of life. It's a favourable week with lazy times and highly energetic ones as well. Everything will feel in tune.
Your Monthly Horoscope for June
Bouncing with exuberance, you won't be overlooked in a go-ahead month that will revive your spirits which have sagged recently. You'll be upfront, confident and keen to make a splash. Keen on adventures and anything that brings excitement into your life, you'll be aiming high and thinking big, wanting to travel further afield or broaden your horizons however you can. OK so you may find yourself directionless or undecided how best to proceed or be of help around the 7th. But that will be a passing blip. Spending money will be all too easy on extravagances and indulgences but you'll reckon you deserve it. You will get on top of details and forward financial planning from mid month. From the 13th you'll be charming the birds of the trees and smoothing out tensions, happy to have everyone around in a peaceful mood. In the final days there may be more practical matters demanding your attention with less help and generosity from others. So getting any problems resolved will fall to you.
and Next Month's Horoscope for July
You'll be feeling fit and whizzing through the chores in good style, since you know that your rewards will come in time. Sorting out your personal finances will be a priority, with a hint from the universe that throwing money around to impress won't be wise. Take the initiative and get new plans in place to ensure better long term security. You'll have forceful opinions which you'll air in all directions. Remember that gentle persuasion can work faster. One dilemma towards mid month, financial or emotional, will slow you down. Don't get discouraged or feel you have no choices. There'll be a different way of approaching problems which appear to have no solution. Be firm and flexible. In the final days you'll be into a varied, extra-busy few weeks which will mean having to collect your scattered wits and focus. Always a good multi-tasker you may over-commit yourself and that won't help. Stay calm through a stormy few days late on. Least said, soonest mended.
Year Ahead 2018
More serious than usual as 2018 opens, you'll be carrying heavier responsibilities, financial and emotional, for loved ones and partners. You will feel thrown back on your own resources for a while but will grow stronger as a result of coping and the lessons you learn will stand you in good stead for the future.rnLuckily you'll feel healthy and recover quickly from minor ailments with Jupiter in Scorpio till late year. Workmates will be enthusiastic and supportive so you should whizz on through your chores. If old obligations weigh on you, this is no new thing, just a reinforcement of the message that no life is entirely carefree. Change what you can and accept what you can't. That way comes peace of mind.rnAdventurous and zany friends will keep you well entertained early on, with plenty of fun diversions. Keep your sights high and aim to broaden your horizons however you can. A sea change midyear will find you exploring secrets and your own hidden depths. Life will bring moments of insight and enlightenment especially in the quiet times.rnA busy phase after midyear means you'll need to manage your time well, streamline your efficiency and start making out to-do lists otherwise you'll end up running in circles. Money should come in through your own efforts, though overspending to impress won't be wise. Late in the year close relationships of all varieties will flourish. Your positive approach will prove infectious so your popularity will soar.