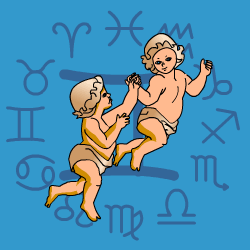 Gemini
May 21 - June 21
---
Your Birthday Horoscope
IF IT'S YOUR BIRTHDAY TODAY your year ahead will be a time to get your head and your heart together and decide what your future path should be. It's your life and your choices. Fun friends will be around pushing you to look ahead. But you'll know that you need to resolve certain dilemmas from the past before you will be free to suit yourself. Luckily, your courage and determination will see you moving ahead at speed and clearing obstacles out of the way. Your popularity will soar.
Today's Horoscope for Thursday May 25th
You will have a wicked smile on your face and several trumps hidden well out of sight. But you do have to tread warily otherwise close companions may end up feeling controlled or used which will only end up in rather sharp words. You will feel more self sufficient or even self absorbed. Both the Sun and Moon are in your birthday sign so you will want to do anything which makes you feel the centre of attention, even if it is your own.
The Weekly Outlook from 22nd May
This week you could become possessive and jealous if you are in a long-running relationship. You'll also be tempted to manipulate a bit since you definitely want your own way. Getting your head and your heart working together will be important - what you want to do and what you ought to do should to be the same thing. In that way you'll be able to put your wholehearted enthusiasm behind your plans, and they will work better as a result.
Your Monthly Horoscope for May
Normally this month you go into a slump for three weeks, but this year you'll be raring to go and revving up your engine. Just remember to give yourself some down time to relax, reflect and get yourself together. Pacing yourself will be important since with Mars in your own sign you'll imagine your own is limitless. You'll stamp your foot and push obstacles out of the way, not always being tactful, but wakening everyone around you up. Around the 11th you'll briefly lose your sense of direction at work. You won't stay indecisive for long but will suddenly get back into exuberant forward gear. Your self-confidence will carry you through till the final ten days when your birthday Sun will bounce you up further. One close partner may be less enthusiastic, indeed downright critical. Try not to rise to provocation or take their words to heart. It's their issue not yours.
and Next Month's Horoscope for June
Your birthday Sun always bounces you up after a few weeks in the doldrums last month. You'll be making quite a stir when you step out and be meeting with favourable responses. Ok so you'll be directionless and indecisive at times early on, not sure which way to face work-wise or in general. Just drift for a day or so and don't force yourself into commitments until you are sure. You won't be as romantic or sociable for a few weeks, preferring to pamper yourself in quiet moments and be helpful to loved ones when you can. Your focus will be on giving your personal finances a sharp boot into better shape. Persistence and determination will pay off, if you avoid taking unnecessary risks and keep a brake on your spending. A close partner may be critical, feeling downhearted or just preoccupied mid month. Don't take it to heart. Just recognise that the true bonds in your life will stay loyal even through the chilly patches. Into the final ten days you'll be pushing ahead not only to boost your cash situation but also to give yourself treats. Just don't gamble or take risks, since your confidence may push you into taking a step too far.
2017 Year Ahead
As the sign of the twins, you have a reputation for being both light and shade, sometimes enthusiastic, at others veering to the dark side. 2017 will offer you a chance to live both to the full. Jupiter until October will find you playing away the day, throwing old self-doubts to one side and stepping out exuberantly onto the social scene and at work. Your positivity will be infectious and since you'll be putting a higher value on yourself so will everyone else.rnBut you'll also continue to wrestle with highly confidential and secret dilemmas which will prompt you to ask searching questions about the fundamentals of your life and those close. You'll want to tear down pretence and get down to the roots of problems. You may feel trapped by old obligations but that is nothing new so you'll accept what you can't change and be determined about putting new schemes in place when you can. New friends will be mavericks, not always around, but they will open your mind to new ideas.rnClose relationships will continue to be cool but the loyal bonds will stay rock solid. Try to curb criticism since it won't help. If you stand steady, there'll be a real opportunity for you both to move forward together with new agreements in place. Affectionate friends will be more in evidence than before.rnAt work, the message is as last year, be as helpful as you can and don't push for ego-centred ambitions. Oddly enough, the more caring you are, the more successful you'll be. From October onwards you'll find a more enthusiastic mood around at work, with support and a fun around. Your health will also get a lift from Jupiter in Scorpio for the year ahead.