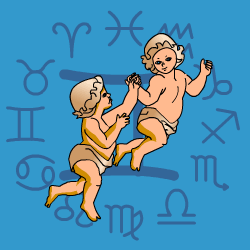 Gemini
May 21 - June 21
---
Today's Horoscope for Tuesday January 24th
You will be hard working and rather reserved when it comes to emotional matters. Just don't under value your contribution since what you are doing may not be spectacular but it will be worthwhile. Soften your attitudes to yourself and loved ones. Even if you are tending to look at the flaws in your close partnerships that does not need to mean they will end. Only shaky affairs of the heart or business relationships will come to grief now.
The Weekly Outlook from 23rd January
Who cares if your ideas are not entirely practical at the moment? There are times when you have to let your imagination soar and think big. Whatever is not feasible will become obvious in a few weeks time and you can then quietly drop it. This is the time to make long-term plans and see where you are going over the next few weeks and months. Setting your goals is crucial since you don't want to drift around aimlessly in the days ahead.
Your Monthly Horoscope for January
Being kind and helpful will get you further faster than being too forceful especially as January starts. Just put others needs before your own early on and you'll get the chance later to be as ambitious and assertive as you please. Though you'll also turn on the charm after the 3rd as a way of getting on the right side of important people. You'll be invited out to special occasions and be putting on quite a show. Behind the scenes you'll feel blocked up to the 7th, unable to find your way out of a confidential tangle, either financial or emotional. Just be quietly persistent and avoid confrontations since they won't work. By the 10th you'll be struck by a sudden inspiration and although you may anticipate resistance from certain people close you won't care. Your natural high spirits will emerge and you'll be off to have fun. Just treat a difference of opinion with a close partner towards the 19th with tact and grace. You'll feel inclined to speak your mind too sharply and it won't help. Thereafter you'll bounce out with high enthusiasm, keen to broaden your horizons however you can.
and Next Month's Horoscope for February
Never one who is short of words, you'll be positively bubbling over with opinions, bright ideas and high enthusiasm which you'll want to share as widely as possible. Really what you'd prefer is to be travelling far afield, but if you're stuck then you'll be taking up new hobbies and finding ways of injecting more adventure into your life. Warm hearted friends will be around ready to roll out the welcome mat when you want to be out and about. Your knack of putting everyone at ease will keep your popularity high. Your old self-doubts have been swept away recently so you won't have any worries about putting yourself centre stage. Just don't get too carried away and forget about everyday details since you'll get careless. The Pisces Sun after the 18th will put you into a hard-working and higher-profile few weeks when you'll want others to fall in behind your wishes. Just be cautious since there will be old obligations which are tying you down, financial or emotional. And you can't fire ahead into the future before you've sorted out problems from the past.
2017 Year Ahead
As the sign of the twins, you have a reputation for being both light and shade, sometimes enthusiastic, at others veering to the dark side. 2017 will offer you a chance to live both to the full. Jupiter until October will find you playing away the day, throwing old self-doubts to one side and stepping out exuberantly onto the social scene and at work. Your positivity will be infectious and since you'll be putting a higher value on yourself so will everyone else.rnBut you'll also continue to wrestle with highly confidential and secret dilemmas which will prompt you to ask searching questions about the fundamentals of your life and those close. You'll want to tear down pretence and get down to the roots of problems. You may feel trapped by old obligations but that is nothing new so you'll accept what you can't change and be determined about putting new schemes in place when you can. New friends will be mavericks, not always around, but they will open your mind to new ideas.rnClose relationships will continue to be cool but the loyal bonds will stay rock solid. Try to curb criticism since it won't help. If you stand steady, there'll be a real opportunity for you both to move forward together with new agreements in place. Affectionate friends will be more in evidence than before.rnAt work, the message is as last year, be as helpful as you can and don't push for ego-centred ambitions. Oddly enough, the more caring you are, the more successful you'll be. From October onwards you'll find a more enthusiastic mood around at work, with support and a fun around. Your health will also get a lift from Jupiter in Scorpio for the year ahead.