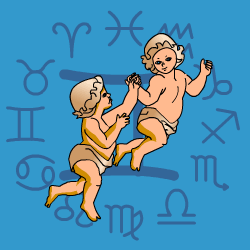 Gemini
May 21 - June 21
---
Today's Horoscope for Wednesday March 29th
Loved ones may be flying along on the cloud tops but you'll know it is much more sensible to look in advance at the downside of plans. You know from past experience that leaping into things thoughtlessly doesn't work out well. Just don't be overly-negative with yourself or over-critical with them. Although you tend to look at the flaws in your close partnerships, that does not need to mean they will end. Only shaky affairs of the heart or business relationships will come to grief now.
The Weekly Outlook from 27th March
If you have been feeling lethargic or hopeless about making any difference to the society in which you live, then now is the time to join hands with like-minded friends. Together you can achieve a lot more than you imagine. It just requires focus and persistence. You want to improve your life, whether by upgrading or rebuilding, transforming and regenerating something - that's what Jupiter and Pluto will encourage you to do.
Your Monthly Horoscope for March
Your head may be in the clouds but you'll take a deep breath and plunge ahead nonetheless. This is your time to take the lead and get others to follow along behind. You'll be working hard but your efforts will be rewarded with recognition and appreciation so there's no sense in being a shrinking violet. Get your talents out on display and be bold. One close partner will be loyal but not always as warm-hearted as you'd like. Try not to look on the negative side or be too critical. Just bite your tongue and say less, especially after the first week. Busying yourself discreetly with certain plans you won't want to show your hand too soon. Luckily lively friends and team mates will be around willing you on from mid month and you'll be sharing your brighter ideas and jokes and finding a positive response in any group activities. In the final ten days you'll be looking ahead optimistically and setting yourself good resolutions for the year ahead. You'll intend to make changes and a mix of confidence and determination will produce its own good luck.
and Next Month's Horoscope for April
In a mischievous and adventurous mood, you'll be surrounded by fun friends and more than happy to be one of the gang. You'll be looking ahead and sorting out your pet projects for the time ahead, picking up advice as you go. Not everything can be actioned instantly which will give you moments of frustration. But you can't push the river or turn the tide before it wants to turn. Just be patient and keep pulling strings behind the scenes. Old ties from the past and obligations won't be shrugged off quickly, but you've come to accept this, knowing that patience and perseverance will win out eventually, whether it is to do with financial or emotional matters. Luckily your social diary will be full with invites to special occasions, giving you the chance to shine in the best company. Keeping up appearances will be important to you, but remember to keep contact with what you feel inside as well. Mars in your own sign after the 21st will find you foot down on the accelerator and raring to go. Just give yourself chances to wind down in between bouts of high activity.
2017 Year Ahead
As the sign of the twins, you have a reputation for being both light and shade, sometimes enthusiastic, at others veering to the dark side. 2017 will offer you a chance to live both to the full. Jupiter until October will find you playing away the day, throwing old self-doubts to one side and stepping out exuberantly onto the social scene and at work. Your positivity will be infectious and since you'll be putting a higher value on yourself so will everyone else.rnBut you'll also continue to wrestle with highly confidential and secret dilemmas which will prompt you to ask searching questions about the fundamentals of your life and those close. You'll want to tear down pretence and get down to the roots of problems. You may feel trapped by old obligations but that is nothing new so you'll accept what you can't change and be determined about putting new schemes in place when you can. New friends will be mavericks, not always around, but they will open your mind to new ideas.rnClose relationships will continue to be cool but the loyal bonds will stay rock solid. Try to curb criticism since it won't help. If you stand steady, there'll be a real opportunity for you both to move forward together with new agreements in place. Affectionate friends will be more in evidence than before.rnAt work, the message is as last year, be as helpful as you can and don't push for ego-centred ambitions. Oddly enough, the more caring you are, the more successful you'll be. From October onwards you'll find a more enthusiastic mood around at work, with support and a fun around. Your health will also get a lift from Jupiter in Scorpio for the year ahead.