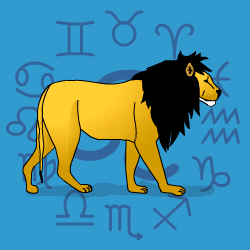 Leo
July 24 - August 23
---
Your Birthday Horoscope
IF ITS YOUR BIRTHDAY TODAY your year ahead will be happy and indulgent at home, popular out on the social scene, with old self-doubts firmly banished. But for all that needs must that a mountain of chores are tidied away and that means paying attention to health and fitness. Taking time out also to consider long term options since you're moving through a turning point of change in your career and life's direction. Be independent for a while. Your life and it should be your choices.
Today's Horoscope for Friday August 17th
You will be chattering away and have a bright, curious turn of mind. Spouting off opinions in all directions, you will be jumping onto the next point before companions have had a chance to absorb what you've said. You could also be point scoring or trying to have the last word, which may not always go down too well. Remember that a happy home life is top of your wish list. Keep thinking of ways to get yourself more comfort and relaxation.
The Weekly Outlook from 13th August
This week your nose will be firmly stuck to the grindstone as duty comes first. You will have to push indulgences to one side to concentrate on becoming more efficient and better organised. Somebody might just try to pull a fast one. Not all the information coming your way will be quite what it appears, so stay alert. It may not be ill intentioned, just that you are not hearing the whole story. Double check and pin companions down to straight answers.
Your Monthly Horoscope for August
You'll want to go one way and partners another, so there may be some differences early on. Try not to over react and be too stubborn just to prove a point. The Solar Eclipse in your own sign is a hint that you need to take a look at your life and decide what needs to alter in the months ahead. This is a challenge which if you rise to it will bring more satisfaction ahead. Don't stick your feet in the mud and continue along the same track. Be bold and see where a change could breathe more inspiration into your lifestyle. Hard work will be unavoidable after mid month, so remember that putting as much energy towards health and fitness as you do towards duty will be important. And try not to be too perfectionist otherwise you'll over burden yourself. Pleasure and security will be on your mind in the final days so you'll be spending and saving at the same time.
and Next Month's Horoscope for September
Can you afford to give into temptation and not upset your budget? That's the key questions since you'll be pleasure-bound and still keen to protect your security. Finding the right balance between spending and saving is one answer; increasing your income is another. One way or the other your mind will be firmly focussed on your finances. Slow to make up your mind, you won't budge once you've reached a decision. You'll stay on top of detail, read the fine print so no one will pull the wool over your eyes. They may try but you'll be onto them instantly. Keep double checking all the info and advice coming your way. Home will be happier with chances to indulge and you'll be considering new decoration schemes to bring more elegance and colour into your intimate surroundings. Your energy levels will rise towards mid-month and though close partners may be a touch argumentative, they will pitch in with more help if you play your cards right. Though you won't always be in a mood to fit in with Uranus throwing a few firecrackers around. Your everyday schedule will speed up from the 22nd so you'll rarely be bored.
Year Ahead 2018
2018 has similar Eclipses in Leo and your opposite sign of Aquarius, as they did in 2017, so you will find yourself at a crossroads, where you have to make crucial judgements about what comes next. Sitting down to talk to close partners will help to make the adjustments needed for a fulfilling future, though from mid-year you'll be more independent-minded for a few months, since you'll know the decisions have to be yours, not anyone else's.rnLooking after health and fitness will be vital, since you may overload yourself with work. Learning where your limits are will teach you to pace yourself. Listening to your body does not come naturally to you as a Fire sign, but you won't be able to go-go-go constantly without feeling the effects.rnAdventurous travel will be on your mind, but if you are sitting still, you will still find excitement and stimulation in exploring new belief systems and ideas. And happily you will be able to relax comfortably at home and in your intimate surroundings, feeling more secure and contented within yourself.rnTaking care with finances will be important with Neptune hanging around, since not everyone around will give you reliable advice or indeed be entirely straightforward. Force yourself to double check and don't be gullible.rnNear the year end your social life will reboot into a more vibrant phase. You'll be stepping out boldly with renewed self-confidence to meet a favourable reception from everyone you meet.