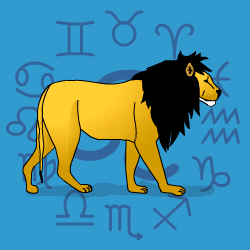 Leo
July 24 - August 23
---
Today's Horoscope for Friday February 24th
You will be spreading your favours around fairly generously in a rather enthusiastic way. You want a social life that is challenging, not dull, and will be doing all you can to breathe a little adventure into your off duty activities. You will be turning your attention to your most personal relationships. Since you may be feeling just a bit more vulnerable than usual, it's important that you give to help others settle and then in turn they are more likely to do the same for you.
The Weekly Outlook from 20th February
Mars is now in aspect to Pluto which means that you've got to be self-protective and watch who you associate with. You can be pushed around by someone and end up feeling powerless to do much about it. The Solar Eclipse is in the deepest part of your chart this week. But if you can give yourself space to ponder you may be able to answer one or two questions which have been bothering you recently. You need to get right down to the nitty gritty.
Your Monthly Horoscope for February
The support of close partners will be important to your well-being with the Sun in your opposite sign until the 18th. Flying solo won't be an option so remember that around the Lunar Eclipse on the 11th when you'll be pulled between a need to be independent and a need to co-operate. Your social life will be fun, adventurous and colourful after a dull few weeks last month. Your witty way with words and positive outlook will win you friends in your everyday routines so there'll be opportunities galore to try new activities. All you have to do is take your blinkers off and be bold. In the final days you'll be more thoughtful, preoccupied with sorting out better agreements on cash and emotional matters. The Pisces Solar Eclipse hints at a need to alter the way you share, care and co-operate which won't be easy but will be beneficial in the long term. Try to tone down your opinions.
and Next Month's Horoscope for March
You'll be racing around, chatting constantly, feeling enthusiastic and even better fortunate with new doors opening and fun people to meet. But for all that you'll know you need to take time out to sort out personal and confidential matters, financial and emotional, in the first three weeks. It'll be slow going to find the answers to some dilemmas and reach agreements that are fair to all. But you'll be pleased by the end of it that you've made the effort and compromised where necessary. From the 10th you'll be pro-active and determined, tending to lay down the law and expect everyone around to work as hard as you. Try not to come across as bossy. Sweep those close up in your enthusiasm instead of being forceful. At times you'll regret having to take responsibility for loved ones but they'll be grateful in the long term. Luckily your social life will be adventurous and you'll mix with fun friends, trying out new activities and venues. After the 20th you'll move out of an intense, secretive few weeks and plan for a more stimulating and exciting schedule with more travel if possible.
2017 Year Ahead
Your life will be filled with other people which is just the way you like it. A lively, varied everyday schedule will keep you on your toes, with plenty of enthusiastic mates around to chat to and visit. You'll be even more relaxed than usual when it comes to handing out your comments and be pleased at how persuasive you are being.rnTravel will be exciting or if you are in the one place you'll be opening your mind to intriguing new ideas and philosophies of living. You'll be eager for anything out of the ordinary and won't care if anyone thinks you're unconventional. In private moments you will be drawn towards strange, slightly mystical experiences.rnHave a care with joint finances since not everyone around will be reliable and you may be overly trusting. The February Pisces Eclipse will nudge you into altering the way you share, care and co-operate over cash or your intimate emotional life. It'll be worth making the effort though it won't always be easy.rnThe August Eclipse in your own sign will prompt you into making key decisions about your future path.rnYour health will need you to pay attention and get ailments seen to quickly. That way they won't give you problems. Not exerting yourself too strenuously will also help and certainly not getting into challenging, no-win discussions at work which will be draining.rnIt won't always be easy to relax as it once was socially with Saturn still in Sagittarius for another year. But from October you'll be able to put your feet up at home and indulge yourself there with easier family relationships to keep you smiling.