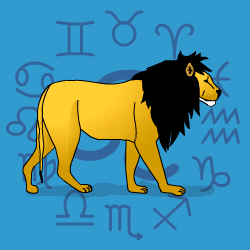 Leo
July 24 - August 23
---
Today's Horoscope for Tuesday June 27th
If you can stay flexible, tolerant and open-minded then all your working relationships will go with a swing. But Jupiter around briefly can make you sound a touch know it all, or uppity. Don't over blow your prospects or promise the earth. Just cut back a little. Maybe your thinking is a little biased on one situation so try to be clear before you speak out. Mercury is in the sign before yours so your emotions will be colouring your judgement.
The Weekly Outlook from 26th June
This is a time for successful,very positive, fortunate activity. OK, there is a slight risk you may be too impulsive and perhaps not very practical. You may cut corners and not double-check details. But you're swinging along with the kind of enthusiasm which is highly infectious, so everyone will be pulling together and results will pile in faster. But be honest with yourself first and foremost about what you are trying to avoid in relationships.
Your Monthly Horoscope for June
Surrounded by good friends and happy to be one of the crowd, you'll be mixing and matching, not standing still for long and pleased to drop in and out of social events. In between times you'll be sorting out longer term ideas, picking up advice from everyone around and sorting out your options. There will be delays and some frustrations since circumstances won't permit you to be as pro-active as you might wish for a few weeks. So use the time wisely to plot and plan behind the scenes. Even if you aren't in a position to take the lead, you can always pull strings and get others to dance to your tune. Socially you'll be on top form. Being invited to special occasions and putting on a memorable performance. You'll charm all the right people. Loved ones may be more demanding mid month, so do your bit and then give yourself a chance later to wind right down. You'll be in demand for your lively conversation but won't want to stretch yourself by doing too much.
and Next Month's Horoscope for July
This is always a slow month for you for three weeks, so there's no sense in trying to push the river or turn the tide before the Sun moves into your own sign on the 22nd. Before then try to conserve your energy by not sorting mammoth tasks or picking fights you can't win. Warm-hearted friends will be around giving you a helping hand and keeping your morale high. Your bright ideas and positive approach will rally support from everyday mates at work and elsewhere. After mid month you'll find certain blocked situations start to ease off and restrictions disappear. So you'll be ready to forge ahead with all speed. No one will damp your exuberance or push you into a corner. This is your moment and you'll go for it.
2017 Year Ahead
Your life will be filled with other people which is just the way you like it. A lively, varied everyday schedule will keep you on your toes, with plenty of enthusiastic mates around to chat to and visit. You'll be even more relaxed than usual when it comes to handing out your comments and be pleased at how persuasive you are being.rnTravel will be exciting or if you are in the one place you'll be opening your mind to intriguing new ideas and philosophies of living. You'll be eager for anything out of the ordinary and won't care if anyone thinks you're unconventional. In private moments you will be drawn towards strange, slightly mystical experiences.rnHave a care with joint finances since not everyone around will be reliable and you may be overly trusting. The February Pisces Eclipse will nudge you into altering the way you share, care and co-operate over cash or your intimate emotional life. It'll be worth making the effort though it won't always be easy.rnThe August Eclipse in your own sign will prompt you into making key decisions about your future path.rnYour health will need you to pay attention and get ailments seen to quickly. That way they won't give you problems. Not exerting yourself too strenuously will also help and certainly not getting into challenging, no-win discussions at work which will be draining.rnIt won't always be easy to relax as it once was socially with Saturn still in Sagittarius for another year. But from October you'll be able to put your feet up at home and indulge yourself there with easier family relationships to keep you smiling.