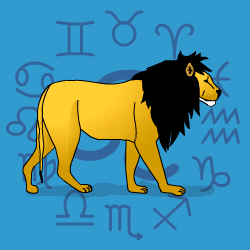 Leo
July 24 - August 23
---
Today's Horoscope for Monday August 21st
This is definitely your time to make good resolutions for your year ahead. Where your life has got dreary or stale, this will wake you up, so you'll sit on the edge of your seat and tell other people things that maybe they haven't known before. You'll want more liveliness or risk in your life so let a blast of fresh air blow through it. Decide how you want to change your image to match the person you want to become. Think about changing your wardrobe, hairdo or accessories.
The Weekly Outlook from 21st August
Maybe you feel more self absorbed this week, but if you can't do that when the Solar Eclipse is in your sign, when can you? You are at a crossroads and will be taking key decisions for your path ahead. Though certain people in your life seem to be more of a nuisance than usual. You have ended up feeling rather discouraged. Blame Saturn which is a real wet blanket and can make you lose your self-confidence. Stand up for yourself.
Your Monthly Horoscope for August
Your exuberant and chatty approach will keep you in circulation. Though you will need time to take a few key decisions since this is an important staging post for you. The Eclipse in your own sign hints you're at a crossroads and must decide what path to follow in the years ahead. It is your life and should be your choices, so you'll be slightly more independent than usual for a while ahead. Close partners will need to be kept in the loop so a balance is required, but you will take the lead. Just don't over commit yourself or stretch your energy in too many directions, especially early on. Luckily common sense will keep you in check and by the 19th your optimism and confidence will be high. So your positive approach should create its own luck. In the final days you'll be flirting and having fun, and keeping a watchful eye on your spending.
and Next Month's Horoscope for September
Venus in your own sign until the 20th will find you glowing with charm, good humour and looking wonderful. You'll be attracting admiring glances and have a knack of spreading peace and harmony around. Your priority will be money - making it and spending it with equal vigour. You'll have a chance to improve your security so try not to let it all slip through your fingers. Not everyone around will be as reliable or trustworthy as you imagine. The information coming your way may be misleading so double check everything for yourself. Into the second week you'll reckon you have your hands on the steering wheel and are making good progress. Loved ones will be demanding and you may feel weighed down by your responsibilities. Just reassure yourself that within a few months you won't be in this position. A speedy schedule after the 20th will keep boredom away and there'll be a lively surprise to make you smile.
2017 Year Ahead
Your life will be filled with other people which is just the way you like it. A lively, varied everyday schedule will keep you on your toes, with plenty of enthusiastic mates around to chat to and visit. You'll be even more relaxed than usual when it comes to handing out your comments and be pleased at how persuasive you are being.rnTravel will be exciting or if you are in the one place you'll be opening your mind to intriguing new ideas and philosophies of living. You'll be eager for anything out of the ordinary and won't care if anyone thinks you're unconventional. In private moments you will be drawn towards strange, slightly mystical experiences.rnHave a care with joint finances since not everyone around will be reliable and you may be overly trusting. The February Pisces Eclipse will nudge you into altering the way you share, care and co-operate over cash or your intimate emotional life. It'll be worth making the effort though it won't always be easy.rnThe August Eclipse in your own sign will prompt you into making key decisions about your future path.rnYour health will need you to pay attention and get ailments seen to quickly. That way they won't give you problems. Not exerting yourself too strenuously will also help and certainly not getting into challenging, no-win discussions at work which will be draining.rnIt won't always be easy to relax as it once was socially with Saturn still in Sagittarius for another year. But from October you'll be able to put your feet up at home and indulge yourself there with easier family relationships to keep you smiling.