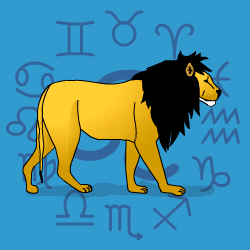 Leo
July 24 - August 23
---
Today's Horoscope for Thursday May 25th
If someone you fancy seems suddenly absolutely fascinating, watch your step. You could be infatuated or just a bit compulsive. Maybe you know in your heart of hearts that they are not really very good for you but all the same you know they are wonderful. Enjoy the feeling but avoid the trap. All those new plans you have been mulling and muddling over in recent days can now be given a sensible push. You want to sort out your game plan for the next twelve months.
The Weekly Outlook from 22nd May
Venus now close to Pluto can make you a touch obsessive so you could become infatuated with someone new. You can become too stuck in a relationship which may not be entirely good for you. If you have been feeling discouraged about making any difference to society, now is the time to give yourself a shake. Join hands with like-minded friends. Together you can achieve a lot more than you imagine. It just requires focus and persistence.
Your Monthly Horoscope for May
The most regal of signs you appreciate a position of status, lots of attention and an appreciative audience. So the Sun at your midheaven putting you into a higher profile for three weeks will suit you admirably. OK so you'll be working hard as well but you'll take the lead, get your talents out on display and expect others to follow along behind and applaud. By the 9th you'll know you've found the right persuasive technique and one project will be firmly on the road. Have a care with joint finances in the second week, since not all will be as it seems and you could be muddled or misled. Your newly found tolerance and positive approach will win you new friends along the way of your everyday routines. Vibrant friends will be around and in the final ten days will be ensuring you don't sit idle or let the grass grow under your feet. Loved ones may feel a touch left out, so extend them a helping hand.
and Next Month's Horoscope for June
Surrounded by good friends and happy to be one of the crowd, you'll be mixing and matching, not standing still for long and pleased to drop in and out of social events. In between times you'll be sorting out longer term ideas, picking up advice from everyone around and sorting out your options. There will be delays and some frustrations since circumstances won't permit you to be as pro-active as you might wish for a few weeks. So use the time wisely to plot and plan behind the scenes. Even if you aren't in a position to take the lead, you can always pull strings and get others to dance to your tune. Socially you'll be on top form. Being invited to special occasions and putting on a memorable performance. You'll charm all the right people. Loved ones may be more demanding mid month, so do your bit and then give yourself a chance later to wind right down. You'll be in demand for your lively conversation but won't want to stretch yourself by doing too much.
2017 Year Ahead
Your life will be filled with other people which is just the way you like it. A lively, varied everyday schedule will keep you on your toes, with plenty of enthusiastic mates around to chat to and visit. You'll be even more relaxed than usual when it comes to handing out your comments and be pleased at how persuasive you are being.rnTravel will be exciting or if you are in the one place you'll be opening your mind to intriguing new ideas and philosophies of living. You'll be eager for anything out of the ordinary and won't care if anyone thinks you're unconventional. In private moments you will be drawn towards strange, slightly mystical experiences.rnHave a care with joint finances since not everyone around will be reliable and you may be overly trusting. The February Pisces Eclipse will nudge you into altering the way you share, care and co-operate over cash or your intimate emotional life. It'll be worth making the effort though it won't always be easy.rnThe August Eclipse in your own sign will prompt you into making key decisions about your future path.rnYour health will need you to pay attention and get ailments seen to quickly. That way they won't give you problems. Not exerting yourself too strenuously will also help and certainly not getting into challenging, no-win discussions at work which will be draining.rnIt won't always be easy to relax as it once was socially with Saturn still in Sagittarius for another year. But from October you'll be able to put your feet up at home and indulge yourself there with easier family relationships to keep you smiling.