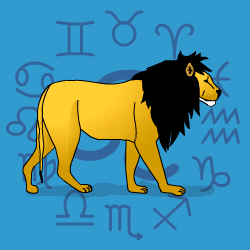 Leo
July 24 - August 23
---
Today's Horoscope for Tuesday October 17th
With Mercury tucked out of sight in one of your emotional houses, you may find your feelings cloud your judgement in the days ahead. You could be biased or prejudiced without even knowing it. Try to be open with loved ones and listen to feedback without getting defensive. Good food, drink, beautiful clothes and house are all important to your sense of well-being. Watch you are not being too materialistic in your approach since that could slow down your progress.
The Weekly Outlook from 16th October
Watch you don't get too headstrong this week. You need to take responsibility for the long-term consequences of what you decide to do. You may dash into something and then later think, "Ooh, I wish I hadn't quite done that." Don't stick yourself into the one place if it feels insufferable, but don't go too wildly over the top. You are likely to be very honest because Uranus can make you very blunt, not sensitive to people's reactions.
Your Monthly Horoscope for October
Being a flamboyant sign, a good lifestyle is always your aim, so you'll be focussing your attention on improving your finances. Which doesn't mean to stay you'll stint yourself on spending up to mid month since all manner of irresistible treats will catch your eye. Loved ones may also be landing responsibilities on you which will grate at times but being generous at this stage will be rewarded later on. Your bright mind and flexible approach will help you speed your way through fun encounters and intriguing conversations. Though looking after health and fitness and not over pushing yourself will be good. From the 10th you'll notice a happier, easier mood at home with the family beginning to emerge. And that will run on for another year as you become more contented within yourself. In the final days you'll keep running round a varied schedule but also finding time to relax in your intimate surroundings with those close.
and Next Month's Horoscope for November
Although you'll have a speedy everyday schedule, really home will be where your heart is. There'll be chances to relax and indulge with those close and you'll find family relationships in general are easier than they have been in a while. You'll be mulling over plans to expand your domestic environment to allow for more entertaining and to give yourself space. Your mischievous sense of humour will keep loved ones entertained and you'll have an appreciate audience, so don't hold back. An inspired idea around the 11th should be followed through since you'll have a sensible, practical idea of how to make it work. At times you may get snappy about delays and other people's mistakes, but getting on your high horse could backfire after mid-month. Conserve your energy and be more tolerant. More fun will be on offer after the 22nd as your social diary starts to fill up.
2017 Year Ahead
Your life will be filled with other people which is just the way you like it. A lively, varied everyday schedule will keep you on your toes, with plenty of enthusiastic mates around to chat to and visit. You'll be even more relaxed than usual when it comes to handing out your comments and be pleased at how persuasive you are being.rnTravel will be exciting or if you are in the one place you'll be opening your mind to intriguing new ideas and philosophies of living. You'll be eager for anything out of the ordinary and won't care if anyone thinks you're unconventional. In private moments you will be drawn towards strange, slightly mystical experiences.rnHave a care with joint finances since not everyone around will be reliable and you may be overly trusting. The February Pisces Eclipse will nudge you into altering the way you share, care and co-operate over cash or your intimate emotional life. It'll be worth making the effort though it won't always be easy.rnThe August Eclipse in your own sign will prompt you into making key decisions about your future path.rnYour health will need you to pay attention and get ailments seen to quickly. That way they won't give you problems. Not exerting yourself too strenuously will also help and certainly not getting into challenging, no-win discussions at work which will be draining.rnIt won't always be easy to relax as it once was socially with Saturn still in Sagittarius for another year. But from October you'll be able to put your feet up at home and indulge yourself there with easier family relationships to keep you smiling.