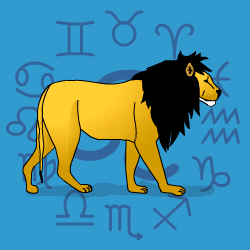 Leo
July 24 - August 23
---
Today's Horoscope for Tuesday January 24th
You may find yourself involved in noisy confrontations with family members or close companions with angry comments flying through the air. Love and your social life will seem more like work than work at times. You may feel loved ones and children to be a heavy responsibility now but out of this testing time for affairs of the heart could come some truly valuable insights which will help to give you strength in the future. Try to avoid hurting sensitive feelings.
The Weekly Outlook from 23rd January
There is no doubt that you need another half before you will feel secure in whatever you are doing. You have to be less self sufficient and more adaptable to ensure that close partners are on your wavelength. You may have to give before you get, but it will be worth it. You will be enthusiastic in promoting your strongly held beliefs. Riding into battle, waving the banner of your pet cause is your main hobby at the moment.
Your Monthly Horoscope for January
Not at your usual, sociable, outgoing best, you'll be keeping a few secrets close to your chest and pondering on highly personal matters. Don't force yourself into speedy decisions. Various dilemmas, financial and emotional, will take a few weeks to resolve and then only after deep discussion and some compromise. Pressures at work will keep you hard at especially in the first week, so make sure you're doing everything you can to keep your stamina up. Then by the 10th a brilliant idea will come in from left field to restore your enthusiasm. Your feelings will be intense and overly strong at times, so you'll adore some people and dislike others. Try to be more moderate since you won't always feel this way. A minor setback towards the 19th will give you a moment's pause. But thereafter you'll feel less drained with more support coming your way. And after the 28th you'll be flying higher.
and Next Month's Horoscope for February
The support of close partners will be important to your well-being with the Sun in your opposite sign until the 18th. Flying solo won't be an option so remember that around the Lunar Eclipse on the 11th when you'll be pulled between a need to be independent and a need to co-operate. Your social life will be fun, adventurous and colourful after a dull few weeks last month. Your witty way with words and positive outlook will win you friends in your everyday routines so there'll be opportunities galore to try new activities. All you have to do is take your blinkers off and be bold. In the final days you'll be more thoughtful, preoccupied with sorting out better agreements on cash and emotional matters. The Pisces Solar Eclipse hints at a need to alter the way you share, care and co-operate which won't be easy but will be beneficial in the long term. Try to tone down your opinions.
2017 Year Ahead
Your life will be filled with other people which is just the way you like it. A lively, varied everyday schedule will keep you on your toes, with plenty of enthusiastic mates around to chat to and visit. You'll be even more relaxed than usual when it comes to handing out your comments and be pleased at how persuasive you are being.rnTravel will be exciting or if you are in the one place you'll be opening your mind to intriguing new ideas and philosophies of living. You'll be eager for anything out of the ordinary and won't care if anyone thinks you're unconventional. In private moments you will be drawn towards strange, slightly mystical experiences.rnHave a care with joint finances since not everyone around will be reliable and you may be overly trusting. The February Pisces Eclipse will nudge you into altering the way you share, care and co-operate over cash or your intimate emotional life. It'll be worth making the effort though it won't always be easy.rnThe August Eclipse in your own sign will prompt you into making key decisions about your future path.rnYour health will need you to pay attention and get ailments seen to quickly. That way they won't give you problems. Not exerting yourself too strenuously will also help and certainly not getting into challenging, no-win discussions at work which will be draining.rnIt won't always be easy to relax as it once was socially with Saturn still in Sagittarius for another year. But from October you'll be able to put your feet up at home and indulge yourself there with easier family relationships to keep you smiling.