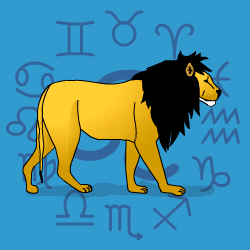 Leo
July 24 - August 23
---
Today's Horoscope for Sunday June 24th
Your mind is wandering around restlessly, and maybe you are too susceptible to persuasion by others. You are picking up subtle clues from others, acting like a sponge, soaking in atmosphere, and this can make you biased without realising it. You may be yearning for bliss, beauty and wonderful relationships or indeed a financial windfall to end all your problems. Try to understand that you need to be more realistic and practical. Though you would much prefer to live in a dream world.
The Weekly Outlook from 18th June
You may feel happier in your own company as you can be overwhelmed by having too many people around, so give yourself space. Though later in the week you'll be out and about in a morale-boosting mood with loved ones, intent on making them feel good. If you're able able to throw a party, go for a night out on the town, that will suit you to a T. You might be making money but more likely you will be spending it liberally, so watch how you go.
Your Monthly Horoscope for June
Friends will be around even if you aren't feel too sociable or romantic. Any group or team activity will go with a swing and you'll be in your element as one of the gang, looking ahead with optimism. You'll be more settled within yourself and happy in your own company at times or putting your feet up at home. Keep a watchful eye on joint finances since not all your schemes will be practical and the advice coming your way may not be reliable. Keep your own counsel after the 12th, listen rather than talk. But with Venus in your own sign thereafter you'll still be making waves out on the party scene. Giving yourself an image make over will do your confidence the world of good. Close partners will be firing on all cylinders and fairly competitive so you'll need to be the one keeping the peace. Your energy won't be limitless so take the chance in the final days to step back and let others do the running around. Your naturally sunny temperament isn't always to keen on being on the side lines but you need a chance to reflect and do less.
and Next Month's Horoscope for July
Although you won't be as outgoing as usual, you will feel more contented within yourself and can expect good news on the family or domestic front. Plans to expand or improve your intimate surroundings will get the go ahead or be progressing smoothly. Close partners will be wound up and raring to go though not always tactful. You'll be keeping the peace and fitting in with their plans to avoid arguments. But really with the Solar Eclipse in the sign before yours, there will be a need for quiet space to mull over the past and to reflect on what needs to be put right. Not normally an inward looking sign, you may have to force yourself to dig deeper, but the end result will bring more fulfilment. Your birthday Sun after the 22nd will recharge your batteries and you'll fire ahead with enthusiasm. No one will miss your presence as you sweep into rooms with confidence. Though there may be a few surprises and upsets late on which you won't back away from. Just don't say what can't be taken back in the heat of the moment.
Year Ahead 2018
2018 has similar Eclipses in Leo and your opposite sign of Aquarius, as they did in 2017, so you will find yourself at a crossroads, where you have to make crucial judgements about what comes next. Sitting down to talk to close partners will help to make the adjustments needed for a fulfilling future, though from mid-year you'll be more independent-minded for a few months, since you'll know the decisions have to be yours, not anyone else's.rnLooking after health and fitness will be vital, since you may overload yourself with work. Learning where your limits are will teach you to pace yourself. Listening to your body does not come naturally to you as a Fire sign, but you won't be able to go-go-go constantly without feeling the effects.rnAdventurous travel will be on your mind, but if you are sitting still, you will still find excitement and stimulation in exploring new belief systems and ideas. And happily you will be able to relax comfortably at home and in your intimate surroundings, feeling more secure and contented within yourself.rnTaking care with finances will be important with Neptune hanging around, since not everyone around will give you reliable advice or indeed be entirely straightforward. Force yourself to double check and don't be gullible.rnNear the year end your social life will reboot into a more vibrant phase. You'll be stepping out boldly with renewed self-confidence to meet a favourable reception from everyone you meet.