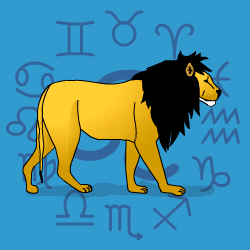 Leo
July 24 - August 23
---
Today's Horoscope for Thursday October 18th
Partners will be irritable so you may find yourself snapping back today. You certainly won't appreciate them acting unfairly and appearing to be getting away with it. Don't get jealous and possessive if they aren't exactly fitting in with what you want at the moment. Just move over and try to get more in step with them. Relationships always require compromises, and if you can keep your nearest and dearest contented they are more likely to respond in like manner.
The Weekly Outlook from 15th October
You will probably not stand up for yourself very well because you want everything to be smooth and harmonious. You will compromise, bend round other people in order to get rid of any tensions and aggravations and whisper sweet nothings in the right ears. Later on in the week throw your energy into joint co-operative ventures. If you pull together you can achieve a great deal more than you would solo, and it will also avoid eyeball-to-eyeball confrontations which waste good energy.
Your Monthly Horoscope for October
In a lively, restless and varied first three weeks you won't be standing still for a moment. Short distance trips, fun encounters and several different projects will keep you fully occupied. Your tongue will be moving as fast as your feet and your mind will be racing ahead, so you'll need to write out lists and get your priorities fixed before you leap ahead. Otherwise you'll get in a muddle. Luckily there will be changes to relax and indulge at home with affectionate support from those close and an easier mood with the family. You'll mull over ideas for sprucing up the decoration and entertaining more in your intimate surroundings. Close partners will be all systems-go as well and inclined to be overly direct so you'll need to cool them down slightly. Though if you can throw your energy behind their plans and cooperate you'll make faster progress with fewer arguments. Slowing down in the final week you'll sigh with relief and tuck yourself in a quiet corner to do less.
and Next Month's Horoscope for November
Taking life at a leisurely pace, you'll be content to stick close to familiar surroundings and put your feet up at home more often. Too much rushing around recently has left you yearning for a chance to reflect, have heart-to-heart chats with loved ones and concentrate on maters of the heart and domestic comfort rather than outer ambitions. Close partners will be wound up and raring to go till mid-month so you'll need to put some brakes on their wilder schemes or you'll be dragged along in their wake. Your social self-confidence will soar after the 11th so you'll step out boldly not just this month but for the coming year as well. Since you'll be putting a higher value on yourself, you'll find others do to at parties and at work. The only minor caution is not to get over confident in taking financial risks, since your gambling instincts could get out of hand. Entertainment, enjoyment and playing gamers with children will keep you happily occupied in the final week.
Year Ahead 2018
2018 has similar Eclipses in Leo and your opposite sign of Aquarius, as they did in 2017, so you will find yourself at a crossroads, where you have to make crucial judgements about what comes next. Sitting down to talk to close partners will help to make the adjustments needed for a fulfilling future, though from mid-year you'll be more independent-minded for a few months, since you'll know the decisions have to be yours, not anyone else's.rnLooking after health and fitness will be vital, since you may overload yourself with work. Learning where your limits are will teach you to pace yourself. Listening to your body does not come naturally to you as a Fire sign, but you won't be able to go-go-go constantly without feeling the effects.rnAdventurous travel will be on your mind, but if you are sitting still, you will still find excitement and stimulation in exploring new belief systems and ideas. And happily you will be able to relax comfortably at home and in your intimate surroundings, feeling more secure and contented within yourself.rnTaking care with finances will be important with Neptune hanging around, since not everyone around will give you reliable advice or indeed be entirely straightforward. Force yourself to double check and don't be gullible.rnNear the year end your social life will reboot into a more vibrant phase. You'll be stepping out boldly with renewed self-confidence to meet a favourable reception from everyone you meet.