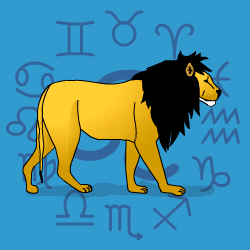 Leo
July 24 - August 23
---
Today's Horoscope for Tuesday April 25th
Not terribly practical in your outlook at the moment, you may be getting swept up in your enthusiasms to the point where you lose touch with what is possible. Keep your feet on the ground and be realistic. Unexpected events at home and elsewhere will keep you on your toes and rather wound up. You will get edgy if anyone tries to control you, order you around or becomes jealous. You want the freedom to express who you are and be more spontaneous.
The Weekly Outlook from 24th April
The New Moon at your mid heaven comes around only once a year, so it is important to use the influences wisely. This is the time to sow the seeds of new ideas at work. They may not seem grand yet, but they will bear fruit in future if you start off on the right foot with real commitment. Your heart is yearning for the far blue horizons.rnEven if you can't travel instantly to exotic places with loved ones, you can always dream and plan.
Your Monthly Horoscope for April
you'll be yearning for faraway places, wanting to broaden your horizons and have a head filled with enthusiastic schemes, not all of which will be realistic. If you can't travel instantly you'll find other ways of injecting adventure into your life. With Mars at your midheaven till the 21st you'll also be working hard, laying down the law and expecting everyone around to dance to your tune. Just try not to be too forceful or over commit yourself since your energy won't be limitless. Emotionally you'll be intense and secretive not letting on to even those close exactly what you're thinking or feeling. Try not to exaggerate your responses since you won't always feel quite as dogmatic as you are at the moment. Into the final days you'll be into a higher profile few weeks and insisting that those around follow your lead. Dynamic friends will be with you at every step of the way. In the last few days your social life will buck up with a more light hearted energy around.
and Next Month's Horoscope for May
The most regal of signs you appreciate a position of status, lots of attention and an appreciative audience. So the Sun at your midheaven putting you into a higher profile for three weeks will suit you admirably. OK so you'll be working hard as well but you'll take the lead, get your talents out on display and expect others to follow along behind and applaud. By the 9th you'll know you've found the right persuasive technique and one project will be firmly on the road. Have a care with joint finances in the second week, since not all will be as it seems and you could be muddled or misled. Your newly found tolerance and positive approach will win you new friends along the way of your everyday routines. Vibrant friends will be around and in the final ten days will be ensuring you don't sit idle or let the grass grow under your feet. Loved ones may feel a touch left out, so extend them a helping hand.
2017 Year Ahead
Your life will be filled with other people which is just the way you like it. A lively, varied everyday schedule will keep you on your toes, with plenty of enthusiastic mates around to chat to and visit. You'll be even more relaxed than usual when it comes to handing out your comments and be pleased at how persuasive you are being.rnTravel will be exciting or if you are in the one place you'll be opening your mind to intriguing new ideas and philosophies of living. You'll be eager for anything out of the ordinary and won't care if anyone thinks you're unconventional. In private moments you will be drawn towards strange, slightly mystical experiences.rnHave a care with joint finances since not everyone around will be reliable and you may be overly trusting. The February Pisces Eclipse will nudge you into altering the way you share, care and co-operate over cash or your intimate emotional life. It'll be worth making the effort though it won't always be easy.rnThe August Eclipse in your own sign will prompt you into making key decisions about your future path.rnYour health will need you to pay attention and get ailments seen to quickly. That way they won't give you problems. Not exerting yourself too strenuously will also help and certainly not getting into challenging, no-win discussions at work which will be draining.rnIt won't always be easy to relax as it once was socially with Saturn still in Sagittarius for another year. But from October you'll be able to put your feet up at home and indulge yourself there with easier family relationships to keep you smiling.