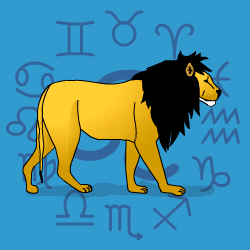 Leo
July 24 - August 23
---
Today's Horoscope for Saturday April 21st
You will approach your chores with determination and an eye for detail, and take pride in doing a task well. Being of service is important to your self-esteem. You pride yourself on being never pushy but always there. But you are tending to be rather negative at times in your approach, rarely praising but always find flaws to criticise in yourself and others. You hate waste and are very thorough. A heated mood at work could be getting to you so wind down. Stop nitpicking and enjoy more.
The Weekly Outlook from 16th April
This is the time of year when you review your beliefs, your philosophy of living. Your outlook does not remain static from childhood to old age. You constantly discard what no longer fits and take in new information which causes you to alter your approach. From Friday the Sun is in your chart area which rules career so you will be more ambitious than usual for a few weeks, keen to be noticed and aiming for a more prominent social position.
Your Monthly Horoscope for April
Your head will be in the clouds, dreaming of grand plans and expansive projects. But your feet will be firmly stuck to the ground with too much work and too many commitments tying you down. Looking after health and fitness will be vital since you'll be putting out energy and need to keep your stamina up. Try not to be too perfectionist and think only you can do tasks well, since you'll over burden yourself. Realise your body has limits. Good news on the home front around mid-month will give you encouragement. Though you may not have as much time to relax and indulge with loved ones as you might wish. And there will be invitations to special occasions so you'll be burning the candle at both ends. In the final days you'll be in a higher-profile position, taking the lead and insisting others follow behind. Certain projects will work well, though one will need careful handling.
and Next Month's Horoscope for May
Your star is in the ascendant with the Sun at your mid heaven, so you'll be higher profile, taking the lead and making sure everyone else follows behind. OK so you may have to work hard as well but your efforts will be rewarded with praise and recognition. Loved ones at home may take your good nature for granted but you'll be forgiving and amiable no matter what. Just don't over commit yourself since you'll assume only you can carry out certain tasks well. Being perfectionist will put an extra burden on you. The big astro-news is Uranus moving across your midheaven from mid month for seven years ahead which will find you considering changing direction either in your career or your life. You won't want to co-operate or fit in with others' plans let alone submit to orders. After the 16th close partners will be heated and inclined to hasty actions. Stay calm and refuse to rise to provocation. Fun friends will liven the final ten days so you won't go short of company.
Year Ahead 2018
2018 has similar Eclipses in Leo and your opposite sign of Aquarius, as they did in 2017, so you will find yourself at a crossroads, where you have to make crucial judgements about what comes next. Sitting down to talk to close partners will help to make the adjustments needed for a fulfilling future, though from mid-year you'll be more independent-minded for a few months, since you'll know the decisions have to be yours, not anyone else's.rnLooking after health and fitness will be vital, since you may overload yourself with work. Learning where your limits are will teach you to pace yourself. Listening to your body does not come naturally to you as a Fire sign, but you won't be able to go-go-go constantly without feeling the effects.rnAdventurous travel will be on your mind, but if you are sitting still, you will still find excitement and stimulation in exploring new belief systems and ideas. And happily you will be able to relax comfortably at home and in your intimate surroundings, feeling more secure and contented within yourself.rnTaking care with finances will be important with Neptune hanging around, since not everyone around will give you reliable advice or indeed be entirely straightforward. Force yourself to double check and don't be gullible.rnNear the year end your social life will reboot into a more vibrant phase. You'll be stepping out boldly with renewed self-confidence to meet a favourable reception from everyone you meet.