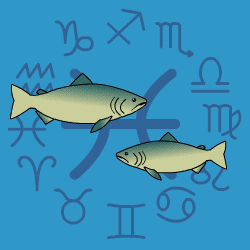 Pisces
February 20 - March 20
---
Your Birthday Horoscope
IF IT'S YOUR BIRTHDAY TODAY your year ahead will be extravagant, indulgent and lucky where cash is concerned, but helpfully you'll also be throwing considerable energy into improving your finances as well. There will be some major obstacles to overcome with frustration attached to the time it takes to find a solution. But persistence will pay off. Friendships and team relationships will be overly intense so try to stay calm and detached. You'll be opening to new levels of intimacy.
Today's Horoscope for Friday February 24th
You want tangible gestures of affection to make you feel appreciated and wanted now, either in cuddles or in presents. Venus in the signs after yours makes you emotionally rather fixed, at times rather possessive, even jealous at times. Try to be flexible. Just keep yourself to yourself. You probably don't want to be too open, since everyone around seems preoccupied. You may feel they are ignoring you or indifferent to your feelings, but you shouldn't take it so personally.
The Weekly Outlook from 20th February
Mars in aspect to Pluto this week may mean that everybody sulks and broods and gets bad-tempered. Try to keep your sense of humour handy. Getting your head and heart working together will be important. What you want to do and what you ought to do should be the same thing. In that way you can put your wholehearted enthusiasm behind your plans which will work better as a result. Make sure you have supportive companions around you.
Your Monthly Horoscope for February
Although the first three weeks will be quieter than usual with the Sun in the sign before yours, you won't be unhappy. You'll take the chance to reflect over the past year and put your feet up, letting others do the running around. You'll be spending happily with all manner of temptations proving irresistible. Luckily money will also come your way unexpectedly either through a partner or generosity from elsewhere. A sense of moving easily away from past problems into a better future will give you peace of mind and security. Emotionally you'll be less defensive and more open to those close. Your birthday Sun from the 18th for four weeks will be your cue to step out of the shadows and take up the reins again. Just have a care with cash since unsettled influences will make you feel let down and inclined to leap into action without thinking of the consequences.
and Next Month's Horoscope for March
Your birthday Sun will be misted over on the 1st by dreamy Neptune, but thereafter you'll be bouncing with renewed confidence. This is when you plan for your next year and you'll have no intention of letting the grass grow under your feet. You'll be quite a presence when you sweep into rooms so others will sit up and take notice. Sprucing up your appearance will go hand in hand with other good resolutions. From the 10th you'll have sorted out a few cash matters and be ready to push on with an exceptionally busy schedule. You won't put up with nonsense, delays or other people's mistakes calmly but will express your opinions loudly and clearly. Just watch how you go. Sometimes more haste, less speed. You will need to slow down around the 17th to unpick one muddled situation at work or out in the community. Then you'll be in a mood to treat and pamper yourself, spending money liberally, knowing that luck is on your side.
2017 Year Ahead
2017 could be a game-changer for you if you've not already begun a radical re-appraisal of your life and direction. The February Solar Eclipse in your own sign says you're at a crossroads and need to make significant decisions about your path ahead. You'll be more independent for a few months since you'll ned to ponder your options carefully and not allow others to colour your judgement. At times you'll be vague and want to drift but lethargy needs to be resisted.rnGenerosity will be coming your way from the universe, channelled through joint ventures, unexpected wins, bonuses or inheritances so you'll be pleased at the effect on your finances. Beneficial changes will also over time be helping your intimate emotional relationships, allowing you to be less defensive and more open. The transition from the past to the future will be easier than you expect.rnYou'll be marginally obsessed about sorting out future plans and about making peace over certain friendships which have been going through a sticky patch. Try not to let the mood get too intense or allow jealousy to get in the way of common sense.rnHard work will be inevitable but your conscientious efforts will bring respect along with heavier responsibilities. From August with the Leo Solar Eclipse in place, you'll be focussing on how to improve your fitness levels to give yourself more stamina for the pile of chores that lie ahead.rnIn the final three months, you'll be flying high, keen to set your sights higher and broaden your horizons however you can. Enthusiasm may trump common sense but you'll have fun.