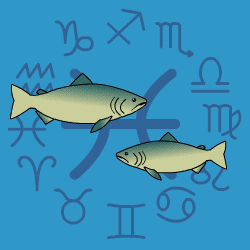 Pisces
February 20 - March 20
---
Your Birthday Horoscope
IF IT'S YOUR BIRTHDAY TODAY your year ahead will be restless, scattered, hard-working and filled with adventurous plans. You'll be raising your sights, aiming higher and keen to travel more or broaden your horizons in some way. Charming persuasion will get you further faster than being too bossy with those around, though you'll be keen that everyone wakens up. Old, loyal friends will be a great mainstay especially since you'll be serious about deciding on your future.
Today's Horoscope for Friday February 23rd
Those close in your emotional life will be your most important support, so you will avoid awkward mates at work or out in the community. If you are a little wary of being on your own, put a bit of energy and effort into finding someone nice you can wrap yourself around. Failing a real live human being, go find your teddy bear. In the last resort wear your most comfortable clothes, snuggle up in a comfortable armchair with a good book.
The Weekly Outlook from 19th February
The Sun is now in your own sign so you will be bouncing around with more enthusiasm than usual. Having been held back recently by setbacks, or just low energy and less motivation, you will now be forging ahead. Midweek there could be a whiff of romance in the air. It may be all in your head, of course, but enjoyable all the same. You want a relationship so wonderful, blissful and beautiful, it's almost like something out of the movies.
Your Monthly Horoscope for February
This is your month for taking it easy, recharging your batteries and getting the past year into perspective. Be content when you can to stay on the sidelines and let others do the heavy lifting. You will have a sense that there's a fair amount you need to sort out within yourself before you open up even to close partners. The Solar Eclipse in the sign before yours will be shining a light on hidden places, perhaps at times making you feel more vulnerable. But in the long run you will emerge stronger from what you learn about yourself. From the 10th Venus in your own sign will allow you to turn on the charm and keep the peace. Everyone around will respond favourably to you. You will continue to work hard and take the lead in certain projects, since you know if you don't push nothing will happen. Then from the 18th your birthday Sun will bounce you up, certain delays will disappear and you'll be gliding ahead in good spirits.
and Next Month's Horoscope for March
Your birthday Sun usually gives you a lift, which may seem to be missing for a few days. Worry not, let yourself drift and daydream until after the 5th and you'll get into a higher gear thereafter. Your head will be buzzing with confident plans and high hopes, so you'll be on top form by the 11th. Your go-ahead approach and disinclination to put up with slowcoaches or delays will pay dividends. You may tramp on a few toes along the way, but you know that wakening everyone around you up is the way to get projects running faster. Not always the most practical of signs, you'll be forced to sort out financial details which won't please you. So you'll reward yourself by spending liberally when irresistible treats catch your eye. After mid month you'll be happy to throw yourself wholeheartedly into friends' activities and team efforts. There may be a few differences of opinion and you'll defend your corner with more vigour than usual.
Year Ahead 2018
Following your star is very much a Pisces trait, but in 2018 early on you'll be asking yourself exactly which of your dreams you want to be aiming for. Taking time out to wait for insight to strike may seem a bore, but it will pay off. There is an answer buried deep inside you, perhaps connected to the past, which needs to emerge. And you won't manage that if you are scurrying around at high speed.rnYour enthusiasm will stay high and your ability to get your message across to a wider circle of acquaintances will please you. Not all of your plans will be workable, so be prepared to trim back on over high expectations.rnFriends and team relationships will require extra effort. At times you may be a touch discouraged since there will be fewer around than usual, but the ones there will be rock solid in their support. They'll insist that you keep your eye firmly pinned on the longer term. With their sound advice you'll be getting a game plan together.rnYour finances will continue to be fairly erratic. Sometimes good and sometimes not so great. Just budget sensibly when there is surplus around and you'll cope well. Perhaps also turn your mind to exploring new ways of improving your cash situation. Not taking risks but an approach better fitted to your present circumstances.rnFrom July your thoughts will turn to work and romance. You'll need to ensure your health and fitness regimes are running well and boosting your stamina since you'll be landed with more chores. And also to give yourself the energy to go out to play. Your social life will be getting a reboot. If you've been feeling out of the spotlight and not getting enough attention, then you need to give it. Hand out hugs and compliments and your popularity will soar.rnLate in the year several projects will be a great success so you'll be showered with appreciation and respect.