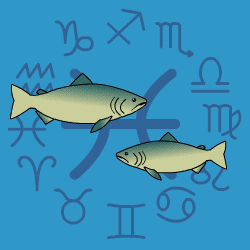 Pisces
February 20 - March 20
---
Today's Horoscope for Tuesday June 27th
Jupiter around today always has more enthusiasm than common sense. It can cause the odd problem if you bite off more than you can chew or promise more than you can deliver, which is sometimes the case. Just cut back what you think you can do. You need to be noticed now. Expressing your feelings and putting emotions into words will prove less of a problem than usual. Watch you are not putting on too much style, speaking more for effect than content.
The Weekly Outlook from 26th June
This week you should have lots of initiative and courage. New projects which begin now are likely to work very well because you're zipping around with that kind of optimism that makes things happen. There is no doubt whatsoever that positive thinking makes positive things happen. Though you are going to have to exercise some restraint, otherwise you will find yourself dashing into arguments and stirring up hornets' nests.
Your Monthly Horoscope for June
Settling into a peaceful three weeks at home, snuggling up close to loved ones, you'll want to push the world and ambitions to one side. This is when you find your roots, get a chance for heart to heart chats and reflect over recent events to get a better perspective. Though your energy and passionate enthusiasm will be spilling over and not let you sit idle for too long. You'll want to be out partying, sporting and generally living it up, when you're not sitting with your feet up. Just try not to be too bossy with loved ones or children since they won't appreciate it. Money news will be good through the month but you may be inclined late on to take risks out of over confidence. Mid month duty will call so you'll need to get a grip of one work muddle and be practical. But you won't be diverted for too long and will soon be back on the pleasure trail. After the 21st you'll be out and about socially and enjoying the spotlight of the attention of those close.
and Next Month's Horoscope for July
Your passionate enthusiasm and high energy will be directed towards enjoying yourself and getting your own way. Though you may be stuck about certain future plans and feeling out of sorts with one friend. Don't take it so much to heart. You're always good at swimming with the tide and drifting with the currents, so you'll slide through the difficulties easier than most. The mood at home and amongst the family will be harmonious, indulgent and welcoming so you'll be encouraged by recent tensions there fading. Have a care with impulse decisions over cash from the 18th to the 21st, since you're likely to be tempted to make snap decisions and then come to regret them. Hard work will be unavoidable after the 20th so you'll need to boost your stamina however you can to stay fit. Not being too perfectionist will also help. Don't imagine you are the only one who can do tasks properly otherwise you'll end up doing too much.
2017 Year Ahead
2017 could be a game-changer for you if you've not already begun a radical re-appraisal of your life and direction. The February Solar Eclipse in your own sign says you're at a crossroads and need to make significant decisions about your path ahead. You'll be more independent for a few months since you'll ned to ponder your options carefully and not allow others to colour your judgement. At times you'll be vague and want to drift but lethargy needs to be resisted.rnGenerosity will be coming your way from the universe, channelled through joint ventures, unexpected wins, bonuses or inheritances so you'll be pleased at the effect on your finances. Beneficial changes will also over time be helping your intimate emotional relationships, allowing you to be less defensive and more open. The transition from the past to the future will be easier than you expect.rnYou'll be marginally obsessed about sorting out future plans and about making peace over certain friendships which have been going through a sticky patch. Try not to let the mood get too intense or allow jealousy to get in the way of common sense.rnHard work will be inevitable but your conscientious efforts will bring respect along with heavier responsibilities. From August with the Leo Solar Eclipse in place, you'll be focussing on how to improve your fitness levels to give yourself more stamina for the pile of chores that lie ahead.rnIn the final three months, you'll be flying high, keen to set your sights higher and broaden your horizons however you can. Enthusiasm may trump common sense but you'll have fun.