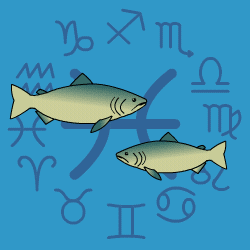 Pisces
February 20 - March 20
---
Today's Horoscope for Sunday September 22nd
This will be the ideal time to sit down and talk through money matters with close partners. Everyone has to be clear what the agreements are. Try to stay positive in your approach. You may be looking too much for what's wrong, seeing the flaws and the inadequacies rather than the benefits. It may not be easy to open up because you fear they may be critical rather than supportive, but try all the same. Be steady and straightforward and all will be well.
The Weekly Outlook from 16th September
Maybe you do need to sit down and talk through money matters with close partners. Everyone has to be clear what the agreements are. Though you'll need to tread tactfully since those close will be wound up and keen to keep control of the outcome.rnYou will achieve your aims but you will have to put your shoulder to the wheel to make it happen. If you stay persevering and flexible then you'll get to where you want to be eventually.
Your Monthly Horoscope for September
Close partners will be firing on all cylinders and if you can hitch your wagon to theirs and cooperate then you'll speed along. It may be tricky to avoid arguments but keeping the peace will be more sensible. You will feel popular socially since your knack of making everyone you meet feel special will have them eating out of your hand. You may at times take on board too much or get over hopeful since your head will be full of dreams. If you can keep your feet on the ground and keep your expectations pitched down a touch it'll help. Running away with the notion that everything you attempt will work well at the first attempt will get you into trouble. By the 19th you'll be shoulder to the wheel and not giving up until you've moved one situation on. Your mood will be determined with stronger feelings than you normally experience. Try not to exaggerate or get things out of perspective. Financially and emotionally you will get changes in place if you're strategic and flexible.
and Next Month's Horoscope for October
Renowned for your dreamy nature, you much prefer to drift along, rather than being too decisive or pro-active. However needs must with the Sun and Mars in your hidden house of transformation. Progress over financial and emotional matters will only come through confronting the issues, reaching a negotiated compromise settlement and then moving on. But that will require that you straighten your spine and push to protect your own interests. You won't get it all your own way but neither can anyone else. Luckily your social life will be lighter-hearted and more adventurous with a fun crowd to mix with and more exciting activities to enjoy. A triumph or small success to boost your self-esteem towards mid-month will be just what you need. From the 23rd certain restrictions will lift so you won't feel as held back by highly personal or confidential matters. There'll be too much going on in your everyday schedule and a friend won't be on your wavelength but you'll speed along nonetheless.
Year Ahead 2019
You much prefer to swim with the currents and drift with the currents, but needs must that you focus firmly early in the year on sorting out practical plans ahead. Certain friendships will be either less amiable than they once were or separated. So you'll treasure the mates around who are loyal and steadfast. They'll offer you advice which won't always be as upbeat as you'd like but they won't be wrong. Team relationships at work will require effort to get them running smoothly. If you are unsettled about a cool atmosphere, then try to break the ice and find a better way of ensuring co-operation. Your everyday schedule will be busy to the point of frantic at times so you won't be bored, but will need to be better organised. Your tendency of leaping out to speak the truth as you see it may not always go down well. Try to tone down honesty and add a little tact. Luckily your efforts should result in several successes or triumphs along the way so you'll be on the receiving end of recognition, praise and admiration from those whose judgement you trust. Neptune, your ruler, will still be in your own sign, making for some confusion or just a foggy state of mind at times. You won't always muster up the courage to be as pro-active as you'd like. In those times it'll be best to go with the flow and see where it takes you. What will waken you up after mid year is the desire to have a more exciting social life. You may be noticing a lack of attention or affection. The answer is to start handing out what you want for yourself. Shower compliments, hugs and kisses around and you'll be revitalised by the response. In December you'll begin to see how future plans can be made to work, with the enthusiastic support of new and upbeat friends.