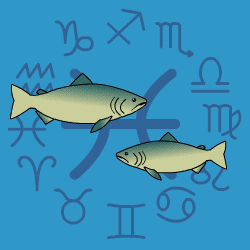 Pisces
February 20 - March 20
---
Today's Horoscope for Tuesday January 24th
Don't cut yourself off and sit behind a brick wall, since others will feel you are too self sufficient or self contained, and not offer help. Maybe you could try to break the ice by expressing your feelings more openly though it will not be easy. Do not let discouragement get you down if disagreements flare up or even if you feel cold-shouldered in team efforts. Only by facing up to difficulties can you hope to establish better relationships out in the world.
The Weekly Outlook from 23rd January
New Moons are the start of something new. But if you think of what it looks like in the sky, it is a faint crescent of light which grows bigger as time goes on. So don't expect anything major this week. Just be clear that you need to put your attention behind the scenes into whatever you want to put into place over the next year. Watch you are not being too materialistic in your approach since that could slow your progress.
Your Monthly Horoscope for January
You won't know whether to push ahead decisively or let yourself drift as the month starts. So you'll tread water for a few days until you feel energised enough to get into gear. You'll be looking great and attracting favourable comments for your appearance and your winning smiles will smooth around rough edges, even when you come across too assertively. Team relationships and friendships will require tactful handling up to the 7th, though you'll be tempted to put your foot down. Just back away from confrontations since you dislike them and they won't bring the result you want. One future plan will require a subtle strategy to get it moving and by the 10th you'll feel free of restraints. This is your time to plan ahead for the next year so you'll be jotting down ideas and getting prepared. There may be a setback or an argument at work towards the 19th which will pass quickly so just duck out of the way of tricky people till it blows over. In the final days you'll be taking it easy, content to put your feet up and let others race around.
and Next Month's Horoscope for February
Although the first three weeks will be quieter than usual with the Sun in the sign before yours, you won't be unhappy. You'll take the chance to reflect over the past year and put your feet up, letting others do the running around. You'll be spending happily with all manner of temptations proving irresistible. Luckily money will also come your way unexpectedly either through a partner or generosity from elsewhere. A sense of moving easily away from past problems into a better future will give you peace of mind and security. Emotionally you'll be less defensive and more open to those close. Your birthday Sun from the 18th for four weeks will be your cue to step out of the shadows and take up the reins again. Just have a care with cash since unsettled influences will make you feel let down and inclined to leap into action without thinking of the consequences.
2017 Year Ahead
2017 could be a game-changer for you if you've not already begun a radical re-appraisal of your life and direction. The February Solar Eclipse in your own sign says you're at a crossroads and need to make significant decisions about your path ahead. You'll be more independent for a few months since you'll ned to ponder your options carefully and not allow others to colour your judgement. At times you'll be vague and want to drift but lethargy needs to be resisted.rnGenerosity will be coming your way from the universe, channelled through joint ventures, unexpected wins, bonuses or inheritances so you'll be pleased at the effect on your finances. Beneficial changes will also over time be helping your intimate emotional relationships, allowing you to be less defensive and more open. The transition from the past to the future will be easier than you expect.rnYou'll be marginally obsessed about sorting out future plans and about making peace over certain friendships which have been going through a sticky patch. Try not to let the mood get too intense or allow jealousy to get in the way of common sense.rnHard work will be inevitable but your conscientious efforts will bring respect along with heavier responsibilities. From August with the Leo Solar Eclipse in place, you'll be focussing on how to improve your fitness levels to give yourself more stamina for the pile of chores that lie ahead.rnIn the final three months, you'll be flying high, keen to set your sights higher and broaden your horizons however you can. Enthusiasm may trump common sense but you'll have fun.