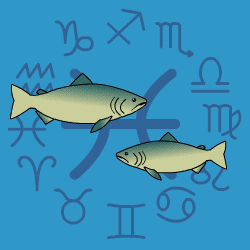 Pisces
February 20 - March 20
---
Today's Horoscope for Wednesday October 18th
Your mood will be upbeat but perhaps none too practical. Pushing yourself to think through the practical consequences of "Can I actually make this stick?" seems too much effort. But just think of the effort involved if you have committed yourself to more than you want in a couple of days' time. Your positive and enthusiastic attitude will be attracting a favourable response from everyone around. Just rest assured that your uncanny knack of seeing what will happen is pointing you in the right direction.
The Weekly Outlook from 16th October
This week will be lively, exciting and probably fairly disruptive. But what it's doing in a way is clearing away limitations. It is saying to you: "Hey, you've got a bit dull or stuck - you've been hanging onto things for security which you need to let go off." So it's trying to pull you away from things that are no longer any use to you. You will definitely want to have a wider range of interests and to get yourself out of any ruts.
Your Monthly Horoscope for October
Close partners will be with you every step of the way through a muddled first two weeks. You'll rely on their energy and enthusiasm. Too much work and perhaps an obstacle or two as one plan does not work out may dent your good humour. But they'll be passing moments. One friendship or team relationship will hit a tense patch which you'll need to handle carefully. Being too pushy will backfire. Sorting out confidential agreements will preoccupy you until the 23rd but you'll find that being persistent as well as flexible pays off. After the 12th you'll set sail into a year-long phase of high enthusiasm and grand plans. You'll want to fill your mind with more exciting information, perhaps even take up new studies or hobbies and will be looking ahead with optimism. In the final days you'll renew your efforts to clear out old resentments and come to a reconciliation with anyone close, who has been out of sorts. Your bouncy approach will pull them into a better mood.
and Next Month's Horoscope for November
On a magic, mystery adventure trip this month, you'll want to reach out to the far horizons whether in travelling further afield or filling your life full of more stimulating interests and hobbies. Be bold and let your confidence sail you towards your dream. Your social life will be lively as you mix with a different crowd and you'll want loved ones to be helping you broaden the scope of your life and understanding. The right people want to hear what you have to say so don't hold back. Recently you've been working hard and now you can begin to see where the rewards will come in future. By changing your approach in slow, steady steps you'll make yourself even more fulfilled. Behind the scenes you will be preoccupied with a tricky dilemma for which the answer will be slow in coming. Be persistent and flexible, even if one plan goes on hold after mid month or a friend proves to be less than co-operative. In the final week you'll be flying high, into a higher profile few weeks when your status will rise.
2017 Year Ahead
2017 could be a game-changer for you if you've not already begun a radical re-appraisal of your life and direction. The February Solar Eclipse in your own sign says you're at a crossroads and need to make significant decisions about your path ahead. You'll be more independent for a few months since you'll ned to ponder your options carefully and not allow others to colour your judgement. At times you'll be vague and want to drift but lethargy needs to be resisted.rnGenerosity will be coming your way from the universe, channelled through joint ventures, unexpected wins, bonuses or inheritances so you'll be pleased at the effect on your finances. Beneficial changes will also over time be helping your intimate emotional relationships, allowing you to be less defensive and more open. The transition from the past to the future will be easier than you expect.rnYou'll be marginally obsessed about sorting out future plans and about making peace over certain friendships which have been going through a sticky patch. Try not to let the mood get too intense or allow jealousy to get in the way of common sense.rnHard work will be inevitable but your conscientious efforts will bring respect along with heavier responsibilities. From August with the Leo Solar Eclipse in place, you'll be focussing on how to improve your fitness levels to give yourself more stamina for the pile of chores that lie ahead.rnIn the final three months, you'll be flying high, keen to set your sights higher and broaden your horizons however you can. Enthusiasm may trump common sense but you'll have fun.