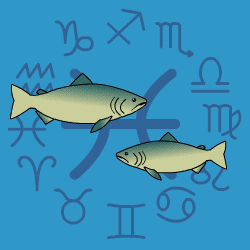 Pisces
February 20 - March 20
---
Today's Horoscope for Thursday May 25th
You will have a definite need for something more exciting and thrilling today. Maybe you want to exert power over other people by sort of nudging them into doing something that they might not really want to do. You do have to be cautious, because if you could find close companions get a bit resentful. Try to be more laid-back. If there have been any family rifts or differences recently, this could just be the time to wipe the slate clean and start again.
The Weekly Outlook from 22nd May
There could be indiscretions in the air if you are bored in your love life. You may want to sidle off and do things you haven't been able to do before. Putting down roots and finding a sense of belonging is important with the new Moon at the lowest part of your chart this week. It makes you sensitive to any lacks in your emotional life, so you'll want to be surrounded by everything that feels comforting and reassuring.
Your Monthly Horoscope for May
Racing around, re-organising at home and stamping your foot when the family don't fit in, you'll be a whirlwind of activity. Just try to take a deep breath every so often and be clear about what is most important. If you chase round after every last trivial problem, then you'll get yourself paralysed. Managing your time well and communicating clearly will be crucial if you're to smooth your way through a busy schedule. Certain pet projects will be on hold for a while which will be irritating. But maybe you do need to backtrack, unpick mistakes and then when the red light turns to green, you'll be in better shape to forge ahead. A significant or influential friend will be of enormous help, so even if you feel they are a touch controlling, go with them. Money or at least generosity should be coming your way before midmonth and you'll be spending liberally on treats and extravagances. You'll slow down after the 20th and find more time to relax as well as putting finishing touches to your new domestic setup.
and Next Month's Horoscope for June
Settling into a peaceful three weeks at home, snuggling up close to loved ones, you'll want to push the world and ambitions to one side. This is when you find your roots, get a chance for heart to heart chats and reflect over recent events to get a better perspective. Though your energy and passionate enthusiasm will be spilling over and not let you sit idle for too long. You'll want to be out partying, sporting and generally living it up, when you're not sitting with your feet up. Just try not to be too bossy with loved ones or children since they won't appreciate it. Money news will be good through the month but you may be inclined late on to take risks out of over confidence. Mid month duty will call so you'll need to get a grip of one work muddle and be practical. But you won't be diverted for too long and will soon be back on the pleasure trail. After the 21st you'll be out and about socially and enjoying the spotlight of the attention of those close.
2017 Year Ahead
2017 could be a game-changer for you if you've not already begun a radical re-appraisal of your life and direction. The February Solar Eclipse in your own sign says you're at a crossroads and need to make significant decisions about your path ahead. You'll be more independent for a few months since you'll ned to ponder your options carefully and not allow others to colour your judgement. At times you'll be vague and want to drift but lethargy needs to be resisted.rnGenerosity will be coming your way from the universe, channelled through joint ventures, unexpected wins, bonuses or inheritances so you'll be pleased at the effect on your finances. Beneficial changes will also over time be helping your intimate emotional relationships, allowing you to be less defensive and more open. The transition from the past to the future will be easier than you expect.rnYou'll be marginally obsessed about sorting out future plans and about making peace over certain friendships which have been going through a sticky patch. Try not to let the mood get too intense or allow jealousy to get in the way of common sense.rnHard work will be inevitable but your conscientious efforts will bring respect along with heavier responsibilities. From August with the Leo Solar Eclipse in place, you'll be focussing on how to improve your fitness levels to give yourself more stamina for the pile of chores that lie ahead.rnIn the final three months, you'll be flying high, keen to set your sights higher and broaden your horizons however you can. Enthusiasm may trump common sense but you'll have fun.