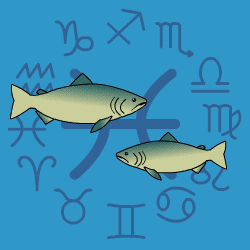 Pisces
February 20 - March 20
---
Today's Horoscope for Tuesday April 25th
You will be more inclined to read the fine print in money matters, being quite pernickety about the tiny details. You are thinking along lines that are practical and conservative, which means you will come up with sound and productive ideas.rnLater the Moon at odds with Jupiter is not likely to be causing any problems. But you will notice that you want everything at home and in your emotional life to be totally wonderful, which could set you up for a minor let down.
The Weekly Outlook from 24th April
Trying to manage yourrntime better, streamline your efficiency and clear up communication muddles is a high priority this week. There may be nothing obvious at the moment, but if you take steps early on you can prevent situations blowing up in future. You want to wallow in your senses at the moment, adoring good food, drink and sensuous clothes. Anything you can do to make yourself feel beautiful will keep you in good spirits.
Your Monthly Horoscope for April
Venus flitting into your own sign will attract compliments for your appearance and you'll be keen to pour oil on troubled waters and keep everyone around sweet. Which isn't to say you won't also be fairly outspoken when the mood hits you. In a busy, varied everyday schedule you'll get impatient with delays and mistakes and won't be backwards about saying so. One friend will be going through a sticky time up to the 10th so try to be forgiving and understanding rather than dig in your heels. They may have problems of which you are unware. Money will be on your mind since you'll want to spend liberally and boost your security at the same time. Just don't go too wild around the 7th. You're in a lucky phase but it'll be good to keep surplus aside for later. In the final days you'll gear up a notch to start shifting the family and furniture into place at home, keep to get everything and everyone in ship shape order.
and Next Month's Horoscope for May
Racing around, re-organising at home and stamping your foot when the family don't fit in, you'll be a whirlwind of activity. Just try to take a deep breath every so often and be clear about what is most important. If you chase round after every last trivial problem, then you'll get yourself paralysed. Managing your time well and communicating clearly will be crucial if you're to smooth your way through a busy schedule. Certain pet projects will be on hold for a while which will be irritating. But maybe you do need to backtrack, unpick mistakes and then when the red light turns to green, you'll be in better shape to forge ahead. A significant or influential friend will be of enormous help, so even if you feel they are a touch controlling, go with them. Money or at least generosity should be coming your way before midmonth and you'll be spending liberally on treats and extravagances. You'll slow down after the 20th and find more time to relax as well as putting finishing touches to your new domestic setup.
2017 Year Ahead
2017 could be a game-changer for you if you've not already begun a radical re-appraisal of your life and direction. The February Solar Eclipse in your own sign says you're at a crossroads and need to make significant decisions about your path ahead. You'll be more independent for a few months since you'll ned to ponder your options carefully and not allow others to colour your judgement. At times you'll be vague and want to drift but lethargy needs to be resisted.rnGenerosity will be coming your way from the universe, channelled through joint ventures, unexpected wins, bonuses or inheritances so you'll be pleased at the effect on your finances. Beneficial changes will also over time be helping your intimate emotional relationships, allowing you to be less defensive and more open. The transition from the past to the future will be easier than you expect.rnYou'll be marginally obsessed about sorting out future plans and about making peace over certain friendships which have been going through a sticky patch. Try not to let the mood get too intense or allow jealousy to get in the way of common sense.rnHard work will be inevitable but your conscientious efforts will bring respect along with heavier responsibilities. From August with the Leo Solar Eclipse in place, you'll be focussing on how to improve your fitness levels to give yourself more stamina for the pile of chores that lie ahead.rnIn the final three months, you'll be flying high, keen to set your sights higher and broaden your horizons however you can. Enthusiasm may trump common sense but you'll have fun.