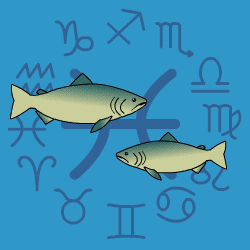 Pisces
February 20 - March 20
---
Today's Horoscope for Monday August 21st
Never was there a better time to start a new health, diet or exercise regime. You can probably muster up the will power and you know you need to boost your stamina and get yourself streamlined for the days ahead. So stick your colours to the mast and get going. Sometimes these influences can rock the boat a little bit, but you just want to follow your own original path, to be a little bit enlightened, to find new things, and to talk to new people.
The Weekly Outlook from 21st August
This isn't the most glamorous time of the year for you, but could be the right circumstances for you to put health and fitness as a priority. If you can find the discipline then you will find it helps. Be cool, calm, sensible and you'll find that you end up with a task very neatly and tidily done. All you have to do is stick to the straight and narrow, no matter the distractions around you. This is not the time for frivolities.
Your Monthly Horoscope for August
An emotionally sensitive Water sign, you have a reputation for not being overly practical. Yet now you'll need to buckle down to get be more efficient and better organised, and to pay attention to health and fitness. You'll have a pile of chores mounting in the months ahead, perhaps even extra jobs, and for that you'll need to stay on top form. Boosting your stamina however you can, avoiding excesses of any sort, and knowing where your physical limits are will be important. The more you can streamline chores and your schedule, the less energy you'll waste. And there'll be surplus left over for all the social occasions on offer. You'll be able to flirt, have fun and be out in the spotlight of the right people's attention. Money should come in unexpectedly though try not to take others' generosity for granted. More help and support will take the strain of you in the final days with partners rallying round to lend a hand.
and Next Month's Horoscope for September
Close partners will be full steam ahead and since you'll want support, you'll need to throw your energy behind their schemes. At times they'll be over heated and argumentative, so keeping the peace will be important. There will be moments when you feel vague, low in energy or just lacking in will power. Try to boost your morale and don't get swept into schemes you're not sure about. After week one you'll be more in control, pushing ahead with plans and getting the support of a stalwart friend. Hard work will be unavoidable and some mistakes will need faced realistically mid month and sorted out. Over eating could be a minor problem since you will be tempted to console yourself. More affection and fun social invitations will come your way from the 20th onwards. Sitting down for heart to heart chats with loved ones will bring deeper connections and more satisfactory agreements moving ahead.
2017 Year Ahead
2017 could be a game-changer for you if you've not already begun a radical re-appraisal of your life and direction. The February Solar Eclipse in your own sign says you're at a crossroads and need to make significant decisions about your path ahead. You'll be more independent for a few months since you'll ned to ponder your options carefully and not allow others to colour your judgement. At times you'll be vague and want to drift but lethargy needs to be resisted.rnGenerosity will be coming your way from the universe, channelled through joint ventures, unexpected wins, bonuses or inheritances so you'll be pleased at the effect on your finances. Beneficial changes will also over time be helping your intimate emotional relationships, allowing you to be less defensive and more open. The transition from the past to the future will be easier than you expect.rnYou'll be marginally obsessed about sorting out future plans and about making peace over certain friendships which have been going through a sticky patch. Try not to let the mood get too intense or allow jealousy to get in the way of common sense.rnHard work will be inevitable but your conscientious efforts will bring respect along with heavier responsibilities. From August with the Leo Solar Eclipse in place, you'll be focussing on how to improve your fitness levels to give yourself more stamina for the pile of chores that lie ahead.rnIn the final three months, you'll be flying high, keen to set your sights higher and broaden your horizons however you can. Enthusiasm may trump common sense but you'll have fun.