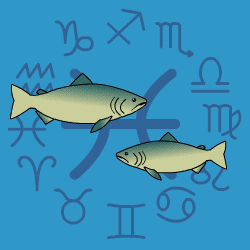 Pisces
February 20 - March 20
---
Today's Horoscope for Monday September 25th
. Where you have specialised or really significant tasks to do, you will find you crack along. Though you won't necessarily find it very easy to communicate with other people. Saturn around can sometimes create barriers, or maybe you're just putting yourself across too cautiously. Heavy responsibilities at work may weigh you down but this can also be a time of promotion and recognition. You will reap now what you have sown in previous years. Just don't get morose about having to work so hard all the time.
The Weekly Outlook from 25th September
All sorts of changes will come out over the next few days which you hadn't expected. You will finally manage to get away from restrictions and obligations, things that have been limiting you and tying you down. Later in the week there could be a whiff of romance in the air. It may be all in your head of course, but enjoyable all the same. You want a relationship so wonderful and blissful, it's almost like something out of the movies.
Your Monthly Horoscope for September
Close partners will be full steam ahead and since you'll want support, you'll need to throw your energy behind their schemes. At times they'll be over heated and argumentative, so keeping the peace will be important. There will be moments when you feel vague, low in energy or just lacking in will power. Try to boost your morale and don't get swept into schemes you're not sure about. After week one you'll be more in control, pushing ahead with plans and getting the support of a stalwart friend. Hard work will be unavoidable and some mistakes will need faced realistically mid month and sorted out. Over eating could be a minor problem since you will be tempted to console yourself. More affection and fun social invitations will come your way from the 20th onwards. Sitting down for heart to heart chats with loved ones will bring deeper connections and more satisfactory agreements moving ahead.
and Next Month's Horoscope for October
Close partners will be with you every step of the way through a muddled first two weeks. You'll rely on their energy and enthusiasm. Too much work and perhaps an obstacle or two as one plan does not work out may dent your good humour. But they'll be passing moments. One friendship or team relationship will hit a tense patch which you'll need to handle carefully. Being too pushy will backfire. Sorting out confidential agreements will preoccupy you until the 23rd but you'll find that being persistent as well as flexible pays off. After the 12th you'll set sail into a year-long phase of high enthusiasm and grand plans. You'll want to fill your mind with more exciting information, perhaps even take up new studies or hobbies and will be looking ahead with optimism. In the final days you'll renew your efforts to clear out old resentments and come to a reconciliation with anyone close, who has been out of sorts. Your bouncy approach will pull them into a better mood.
2017 Year Ahead
2017 could be a game-changer for you if you've not already begun a radical re-appraisal of your life and direction. The February Solar Eclipse in your own sign says you're at a crossroads and need to make significant decisions about your path ahead. You'll be more independent for a few months since you'll ned to ponder your options carefully and not allow others to colour your judgement. At times you'll be vague and want to drift but lethargy needs to be resisted.rnGenerosity will be coming your way from the universe, channelled through joint ventures, unexpected wins, bonuses or inheritances so you'll be pleased at the effect on your finances. Beneficial changes will also over time be helping your intimate emotional relationships, allowing you to be less defensive and more open. The transition from the past to the future will be easier than you expect.rnYou'll be marginally obsessed about sorting out future plans and about making peace over certain friendships which have been going through a sticky patch. Try not to let the mood get too intense or allow jealousy to get in the way of common sense.rnHard work will be inevitable but your conscientious efforts will bring respect along with heavier responsibilities. From August with the Leo Solar Eclipse in place, you'll be focussing on how to improve your fitness levels to give yourself more stamina for the pile of chores that lie ahead.rnIn the final three months, you'll be flying high, keen to set your sights higher and broaden your horizons however you can. Enthusiasm may trump common sense but you'll have fun.