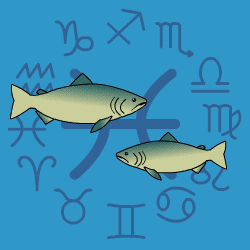 Pisces
February 20 - March 20
---
Today's Horoscope for Wednesday March 29th
You may get several important issues straight with loved ones. Try not to be blinkered in your approach. They may have been careless or irresponsible, but they may also have different priorities. Listen and see if you can find middle ground. If the foundations you have laid in your career in the past are solid now is your time to flourish. If you have not then this is the time it will become blatantly obvious where you have made your mistakes and must sort them out.
The Weekly Outlook from 27th March
You will probably be feeling more stubborn this week over cash matters. But sometimes you have to take a stand. Mull everything over carefully, and once you have reached a considered decision take steps to resolve whatever has been bothering you recently.Just don't expect instant results. If you are normally lacking in confidence, the planetary influences later in the week will do you the power of good. But don't go too over the top.
Your Monthly Horoscope for March
Your birthday Sun will be misted over on the 1st by dreamy Neptune, but thereafter you'll be bouncing with renewed confidence. This is when you plan for your next year and you'll have no intention of letting the grass grow under your feet. You'll be quite a presence when you sweep into rooms so others will sit up and take notice. Sprucing up your appearance will go hand in hand with other good resolutions. From the 10th you'll have sorted out a few cash matters and be ready to push on with an exceptionally busy schedule. You won't put up with nonsense, delays or other people's mistakes calmly but will express your opinions loudly and clearly. Just watch how you go. Sometimes more haste, less speed. You will need to slow down around the 17th to unpick one muddled situation at work or out in the community. Then you'll be in a mood to treat and pamper yourself, spending money liberally, knowing that luck is on your side.
and Next Month's Horoscope for April
Venus flitting into your own sign will attract compliments for your appearance and you'll be keen to pour oil on troubled waters and keep everyone around sweet. Which isn't to say you won't also be fairly outspoken when the mood hits you. In a busy, varied everyday schedule you'll get impatient with delays and mistakes and won't be backwards about saying so. One friend will be going through a sticky time up to the 10th so try to be forgiving and understanding rather than dig in your heels. They may have problems of which you are unware. Money will be on your mind since you'll want to spend liberally and boost your security at the same time. Just don't go too wild around the 7th. You're in a lucky phase but it'll be good to keep surplus aside for later. In the final days you'll gear up a notch to start shifting the family and furniture into place at home, keep to get everything and everyone in ship shape order.
2017 Year Ahead
2017 could be a game-changer for you if you've not already begun a radical re-appraisal of your life and direction. The February Solar Eclipse in your own sign says you're at a crossroads and need to make significant decisions about your path ahead. You'll be more independent for a few months since you'll ned to ponder your options carefully and not allow others to colour your judgement. At times you'll be vague and want to drift but lethargy needs to be resisted.rnGenerosity will be coming your way from the universe, channelled through joint ventures, unexpected wins, bonuses or inheritances so you'll be pleased at the effect on your finances. Beneficial changes will also over time be helping your intimate emotional relationships, allowing you to be less defensive and more open. The transition from the past to the future will be easier than you expect.rnYou'll be marginally obsessed about sorting out future plans and about making peace over certain friendships which have been going through a sticky patch. Try not to let the mood get too intense or allow jealousy to get in the way of common sense.rnHard work will be inevitable but your conscientious efforts will bring respect along with heavier responsibilities. From August with the Leo Solar Eclipse in place, you'll be focussing on how to improve your fitness levels to give yourself more stamina for the pile of chores that lie ahead.rnIn the final three months, you'll be flying high, keen to set your sights higher and broaden your horizons however you can. Enthusiasm may trump common sense but you'll have fun.