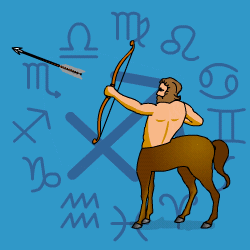 Sagittarius
November 23 - December 22
---
Today's Horoscope for Friday February 24th
Children bring out the best in you, and if you don't have any then you will be positively child-like yourself in your open hearted determination to play as much as possible. You will be putting your feelings on the line, saying what you mean, and hinting loudly in the direction of loved ones. You'll be moving smartly around a busy schedule, with more comings and goings, conversations, meetings and general chit chat than usual. You will be more aware of everyday contacts. It's a real grasshopper mood.
The Weekly Outlook from 20th February
You've got to watch who you associate with this week. Mars Pluto tends to attract the wrong kind of people. It's a ruthless energy, so if you let control freaks near, you will feel stuck. Putting down roots and finding a sense of belonging is especially important with the Solar Eclipse at the lowest part of your chart. It makes you sensitive to any lacks in your emotional life so you want to be surrounded by comfort and reassurance.
Your Monthly Horoscope for February
Always a restless sign, you'll thrive on having too much to do, too many visits to make and conversations to hold. It'll be varied, fast-moving and rarely boring though you'll need to manage your time well, sort out your priorities and pause long enough to ensure everyone understands what is being said. Enthusiastic friends will keep you company and team mates will be equally supportive so any group activities will go with a swing. You'll also be out and about socially, in the mood for entertainment and enjoyment. Loved ones will rally round with attention and affection. Your optimism will stay high with good news coming through about a future project. Mars in Aries will zip you along all month keeping your passion and energy high. Though in the final days you may run into a cash dilemma which could send you into hasty decisions which would not be wise.
and Next Month's Horoscope for March
A loved one or family member will be vague, preoccupied or plain evasive as the month opens. So you'll feel let down but for all that you'll still want to stay close to your intimate surroundings and be protected by those you feel most comfortable around. By the 9th you'll have a firmer grip on domestic finances and be looking ahead with more confidence. More work will be needed thereafter so you'll be setting to with determination, keen to clear a pile of chores out of the way. You'll not always feel appreciated or rewarded for your efforts but you'll be pleased for yourself. Just don't be too perfectionist or critical of others since you'll end up over burdened. Try to delegate more. Your sense of humour will keep you buoyant after mid month and there'll more chance of fun and a rebooted social life after the 20th. Fun friends won't let you sit in a corner though they may tempt you to overspend.
2017 Year Ahead
Slowly but surely you'll be getting your priorities and your life straight. You'll be tossing out what you no longer need, whether possessions or attitudes of mind that have past their sell-by date. You know you need this time of pruning to prepare for stronger growth ahead. Your optimism will stay high and supportive friends will give you the helping hand and solid advice you need. OK so you may collect a few fair-weather friends as well, who'll be great fun, but here today and gone tomorrow. Enjoy the moment when it's there and take their opinions with a hint of caution since they'll veer to the overly confident.rnRelationships at home and within the family will be wonderful at times and a let-down at others and it won't always be possible to pin down what certain muddles and confusions are. Just proceed with tact and firmness and lay down limits. You may be expecting too much so being utterly realistic will save you from getting disappointed. From February make a dedicated push towards making your domestic dream come true. Insist on the changes you want and be determined. Your social life will be uproarious at times, adventurous and exciting, though very switch on and switch off, since you won't always be outgoing.rnYour finances will need a firm but not too rigid approach. Getting obsessed with always bring in control won't do you any good. You have the capacity to improve your situation but you need not to cut corners or become too bullish. Saving for a rainy day will be sensible especially towards the year end.rnFrom October you'll be taking it more quietly, retreating more often into a private haven, to reflect, get the past into perspective and tune into your deeper personal needs.