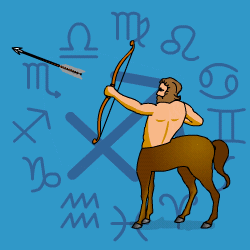 Sagittarius
November 23 - December 22
---
Today's Horoscope for Thursday October 18th
Rushing around on short distance trips with intriguing encounters will keep your adrenaline flowing fast today. You'll find at points your words spill out all over the place so people may miss out on the sense. Close mates respect your sincerity since they know your heart is in the right place, even if they won't always agree or understand you. So once in a while you have to stand back and try to come to a few conclusions before you start speaking.
The Weekly Outlook from 15th October
If you can talk about your feelings to others, you'll find that they respond positively, and you will probably get back what you give out. Financially you will negotiate well because you can be charming and very persuasive. But later in the week blaming others for getting in your way won't help. Just slow down. Find a clear focus. Committing yourself to one course of action won't be easy since you are scattering your energy in too many directions at once.
Your Monthly Horoscope for October
Foot on the accelerator and urged on by a wide circle of friends and teammates you'll be sorting out longer term plans and looking ahead with high hopes. This is your time to spread your attention around, sift through various options and decide what will suit you. You may not be as sociable or as romantic as usual, but you won't be lonely or bored. A busy, varied everyday schedule will keep you on your toes, though you'll get impatient with slowcoaches and other people's mistakes and let them know in no uncertain terms. Try not to trip over your feet or get too assertive. You'll be keeping your own counsel on important topics after the 10th, listening to those around and saying little. A sticky cash tangle will be resolved if you ease back slightly and try to find a compromise. It won't be easy slowing down but in the final week it'll help if you give yourself a chance to recharge your batteries.
and Next Month's Horoscope for November
The three weeks before your birthday Sun emerges are always slow going, so if you're sensible you'll take time out, let others rush around, while you reflect and put your feet up more often. Not that you'll grind to a halt since Mars will be prodding you into action once in a while, making your opinions known in no uncertain manner. Your good news will arrive courtesy of Jupiter on the 8th moving into your own sign for a year ahead and starting a new twelve year cycle of growth, good luck and expansion. Your morale and enthusiasm will soar since you'll sense your guardian angel is on hand to sprinkle silver linings around. After the 15th you'll set to reorganising at home which may not always meet with approval from loved ones and the family but you'll persist in getting everything knocked into shape. From the 22nd you'll be raring to go, sprucing up your appearance and putting your best foot forward with good news keeping you smiling to the end of the month.
Year Ahead 2018
All you really want in 2018 is a chance to put your feet up in peace and quiet, and be content. Even your own company won't be a hardship at times. As you mull over highly personal matters and put the past into perspective, you'll find you feel better about yourself.rnThere won't, however, be as much chance as you'd like to steer clear of frantic activity. The first half year will find you deluged with trips to make, people to talk to and general busyness. You'll need to streamline your efficiency and manage your time well if you're to pack everything in.rnMaking a dedicated effort to reorganise and retrieve your finances will also be a priority. Saturn now in Capricorn hints there may be less to play with than in the past, a need to tighten your belt and put in some serious thinking about how you can maximise your assets and build your security long term. Inspiration will come in quiet moments to put you on the right track.rnYour social life will be sparkling at times and rather bare at others, so you'll find that it's feast or famine. Loved ones, especially children, may be a touch erratic or rebellious. And you may be disappointed about not having the ideal home and family life you'd like. Be realistic and forgiving and you'll feel happier.rnFrom mid year, you'll be keen to broaden your horizons and find new interests, or, ideally, travel further field. Whether you're taking up new hobbies and studies or on the road to adventure, you'll feel more energised.rnDeeply personal and confidential matters, both financial and emotional, will also preoccupy you. Persuading yourself to change the habits of a lifetime and share, care and cooperate in a more engaged way may not be easy but it will bring its rewards.rnLate in the year lucky, enthusiastic Jupiter moves into your sign to start a new 12 year cycle of good luck and expansion in your life.