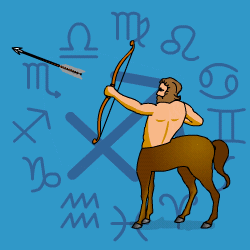 Sagittarius
November 23 - December 22
---
Today's Horoscope for Sunday July 22nd
You may be tempted to eat and drink more than usual, since your will power is low and the opportunity presents itself. Very agreeable influences will remove any feeling of being dutiful or conscientious. You may find your waistline expanding a little bit, but you really do not care. You will be avoiding boring chores and anything that requires you to cope with the small detail of everyday living. You like to keep the broad picture in mind, and leave the details to others.
The Weekly Outlook from 16th July
There is a good balance around which means that whichever direction you usually lean evens up a little. If you're often frivolous and can't settle down to chores, this is the time you get real. Or if you normally push aside fun and just do what you have to do, then this week you positively blossom with good humour. But later in the week at work your tendency of blaming others for getting in your way won't go down too well.
Your Monthly Horoscope for July
Normally a flyaway and adventurous sign you'll need to make up your mind that certain situations need a slower, steadier approach. There will be highly personal or confidential situations, either financial or emotional, which require a new approach. Leaving behind old ways of sharing and co-operating won't be easy but it's what the Cancer Solar Eclipse hints needs to happen. Nothing will be resolved overnight. This process needs to continue in the months ahead as you seek fairer agreements. Compromises will be needed but total submission is not an option. Luckily there's be fun social outings to distract and allow you to sparkle in the spotlight, charming all the right people. The intensity of your mood will lift in the final days and you'll be free to express your exuberance more spontaneously. There may be differences of opinion and a few upheavals so not letting fly with hasty comments will be wise.
and Next Month's Horoscope for August
A frantically busy schedule may find you tripping over your feet or over- stretching your energy early on. Cool it and look before you leap into new commitments. Your adventurous spirit will be sending you off in search of excitement and more entertaining company. Aiming high, you'll be keen to broaden your horizons not just this month but till the year's end. If you are stuck in one place you can always take up new hobbies or studies. Warm-hearted friends will be around to cheer you on your way and you'll be welcome whenever you chose to be out and about socially. Getting your personal finances knocked into better shape will be your aim after mid-month. Where's there's a will and determination, there's a way. Perseverance and taking the initiative will bring results. In the final ten days you'll be on a high, admittedly having to work hard but also finding that you're attracting respect and admiration for your efforts.
Year Ahead 2018
All you really want in 2018 is a chance to put your feet up in peace and quiet, and be content. Even your own company won't be a hardship at times. As you mull over highly personal matters and put the past into perspective, you'll find you feel better about yourself.rnThere won't, however, be as much chance as you'd like to steer clear of frantic activity. The first half year will find you deluged with trips to make, people to talk to and general busyness. You'll need to streamline your efficiency and manage your time well if you're to pack everything in.rnMaking a dedicated effort to reorganise and retrieve your finances will also be a priority. Saturn now in Capricorn hints there may be less to play with than in the past, a need to tighten your belt and put in some serious thinking about how you can maximise your assets and build your security long term. Inspiration will come in quiet moments to put you on the right track.rnYour social life will be sparkling at times and rather bare at others, so you'll find that it's feast or famine. Loved ones, especially children, may be a touch erratic or rebellious. And you may be disappointed about not having the ideal home and family life you'd like. Be realistic and forgiving and you'll feel happier.rnFrom mid year, you'll be keen to broaden your horizons and find new interests, or, ideally, travel further field. Whether you're taking up new hobbies and studies or on the road to adventure, you'll feel more energised.rnDeeply personal and confidential matters, both financial and emotional, will also preoccupy you. Persuading yourself to change the habits of a lifetime and share, care and cooperate in a more engaged way may not be easy but it will bring its rewards.rnLate in the year lucky, enthusiastic Jupiter moves into your sign to start a new 12 year cycle of good luck and expansion in your life.