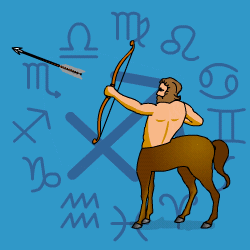 Sagittarius
November 23 - December 22
---
Today's Horoscope for Monday August 21st
Perhaps you are thinking of reaching out for the holiday brochures, or even of taking up a new hobby or interest. Ponder no longer. There are favourable winds behind you urging you on to broaden your horizons in whichever way you chose.rnThe thing that will stop you now is if you try and avoid grasping new opportunities, and plodding along resolutely. Don't think, "Well, life wants to stay the way it always has been." It won't and it doesn't.
The Weekly Outlook from 21st August
This is the time of year you review your beliefs. Your outlook does not remain static from childhood to old age. Everything seems to be getting under your skin at the moment. But you feel your current circumstances aren't such that you can lose your temper, which can at least get it all out into the open. Better by far to be discreet and plough on steadily. Focus on your long term goals and then immediate problems will seem smaller.
Your Monthly Horoscope for August
How can you brighten up your lifestyle, invite more adventure into your life and broaden your horizons? That's the question posed by this month's Solar Eclipse. You'll know you need to aim higher and think bigger. Taking up new activities, even new studies, improving your mind or planning to travel further afield will be on your agenda. The slight risk is you'll forget to pay attention to everyday details as you sail along on a cloud of inspired plans. Emotionally you'll be playing your cards close to your chest, not letting on even to those close exactly what you're feeling. Try to open up and have discreet heart-to-hearts since you may be exaggerating your responses to certain situations. Your opinions will be expressed strongly especially after mid month. Remember that gentle persuasion will work better. After the 22nd you'll be out on parade, taking a higher-profile position and insisting that others follow along behind.
and Next Month's Horoscope for September
Filled with renewed vigour you'll be pushing ahead on all fronts, keen to take control and get everyone around you on their toes. Since you'll be working hard you intend that others should as well. Try to sweep them up in your enthusiasm rather than sounding too bossy. You'll set your goals and push ambitiously ahead. Though there will be a few distractions at home which will confuse your thinking and make you feel a touch let down. Just keep your expectations low since that way you'll cope better with family members who want to lean on you. One cash matter will be sorted to your satisfaction after the first week, so you'll breathe a sigh of relief and resolve to stay on top of the budget from here on in. Friends will be your mainstay in the final ten days, ready and willing to lend a hand with advice, encouragement and fun invites.
2017 Year Ahead
Slowly but surely you'll be getting your priorities and your life straight. You'll be tossing out what you no longer need, whether possessions or attitudes of mind that have past their sell-by date. You know you need this time of pruning to prepare for stronger growth ahead. Your optimism will stay high and supportive friends will give you the helping hand and solid advice you need. OK so you may collect a few fair-weather friends as well, who'll be great fun, but here today and gone tomorrow. Enjoy the moment when it's there and take their opinions with a hint of caution since they'll veer to the overly confident.rnRelationships at home and within the family will be wonderful at times and a let-down at others and it won't always be possible to pin down what certain muddles and confusions are. Just proceed with tact and firmness and lay down limits. You may be expecting too much so being utterly realistic will save you from getting disappointed. From February make a dedicated push towards making your domestic dream come true. Insist on the changes you want and be determined. Your social life will be uproarious at times, adventurous and exciting, though very switch on and switch off, since you won't always be outgoing.rnYour finances will need a firm but not too rigid approach. Getting obsessed with always bring in control won't do you any good. You have the capacity to improve your situation but you need not to cut corners or become too bullish. Saving for a rainy day will be sensible especially towards the year end.rnFrom October you'll be taking it more quietly, retreating more often into a private haven, to reflect, get the past into perspective and tune into your deeper personal needs.