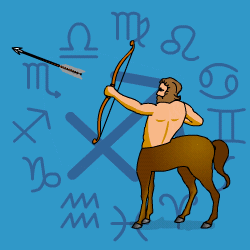 Sagittarius
November 23 - December 22
---
Today's Horoscope for Tuesday January 24th
Maybe you are having to push yourself to resolve certain practical or business problems around your home or family. Or you are having to face up to certain realities in your emotional life. You may find your energy levels are low so you don't have the inclination to work quite as hard as you once did. The important thing is to understand that Saturn in your own sign is trying to make you face up to what you want from life.
The Weekly Outlook from 23rd January
Everyone knows your heart is in the right place but they may not be entirely clear about what you are driving at, so try to collect your thoughts before you dash into discussions. You know you need to get more method and discipline into your everyday schedules, and this could be the week to start. You are coming across as dramatic in action, prone to theatrical gestures, not given to subtle hints or understatements.
Your Monthly Horoscope for January
Muddles and grumbles at home won't put you in the right frame of mind for a sizzling new year, but you'll need to cope all the same. Luckily after a few days, peace and harmony will return and you'll be able to settle down to redecoration and reorganisation plans. You'll want beauty and elegance around to keep the family's mood soothed. It'll be a time to mend fences and build bridges and ensure that past tensions are resolved. You will be tackling your personal finances with vigour and over spending compulsively will not be a good idea. Just be strategic and sensible, refusing to over-react in the second week when an unexpected turn of circumstances will throw the budget off track. You'll be talking non-stop and pleased to have a ready audience at your disposal. Just try to curb your more outspoken comments towards the 19th when you'll be on edge. A busy final few days will keep boredom away and your energy will soar with more enjoyment ahead.
and Next Month's Horoscope for February
Always a restless sign, you'll thrive on having too much to do, too many visits to make and conversations to hold. It'll be varied, fast-moving and rarely boring though you'll need to manage your time well, sort out your priorities and pause long enough to ensure everyone understands what is being said. Enthusiastic friends will keep you company and team mates will be equally supportive so any group activities will go with a swing. You'll also be out and about socially, in the mood for entertainment and enjoyment. Loved ones will rally round with attention and affection. Your optimism will stay high with good news coming through about a future project. Mars in Aries will zip you along all month keeping your passion and energy high. Though in the final days you may run into a cash dilemma which could send you into hasty decisions which would not be wise.
2017 Year Ahead
Slowly but surely you'll be getting your priorities and your life straight. You'll be tossing out what you no longer need, whether possessions or attitudes of mind that have past their sell-by date. You know you need this time of pruning to prepare for stronger growth ahead. Your optimism will stay high and supportive friends will give you the helping hand and solid advice you need. OK so you may collect a few fair-weather friends as well, who'll be great fun, but here today and gone tomorrow. Enjoy the moment when it's there and take their opinions with a hint of caution since they'll veer to the overly confident.rnRelationships at home and within the family will be wonderful at times and a let-down at others and it won't always be possible to pin down what certain muddles and confusions are. Just proceed with tact and firmness and lay down limits. You may be expecting too much so being utterly realistic will save you from getting disappointed. From February make a dedicated push towards making your domestic dream come true. Insist on the changes you want and be determined. Your social life will be uproarious at times, adventurous and exciting, though very switch on and switch off, since you won't always be outgoing.rnYour finances will need a firm but not too rigid approach. Getting obsessed with always bring in control won't do you any good. You have the capacity to improve your situation but you need not to cut corners or become too bullish. Saving for a rainy day will be sensible especially towards the year end.rnFrom October you'll be taking it more quietly, retreating more often into a private haven, to reflect, get the past into perspective and tune into your deeper personal needs.