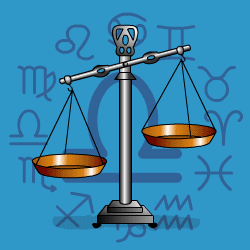 Libra
September 24 - October 22
---
Today's Horoscope for Tuesday April 25th
You need to be able to talk through ideas or feelings with close mates now, and you feel the channels of communication are flowing more smoothly. You will be making the best use of the rapport between you. Jupiter brings sweetness and light to Moon areas which are home, diet, family and the past, so you are likely to over indulge and expand as a result. You will be thoroughly and gloriously lazy, but it might be an idea in peaceful moments to mull over memories.
The Weekly Outlook from 24th April
New joint financial ventures could begin now which may not seem very spectacular, but they will pay off in future if you give them the right kind of push. You have to be sure of your facts and your ground before you move. But if all the details are well tied down, then you will be pleased at the result in the days to come. Socially you are on top form this week, charming the birds off the trees and feeling extremely popular.
Your Monthly Horoscope for April
Nothing will run as smoothly or as harmoniously as you might wish, so just accept that you'll need to push hard against obstacles and stubborn partners if you're to reach fairer agreements about co-operation in the time ahead. Persistence will pay off but you'll need to be flexible and compromise where you can. Tensions at home and within the family will also need to be negotiated with tact and subtlety. There's no sense in issuing ultimatums since they'll only backfire. Just stay calm and keep trucking, and by the 14th you'll know exactly how to separate yourself out from unwanted restrictions. Talking to your nearest and dearest after the 20th will clear any remaining tensions out of the way. You'll be aiming higher and spreading your enthusiastic opinions around after the 21st. But there'll still be loose ends of confidential matters to tie up in coming weeks.
and Next Month's Horoscope for May
Intense and secretive doesn't sound like you, but the Sun moving through the most confidential area of your chart until the 20th, will find you wrestling with highly personal matters, financial and emotional. Once you grasp that answers and agreements will be slow to come you'll find it easier to settle into a mindset of pushing ahead slowly but surely. You'll need to compromise since you won't get it all your own way. But you will emerge glad you made the effort and feeling more secure. You'll be keen to set your sights higher and broaden your horizons but will know that everything can't happen at once. The past needs to be put to rest before you can fully enjoy the future. Your health will require some tlc around the 11th as you'll hit an energy slump. Just go with the flow for a few days. Then from the 20th you'll be out of a trough and raring to go. The love and affection of those close will keep you glowing.
2017 Year Ahead
Jupiter in your own sign for nine months will bounce you up, boost your morale and make you aware that you're luckier than some. Your enthusiasm will spark off the right people so you'll sail through in good spirits. But for all that you may be marginally more subdued at times. You'll be pushing hard to get everyday mates at work and in the neighbourhood onto your wavelength and may feel cold-shouldered when they don't appear to pay attention or agree. Be persistent and ask yourself whether there might be a better way of getting your message across.rnYou'll also be preoccupied with home and family dilemmas as you have been in recent days. The changes you want to put in place will come slowly with a fair amount of effort. Being too forceful or looking for quick solutions won't work since certain of those close will be digging in their heels. You push and they pull. So think through a strategy which will allow you to agree to differ, yet will move you towards a position where you can adopt a new way of relating to the family.rnClose relationships will be unsettled if either side tries to be too possessive. Both of will want more freedom to express your individuality.rnHealth will need gentle handling since you won't be able to push yourself too hard with excess of any description. The February Pisces Eclipse says that being pro-active in diet, exercise and lifestyle will be a good thing in the six months thereafter.rnThe August Leo Eclipse will widen your circle of friends and make long term planning more attractive. Money will roll through faster from October onwards into 2018. Though your spending is also likely to shoot up.