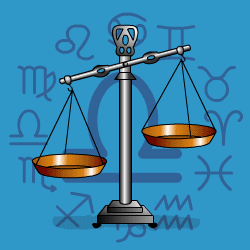 Libra
September 24 - October 22
---
Today's Horoscope for Tuesday January 24th
You will tend to over eat since you want to pamper yourself and perhaps feel that loved ones are being unappreciative, so you have to spoil yourself. You will also avoid arguments since you really cannot be bothered with hassle, but you could end up not standing up for yourself enough with the family or loved ones. Breakdowns in communications may be occurring with the everyday people in your life. When not heard, just keep repeating yourself.
The Weekly Outlook from 23rd January
This is your week to allow a new facet of your personality shine out without apology or self consciousness. Most of us hide away parts of ourselves we think other might not like. Throw away your inhibitions and just express who you really are. The right people will respond very positively. With Mars in your chart area of close relationships you will be throwing yourself into romantic encounters with a good deal of gusto.
Your Monthly Horoscope for January
Tucking yourself away quietly at home will be your dream. There will be a pile of chores in front of you but you won't be feeling energised as the year opens. Luckily Venus will lift your spirits for work after the 3rd and you'll find friendly relationships around you give you the heart to up your game. You may be indulging as well since you'll have a taste for richer and sweeter food, so you'll need to exercise more and find some self-restraint. Re-organising at home and sorting out emotional tensions in the family will take determination and strategy. But you'll be determined to sweep away the past, albeit slowly, and establish a different kind of approach. Close partners won't always be co-operative but then neither will you. So step back and give everyone more freedom. Have a care towards the 19th since you could be accident prone as your temper gets the better of you. More fun turns after thereafter so you'll be out and about kicking up your heels enjoying yourself.
and Next Month's Horoscope for February
A helpful combination of Air and Fire signs will keep you bouncing along. You'll be in the party mood, wanting to have fun with loved ones and not short of either invitations or admirers. Certain friends may feel a touch left out so you'll need to dance around a wide circle in order to keep everyone happy. Your enthusiasm will be high and you'll sense luck is on your side, but you'll also need to keep a watchful eye on the future and not let plans slide in order because you are playing the days away. One significant other will be especially affectionate and your popularity will soar with your knock of making everyone you meet feel special. The days of wine and roses can't last for ever and in the final days you'll knuckle back down to routines. Since the Pisces Solar Eclipse is in your chart area of work and health, you'll need to pace yourself and keep fit. Try to duck out of tricky arguments with close partners and the family.
2017 Year Ahead
Jupiter in your own sign for nine months will bounce you up, boost your morale and make you aware that you're luckier than some. Your enthusiasm will spark off the right people so you'll sail through in good spirits. But for all that you may be marginally more subdued at times. You'll be pushing hard to get everyday mates at work and in the neighbourhood onto your wavelength and may feel cold-shouldered when they don't appear to pay attention or agree. Be persistent and ask yourself whether there might be a better way of getting your message across.rnYou'll also be preoccupied with home and family dilemmas as you have been in recent days. The changes you want to put in place will come slowly with a fair amount of effort. Being too forceful or looking for quick solutions won't work since certain of those close will be digging in their heels. You push and they pull. So think through a strategy which will allow you to agree to differ, yet will move you towards a position where you can adopt a new way of relating to the family.rnClose relationships will be unsettled if either side tries to be too possessive. Both of will want more freedom to express your individuality.rnHealth will need gentle handling since you won't be able to push yourself too hard with excess of any description. The February Pisces Eclipse says that being pro-active in diet, exercise and lifestyle will be a good thing in the six months thereafter.rnThe August Leo Eclipse will widen your circle of friends and make long term planning more attractive. Money will roll through faster from October onwards into 2018. Though your spending is also likely to shoot up.