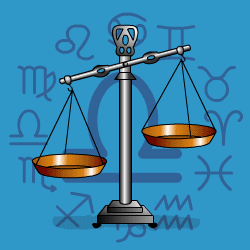 Libra
September 24 - October 22
---
Today's Horoscope for Friday February 23rd
You are informing yourself and talking a great deal about all fitness, diet and health matters. You will want to put your mind at rest about certain questions you have. So go ask a trusted adviser. Aim to stretch yourself in at least one activity during the day. If you can't travel literally, you'll travel in your mind. Get out the holiday brochures, read books with an exotic flavour, do anything that takes your mind off whatever is standard, expected and the same as yesterday.
The Weekly Outlook from 19th February
You will be knuckling down dutifully to do as much as possible for a few weeks. But for that you need to be fitter, so review your physical lifestyle, seeing whether you could improve your diet or take up more exercise. If you have old resentments simmering, this is definitely not the time to tackle them. You won't want to stamp your feet on the floor or insist you get your own way. Even if you did, it wouldn't work.
Your Monthly Horoscope for February
In a fun, entertaining mood you'll be in your element at parties, around children and loved ones, and shimmering with delight when the attention spotlight turns on you. Pushing aside chores for a while the let your inner child out to play will boost your energy and do your morale the world of good. An over-busy everyday schedule may not allow you all the time you'd like to indulge. But try not to get irritated by delays, mistakes and general distractions from those who aren't in step. Being too blunt or outspoken will damp your mood so keep a firm grip on your Libran tact and keep smiling through. You'll be tempted to spend on indulgences and after the 19th on richer and sweeter food. You won't be keen to deprive yourself but a touch of balance will help. If at any point you feel you aren't getting enough love and attention, then you need to hand out compliments and hugs. What you give out will come back to you. In the final days you'll have to hang up your dancing shoes and get back nose to the grindstone as the chores pile up. But you'll set to in good heart.
and Next Month's Horoscope for March
You won't start the month feeling energetic or motivated, but you won't avoid the chores until the 20th, so do what you can to boost your stamina. Talking out problems with close partners will help and then really want to hear what you have to say, so don't hold back. Your charms will be on display out on the party scene, and your wonderful knack of making everyone you meet feeling special will bring compliments and more invitations. But if you are burning the candle at both ends you'll need to pace yourself. Your super-speed everyday schedule may lead to a few sharp words around the 11th as you get impatient with slow-coaches and mistakes. But luckily there will be good news on the cash front to restore your mood. After midmonth you'll buckle down to reorganising at home, which may not please those close who won't appreciate being swept into place. In the final days they may grumble but will offer more support.
Year Ahead 2018
Your challenges in 2018 will be to breathe new life into your social and love life, your career and your friendship circle. So you won't go short of projects to keep you occupied and entertained. Early on if you are feeling unloved and overlooked, then you need to make an effort to hand out more affection and attention to others. What goes around, comes around and it isn't always the negative things. Then the invitations and compliments will start flowing your way.rnYou'll also be focussed on home and family matters, finding that a spot of reorganisation is required. Perhaps even thinking of moving in the not too distant future. If emotional tensions or old resentments surface then see the advantage of sitting down with loved ones for free and frank discussions which will clear them out of the way once and for all. Not that it will always be easy since certain family members may be resistant. Be calm, be tactful and keep chipping away.rnOne close partner will continue to be erratic and contradictory, here and then not here. Treat it as a blessing in disguise to give yourself the freedom you want to pursue your own interests. Be inter-dependent not dependent or possessive.rnLuckily money will flow through more easily to allow for treats, though it'll be an idea to save for a rainy day in future, rather than letting it slip through your fingers on frivolities.rnFrom July you'll want to make your mark and have your achievements recognised, so you'll be pushing ambitiously ahead. This won't be a time to be shy or hide away your talents. Bo bold and demand attention. It'll take hard work and effort but the rewards will come through.rnNew friends will turn up as well, widening your circle and providing you with more fun as well as linking you into good social networks. They will help with encouraging words of advice for your future plans and keep you on the right track.rnLate in the year your everyday schedule will move into a revitalised phase. You suddenly discover that what has been holding you back isn't bad luck, but too narrow an attitude. Being more positive will open new doors.