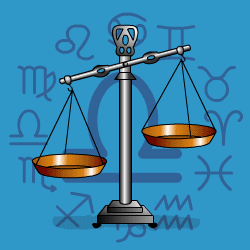 Libra
September 24 - October 22
---
Today's Horoscope for Thursday November 23rd
Fitting square pegs into round holes never works, but the problem at the moment is tat you're not clear what emotional environment will suit you. You demand more personal freedom but in an erratic way. One moment happy to give way, the next rather obstinate. Don't be afraid of what is changing now. It may be that old doors are closing or shaky relationships are becoming more so. What is important is to see the possibilities for more mature connections in the days ahead.
The Weekly Outlook from 20th November
This week you will want to flirt and have fun. There's a really delightful upbeat side to Venus Pluto, which means you'll flutter your eyelashes, twist other people round your little finger. It'll draw you closer to people you really want to be close to. Restless and versatile, you seem to know a little about a good many subjects at the moment. Maybe you are scattering your attention in too many directions at once, across too wide a field.
Your Monthly Horoscope for November
Never one to skimp on treats and indulgences, you'll be excelling yourself this month with surplus cash flowing in. Try not to let every irresistible extravagance that floats under your nose tempt you too much. Saving some of your good fortune for a rainy day ahead will give you peace of mind later. But you will certainly expect presents from loved ones, indeed you'll be sitting back expecting to be waited on hand and foot. Just try not to be too demanding or argumentative. You will at times be shooting ahead with all speed and get irritable about delays and anyone who gets in your way. After mid month there will be a tricky family dilemma that requires tactful handling not forceful opinions. Into the final days you'll be speeding along, chatting non-stop and finding yourself if anything over-busy. So you'll need to make out to-do lists otherwise you'll get in a muddle.
and Next Month's Horoscope for December
You won't be seeing eye-to-eye with those close early on, so agree to differ. You'll be more assertive than usual and those close will be keen on going their own way. Your usual spirit of compromise will be lacking so just stand back. Your energy may sag through the first week, so why waste energy on passing ripples? You'll have more than enough to occupy yourself with in a busy, varied everyday schedule, with plenty of short distance trips and intriguing chats to keep boredom at bay. Spending money will also fill your time after the 9th but be sure to put as much attention towards improving your financial situation as you do in treating yourself, otherwise you'll leave yourself short. From the 20th a shift of Saturn into Capricorn for the next two years will bring to a close your recent time of feeling a touch isolated. Now you'll set to being more visible out and about. And also putting practical thought to your domestic and family situation. Gradually you'll start planning the changes you want to make. The family will be affectionate and supportive from the 25th.
2017 Year Ahead
Jupiter in your own sign for nine months will bounce you up, boost your morale and make you aware that you're luckier than some. Your enthusiasm will spark off the right people so you'll sail through in good spirits. But for all that you may be marginally more subdued at times. You'll be pushing hard to get everyday mates at work and in the neighbourhood onto your wavelength and may feel cold-shouldered when they don't appear to pay attention or agree. Be persistent and ask yourself whether there might be a better way of getting your message across.rnYou'll also be preoccupied with home and family dilemmas as you have been in recent days. The changes you want to put in place will come slowly with a fair amount of effort. Being too forceful or looking for quick solutions won't work since certain of those close will be digging in their heels. You push and they pull. So think through a strategy which will allow you to agree to differ, yet will move you towards a position where you can adopt a new way of relating to the family.rnClose relationships will be unsettled if either side tries to be too possessive. Both of will want more freedom to express your individuality.rnHealth will need gentle handling since you won't be able to push yourself too hard with excess of any description. The February Pisces Eclipse says that being pro-active in diet, exercise and lifestyle will be a good thing in the six months thereafter.rnThe August Leo Eclipse will widen your circle of friends and make long term planning more attractive. Money will roll through faster from October onwards into 2018. Though your spending is also likely to shoot up.