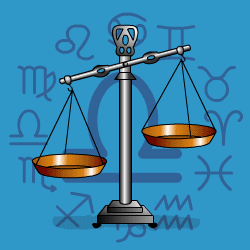 Libra
September 24 - October 22
---
Today's Horoscope for Tuesday June 27th
You're certainly curious now, wanting to know about loftier subjects, whether to do with philosophy, world views, the law or education, or even politics. It's very much a time to be pitching your thoughts up a little bit and to be talking to intellectually stimulating mates. Your thinking is running along more practical lines than usual, and you want to see a tangible result from your discussions and efforts. Your disciplined approach and a vision of what is possible should make projects at work run smoothly.
The Weekly Outlook from 26th June
If you normally don't have much trust in yourself, the influences around now will do you the world of good. You suddenly find the courage to try things which normally you would not attempt. Everything suddenly begins to turn out in a luckier kind of way. Though truth to tell, it's more that your dynamic approach is making things happen. Later in the week you could be too touchy, tending to regard whatever anyone says as a challenge.
Your Monthly Horoscope for June
This is your time to spread your wings, aim higher and think bigger. No matter if some of your bright schemes are unworkable, you'll find out along the way and discard them. But at least you'll be injecting more zip into your life. Travel plans will be foremost in your mind since you'll dream of faraway places and want to sample lifestyles that are exotic and new. Emotionally you'll be intense, secretive and inclined to exaggerate your responses. You'll love some people and seriously dislike others. At times even close partners won't know quite what's going on with you. Your exuberance and confidence will swing you along, perhaps too fast, so mid month you'll need to pause for breath, backtrack to unpick mistakes and be sensible. You'll be working hard all month but especially after the 21st which is your time to flaunt your talents and attract success. You insist that others follow your lead.
and Next Month's Horoscope for July
Try not to get stuck in the past or restricted by family members who disagree with the changes you want to put in place. Your ambitions need to be fulfilled and this is your peak time of the year so you need to get your talents out on display and demand recognition. You will come across as bossy at times since you'll expect everyone around to dance to your tune. If you can sweep them up in your enthusiasm instead you'll make faster progress. Your social life will be adventurous, mixing with a fun crowd and exploring new activities. Close partner's will be unsettled after mid month and you'll want the freedom to pursue your own agenda. Just don't rock the boat too hard. In the final ten days you'll be surrounded by energetic friends and dynamic team mates. Together you'll make plans, get new projects rolling and be a formidable force.
2017 Year Ahead
Jupiter in your own sign for nine months will bounce you up, boost your morale and make you aware that you're luckier than some. Your enthusiasm will spark off the right people so you'll sail through in good spirits. But for all that you may be marginally more subdued at times. You'll be pushing hard to get everyday mates at work and in the neighbourhood onto your wavelength and may feel cold-shouldered when they don't appear to pay attention or agree. Be persistent and ask yourself whether there might be a better way of getting your message across.rnYou'll also be preoccupied with home and family dilemmas as you have been in recent days. The changes you want to put in place will come slowly with a fair amount of effort. Being too forceful or looking for quick solutions won't work since certain of those close will be digging in their heels. You push and they pull. So think through a strategy which will allow you to agree to differ, yet will move you towards a position where you can adopt a new way of relating to the family.rnClose relationships will be unsettled if either side tries to be too possessive. Both of will want more freedom to express your individuality.rnHealth will need gentle handling since you won't be able to push yourself too hard with excess of any description. The February Pisces Eclipse says that being pro-active in diet, exercise and lifestyle will be a good thing in the six months thereafter.rnThe August Leo Eclipse will widen your circle of friends and make long term planning more attractive. Money will roll through faster from October onwards into 2018. Though your spending is also likely to shoot up.