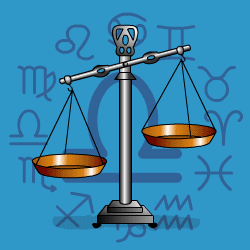 Libra
September 24 - October 22
---
Today's Horoscope for Monday August 21st
There may be a casual encounter today with a new acquaintance. It may not seem important but they could turn into a good friend in future if you make all the right noises. The eclipse today hints that broadening your circle of acquaintances and sorting out longer term plans is important. At some underlying level, you want more control in your life; you want to do things you haven't been able to do before, and it's important to see this restlessness as a positive force.
The Weekly Outlook from 21st August
All those new plans you have been mulling over in recent days can now be given a sensible push. You need to sort out your game plan. Make a few decisions and put them into action. You won't be able to assert yourself as much as you want at the moment. Your current circumstances mean you can't make much of an impression. Issuing ultimatums won't make any difference, so try to hold yourself back until the tide turns in your favour
Your Monthly Horoscope for August
Your social star will be in the ascendant with invites to special occasions so you'll be getting on your glad rags and putting on a sparkling performance. Keeping up appearances will be all important. But even more pressing will be sorting out longer term plans. Playing away the day will be fun, but tomorrow won't look after itself. Friends will be a help as you bounce ideas around and try to make up your mind which direction to take for the years ahead. Your optimism will be high and despite some tensions at home or within the family early on, you should be able to sort out your options. There'll also be a chance to widen your circle of acquaintances and add new contacts to your address book. A brilliant idea on the 20th will work if you put your determination behind it. Though you'll need to give the seed time to germinate and grow once you've planted it. So you can wind down after the 22nd and content yourself with waiting.
and Next Month's Horoscope for September
Fun and affectionate friends will keep you smiling and your knack of putting others at ease will send your popularity soaring. Which isn't to say that behind the scenes you won't be impatient with delays and plans not running ahead as you'd wish. The Sun in the sign before yours till the 20th, beside Mars which stays hidden until late October, means that the time for direct action isn't quite right. You can't push the river or turn the tide, so content yourself with plotting, planning, preparing and nudging others into doing what you can't. Being subtle and strategic will get your further faster than getting snappy. One family or domestic problems will be resolved by the 9th much to your relief. You'll see how you got yourself into a muddle and will resolve not to be caught out the same way again. Towards the 14th there will be delays in travel or you'll have to redouble your efforts to get your views across. Don't get discouraged if you feel cold-shouldered. Be persistent. In the final ten days you'll bounce with renewed vigour and vitality as your birthday Sun comes into place. A close partner will make an unexpected suggestion to set your mind thinking along new and more exciting lines.
2017 Year Ahead
Jupiter in your own sign for nine months will bounce you up, boost your morale and make you aware that you're luckier than some. Your enthusiasm will spark off the right people so you'll sail through in good spirits. But for all that you may be marginally more subdued at times. You'll be pushing hard to get everyday mates at work and in the neighbourhood onto your wavelength and may feel cold-shouldered when they don't appear to pay attention or agree. Be persistent and ask yourself whether there might be a better way of getting your message across.rnYou'll also be preoccupied with home and family dilemmas as you have been in recent days. The changes you want to put in place will come slowly with a fair amount of effort. Being too forceful or looking for quick solutions won't work since certain of those close will be digging in their heels. You push and they pull. So think through a strategy which will allow you to agree to differ, yet will move you towards a position where you can adopt a new way of relating to the family.rnClose relationships will be unsettled if either side tries to be too possessive. Both of will want more freedom to express your individuality.rnHealth will need gentle handling since you won't be able to push yourself too hard with excess of any description. The February Pisces Eclipse says that being pro-active in diet, exercise and lifestyle will be a good thing in the six months thereafter.rnThe August Leo Eclipse will widen your circle of friends and make long term planning more attractive. Money will roll through faster from October onwards into 2018. Though your spending is also likely to shoot up.