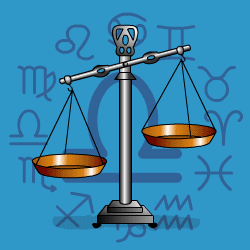 Libra
September 24 - October 22
---
Your Birthday Horoscope
IF ITS YOUR BIRTHDAY TODAY your year ahead will be sociable, fun-loving and go-ahead as you sweep loved ones up in your enthusiasm. You will have to slow down at times to give serious thought to changes you want to put in place at home. Nothing will happen quickly but you'll need to be persistent. The family may not always agree so you'll need to be subtly persuasive. Money will continue to roll in and out fairly fast as you treat yourself.
Today's Horoscope for Thursday October 18th
You will feel passionately enthusiastic about the better things of life and be promoting yourself exuberantly, looking for the limelight. You'll be flirting, laughing, singing and dancing. There will be more emotional depth in relationships with loved ones, whether it's children, adults or indeed social companions. You will find it difficult to conceal your feelings, so your spontaneous, playful, rather dramatic whims will be out on display today. You will definitely be at your happiest when heading for enjoyment.
The Weekly Outlook from 15th October
Early on you will want to fit in for the sake of peace and quiet, so will compromise if need be. If there have been arguments, this is the time when you can put the right word in the right ear and everything calms down. Then later in the week you'll flip to the opposite. No one is going to be able to interfere with you without finding out how short your fuse can be. Your leadership talents will be out on display.
Your Monthly Horoscope for October
Bouncing with renewed vigour and full of ideas about kick-starting various projects, you'll be forging ahead in good heart. The Sun in your own sign until the 23rd always lifts your confidence and enthusiasm, as you set foot on a new birthday year ahead. You'll be sprucing up your appearance and attracting compliments galore. There will be the odd tension at home and among the family in week two, so you'll need to tread gently. Being confrontational won't work if you're to get your way over reorganisation plans. A high-energy Mars will also be urging you to enjoy yourself, take more exercise and grab whatever attention is going at parties. You may come across as bossy with loved ones since you'll want them to follow your lead. In the final week, you'll be following through on earlier ideas about rebooting your personal finances. Just take partner's views into consideration. Leaping ahead without consulting them won't work well.
and Next Month's Horoscope for November
An indulgent, extravagant sign you never like to stint yourself and with the Sun in Scorpio for three weeks, you could be in seventh heaven. Though remember what goes out must first come in. So reorganising and boosting your finances would be sensible. Your charms and spruced-up appearance will be attracting compliments and from the 8th you'll notice your everyday relationships at work and elsewhere move into an expansive phase. You'd be delighted at how easily and confidently you talk to everyone you meet. You'll be more tolerant and broad-minded and realising that what has held you back in the past hasn't been bad luck but too narrow an outlook. With more positivity your popularity will shoot up. After mid month you'll knuckle down to hard work, knowing that attention to detail will pay off. Staying fit and healthy will be important as you speed into a busy end of month phase.
Year Ahead 2018
Your challenges in 2018 will be to breathe new life into your social and love life, your career and your friendship circle. So you won't go short of projects to keep you occupied and entertained. Early on if you are feeling unloved and overlooked, then you need to make an effort to hand out more affection and attention to others. What goes around, comes around and it isn't always the negative things. Then the invitations and compliments will start flowing your way.rnYou'll also be focussed on home and family matters, finding that a spot of reorganisation is required. Perhaps even thinking of moving in the not too distant future. If emotional tensions or old resentments surface then see the advantage of sitting down with loved ones for free and frank discussions which will clear them out of the way once and for all. Not that it will always be easy since certain family members may be resistant. Be calm, be tactful and keep chipping away.rnOne close partner will continue to be erratic and contradictory, here and then not here. Treat it as a blessing in disguise to give yourself the freedom you want to pursue your own interests. Be inter-dependent not dependent or possessive.rnLuckily money will flow through more easily to allow for treats, though it'll be an idea to save for a rainy day in future, rather than letting it slip through your fingers on frivolities.rnFrom July you'll want to make your mark and have your achievements recognised, so you'll be pushing ambitiously ahead. This won't be a time to be shy or hide away your talents. Bo bold and demand attention. It'll take hard work and effort but the rewards will come through.rnNew friends will turn up as well, widening your circle and providing you with more fun as well as linking you into good social networks. They will help with encouraging words of advice for your future plans and keep you on the right track.rnLate in the year your everyday schedule will move into a revitalised phase. You suddenly discover that what has been holding you back isn't bad luck, but too narrow an attitude. Being more positive will open new doors.