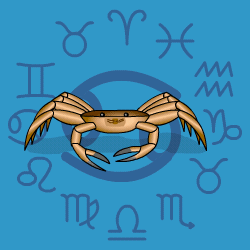 Cancer
June 22 - July 23
---
Today's Horoscope for Monday September 25th
If you are holding back from a serious discussion with workmates or close companions then maybe you need to think of some way of breaking the ice. There may have been more criticism around than usual recently but you could also be misconstruing something you have only half heard. Check it out before jumping to conclusions. Your body probably needs special care since you are over-worrying and that can communicate itself to your digestive system. Find ways of winding down, and de-stressing.
The Weekly Outlook from 25th September
There will be a real feeling of relief this week because you're no longer stuck in a smothering situation. Aim for moderation otherwise a need for freedom may send you dashing into doing things in a too challenging way. Later in the week Venus is in aspect to Neptune so you will float your way along amiably. But try not to get misled by people because you could get disillusioned when you discover they don't match up to your fantasies.
Your Monthly Horoscope for September
Your feet will barely touch the ground as your everyday schedule speeds up. There'll be plenty of short distance trips, encounters, chats and communication, so your tongue will work as fast as your legs. You won't always be tactful since you'll get impatient with delays and mistakes. Just remember you'll be wrong some of the time as well since your head will drift off into the clouds. By the 9th you'll be in control, sounding persuasive and in a position to get your views across clearly. In odd spare moments you'll be off spending, indulging yourself on a few extravagances. You won't be able to over push yourself physically as you'll discover towards mid month. Remember your body has limits and you'll be fine. After the 22nd home will be inviting with more chance to snuggle down with loved ones and find more time for domestic and family matters.
and Next Month's Horoscope for October
You'll be revved up and raring to go with a busy everyday schedule. Though you won't want to wander too far from home and family. One close partner may be overly intense but getting stuck in endless discussions that go nowhere isn't wise. Just smile sweetly and duck out. Charm, tact and sweet words will get you further faster than digging in your heels. Avoid over-stretching yourself since staying fit and healthy under pressure will be important. Then from the 12th you'll turn a corner into fun times. Your self-confidence will soar and old self-doubts will be pushed firmly to one side. Not just for the moment but for the coming year. You'll step out boldly onto the party scene and your positive approach will also help at work. In the final ten days you'll be a whirlwind of activity at home and partying like mad at the same time.
2017 Year Ahead
Two factors will make 2017 an improvement on 2016. One is that you'll begin to see how to make constructive changes at work or in your direction of life without turning everything upside down. The roller coaster atmosphere of the past few years will settle to a fair degree and you'll be able to push steadily ahead. Looking after your health will continue to be a priority for another year. This means learning where your limits are, not going in for excess of any sort including overwork, and adopting a sensible diet and exercise regime.rnHome and family relations will be happier and easier with chances to relax and be indulged. Asa a result you'll be more content within yourself. You'll be planning to expand your intimate surroundings since you'll want more space and the chance to entertain friends and relatives more often in your intimate surroundings. Close relationships will still be intense at times and a minor wrangle to see who gets the last word. If you can avoid confrontations and compromise where possible it will help.rnAfter February the Eclipse effect for six months will prompt you to raise your sights higher and broaden your horizons with more travel or adventure. The August Leo Eclipse will tempt you to throw money around to impress which wouldn't be wise. Instead take the chance to be pro-active about boosting your finances in the months ahead.rnIn the final three months your social self-confidence will soar and you'll be pushing old self-doubts to one side. Since your enthusiasm will soar you'll find there's more positive feedback at work as well.