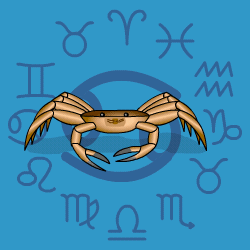 Cancer
June 22 - July 23
---
Today's Horoscope for Monday August 21st
This is definitely when you start to get new financial plans moving. Not in any very expansive way, just cautiously and steadily. Whatever starts now will bear fruit in future but you have to make the effort and keep your focus. Everything that is new, exciting and original in your life has to be followed up on the instant. Don't stick your feet in a rut or be wary. The changes that are coming are not awkward or gritty. This is change that's happening with excitement.
The Weekly Outlook from 21st August
Cast your eye ahead and work out where you want to be at that point, financially as well as emotionally. Once you have set your goals, work out a practical plan for fulfilling them. You can't just hope it all shakes down, so give yourself a push. But watch that you're not straining your body too much or trying to force yourself to do things that you can't actually do. Too much will power can sometimes make you push yourself past your limits.
Your Monthly Horoscope for August
Blissful moments at home and a few intense encounters with close partners will make for an emotional few weeks. But really your main aim is two-fold. The first is to reboot your personal finances and shake them into better shape, not just this month but through the rest of the year. The second is to see how you can indulge yourself with extravagances. But throwing money around to impress others or indeed yourself won't help. You need to fix on a plan, take the initiative and then be determined about putting it into gear. With the Lunar and Solar Eclipse this month highlighting the importance of your future security, you'll need to be sensible as well as pro-active. If you take steps now, you'll avoid crises in the months ahead. Your charms will be meeting with warm responses from social mates. And your spruced-up appearance will attract compliments, so no danger of you being overlooked. A busy few days later will keep you on your toes with plenty of short distance trips and fun conversations.
and Next Month's Horoscope for September
Your feet will barely touch the ground as your everyday schedule speeds up. There'll be plenty of short distance trips, encounters, chats and communication, so your tongue will work as fast as your legs. You won't always be tactful since you'll get impatient with delays and mistakes. Just remember you'll be wrong some of the time as well since your head will drift off into the clouds. By the 9th you'll be in control, sounding persuasive and in a position to get your views across clearly. In odd spare moments you'll be off spending, indulging yourself on a few extravagances. You won't be able to over push yourself physically as you'll discover towards mid month. Remember your body has limits and you'll be fine. After the 22nd home will be inviting with more chance to snuggle down with loved ones and find more time for domestic and family matters.
2017 Year Ahead
Two factors will make 2017 an improvement on 2016. One is that you'll begin to see how to make constructive changes at work or in your direction of life without turning everything upside down. The roller coaster atmosphere of the past few years will settle to a fair degree and you'll be able to push steadily ahead. Looking after your health will continue to be a priority for another year. This means learning where your limits are, not going in for excess of any sort including overwork, and adopting a sensible diet and exercise regime.rnHome and family relations will be happier and easier with chances to relax and be indulged. Asa a result you'll be more content within yourself. You'll be planning to expand your intimate surroundings since you'll want more space and the chance to entertain friends and relatives more often in your intimate surroundings. Close relationships will still be intense at times and a minor wrangle to see who gets the last word. If you can avoid confrontations and compromise where possible it will help.rnAfter February the Eclipse effect for six months will prompt you to raise your sights higher and broaden your horizons with more travel or adventure. The August Leo Eclipse will tempt you to throw money around to impress which wouldn't be wise. Instead take the chance to be pro-active about boosting your finances in the months ahead.rnIn the final three months your social self-confidence will soar and you'll be pushing old self-doubts to one side. Since your enthusiasm will soar you'll find there's more positive feedback at work as well.