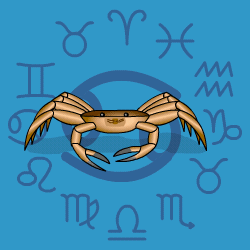 Cancer
June 22 - July 23
---
Today's Horoscope for Wednesday March 29th
It will take effort, but if you can be sensible and practical with loved ones, in a couple of days' time you can leap out and be outrageously irresponsible again. Life can't all be a picnic and fun. You may feel over stressed and under appreciated for your efforts at times, but this is a time of laying solid foundations for the future. You will get your rewards in terms of praise and real success when Saturn moves into your opposite sign.
The Weekly Outlook from 27th March
You could do with more time at home with loved ones, but you know you can't take your eye off the ball at work or in your community activities. If you are feeling pulled in two directions, then maybe you need to revise your plans and ambitions. You need to be focussed and clear that what you are doing has your exclusive attention. This week you have the urge to achieve and the confidence to upgrade your life and lift it onto a higher level.
Your Monthly Horoscope for March
You'll be yearning for far away horizons, wanting to travel or at least spread your wings and broaden your interests and activities. There'll be adventures on offer so there's little point in holding back. Just be on the lookout for muddles in arrangements. Double check. One close partnership will feel more secure and together around the 9th, so you'll know you've cleared recent tensions and be into better times. Energetic friends will nudge you into sorting out long term plans and be on hand with advice as well as practical help. Just be aware that your energy won't be limitless so pace yourself and keep up with good health resolutions. The right people will be hanging on your every word and keen to hear your views so don't hold back. Your social life will also be in a sparkling phase with invites to the right places. You'll find that charm works wonders on the important people around you. Hard work will be inevitable in the final days but you'll be showered by admiration and compliments so you won't mind.
and Next Month's Horoscope for April
This is your time to take the lead, get your talents out on display and demand recognition. It'll take effort and chutzpah but your boldness will pay off. Close partners at work and at home may be sticky for a few days up to the 10th. Don't get drawn into tensions or try to always have the last word. Just smile sweetly and sidestep tricky differences of opinion. You may not always be in step with friends or team either but you'd be wise to bite your tongue and listen to feedback. Their support and energy will be crucial if you're to shift one plan into forward gear. A sudden surprise change of circumstances around mid month may be initially unsettling but it will open a new door which could prove beneficial. Your social life will be colourful and exciting with new company to keep and new leisure activities to explore. Try to pack in as much work as possible up to the 19th. Thereafter you'll find certain schemes will be on a go slow for a few weeks. You'll have a good network around you offering advice so you won't feel isolated. From the 28th you'll be on sparkling social form.
2017 Year Ahead
Two factors will make 2017 an improvement on 2016. One is that you'll begin to see how to make constructive changes at work or in your direction of life without turning everything upside down. The roller coaster atmosphere of the past few years will settle to a fair degree and you'll be able to push steadily ahead. Looking after your health will continue to be a priority for another year. This means learning where your limits are, not going in for excess of any sort including overwork, and adopting a sensible diet and exercise regime.rnHome and family relations will be happier and easier with chances to relax and be indulged. Asa a result you'll be more content within yourself. You'll be planning to expand your intimate surroundings since you'll want more space and the chance to entertain friends and relatives more often in your intimate surroundings. Close relationships will still be intense at times and a minor wrangle to see who gets the last word. If you can avoid confrontations and compromise where possible it will help.rnAfter February the Eclipse effect for six months will prompt you to raise your sights higher and broaden your horizons with more travel or adventure. The August Leo Eclipse will tempt you to throw money around to impress which wouldn't be wise. Instead take the chance to be pro-active about boosting your finances in the months ahead.rnIn the final three months your social self-confidence will soar and you'll be pushing old self-doubts to one side. Since your enthusiasm will soar you'll find there's more positive feedback at work as well.