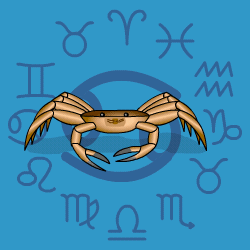 Cancer
June 22 - July 23
---
Today's Horoscope for Thursday May 25th
Don't over react to the odd stress and strain. Just rise graciously above it all. New Moons are always the start of something new. But if you think of what it looks like in the sky, it is always a faint crescent of light, which grows bigger as the time goes on. So don't expect anything major today. Just be clear that you need to put your wholehearted attention behind the scenes into whatever you want to put into place over the next year.
The Weekly Outlook from 22nd May
This week you will be charming, appearing amiable, laid-back and happy-go-lucky, even though you have had a hidden agenda up your sleeve. After midweek nothing will be gained by racing around at high speed when your energy and motivation are low. There will be more benefit to finding quality time for yourself. So take time to prepare and plan your next moves. Companions may ask for your help, but you need to put down some emotional limits.
Your Monthly Horoscope for May
Looking ahead you'll see rosy glows on the far horizon and be plotting and planning with good friends about how to make your dreams come true. Not everything can be actioned instantly so you'll need to be patient for a few weeks and get all your ducks in a row before you can leap ahead. One close relationship will be mellowing with recent resentments put to one side. You'll be happier, more relaxed at home and within the family. Keeping an eye on your fitness regimes and diet will bring benefits and a new health plan around the 19th will work wonders. Step back after the 20th for a few weeks of quiet. Even if you have to stand on the sidelines, it'll give you a chance to get prepared for a busier time for the rest of the year. Differences of opinion over work will be an irritant late on. But if you grit your teeth and say less, it'll all blow over.
and Next Month's Horoscope for June
Parcelling out your time sensibly is vital this month. You'll want and need rest, relax and reflection times, as well as high-octane get-up-and-go phases. Finding the right balance will be satisfying and give you variety as well as a chance to recharge your batteries. Affectionate friends will be around, making you feel warm and wonderful and popular. The mood at home with the family will continue to be amiable and expansive. You'll continue with plans to reorganise your domestic environment to give yourself more space and to allow for more entertaining. Towards mid month you'll need to make health and fitness a priority. Over pushing yourself won't help. Then all the red lights will turn to green from the 21st as you surge forward with renewed vitality, energy and enthusiasm. Nothing will slow you down or dent your confidence, though a family member may take your good nature too much for granted. So don't be too soft hearted.
2017 Year Ahead
Two factors will make 2017 an improvement on 2016. One is that you'll begin to see how to make constructive changes at work or in your direction of life without turning everything upside down. The roller coaster atmosphere of the past few years will settle to a fair degree and you'll be able to push steadily ahead. Looking after your health will continue to be a priority for another year. This means learning where your limits are, not going in for excess of any sort including overwork, and adopting a sensible diet and exercise regime.rnHome and family relations will be happier and easier with chances to relax and be indulged. Asa a result you'll be more content within yourself. You'll be planning to expand your intimate surroundings since you'll want more space and the chance to entertain friends and relatives more often in your intimate surroundings. Close relationships will still be intense at times and a minor wrangle to see who gets the last word. If you can avoid confrontations and compromise where possible it will help.rnAfter February the Eclipse effect for six months will prompt you to raise your sights higher and broaden your horizons with more travel or adventure. The August Leo Eclipse will tempt you to throw money around to impress which wouldn't be wise. Instead take the chance to be pro-active about boosting your finances in the months ahead.rnIn the final three months your social self-confidence will soar and you'll be pushing old self-doubts to one side. Since your enthusiasm will soar you'll find there's more positive feedback at work as well.