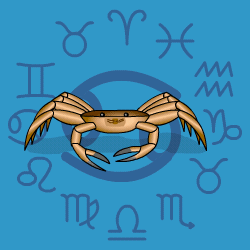 Cancer
June 22 - July 23
---
Today's Horoscope for Friday February 24th
If you are on the lookout for a new romance, you could find it at work or perhaps with someone slightly older. It may not be grand passion, but it could raise your social status and get you invited to all the best places. You will feel deeply and be rather stubborn. Passions could rage within you and no one else would know. Stand steady to understand what is going on and how you can make sense of it. Then you can get back to normality.
The Weekly Outlook from 20th February
Mars is in aspect to Pluto this week so be on your guard since sometimes this can bring the wrong people into your orbit. But the better end of these influences is good for making changes. It won't happen quickly but it will come if you just keep up the pressure. Try to rise above the trivia of daily living and take the bird's eye view of your life. Getting far enough away to see everything in perspective can be enormously helpful.
Your Monthly Horoscope for February
Although you'll be sorting out confidential and highly personal matters behind the scenes until the 18th, you'll have no intention of hiding yourself away. Your social status will rise with invites to special functions and you'll be putting on quite a sparkling performance. Charm and flattery will get you almost everywhere at work and in your community activities. There'll be peace and harmony at home as well so you'll be feeling more settled and contented within yourself. Persistence will pay off in finding better agreements over financial and emotional dilemmas, so don't give up and compromise when you can since you won't get it all your own way. In the final ten days you'll be less intense and secretive and flying higher, hoping to travel. Though you'll run into one challenging situation at work where no amount of jumping up and down will produce a fast result. Tread cautiously and stay calm in the midst of fast-changing circumstances.
and Next Month's Horoscope for March
You'll be yearning for far away horizons, wanting to travel or at least spread your wings and broaden your interests and activities. There'll be adventures on offer so there's little point in holding back. Just be on the lookout for muddles in arrangements. Double check. One close partnership will feel more secure and together around the 9th, so you'll know you've cleared recent tensions and be into better times. Energetic friends will nudge you into sorting out long term plans and be on hand with advice as well as practical help. Just be aware that your energy won't be limitless so pace yourself and keep up with good health resolutions. The right people will be hanging on your every word and keen to hear your views so don't hold back. Your social life will also be in a sparkling phase with invites to the right places. You'll find that charm works wonders on the important people around you. Hard work will be inevitable in the final days but you'll be showered by admiration and compliments so you won't mind.
2017 Year Ahead
Two factors will make 2017 an improvement on 2016. One is that you'll begin to see how to make constructive changes at work or in your direction of life without turning everything upside down. The roller coaster atmosphere of the past few years will settle to a fair degree and you'll be able to push steadily ahead. Looking after your health will continue to be a priority for another year. This means learning where your limits are, not going in for excess of any sort including overwork, and adopting a sensible diet and exercise regime.rnHome and family relations will be happier and easier with chances to relax and be indulged. Asa a result you'll be more content within yourself. You'll be planning to expand your intimate surroundings since you'll want more space and the chance to entertain friends and relatives more often in your intimate surroundings. Close relationships will still be intense at times and a minor wrangle to see who gets the last word. If you can avoid confrontations and compromise where possible it will help.rnAfter February the Eclipse effect for six months will prompt you to raise your sights higher and broaden your horizons with more travel or adventure. The August Leo Eclipse will tempt you to throw money around to impress which wouldn't be wise. Instead take the chance to be pro-active about boosting your finances in the months ahead.rnIn the final three months your social self-confidence will soar and you'll be pushing old self-doubts to one side. Since your enthusiasm will soar you'll find there's more positive feedback at work as well.