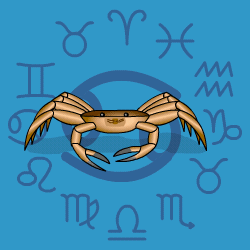 Cancer
June 22 - July 23
---
Your Birthday Horoscope
IF IT'S YOUR BIRTHDAY TODAY your year ahead will be happy at home, more relaxed within yourself and fairly dynamic. You'll be flying around at top speed, sweeping obstacles to one side, being overly impulsive at times. Try to hold yourself within limits, since you won't have the energy for an over heavy schedule. From October your self confidence will soar and your positive approach will improve your popularity socially as well as at work. Tread lightly with one close partner.
Today's Horoscope for Tuesday June 27th
You will want to soothe and smooth round any rough edges and indeed bounce any down in the mouth mates into better humour. You're feeling good and bouncy, so everyone else needs to be the same. Just do it with good humour and sprinkle a few compliments around. There's nothing worse than a joker when others are feeling gloomy. You are a real chatter-box now, lively and enthusiastic, determined to get your ideas and opinions across to everyone in sight.
The Weekly Outlook from 26th June
This week one situation is going to turn out spectacularly better than even you expected. You just need make sure that you're helping the lucky influences along with common sense. A little glossing over of criticism usually oils the wheels of relationships. But if you suppress too much, your true feelings usually leak out and cause trouble anyway. So you might as well try to acknowledge what you do think, but do it gently and tactfully.
Your Monthly Horoscope for June
Parcelling out your time sensibly is vital this month. You'll want and need rest, relax and reflection times, as well as high-octane get-up-and-go phases. Finding the right balance will be satisfying and give you variety as well as a chance to recharge your batteries. Affectionate friends will be around, making you feel warm and wonderful and popular. The mood at home with the family will continue to be amiable and expansive. You'll continue with plans to reorganise your domestic environment to give yourself more space and to allow for more entertaining. Towards mid month you'll need to make health and fitness a priority. Over pushing yourself won't help. Then all the red lights will turn to green from the 21st as you surge forward with renewed vitality, energy and enthusiasm. Nothing will slow you down or dent your confidence, though a family member may take your good nature too much for granted. So don't be too soft hearted.
and Next Month's Horoscope for July
Close partners at home and at work won't exactly be on your wavelength so there'll be a tug of war to see who gets the last word. If both of you could calm down, take a step back and be less intense, then you'll find a middle way of compromise that leaves no one feeling put down. Being helpful will also play in your favour. You won't be as romantic or sociable as usual so you'll be pampering yourself in the quiet moments. Luckily you'll also have blissful moments at home with the family, so there'll be a chance to let bygones be bygones. After midmonth you'll be distracted by surprising events which come out of the blue which will knock certain of your plans sideways. Try not to let them upset your budget. Getting your finances booted into better shape will be a priority, and perseverance will pay off.
2017 Year Ahead
Two factors will make 2017 an improvement on 2016. One is that you'll begin to see how to make constructive changes at work or in your direction of life without turning everything upside down. The roller coaster atmosphere of the past few years will settle to a fair degree and you'll be able to push steadily ahead. Looking after your health will continue to be a priority for another year. This means learning where your limits are, not going in for excess of any sort including overwork, and adopting a sensible diet and exercise regime.rnHome and family relations will be happier and easier with chances to relax and be indulged. Asa a result you'll be more content within yourself. You'll be planning to expand your intimate surroundings since you'll want more space and the chance to entertain friends and relatives more often in your intimate surroundings. Close relationships will still be intense at times and a minor wrangle to see who gets the last word. If you can avoid confrontations and compromise where possible it will help.rnAfter February the Eclipse effect for six months will prompt you to raise your sights higher and broaden your horizons with more travel or adventure. The August Leo Eclipse will tempt you to throw money around to impress which wouldn't be wise. Instead take the chance to be pro-active about boosting your finances in the months ahead.rnIn the final three months your social self-confidence will soar and you'll be pushing old self-doubts to one side. Since your enthusiasm will soar you'll find there's more positive feedback at work as well.