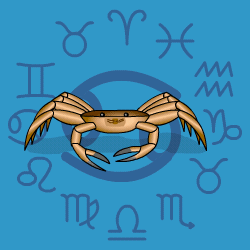 Cancer
June 22 - July 23
---
Today's Horoscope for Tuesday January 16th
As long as you pay attention and don't go and overspend, which can sometimes be a little bit of a problem, then everything is going to end up with you feeling that you've made constructive changes to your life and that you've got substantially more at the end of the day than at the beginning. Mars, planet of dynamic action is in your house of romance, children, sport, entertainment, creativity and speculation, so you are passionate about enjoying yourself at the moment.
The Weekly Outlook from 15th January
Freedom is what's important to you. So you've decided to rattle the bars of your cage. You've maybe got stuck in a rut recently, or people have tied you down. It may not be the most diplomatic of times because there's a great deal of excitement on the go. If people get in your way or try to corral you, you won't put up with it. Make sure that you are not spending too much. A little bit of saving would make you feel better in the days to come.
Your Monthly Horoscope for January
Togetherness will be key to your happiness but co-operation won't be easily maintained with Saturn and Pluto around. Try to avoid being negative or critical, prize loyalty above passion, and be firm with yourself as well as close partners about not trying to manipulate one situation. Luckily your morale and confidence will stay high with social invitations and compliments pouring in. Your exuberant approach will go down well with almost everyone, so you'll be able to push away self-doubts and step out boldly. Putting a higher value on yourself will prompt others to do the same. There will be a surprise change of circumstances around midmonth. Try not to over react or be too impulsive. Think carefully about the consequences about what you want to do and then act. Setbacks can often be opportunities in disguise. From the 18th you'll be keeping your feelings to yourself and will be more emotionally intense than usual. Sorting out confidential and secret matters will be a priority for several weeks ahead.
and Next Month's Horoscope for February
Bouncing with confidence and in social high spirits, you won't let any opportunity to shine in the spotlight slide by. But there will be times when you need to back off slightly to sort out confidential matters. Reaching better agreements and reorganising joint finances may be part of it. But you'll also be having heart-to-heart chats with close partners trying to see what adjustments need to be made to bring you both more fulfilment in the time ahead. This won't be a one-off effort, since you'll need to be persistent over coming months to be less self-sufficient and change the way you share, care, relate and co-operate. Gradually as the month wears on you'll be putting on a mischievous smile to entertain social mates. OK so there'll be a pile of chores to get through and you may be a touch perfectionist about doing everything correctly. Delegate more and accept what's possible not what's ideal. Looking after health and fitness will be crucial. In the final days you'll spread your wings and allow your enthusiasm to take flight. Following your dream will be important.
Year Ahead 2018
2018 will find your self-confidence soaring with social invites pouring in along with compliments. You'll be putting a higher value on yourself and finding that everyone else does as well. And your positive and enthusiastic approach will bring praise at work as well. Just don't go wild speculating or gambling, since nailing down your financial security is one of this year's priorities. Save, don't spend to impress; and be pro-active about taking the initiative to improve your long-term security.rnClose partnerships may be cooler. Try not to be critical or negative. Cherish loyalty above passion. It may be that work is interfering with relaxation time, but be grateful that you are rising up rather than the reverse.rnYour path will continue to be winding in terms of career and general life's direction but it'll rarely be boring. If you can be alert for changes and new opportunities, rather than sticking to old ways, it'll bring better results. You will be facing challenges where co-operation is concerned. Try not to be too controlling or indifferent to the needs of those close or at work.rnNeptune will bring you dreams, hunches and insights pointing you down a more spiritual road. OK at times your judgement may be off-beam and you'll have to be wary of relying on gurus or others having all the answers. But you'll be softening your attitudes as a result of your new-found beliefs.rnTravel may be muddled so make sure you always double-check all arrangements and have a Plan B up your sleeve. Late in the year you'll find an exuberant mood around work or the chores and be feeling healthier.