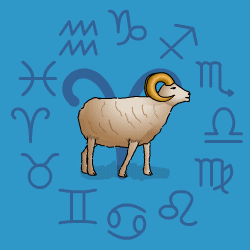 Aries
March 21 - April 20
---
Today's Horoscope for Thursday May 25th
Close friendships will be more important to you than usual today. You want to be around the people who will boost your self-esteem and make you feel good. Everyone around knows your heart is in the right place but they may not be entirely clear about what you are driving at, so try to collect your thoughts before you dash into discussions. You know you need to get more method and discipline into your everyday schedules, and this could be the day to start.
The Weekly Outlook from 22nd May
This week Venus is in square to Pluto, which tends to make you quite obsessed about your love life. You want more passion. Anything frankly which gets you away from everyday routines. You will want to have more depth in the relationship you've got. Or you'll be looking for a new one in which you can really consume yourself. Later in the week keeping your feet on the ground and paying attention to small details at work will be a priority.
Your Monthly Horoscope for May
In good voice and moving quickly, you'll be throwing out comments and jokes as you race around a busy everyday schedule. At times you will get impatient when things go wrong and be overly direct. Try to take a deep breath before leaping in with both feet. Luckily the Taurus Sun until the 20th will distract you with pleasure-able activities, spending money for one, and pampering yourself. Since you'll be stretched in all directions, you'll need to write out to-do lists and prioritise otherwise you'll end up in a muddle. Close partners will be an enthusiastic support so you won't go far wrong. After mid month you'll come up with an exciting new plan which will help you take the best of the past and add new elements. Your helter skelter pace will ramp up in the final ten days. Just try not to trip over your feet since there'll be accident prone influences around the 29th.
and Next Month's Horoscope for June
You'll be rushing around at high speed, but will you be making progress? The Gemini Sun will keep you on your toes, making short distance trips, talking constantly. But certain pet projects will be on a go-slow so no matter how hard you push, it'll be difficult to get the results you want. As a consequence, you'll tend to be impatient at home. Try to throw your energy into a spot of domestic reorganising otherwise loved ones and the family will complain about your attitude. Close partners will be offering support and encouragement so you won't be entirely out of sorts. Extravagances will prove all too tempting to spending money will keep you happily occupied from the 6th onwards as well. There may be delays in travel plans around mid- month or the need to rethink one of your opinions. Don't take a disagreement to heart. Ask yourself if you might be wrong. A quieter few weeks starts on the 21st as you want to spend more time relaxing and having heart-to-heart chats with those close. Try not to take their good nature for granted and push yourself to openly recognise their contribution.
2017 Year Ahead
There'll be more adventure around in 2017 to keep you bouncing, and much of the uncertainty of last year will be fading away. The tremendous upheavals of the past four years will also be calming down. You'll still be pushing determinedly to find a better direction for yourself in your career and life in general. And your wonderfully resilient rubber-ball quality will come handy when certain ideas or projects don't work and you leap into trying again with the next grand scheme. Close partners at work and at home will be there for you with support and high hopes. Their advice may veer to the over optimistic at times but they'll do your morale good. Any relationships which have past their sell-by date and where you don't see a future, will be quietly dropped with no fuss or regret. The Pisces Eclipse in late February is a hint to step back, gain perspective on the past and give yourself time to reflect. By August you'll be ready to promote yourself more vigorously. Not that you'll be a social wall flower. Since Venus in your own sign in February, March and May will surround you with admirers. In the final three months you'll be into a year-long phase of positive change, financially and emotionally. Money will come in with less effort from joint ventures, or unexpected wins, bonuses, inheritances. You'll be dropping your defences and moving closer to the important people in your life. Overall you'll have more confidence to push for what you want and mix the best of the old with the best of the new.