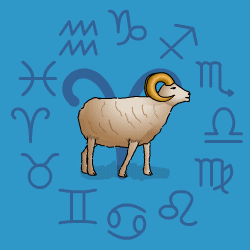 Aries
March 21 - April 20
---
Today's Horoscope for Tuesday June 27th
Your mood will be upbeat but perhaps none too practical. Pushing yourself to think through the practical consequences of "Can I actually make this stick?" seems too much effort. But just think of the effort involved if you have committed yourself to more than you want in a couple of days' time. The more you talk to loved ones the more you will understand yourself. You do want a chance to let old memories come back to the past, and settle them more happily in your mind.
The Weekly Outlook from 26th June
You feel optimistic. You think you can do almost twice as much as usual. You want activities that will give you a sense of meaning. You want to fulfil a greater purpose rather than just slogging through the daily grind. Be sensible because with Mars around this week you're not in a mood to concentrate on practical details. But your mind is sharp and clear so try to find a way of using that without flaring up about trivial irritations.
Your Monthly Horoscope for June
You'll be rushing around at high speed, but will you be making progress? The Gemini Sun will keep you on your toes, making short distance trips, talking constantly. But certain pet projects will be on a go-slow so no matter how hard you push, it'll be difficult to get the results you want. As a consequence, you'll tend to be impatient at home. Try to throw your energy into a spot of domestic reorganising otherwise loved ones and the family will complain about your attitude. Close partners will be offering support and encouragement so you won't be entirely out of sorts. Extravagances will prove all too tempting to spending money will keep you happily occupied from the 6th onwards as well. There may be delays in travel plans around mid- month or the need to rethink one of your opinions. Don't take a disagreement to heart. Ask yourself if you might be wrong. A quieter few weeks starts on the 21st as you want to spend more time relaxing and having heart-to-heart chats with those close. Try not to take their good nature for granted and push yourself to openly recognise their contribution.
and Next Month's Horoscope for July
Just when you want to be putting your feet up and relaxing at home, there'll be a series of dilemmas and obstacles that need to be resolved and overcome. Try not to do your usual full-steam-ahead approach since it won't work. You won't always be able to call the shots or have as much influence or control as you might wish. Holding steady, staying calm or even ducking might be better strategies. Luckily your charming way with words will smooth round a few tense moments and you will find that thoughtful gestures from everyday mates at work and in the neighbourhood will keep you cheerful. You'll make faster progress after the 10th. Indeed between the 18th and 21st you might wish for less fast action since there'll be unexpected surprises brewing up from several directions. Admittedly some will be caused by you since you'll be in no mood for compromise and want excitement no matter what disruptions you cause. In the final ten days your energy and physical passions will soar and you'll throw yourself with gusto into enjoying yourself and partying like mad.
2017 Year Ahead
There'll be more adventure around in 2017 to keep you bouncing, and much of the uncertainty of last year will be fading away. The tremendous upheavals of the past four years will also be calming down. You'll still be pushing determinedly to find a better direction for yourself in your career and life in general. And your wonderfully resilient rubber-ball quality will come handy when certain ideas or projects don't work and you leap into trying again with the next grand scheme. Close partners at work and at home will be there for you with support and high hopes. Their advice may veer to the over optimistic at times but they'll do your morale good. Any relationships which have past their sell-by date and where you don't see a future, will be quietly dropped with no fuss or regret. The Pisces Eclipse in late February is a hint to step back, gain perspective on the past and give yourself time to reflect. By August you'll be ready to promote yourself more vigorously. Not that you'll be a social wall flower. Since Venus in your own sign in February, March and May will surround you with admirers. In the final three months you'll be into a year-long phase of positive change, financially and emotionally. Money will come in with less effort from joint ventures, or unexpected wins, bonuses, inheritances. You'll be dropping your defences and moving closer to the important people in your life. Overall you'll have more confidence to push for what you want and mix the best of the old with the best of the new.