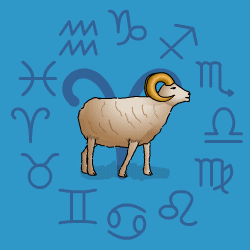 Aries
March 21 - April 20
---
Today's Horoscope for Tuesday January 24th
You'll have a sparkle in your eye, since a small adventure beckons. You will definitely be in a mood for anything that gets you away from boring chores and tedious routines. Though in quiet moments you are thinking seriously about education, philosophical and even spiritual matters now. Life may test out your old opinions by setting up arguments for you. Try to be open minded and listen to opposing views, though do not be too swayed by convention.
The Weekly Outlook from 23rd January
All those new plans you have been mulling over in recent days can be given a sensible push this week. You want to sort out your game plan for the next 12 months. So make a few decisions and put them into action. You will be keen to cut through all the red tape, confusion and indecision and get straight to the point. Luckily you will not bear grudges for long at the moment and will fly ahead putting any momentary squalls behind you.
Your Monthly Horoscope for January
A slow foggy start to the New Year will come courtesy of Neptune and a hidden Mars, so you'll not be leaping into high speed gear. Let yourself drift along and be content with pampering yourself if no one else is offering. You won't be as sociable as usual, but quiet time in your leisure hours won't be a hardship since you'll have a good deal going on elsewhere. The Sun at your midheaven will put you in a hard-working, higher profile phase until the 19th, where you'll be getting your talents out on display and taking the lead. There will be challenges which you'll need to persevere to overcome through the 7th and by the 10th will be in a mood to kick away restrictions and suit yourself. Luckily close partners will be laid-back and amiable about whatever you decide. Just grit your teeth and bite your tongue around the 19th since being too pro-active will backfire. A friendly, forward looking final two weeks will keep you mixing and matching in fun company. And Mars moves finally into your own sign on the 28th which will be when you move ahead with vigour.
and Next Month's Horoscope for February
There'll be fun in store with a friendly Aquarius Sun till the 18th bringing a wide circle of merry companions. The icing on the cake will be Venus moving into your own sign for two months swinging you back out onto the social scene. You'll be looking great, handing out the charm and finding new admirers queuing up at the door. Close partners will also be in high spirits and ready with support when you ask. At times you won't know whether to stick close to those you love or head for entertaining group activities outside. So you'll be spread fairly thin but in a pleasureable way. Try to take time out to consider future plans. In the final ten days you'll retreat into a quieter phase. Give yourself a chance to recharge your batteries. Mars in your own sign won't make it easy to sit still and you'll be challenged by a tricky situation towards the 22nd, at work or elsewhere. Just stay calm and work out whether you may have unintentionally caused the problem. Make no hasty decisions but be aware.
2017 Year Ahead
There'll be more adventure around in 2017 to keep you bouncing, and much of the uncertainty of last year will be fading away. The tremendous upheavals of the past four years will also be calming down. You'll still be pushing determinedly to find a better direction for yourself in your career and life in general. And your wonderfully resilient rubber-ball quality will come handy when certain ideas or projects don't work and you leap into trying again with the next grand scheme.rnClose partners at work and at home will be there for you with support and high hopes. Their advice may veer to the over optimistic at times but they'll do your morale good. Any relationships which have past their sell-by date and where you don't see a future, will be quietly dropped with no fuss or regret.rnThe Pisces Eclipse in late February is a hint to step back, gain perspective on the past and give yourself time to reflect. By August you'll be ready to promote yourself more vigorously. Not that you'll be a social wall flower. Since Venus in your own sign in February, March and May will surround you with admirers.rnIn the final three months you'll be into a year-long phase of positive change, financially and emotionally. Money will come in with less effort from joint ventures, or unexpected wins, bonuses, inheritances. You'll be dropping your defences and moving closer to the important people in your life.rnOverall you'll have more confidence to push for what you want and mix the best of the old with the best of the new.