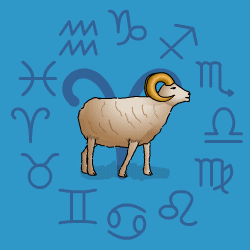 Aries
March 21 - April 20
---
Today's Horoscope for Sunday January 21st
Maybe you sense that companions are preoccupied. They're all tied up in what they're doing, and you want to just disappear into your own space to think things through. Emotionally, you'll be changing faster than you realise in coming months, so the transition from the past to the future will be easier than you expect. Your intimate relationships are improving as a result. There is a generosity coming your way from the universe since you started to open up and let go of control.
The Weekly Outlook from 15th January
Uranus aspecting the Sun this week suggests firmly that you should not be doing tedious, practical things. Uranus wants to throw life up in the air. So it's a time to be curious and use your imagination. You're feeling very alert, but quite wound up as well. You definitely have the urge to achieve and the confidence, so put your back into things in a major kind of way. You want to upgrade your life and lift it onto a higher level.
Your Monthly Horoscope for January
A combination of determination and positive thinking will create its own good fortune. Though lady luck will also throw a few generous presents your way as well in cash or in kind this month. You'll be working hard, taking the lead and facing a few challenges up to the 9th. But perseverance and grit will see you through. Avoid confrontations even if you think someone is acting unfairly or trying to control you. Be subtle, strategic and sidestep. Confidential dilemmas, financial and emotional, will slowly find an answer, mainly through your own persistence. You'll be pleased that you defended your corner and demanded a fair deal or better agreement with those close. In demand for your bright ideas and practical plans, you'll be talking non-stop after the 11th. Just don't get too critical if others aren't on your wavelength. Go your own way without rocking the boat too hard. By midmonth you'll have a satisfied smile on your face as one scheme works out to your advantage. Warm-hearted friends will rally round in the final days to make you feel popular.
and Next Month's Horoscope for February
In a friendly, forward looking few weeks, you won't stick to one activity or one set of company for long. You'll be mixing and matching like mad. Warm hearted friends will be around for ten days to boost your morale and keep you feeling appreciated. You will have grand plans but not all will be practical so you'll need to finetune what's possible and what isn't for a while. There's no need to dash into top gear just yet. The Aquarius Eclipse midmonth will find you working out your game plan for the time ahead, not just weeks but several years. Friends will give you sensible advice and keep you on the right track. You'll be networking like mad, making new connections and seeing broader horizons ahead. Jupiter will drift some good fortune your way but try not to take your luck or others' generosity for granted. After mid-month you'll gradually wind down to give yourself thinking time and a chance to relax more often. You'll still be spreading your opinions around vigorously but will also be listening and keeping your own counsel.
Year Ahead 2018
Home, friends and romance are all areas highlighted by 2018's Solar Eclipses so will be your priority. Review, discuss and adjust what isn't suiting you any longer. Happily Jupiter moving through Scorpio will allow you to embrace change in a positive way, with beneficial results, emotionally and financially. Money will come in unexpectedly and you'll let your defences down to allow for more intimacy. Though towards midyear you'll find your finances move into a roller coaster phase, both up and down, so you'll need to budget sensibly.rnIn your career or community activities you may be weighed down by work and responsibilities so will be sticking to the straight and narrow. Everything you've pushed and prepared for should be bringing in a harvest. Though past mistakes may also surface to be sorted out.rnIn the first few months you'll be widening your circle of friends and sorting out longer term plans. With a major push from March onwards to move towards your goals and fulfil your ambitions. It'll feel like pushing boulders uphill at points but perseverance will win through.rnThen from midyear you'll want to slow down to focus on family and domestic matters and to liven up your social life. It won't be easy juggling close relationships and duties in the outside world. But needs must for a fulfilling life. From November you'll be aiming higher, keen to broaden your horizons and find time for adventures or more stimulating hobbies.