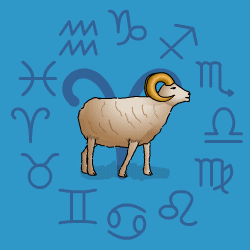 Aries
March 21 - April 20
---
Your Birthday Horoscope
IF IT'S YOUR BIRTHDAY TODAY your year ahead will be charming, chatty and sociable. But you'll also be pushing determinedly with money-making schemes and trying to gain more influence in your career or community activities. Perseverance will pay off but you'll need to be strategic and not be too controlling since that will backfire. Luckily you'll be positive thinking and enthusiastic which will endear you to close partners and friends. More money will come late in the year.
Today's Horoscope for Wednesday March 29th
Make an effort to try not to look just at the bad and the difficult things today or be too nit-picky because it really won't help. Certainly don't let anyone undermine your self-confidence because that can be a problem with Saturn around. But it also means holding yourself back from pulling anyone else down. Life may test out your old opinions by setting up arguments for you. Try to be open minded and listen to opposing views, though don't be too swayed by convention.
The Weekly Outlook from 27th March
If you think you are right you intend to tell other people this week. Well, don't unsettle those around too much by pointing out how much better you are than them, because it doesn't always tend to go down too well. It might be better not to go on and on and on about things, but to stand back from time to time and re-evaluate, see things from a broader perspective. And keep your sense of humour handy: that is always very useful.
Your Monthly Horoscope for March
You'll muddle into March, wrapped up in daydreams, when suddenly a stroke of good luck, provided by your closest partner will jolt you into gear. What seems initially to be a great opportunity will take hard graft to push it into gear, but you'll be pleased if you do stretch yourself. Mainly you'll be working behind the scenes or from the sidelines until the 20th, so you'll have time to rest, relax and prepare your plans for your new birthday year ahead. Your personal finances will get a reboot from Mars after the 10th. You'll be keen to improve your security as well as have surplus for spending so you'll push hard. Perseverance will pay off. Although at times you'll be independent-minded, even downright rebellious, your charm will smooth over any ruffled feathers and close partners will be supportive, In the final days you'll be all systems go, alternately seducing and then jolting those around to fit in with your plans. Just don't go too far on the 30th.
and Next Month's Horoscope for April
Your birthday Sun till the 19th will keep you bouncing along exuberantly, keen to get several plans for the future under way. Close partners will be enthusiastically supportive though not always practical or realistic. You'll need to put your shoulder to the wheel for a few days from the 5th to the 10th, but thereafter you'll be moving at speed. Just don't slow yourself down by getting locked into confrontations or irritating anyone who is in a position of control in your life. By mid month you'll be throwing caution to the winds and stepping out to suit yourself and follow through on your own original ideas. You won't be as sociable or as romantic so pamper yourself in the quiet moments if no one else is offering. In the final ten days you'll be talking directly, at times ruffling feathers because of your honesty but you won't let that stop you. Money will be on your mind since you'll be keen to spend on indulgences and improve your security. From the 28th you'll be more outgoing and picking up compliments and admiring glances.
2017 Year Ahead
There'll be more adventure around in 2017 to keep you bouncing, and much of the uncertainty of last year will be fading away. The tremendous upheavals of the past four years will also be calming down. You'll still be pushing determinedly to find a better direction for yourself in your career and life in general. And your wonderfully resilient rubber-ball quality will come handy when certain ideas or projects don't work and you leap into trying again with the next grand scheme.rnClose partners at work and at home will be there for you with support and high hopes. Their advice may veer to the over optimistic at times but they'll do your morale good. Any relationships which have past their sell-by date and where you don't see a future, will be quietly dropped with no fuss or regret.rnThe Pisces Eclipse in late February is a hint to step back, gain perspective on the past and give yourself time to reflect. By August you'll be ready to promote yourself more vigorously. Not that you'll be a social wall flower. Since Venus in your own sign in February, March and May will surround you with admirers.rnIn the final three months you'll be into a year-long phase of positive change, financially and emotionally. Money will come in with less effort from joint ventures, or unexpected wins, bonuses, inheritances. You'll be dropping your defences and moving closer to the important people in your life.rnOverall you'll have more confidence to push for what you want and mix the best of the old with the best of the new.