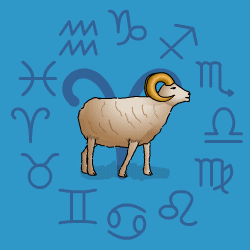 Aries
March 21 - April 20
---
Today's Horoscope for Friday February 24th
You will avoid confrontations since you can't be bothered. The problem is that if you compromise too much just for the sake of calm, it may make you sound superficial or insincere. You do need friends around today to make you feel loved and appreciated. You want protection and advice about the long term. Obviously, no one makes your mind up but you. But that doesn't mean to say that testing out ideas and picking up more information will not be useful.
The Weekly Outlook from 20th February
Dynamic Mars is now in a difficult aspect to powerful Pluto. The combination of the pair of them is pretty ruthless. And it depends which side of the coin you get - either being on top or being pushed around. Nothing will be gained by racing around at high speed when your energy and motivation are low. There will be more benefit to finding quality time for yourself. Companions may be needing your help but you need to put down limits as well.
Your Monthly Horoscope for February
There'll be fun in store with a friendly Aquarius Sun till the 18th bringing a wide circle of merry companions. The icing on the cake will be Venus moving into your own sign for two months swinging you back out onto the social scene. You'll be looking great, handing out the charm and finding new admirers queuing up at the door. Close partners will also be in high spirits and ready with support when you ask. At times you won't know whether to stick close to those you love or head for entertaining group activities outside. So you'll be spread fairly thin but in a pleasureable way. Try to take time out to consider future plans. In the final ten days you'll retreat into a quieter phase. Give yourself a chance to recharge your batteries. Mars in your own sign won't make it easy to sit still and you'll be challenged by a tricky situation towards the 22nd, at work or elsewhere. Just stay calm and work out whether you may have unintentionally caused the problem. Make no hasty decisions but be aware.
and Next Month's Horoscope for March
You'll muddle into March, wrapped up in daydreams, when suddenly a stroke of good luck, provided by your closest partner will jolt you into gear. What seems initially to be a great opportunity will take hard graft to push it into gear, but you'll be pleased if you do stretch yourself. Mainly you'll be working behind the scenes or from the sidelines until the 20th, so you'll have time to rest, relax and prepare your plans for your new birthday year ahead. Your personal finances will get a reboot from Mars after the 10th. You'll be keen to improve your security as well as have surplus for spending so you'll push hard. Perseverance will pay off. Although at times you'll be independent-minded, even downright rebellious, your charm will smooth over any ruffled feathers and close partners will be supportive, In the final days you'll be all systems go, alternately seducing and then jolting those around to fit in with your plans. Just don't go too far on the 30th.
2017 Year Ahead
There'll be more adventure around in 2017 to keep you bouncing, and much of the uncertainty of last year will be fading away. The tremendous upheavals of the past four years will also be calming down. You'll still be pushing determinedly to find a better direction for yourself in your career and life in general. And your wonderfully resilient rubber-ball quality will come handy when certain ideas or projects don't work and you leap into trying again with the next grand scheme.rnClose partners at work and at home will be there for you with support and high hopes. Their advice may veer to the over optimistic at times but they'll do your morale good. Any relationships which have past their sell-by date and where you don't see a future, will be quietly dropped with no fuss or regret.rnThe Pisces Eclipse in late February is a hint to step back, gain perspective on the past and give yourself time to reflect. By August you'll be ready to promote yourself more vigorously. Not that you'll be a social wall flower. Since Venus in your own sign in February, March and May will surround you with admirers.rnIn the final three months you'll be into a year-long phase of positive change, financially and emotionally. Money will come in with less effort from joint ventures, or unexpected wins, bonuses, inheritances. You'll be dropping your defences and moving closer to the important people in your life.rnOverall you'll have more confidence to push for what you want and mix the best of the old with the best of the new.