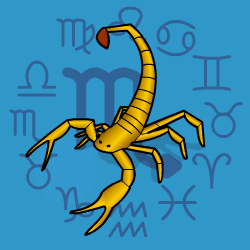 Scorpio
October 23 - November 22
---
Today's Horoscope for Tuesday June 27th
There's a whiff of something rather over-expansive in the air, which could make you think you can't be wrong or you think there's nothing you can't do. If you can manage not to go over the score, then you will be able to you're your fears to one side and say what you have been hiding away. Not terribly practical in your outlook at the moment, you may be getting swept up in your enthusiasm to the point where you lose touch with what is possible.
The Weekly Outlook from 26th June
This week you may bounce into situations that you thought were going to work wonderfully, but your expectations fall short slightly. A little self discipline never goes amiss with Jupiter around, especially when it is connecting to dynamic Mars. If you let your irritability show then you are likely to make the feeling infectious so everyone gets overheated. What you have to say is important, it's just a question of strategy.
Your Monthly Horoscope for June
Intensely determined and even more secretive than usual, you'll keep your head down mainly and make sorting out highly personal and confidential cash matters a priority. You'll need to be persistent and compromise where you can for three weeks but your efforts will result in more security for you as better agreements are put in place. In the quiet moments you'll have a sense of deep satisfaction about the progress you have made. Regard this as a clearing out phase which will allow you to fly higher once you've tied up loose ends. One close partner will be affectionate and you'll be in social demand after the 6th, so you won't be hiding away in a corner all of the time. Keeping a grip of your spending will be wise mid month since unexpected expenses may turn up. Then all those schemes you've been mulling over can be given a kick start from the 21st onwards.
and Next Month's Horoscope for July
You'll be speaking your mind forcefully and with some intensity. Just remember than gentle persuasion works better. You'll be looking at every situation with penetrating insight but may end up digging so deep you only see the dark and negative side. Lighten up and remember there's sunshine as well as showers. Your emotions will be exaggerated so you'll adore some people and thoroughly dislike others. But you won't always feel this way, so don't burn your bridges behind you. Find someone close to confide in who'll help to give you more perspective. Onwards and upwards will be your motto as you raise your sights higher and aim to broaden the scope of your activities ahead. After mid month there'll be more excitement; and a chance to display your talents. You'll be keen to take the lead and insist others follow behind. No one will be allowed to stay half asleep or idling around you.
2017 Year Ahead
2017 will be a less tumultuous year though you'll still be wrestling with some of the same problems. In many ways it'll help if you regard the first nine months as a tidying up of loose ends. Give yourself plenty of space for private reflection. You'll enjoy your own company more and more, though not all the time. As you put the past to rest you'll be able to look ahead more enthusiastically.rnYou'll be pressured in your everyday schedule at work and in the neighbourhood, at times inclined to be overly forceful or negative in expressing your opinion. Lighten up and be more positive in your approach and you'll be more persuasive. You'll have to negotiate continuing fast-changes at work, which will require flexibility and the ability to grasp new opportunities when they come up. From August onwards you need to push extra hard to gain recognition.rnYou will be over burdened at times and rather nervy with too many going on so you'll need to be sensible about boosting your stamina, scheduling in rest and relaxation periods and generally getting a grip of your physical health.rnLoved ones will be gentle, caring and rather elusive so you won't always know how to pin them down. You may feel disappointed but it'll be important to treasure the good moments and be forgiving. See where you can hand out more love and affection and it'll come back to you.rnThere'll be new ways of reorganising your finances to bring you more security, partly because of new doors opening to you. Study every opportunity carefully and take considered decisions, not hasty ones.rnFrom October you suddenly step out into better times, with more confidence and enthusiasm, knowing your luck has turned. Resources will be drawn to you and improved relationships will be your rewards for past help.