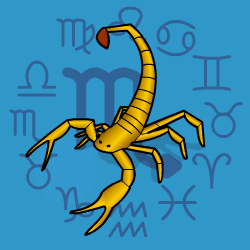 Scorpio
October 23 - November 22
---
Today's Horoscope for Saturday April 21st
You will be thinking fast, and perhaps speaking sharply at times. You will have a more cutting tongue than usual and not be suffering fools or slowcoaches gladly. Blaming others for getting in your way won't help. Just slow down. Finding a clear focus or committing yourself to one course of action will not be easy for a while since you are scattering your energy in too many directions at once.rnTry not to get discouraged when others do not listen to your opinions.
The Weekly Outlook from 16th April
This isn't the most glamorous time of the year at work for you, but it could just be the right circumstances for you to re-organise some of your methods. If you can find the discipline then you can clear up a good many tangles before they happen. Later the Sun is in your chart area which rules one-to-one partnerships, so you will want to share and care more in the coming weeks. Togetherness is the key to your happiness.
Your Monthly Horoscope for April
Busy as a bee, though a slightly irritated one, you'll plough through a busy everyday schedule, encounters obstacles, sweep them aside mainly, and just keep pushing on. Looking after fitness and stamina will be vital since you'll be putting energy out, at times feeling as if you are doing too much for others and not getting enough in the way of appreciation. So very much a head-down and grit-your-teeth few weeks. If you can take pride in what you're doing for its own sake then you'll fare better. Happily the affectionate support of a close partner will keep you warm and cosy inside; and your own self-confidence won't flag with several small triumphs making you glow with pride. You won't have to work so hard after the 20th with more co-operation from others lifting some of the burden of your chores. Though there will be one more challenge before the month is out, which will be overcome if you persist and say less.
and Next Month's Horoscope for May
Togetherness is what you'll be aiming for, at least in the first two weeks. Having a partner in whatever you do will make you feel whole, so co-operation will be a priority. Your confidence will be high and you reckon your luck will be in. Just don't get ahead of yourself and take your good fortune for granted. From mid-month you'll sense a shift in the wind as Uranus moves into your opposite sign for the next few years. You'll be sitting down with close partners to discuss ways in which both of you can be free to pursue your individual interests. Possessive won't work in either direction. Relations with those you work closely with may also move into a more changeable phase. After the 16th you'll be frustrated by the slow progress of certain pet projects and throwing your energy into reorganising at home. Loved ones may get uptight if you sweep them too firmly into place. In the final days you'll be mulling over confidential matters, playing your cards close to your chest.
Year Ahead 2018
Your head and your heart will tug in opposite directions in 2018 which won't suit as emotionally intense a sign as yours. You like to be fully engaged. But needs must. First half year will be focussed on home and family matters, making adjustments, reorganising and finding a deeper sense of roots. If loved ones are vague or evasive, try to be forgiving rather than critical.rnA fairly heavy everyday schedule may weigh you down at times, making you want to withdraw, getting sensitive to those who won't listen at work or out in the neighbourhood. Maybe you need to change your approach. Be persistent in getting your message across, listen to feedback and find out what those around really want to hear. Being less dogmatic or forceful will help. Getting organised will be key, streamline your efficiency and manage your time well.rnSince nothing will stay the same for long at work, try to schedule in time for reflection and de-stressing, since you will get highly-strung at times. Be open to new methods and new approaches. Go with the flow and even if certain projects don't work, others will. One door closes, another opens.rnLuckily with Jupiter in your sign till November, your confidence will stay high and luck will be on your side. You'll attract enthusiastic responses from everyone you meet as well as resources. Late in the year, money will roll in faster. And probably disappear just as quickly since your spending will shoot up. Try to save some of your good fortune as you go.rnFrom July you'll be aiming to spread your wings to bring more excitement and adventure into your life. This'll be the time to find your vision and follow your dreams. Your ambitions will need a hefty push as well if you are to get the praise you want for your abilities. Don't be a shrinking violet. Take the initiative and make it happen over the next few months.