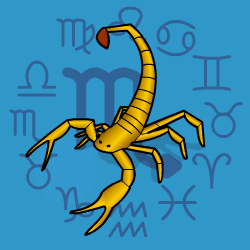 Scorpio
October 23 - November 22
---
Today's Horoscope for Sunday June 24th
You don't want to be bothered by tiny details since you want to see the broad picture in love at the moment. Just watch you are not being impractical or unrealistic. Maybe you pitched your expectations too high about one family or emotional matter and the reality was never going to match your inner visions. Try to see clearly what you have got in your nearest and dearest and be satisfied. If you want perfection, you will always be dissatisfied or discontented.
The Weekly Outlook from 18th June
You are thinking about loftier topics than usual since your wide-ranging mind is attracting you to fascinating new ideas. You will promote your pet causes with evangelical zeal. You will be passionate in romantic situations, wanting to create a beautiful, lively setting for what you really want to say. Why hang back when there is so much to play for? The moment is right, so just seize it. You'll definitely feel good by the end of the week.
Your Monthly Horoscope for June
Always a secretive, private sign, you'll be playing your cards even closer to your chest than usual. There'll be highly personal and perhaps financial matters which need resolving and while it may suit you to make your own decisions, really you'd be best to share and co-operate. Open up to close partners and see whether a compromise might help in reaching fairer agreements which suit both sides. The mood at home may be heated and you'll distract yourself by reorganising. Though loved ones in the family may not always be delighted at being swept into place along with the furniture. Lift them up with your enthusiasm and you'll fare better. Though truthfully at times they will prove evasive or preoccupied with their own concerns so you'll need to be gentle and forgiving. Luckily your confidence will stay high with social adventures and new fun company to keep you in good spirits. After mid month you'll have sorted out a few dilemmas and be into a more adventurous, less restrictive phase. You'll be keen to broaden your horizons wherever possible and be looking further afield for adventure.
and Next Month's Horoscope for July
Your recent surge of confidence has given you the courage to spread your wings and set your sights higher. You'll be determined over coming months to travel more, inject your adventure into your activities and find ways of broadening your horizons. The Cancer Solar Eclipse says don't think small, be bold. Maybe your ideas won't always be practical but if you don't try you'll stay stuck in a rut. Because you'll be putting a higher value on yourself, you'll find you attract positive responses from almost everyone you meet. Try not to get entangled in no- win discussions before mid month since they'll waste time and energy and leave a sour taste behind. Affectionate friends will be on hand with support. And from the 22nd you'll be into a hard-working few weeks when your talents and achievements will be recognised. It won't all be smooth progress since there'll be heated moments at home and certain pet projects will be on a go slow. But you'll push ahead with vigour.
Year Ahead 2018
Your head and your heart will tug in opposite directions in 2018 which won't suit as emotionally intense a sign as yours. You like to be fully engaged. But needs must. First half year will be focussed on home and family matters, making adjustments, reorganising and finding a deeper sense of roots. If loved ones are vague or evasive, try to be forgiving rather than critical.rnA fairly heavy everyday schedule may weigh you down at times, making you want to withdraw, getting sensitive to those who won't listen at work or out in the neighbourhood. Maybe you need to change your approach. Be persistent in getting your message across, listen to feedback and find out what those around really want to hear. Being less dogmatic or forceful will help. Getting organised will be key, streamline your efficiency and manage your time well.rnSince nothing will stay the same for long at work, try to schedule in time for reflection and de-stressing, since you will get highly-strung at times. Be open to new methods and new approaches. Go with the flow and even if certain projects don't work, others will. One door closes, another opens.rnLuckily with Jupiter in your sign till November, your confidence will stay high and luck will be on your side. You'll attract enthusiastic responses from everyone you meet as well as resources. Late in the year, money will roll in faster. And probably disappear just as quickly since your spending will shoot up. Try to save some of your good fortune as you go.rnFrom July you'll be aiming to spread your wings to bring more excitement and adventure into your life. This'll be the time to find your vision and follow your dreams. Your ambitions will need a hefty push as well if you are to get the praise you want for your abilities. Don't be a shrinking violet. Take the initiative and make it happen over the next few months.