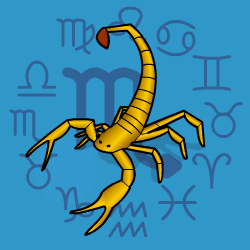 Scorpio
October 23 - November 22
---
Today's Horoscope for Tuesday January 24th
Jupiter is lazy, indulgent and good humoured and it will bring all that energy into the Moon areas of your life which are home, diet, family and the past. So you are likely to over indulge and expand as a result. Tightening your belt may be necessary for a brief while but there is nothing catastrophic about cash shortages. You merely have to learn caution, long term planning and a stronger sense of the value of money.
The Weekly Outlook from 23rd January
If there have been any family rifts recently, this could just be the time to wipe the slate clean and start again. Don't wait to be approached. Try to reach out and see where you can spread a little harmony around. At work your critical faculties are well honed which is valuable in checking accuracy but can lead to strained relationships. You never feel anyone else does things as well as you, so there can be noisy arguments at times.
Your Monthly Horoscope for January
Never still for a moment, you'll be racing round a busy everyday schedule and still finding energy for a packed social diary. Your high spirits and charm will win you admirers and compliments. But you'll need to soften your opinions in the first week. Coming across as too intense, self-righteous or negative won't be persuasive. Lighten up and listen to alternative viewpoints. You'll have half an eye on your personal finances, keen to sort out details and reorganising your paperwork. Though you'll be careless at points, relying too much on others. Workmates and others may veer to the over optimistic at points and promise more than they can deliver. You'll kick over the traces towards the 10th and refuse to compromise. Try not to push loved ones too hard after midmonth since they'll be irritable and too much may be said in the heat of the moment. After the 19th you'll relax happily at home or in familiar surroundings doing less.
and Next Month's Horoscope for February
Happy at home and out of sight, away from too many pressures from outside activities, you'll be ambling along. More contented within yourself than before and at times relaxed in your own company, you'll also be pleased to lend loved ones a helping hand when they need assistance. You'll be indulging in richer and sweeter food with temptations galore around. But you'll also be energetic so should burn off the excess calories. Keep a watchful eye on your ambitions or pet projects since you won't be tucked away for long. Give yourself a chance to plan what comes next. In the final ten days you'll bounce out onto the social scene in good spirits, wanting to be surrounded by loved ones. Your sparkle will prove infectious. Though there will be one tangle at work towards the end. Try not to over react to provocation or make over hasty decisions.
2017 Year Ahead
2017 will be a less tumultuous year though you'll still be wrestling with some of the same problems. In many ways it'll help if you regard the first nine months as a tidying up of loose ends. Give yourself plenty of space for private reflection. You'll enjoy your own company more and more, though not all the time. As you put the past to rest you'll be able to look ahead more enthusiastically.rnYou'll be pressured in your everyday schedule at work and in the neighbourhood, at times inclined to be overly forceful or negative in expressing your opinion. Lighten up and be more positive in your approach and you'll be more persuasive. You'll have to negotiate continuing fast-changes at work, which will require flexibility and the ability to grasp new opportunities when they come up. From August onwards you need to push extra hard to gain recognition.rnYou will be over burdened at times and rather nervy with too many going on so you'll need to be sensible about boosting your stamina, scheduling in rest and relaxation periods and generally getting a grip of your physical health.rnLoved ones will be gentle, caring and rather elusive so you won't always know how to pin them down. You may feel disappointed but it'll be important to treasure the good moments and be forgiving. See where you can hand out more love and affection and it'll come back to you.rnThere'll be new ways of reorganising your finances to bring you more security, partly because of new doors opening to you. Study every opportunity carefully and take considered decisions, not hasty ones.rnFrom October you suddenly step out into better times, with more confidence and enthusiasm, knowing your luck has turned. Resources will be drawn to you and improved relationships will be your rewards for past help.