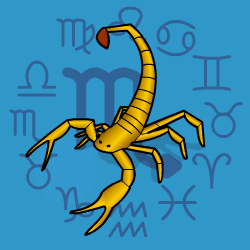 Scorpio
October 23 - November 22
---
Today's Horoscope for Friday February 24th
Try to say what you want without sounding too sharp. Your detachment can have its useful side since you can pick out what is worth saving and what is not. But push it too far and you will only cause problems. If you are a little wary of being on your own, put a bit of energy and effort into finding someone nice you can wrap yourself around. In the last resort, wear your most comfortable clothes, snuggle up in a comfortable armchair with a good book.
The Weekly Outlook from 20th February
You may be in a situation which you don't like but can't do much about. So you are feeling trapped and powerless. Don't push other people around, but neither is it a good time to let them have it all their own way either. Later in the week when you are around loved ones or social mates, you will want rounds of applause, compliments galore and appreciative attention. Be exuberant and make sure you get centre spotlight.
Your Monthly Horoscope for February
Happy at home and out of sight, away from too many pressures from outside activities, you'll be ambling along. More contented within yourself than before and at times relaxed in your own company, you'll also be pleased to lend loved ones a helping hand when they need assistance. You'll be indulging in richer and sweeter food with temptations galore around. But you'll also be energetic so should burn off the excess calories. Keep a watchful eye on your ambitions or pet projects since you won't be tucked away for long. Give yourself a chance to plan what comes next. In the final ten days you'll bounce out onto the social scene in good spirits, wanting to be surrounded by loved ones. Your sparkle will prove infectious. Though there will be one tangle at work towards the end. Try not to over react to provocation or make over hasty decisions.
and Next Month's Horoscope for March
Love will be lyrical, ethereal and at times rather elusive, so you'll wonder early on whether it was all a dream and a mirage. Have faith and all will come round your way. You'll be surrounded by admiration, affection and appreciation, showered with party invitations and compliments. Luck and positive thinking will produce results early and late in the month, so don't get discouraged when hitches and glitches occur. They'll only be temporary. Close partners will be revved up and pro-active from the 9th onwards so you'll be running to keep up and acting as peacemaker at times. After mid month you'll gradually turn your mind to work and practical matters, including money. You may need to cut back on spending around the 17th since one extravagance just won't be possible. There'll be warm-hearted support around the chores in the final days but you'll want to go your own way.
2017 Year Ahead
2017 will be a less tumultuous year though you'll still be wrestling with some of the same problems. In many ways it'll help if you regard the first nine months as a tidying up of loose ends. Give yourself plenty of space for private reflection. You'll enjoy your own company more and more, though not all the time. As you put the past to rest you'll be able to look ahead more enthusiastically.rnYou'll be pressured in your everyday schedule at work and in the neighbourhood, at times inclined to be overly forceful or negative in expressing your opinion. Lighten up and be more positive in your approach and you'll be more persuasive. You'll have to negotiate continuing fast-changes at work, which will require flexibility and the ability to grasp new opportunities when they come up. From August onwards you need to push extra hard to gain recognition.rnYou will be over burdened at times and rather nervy with too many going on so you'll need to be sensible about boosting your stamina, scheduling in rest and relaxation periods and generally getting a grip of your physical health.rnLoved ones will be gentle, caring and rather elusive so you won't always know how to pin them down. You may feel disappointed but it'll be important to treasure the good moments and be forgiving. See where you can hand out more love and affection and it'll come back to you.rnThere'll be new ways of reorganising your finances to bring you more security, partly because of new doors opening to you. Study every opportunity carefully and take considered decisions, not hasty ones.rnFrom October you suddenly step out into better times, with more confidence and enthusiasm, knowing your luck has turned. Resources will be drawn to you and improved relationships will be your rewards for past help.