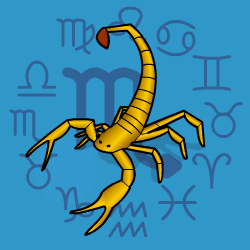 Scorpio
October 23 - November 22
---
Today's Horoscope for Monday August 21st
The solar eclipse at your midheaven comes round only rarely, so it's important to use the influences wisely. This is the time to sow the seeds of new ideas at work. They may not seem grand and glorious yet, but they will bear fruit in future if you start off with real commitment. Don't let it become stale or dull or lifeless. You've maybe got yourself stuck in a bit of a corner recently, and now is the time when there's more sparkle and excitement.
The Weekly Outlook from 21st August
You want to give your reputation a boost and get the recognition which your talents deserve. You need to give new projects a hefty push to make sure you are building for the days ahead. Get your head and your heart working together and make it happen. The influences around now tend to make everyone groan. Certainly life is not perfect. This is the way it is and once you accept the bottom line, then everything becomes much easier to handle.
Your Monthly Horoscope for August
Are you ready to pick up the baton and run with it? This is your chance to shine, to get your talents out on display, demand recognition and take the lead. Fortune favours the brave so skulking about on the sidelines doing an imitation of a shrinking violet won't do. The Leo Solar Eclipse at your midheaven will prompt you to be bold and get what's your due. OK the family need to be remembered, since you can't be always racing around away from home. Your heart will need attention as well as your ambitions. Your inner self-esteem has been rising in recent months and that core of quiet confidence will stand you in good stead. Your social life will be full and varied as you mix with the fun crowd and try out new activities and venues. In the final days you'll be surrounded by enthusiastic friends and partying in style.
and Next Month's Horoscope for September
Flattery will get you almost everywhere, so turn your charms onto the important people around. You'll be invited out to special occasions and be putting on a sparkling performance. Keeping up appearances will be important to you but give yourself some quiet time to stay in touch with what's going on inside. Dynamic friends won't let you sit idle but will be eager to volunteer their help in pushing ahead with team efforts and ensuring you don't let the grass grow under your feet. Sorting out longer term plans will be crucial, so keep that in mind. A loved one will be elusive, maybe evasive or trying to lean on you. Be as gentle as you can in telling them to stand on their own two feet. Being realistic in advance means you won't be disappointed when they aren't as strong a support as you had hoped. Money will need close attention towards mid month. Saving, not spending will help. You'll want to take it easy in the final days, retreating back into familiar surroundings and letting others do the running around.
2017 Year Ahead
2017 will be a less tumultuous year though you'll still be wrestling with some of the same problems. In many ways it'll help if you regard the first nine months as a tidying up of loose ends. Give yourself plenty of space for private reflection. You'll enjoy your own company more and more, though not all the time. As you put the past to rest you'll be able to look ahead more enthusiastically.rnYou'll be pressured in your everyday schedule at work and in the neighbourhood, at times inclined to be overly forceful or negative in expressing your opinion. Lighten up and be more positive in your approach and you'll be more persuasive. You'll have to negotiate continuing fast-changes at work, which will require flexibility and the ability to grasp new opportunities when they come up. From August onwards you need to push extra hard to gain recognition.rnYou will be over burdened at times and rather nervy with too many going on so you'll need to be sensible about boosting your stamina, scheduling in rest and relaxation periods and generally getting a grip of your physical health.rnLoved ones will be gentle, caring and rather elusive so you won't always know how to pin them down. You may feel disappointed but it'll be important to treasure the good moments and be forgiving. See where you can hand out more love and affection and it'll come back to you.rnThere'll be new ways of reorganising your finances to bring you more security, partly because of new doors opening to you. Study every opportunity carefully and take considered decisions, not hasty ones.rnFrom October you suddenly step out into better times, with more confidence and enthusiasm, knowing your luck has turned. Resources will be drawn to you and improved relationships will be your rewards for past help.