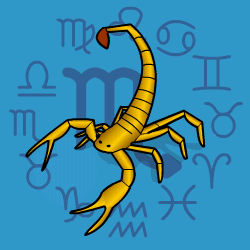 Scorpio
October 23 - November 22
---
Today's Horoscope for Sunday September 22nd
You'll connect with other's suffering, which gives you added sympathy and will make you a supportive listener. You don't feel you have to fight to get attention for yourself. You know your turn will come. This is very much a day to focus in on the small things. Try to see things exactly as they are, which is never as much fun as looking on the bright side, but might prove to be more useful. If you are on your own it's only a passing phase.
The Weekly Outlook from 16th September
You'll have a real understanding of other people's suffering which will give you added sympathy and make a supportive listener. You don't feel you have to fight to get attention for yourself. You know your turn will come. Try to see where all your recent efforts have made a dent on one situation and pushed it in a better direction. You are trying hard to change the conditions of your life. If you can't see any results yet, you soon will.
Your Monthly Horoscope for September
You'll be full steam ahead with plans, aided and abetted and well-supported by a wide array of friends and team mates. You won't be left on your own that's for sure. There may be the odd argument since the people around will be geared up and raring to go as well, but you'll be happy to listen to advice and feedback and your ability to charm everyone you meet will smooth any problems down. Have a slight care with cash since you'll tend to assume what you spend will be replenished which might not always be the case. And being overly generous or too sentimental with loved ones could also cost you. You may feel a touch let down that certain close companions want to lean on you or are not coming up to your expectation. Just be realistic. If you can get yourself together and sort out loose ends then you can start to wind down for a quieter few weeks from the 23rd onwards. You won't be socialising as much but will be happy to relax in the backwaters or at home for a while.
and Next Month's Horoscope for October
This is always your month for going slow at least for three weeks. Take time out to stand on the sidelines and let others take the strain while you look back over the past year, reflect, plan ahead and recharge your batteries. You will be frustrated by delays in certain projects and your inability to be as pro-active as you might like. Being patient will help since you can't push the river or turn the tide before the right time comes. Your everyday schedule will be pressured with some communication glitches. When you feel you aren't getting your message across, then you'll need to be persistent. Lightening up will also help and keeping your sense of humour handy. Money will come in just before mid month to put a smile on your face and you will be complimented on your appearance. If you turn on the charm you'll slide round a few edgy situations. Your birthday Sun from the 23rd will boost your energy and confidence. Though you'll be less than co-operative as the month closes.
Year Ahead 2019
A non-stop-go schedule for the first half year means you'll need to manage your time well, get organised and communicate clearly. Too much rushing around can run the risk of messages getting lost or misunderstood. If you feel cold-shouldered or that your views are not getting the right kind of attention then you'll need to rethink your approach. Don't become discouraged and withdraw. Be persistent. Close relationships will be moving into a changeable phase where both of you need more elbow room. With tolerance and an appreciation of partner's need for more independence as well as your own, you'll manage well. Though with the pressure of events and pulls on your time and energy, you may not always have a chance for sensible heart-to-heart chats. When you do, you may express yourself a touch too forcefully or be looking too much on the negative. Lighten up and keep your sense of humour handy. If loved ones, especially children, come across as evasive or inaccessible, not there when you need them, or worse try to lean on you, be firm about them standing on their own two feet. After mid year you'll want to shrug off restrictions and fly higher, allowing your imagination and sense of vision to point your way ahead. You'll find more stimulation and adventure and be broadening your horizons with determination. August will be a month to flaunt your talents and push ambitions ahead vigorously. Money should roll in faster all year though it'll probably disappear as fast since you're likely to be spending happily. Try to save some of your good fortune for a rainy day in later years. In the final month you'll notice more smiles and morale boosts in your everyday schedule. You'll be increasingly tolerant and positive-minded which will prove a hit with those around.