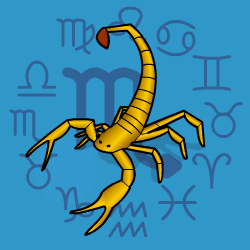 Scorpio
October 23 - November 22
---
Today's Horoscope for Wednesday March 29th
You'll have your head screwed on the right way. You are going to be nit-picking over every last tiny detail in a practical, sensible, down-to-earth kind of way. Just watch that you don't isolate yourself too much. Sometimes you can forget to keep your sense of humour handy. Tightening your belt may be necessary for a brief while but there is nothing catastrophic about cash shortages. You merely have to learn caution, long term planning, and a stronger sense of the value of money.
The Weekly Outlook from 27th March
The New Moon in your chart area of health and work comes round once a year to nudge you into getting more practical about your body and your daily schedule. Find ways of boosting your stamina in the months ahead and try not to waste energy going the long way round chores. If you can look at the society you live in and put a bit of energy into transforming it, you'll find very little resistance to anything you want to do.
Your Monthly Horoscope for March
Love will be lyrical, ethereal and at times rather elusive, so you'll wonder early on whether it was all a dream and a mirage. Have faith and all will come round your way. You'll be surrounded by admiration, affection and appreciation, showered with party invitations and compliments. Luck and positive thinking will produce results early and late in the month, so don't get discouraged when hitches and glitches occur. They'll only be temporary. Close partners will be revved up and pro-active from the 9th onwards so you'll be running to keep up and acting as peacemaker at times. After mid month you'll gradually turn your mind to work and practical matters, including money. You may need to cut back on spending around the 17th since one extravagance just won't be possible. There'll be warm-hearted support around the chores in the final days but you'll want to go your own way.
and Next Month's Horoscope for April
You'll be juggling a pile of chores with a busy and enjoyable social life, finding time to spend with loved ones and to keep up with one close partner's hectic schedule and demands. So it won't be boring. You'll need to act as peacemaker at times otherwise arguments will surface which would be a waste of energy. If everyone pulls together you'll get to where you want to be faster. It'll be a pressured everyday schedule so you may get overly intense or dogmatic at times. Lighten up and rely on the enthusiasm of workmates to keep you in good spirits. Loved ones and children will rally round with attention and affection so you'll feel centre of attention when out at parties and gatherings. Try to keep tension levels down towards mid month since there will be sudden changes which will require you to keep your wits about you and not react too hastily. In the final days you'll be working less hard, with more support around. Though you'll need to push determinedly behind the scenes to sort out financial and emotional tangles.
2017 Year Ahead
2017 will be a less tumultuous year though you'll still be wrestling with some of the same problems. In many ways it'll help if you regard the first nine months as a tidying up of loose ends. Give yourself plenty of space for private reflection. You'll enjoy your own company more and more, though not all the time. As you put the past to rest you'll be able to look ahead more enthusiastically.rnYou'll be pressured in your everyday schedule at work and in the neighbourhood, at times inclined to be overly forceful or negative in expressing your opinion. Lighten up and be more positive in your approach and you'll be more persuasive. You'll have to negotiate continuing fast-changes at work, which will require flexibility and the ability to grasp new opportunities when they come up. From August onwards you need to push extra hard to gain recognition.rnYou will be over burdened at times and rather nervy with too many going on so you'll need to be sensible about boosting your stamina, scheduling in rest and relaxation periods and generally getting a grip of your physical health.rnLoved ones will be gentle, caring and rather elusive so you won't always know how to pin them down. You may feel disappointed but it'll be important to treasure the good moments and be forgiving. See where you can hand out more love and affection and it'll come back to you.rnThere'll be new ways of reorganising your finances to bring you more security, partly because of new doors opening to you. Study every opportunity carefully and take considered decisions, not hasty ones.rnFrom October you suddenly step out into better times, with more confidence and enthusiasm, knowing your luck has turned. Resources will be drawn to you and improved relationships will be your rewards for past help.