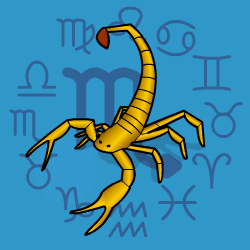 Scorpio
October 23 - November 22
---
Today's Horoscope for Monday September 25th
Try to see things exactly as they are, which is never as much fun as looking on the bright side, but might prove to be more useful. If you're more on your own than usual, it's only a temporary phase. You know you have to be sensible about cash, but maybe you also need to find trust in the bounty of the universe. Money like all energy needs to be able to flow. Hang on too tightly and you can stop it coming towards you.
The Weekly Outlook from 25th September
This week there could be a door opening in your life that allows you to see new possibilities. But if you are too reckless and impulsive, you may not gain from the situation. So if you can be calm and sensible, you will find you get more benefits out of this. After midweek you will want to cruise along without any rough edges or unpleasantness. Feeling close to the right people and in tune with your surroundings will be a delight.
Your Monthly Horoscope for September
Flattery will get you almost everywhere, so turn your charms onto the important people around. You'll be invited out to special occasions and be putting on a sparkling performance. Keeping up appearances will be important to you but give yourself some quiet time to stay in touch with what's going on inside. Dynamic friends won't let you sit idle but will be eager to volunteer their help in pushing ahead with team efforts and ensuring you don't let the grass grow under your feet. Sorting out longer term plans will be crucial, so keep that in mind. A loved one will be elusive, maybe evasive or trying to lean on you. Be as gentle as you can in telling them to stand on their own two feet. Being realistic in advance means you won't be disappointed when they aren't as strong a support as you had hoped. Money will need close attention towards mid month. Saving, not spending will help. You'll want to take it easy in the final days, retreating back into familiar surroundings and letting others do the running around.
and Next Month's Horoscope for October
All you'll really want is to put your feet up on the sidelines and let others do the running around. But your fun and dynamic friends won't let you sit idle. They'll be willing you on, laughing at your jokes and making you feel like a million dollars. Just try to get some quiet time for reflection to put recent events into perspective and planning for your next birthday year ahead. Taking a lighter tone in important discussions will lead to faster agreements, though you'll be inclined to be overly intense at times up to the 10th. Being realistic about money will cut down on your spending temporarily but you won't have much longer to worry about shortages, since Saturn will soon be moving on. Jupiter moving into your own sign on the 10th to stay for a year ahead, will do wonders for your confidence and morale, starting you off on a new 12 year cycle of growth, expansion and good luck. Your positive attitude will bring positive results. In the final days you'll be more pro-active and invigorated.
2017 Year Ahead
2017 will be a less tumultuous year though you'll still be wrestling with some of the same problems. In many ways it'll help if you regard the first nine months as a tidying up of loose ends. Give yourself plenty of space for private reflection. You'll enjoy your own company more and more, though not all the time. As you put the past to rest you'll be able to look ahead more enthusiastically.rnYou'll be pressured in your everyday schedule at work and in the neighbourhood, at times inclined to be overly forceful or negative in expressing your opinion. Lighten up and be more positive in your approach and you'll be more persuasive. You'll have to negotiate continuing fast-changes at work, which will require flexibility and the ability to grasp new opportunities when they come up. From August onwards you need to push extra hard to gain recognition.rnYou will be over burdened at times and rather nervy with too many going on so you'll need to be sensible about boosting your stamina, scheduling in rest and relaxation periods and generally getting a grip of your physical health.rnLoved ones will be gentle, caring and rather elusive so you won't always know how to pin them down. You may feel disappointed but it'll be important to treasure the good moments and be forgiving. See where you can hand out more love and affection and it'll come back to you.rnThere'll be new ways of reorganising your finances to bring you more security, partly because of new doors opening to you. Study every opportunity carefully and take considered decisions, not hasty ones.rnFrom October you suddenly step out into better times, with more confidence and enthusiasm, knowing your luck has turned. Resources will be drawn to you and improved relationships will be your rewards for past help.