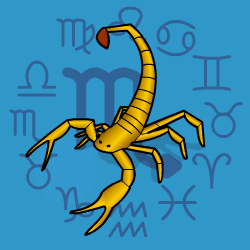 Scorpio
October 23 - November 22
---
Today's Horoscope for Saturday November 25th
You won't be able to sit still in your normal routines: you certainly don't want to be doing the same boring old things, so you're whizzing around, as I say, in a slightly startling kind of way, which is good for you and good for everyone round about you because it keeps everyone on the edge of their seats. It'll be a day for feeling stimulated, alive, awake, and mentally on your toes. There'll be moments when you're in a very lovely, lively, fun-loving mood.
The Weekly Outlook from 20th November
In your emotional life you want stability, to keep things as they are. So watch that you don't get bit smothering or restrictive with loved ones. For relationships to grow,they have to stay alive and open. If you clutch too much, clearly that won't happen. You are being drawn more than usual to the good life, and all it brings with it, which never comes cheap. But you will not be happy unless you can keep on boosting your nest egg as well.
Your Monthly Horoscope for November
Beaming with confidence, exuberance and charm, you'll find everyone around responds well to your positive approach and way of smoothing down difficulties. You'll want a happy, harmonious atmosphere and your sunny temperament will make it happen. In the odd spare moment you'll cast your eagle eye over the detail of your finances since you'll know that reading the fine print and being on top of practicalities will pay off. You'll be able to adopt a different attitude which will also help. Certain projects will be running slow so you'll need to be patient and keep plotting, planning and rethinking behind the scenes. By early December you'll be ready to forge ahead. Though there'll be an obstacle to overcome after mid-month. Avoid locking horns in unwinnable arguments since that won't help. In the final week, you'll be looking for pleasure and security. One means spending money, the other saving it, so try to get the balance right.
and Next Month's Horoscope for December
Recently you've been pent up and raring to go, but feeling restricted. Just give yourself another few days. Timing is everything. If you let your frustrations out too impulsively and force yourself into gear too quickly then it will backfire. Loved ones will be vague and dreamy, none too practical early on, so let them drift along at their own pace. You'll have the chance to tackle your finances to see how to get yourself better organised and to manage your year-end spending. From the 9th suddenly all the red lights will turn green and you'll be off at speed. You'll sweep obstacles to one side and get irked by anyone who gets in your way. But at least finally you can now tackle all the projects which have been hanging fire. In the final ten days there'll be a mood change with Saturn moving into Capricorn for two years plus ahead. You'll need to put effort into getting your views across clearly. If everyday companions aren't listening then you'll need to find a new approach. Don't get disheartened and stay quiet. Be persistent. Gestures of affection from the 25th onwards will make you feel popular.
2017 Year Ahead
2017 will be a less tumultuous year though you'll still be wrestling with some of the same problems. In many ways it'll help if you regard the first nine months as a tidying up of loose ends. Give yourself plenty of space for private reflection. You'll enjoy your own company more and more, though not all the time. As you put the past to rest you'll be able to look ahead more enthusiastically.rnYou'll be pressured in your everyday schedule at work and in the neighbourhood, at times inclined to be overly forceful or negative in expressing your opinion. Lighten up and be more positive in your approach and you'll be more persuasive. You'll have to negotiate continuing fast-changes at work, which will require flexibility and the ability to grasp new opportunities when they come up. From August onwards you need to push extra hard to gain recognition.rnYou will be over burdened at times and rather nervy with too many going on so you'll need to be sensible about boosting your stamina, scheduling in rest and relaxation periods and generally getting a grip of your physical health.rnLoved ones will be gentle, caring and rather elusive so you won't always know how to pin them down. You may feel disappointed but it'll be important to treasure the good moments and be forgiving. See where you can hand out more love and affection and it'll come back to you.rnThere'll be new ways of reorganising your finances to bring you more security, partly because of new doors opening to you. Study every opportunity carefully and take considered decisions, not hasty ones.rnFrom October you suddenly step out into better times, with more confidence and enthusiasm, knowing your luck has turned. Resources will be drawn to you and improved relationships will be your rewards for past help.