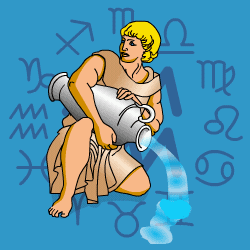 Aquarius
January 21 - February 19
---
Today's Horoscope for Tuesday June 27th
You can look ahead and see a really rosy glow on the horizon. Your optimism will be high but you need to check out that it isn't a mirage. Being a Pollyanna and thinking everything is going to be wonderful, it morale boosting but it is not always helpful. Luckily, you have Mercury around at the moment which has a cool, clinical eye, you can sometimes nit pick too much, insisting on absolute perfection, or become bogged down in trivia.
The Weekly Outlook from 26th June
You should be dealing well with everyone around you. The only slight danger is that you will be whizzing ahead so fast you forget to pay attention to practical details. Later in the week you'll be in a very competitive mood, you definitely want to say what you think. Your mind is sharp and clear, but you may talk in a way that ruffles other people's feathers. Try to add a few jokes to lighten the conversation
Your Monthly Horoscope for June
This is your time to sparkle in the spotlight, flirt, have fun and accept every invitation going. Be flamboyant and be bold and you'll enjoy yourself even more. OK so you won't avoid the chores altogether with Mars dragging its heels through your chart area of duty. But if you can delegate more and not assume you're the only one capable of doing tasks properly then you'll free up more time for entertainment. Putting attention towards boosting your stamina will also help if you're going to be burning the candle at both ends. Have a care with cash early on since a moment's carelessness could cost. Mid month an old friend may be acting strangely. Try not to get critical even if they distance themselves briefly. Just accept that their loyalty in the longer term won't be in doubt. Home will be happier with more chances to relax and indulge with loved ones. You may even find a chance to plan a spot of redecoration. In the final ten days, you'll be doubling up on work, so some indulgences will have to be pushed aside.
and Next Month's Horoscope for July
This is never the most glamorous month of the way for you, so needs must that you buckle down to chores and being helpful. You'll be keen to get all tasks done to your own high standards but try to delegate as well otherwise you'll over burden yourself. Looking after health and fitness will be a priority since you will be facing several challenges and will need to take time out to have fun and relax. Venus moving into Gemini on the 5th will do you the world of good since you'll be flirting, partying and surrounded by the affection of loved ones. Sitting down for heart to heart chats with one close partner will ease tensions. They really want to hear what you have to say so don't hold back. After mid month for a few days you'll be highly strung, inclined to dash off in several directions at once. Just don't over stretch yourself. Then more support and encouragement will be your gift after the 20th with partners willing to throw their energy behind you.
2017 Year Ahead
After recent unsettled times, this could be your year for getting a grip. Your everyday schedule will still be helter skelter but you'll be more aware of the necessity for sorting out practical long term plans. Sitting down with older or more serious friends and taking sensible advice will keep you on the right track. Your social circle may be narrower than before but you'll know you can rely on the best mates who are around.rnJupiter in Libra for nine months will inspire you and boost your idealism. You'll want to find a dream or a vision that you can follow in the time ahead, which may include travelling further afield or opening your mind to new and exciting ideas. Your enthusiasm may run away with you at times so you won't always be realistic but by aiming high you'll get further than you might have done by being more cautious.rnJust give yourself time for private reflection since Pluto will keep pulling you down to examine what is really going on under the surface of your life. Try to be honest and own the darker feelings you have.rnThe February Solar Eclipse in Pisces will nudge you into getting your personal finances into better shape. Being pro-active will bring results, while throwing money around to impress which will be a temptation won't. By the August Leo Eclipse, you'll be turning your mind to your closest relationship, aware that being more adaptable will be vital to the development of good feelings between you.rnSuccess will come from October onwards in your career and community activities with admiration and appreciation coming your way.