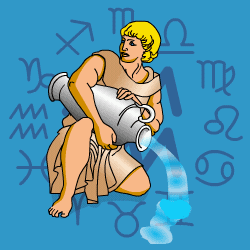 Aquarius
January 21 - February 19
---
Today's Horoscope for Friday February 24th
You will go out of your way to smooth ruffled feathers, or avoid confrontation. A calm atmosphere makes you feel settled, where angry words get your more on edge than usual. Just remember to stand up for yourself at times, since you can give in too much just to keep the peace. It's very important that you're not left on your own or pushed to one side just for a day or so. Ask for what you need, which is more pampering, indulging and feeling comforted.
The Weekly Outlook from 20th February
Try not to do things only for your own good this week. If you can do things for otherrnpeople or for the group energy, then it will work well. Be prepared to put in the legwork and then you will find you've created something really very solid. You will be feeling more stubborn over cash matters. Mull everything over carefully and once you have reached a considered decision, take steps to resolve whatever is bothering you.
Your Monthly Horoscope for February
Suddenly the sun seems to be shining on you with your birthday sign boosting your morale till the 18th. Your bubbly presence will brighten up every room and you'll be welcome wherever you go. Thoughtful gestures from everyday mates at work or in the neighbourhood will keep you smiling. And your silver tongue and compliments will win you new friends. You'll have a head filled with grand plans and dreams of travel or adventure, so it'll be a good time to plan a holiday. The Lunar Eclipse on the 11th in your opposite sign hints that taking close partner's views into account will be a help as you race ahead with your own schemes. After the 18th you'll turn your mind to your personal finances and start a push to improve your security. A busy schedule all month will keep you running and rarely bored though you'll get impatient with delays and mistakes, especially towards the final few days. Be more cautious.
and Next Month's Horoscope for March
To spend or to save? That's your dilemma as you face three weeks of the Pisces Sun ahead. The February Solar Eclipse gave a warning that throwing money around to impress won't be a good idea in the months ahead. Getting a grip and planning to improve your security will bring much better results. But you'll still be tempted by treats and won't always hold back. From the 10th you'll turn your energy toward reorganising at home which may not always meet with approval from loved ones. But you won't care. Certain pet projects elsewhere will be on a go-slow so you'll be determined to use the time wisely to clear up muddles and do some clearing out. Luckily Venus in Aries all month will allow you to turn on the charm and utter soft words to calm down any ruffled feathers. You'll speed on faster after the 20th and be rarely bored and always intrigued by the people you meet.
2017 Year Ahead
After recent unsettled times, this could be your year for getting a grip. Your everyday schedule will still be helter skelter but you'll be more aware of the necessity for sorting out practical long term plans. Sitting down with older or more serious friends and taking sensible advice will keep you on the right track. Your social circle may be narrower than before but you'll know you can rely on the best mates who are around.rnJupiter in Libra for nine months will inspire you and boost your idealism. You'll want to find a dream or a vision that you can follow in the time ahead, which may include travelling further afield or opening your mind to new and exciting ideas. Your enthusiasm may run away with you at times so you won't always be realistic but by aiming high you'll get further than you might have done by being more cautious.rnJust give yourself time for private reflection since Pluto will keep pulling you down to examine what is really going on under the surface of your life. Try to be honest and own the darker feelings you have.rnThe February Solar Eclipse in Pisces will nudge you into getting your personal finances into better shape. Being pro-active will bring results, while throwing money around to impress which will be a temptation won't. By the August Leo Eclipse, you'll be turning your mind to your closest relationship, aware that being more adaptable will be vital to the development of good feelings between you.rnSuccess will come from October onwards in your career and community activities with admiration and appreciation coming your way.