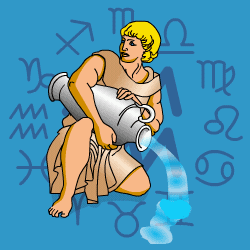 Aquarius
January 21 - February 19
---
Today's Horoscope for Monday August 21st
The solar eclipse in your opposite sign is significant where close relationships are concerned. This is the time to start afresh. Let bygones be bygones. There could even be new romances round the corner for the unattached and on the lookout. You will find that you've got much more sparkling relationships with friends, neighbours and other people around. You want to be one of a gang, one of a crowd, but not crowded - you can't bear people being possessive or telling you what to do.
The Weekly Outlook from 21st August
There is no doubt that you need another half before you will feel secure in whatever you are doing. You may have to be less self sufficient and more adaptable to ensure that close partners are on your wavelength. You may have to give before you get, but it will be worth it. There are times when throwing caution to the winds is for the best. But this week isn't one of them. Be exceptionally meticulous and attentive to detail.
Your Monthly Horoscope for August
A month with two Eclipses, the Lunar in your own sign and the Solar in your opposite sign, is guaranteed to be significant. You will be trying to balance partner's needs with your own. How to be independent and interdependent will be your dilemma. Though at the end of it all, you'll know you want to make choices which will bring you more fulfilling relationships in future. Being less self-sufficient and more adaptable will be one thought. Venus in Cancer until the 26th will make helping loved ones more enjoyable and you'll take pleasure in doing tasks for their own sake and not for the reward it'll bring. You may be over eating at times to compensate for all this giving so you'll need to exercise more. Your enthusiasm will stay high, even in the face of a tricky dilemma or two in the final days. Be persistent. Answers won't come overnight but they will if you just keep asking yourself the right questions.
and Next Month's Horoscope for September
Slow and steady needs to be your motto with the Sun and Mars in your deepest, most confidential chart area. You will feel you are pushing boulders uphill at times but you'll know your efforts won't be in vain. Emotionally and financially you are aiming to reach better and fairer agreements. This won't happen overnight but will take persistence and flexibility. Don't think that compromising on certain points means humiliation. Finding the middle ground will clear any resentment for the future. You will need to keep an eye on your personal finances, since carelessness or over-generosity could cost you more than you expect. Be kind but not too much so that you put your own security at risk. One friend will be distant or preoccupied towards mid month. Try not to over react, since they'll soon be back to their old form. In the final week, you'll sense that the greater part of one seemingly unsolvable dilemma will be done and dusted. You'll be free to travel or find more stimulating activities to lift your spirits.
2017 Year Ahead
After recent unsettled times, this could be your year for getting a grip. Your everyday schedule will still be helter skelter but you'll be more aware of the necessity for sorting out practical long term plans. Sitting down with older or more serious friends and taking sensible advice will keep you on the right track. Your social circle may be narrower than before but you'll know you can rely on the best mates who are around.rnJupiter in Libra for nine months will inspire you and boost your idealism. You'll want to find a dream or a vision that you can follow in the time ahead, which may include travelling further afield or opening your mind to new and exciting ideas. Your enthusiasm may run away with you at times so you won't always be realistic but by aiming high you'll get further than you might have done by being more cautious.rnJust give yourself time for private reflection since Pluto will keep pulling you down to examine what is really going on under the surface of your life. Try to be honest and own the darker feelings you have.rnThe February Solar Eclipse in Pisces will nudge you into getting your personal finances into better shape. Being pro-active will bring results, while throwing money around to impress which will be a temptation won't. By the August Leo Eclipse, you'll be turning your mind to your closest relationship, aware that being more adaptable will be vital to the development of good feelings between you.rnSuccess will come from October onwards in your career and community activities with admiration and appreciation coming your way.