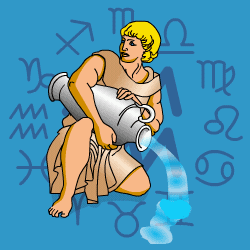 Aquarius
January 21 - February 19
---
Today's Horoscope for Saturday April 21st
You may be living too much in the past, worrying over old slights and hurts. Do not fall into the glooms of self-doubt now. You will not lose anything or anyone who is necessary to your future happiness or security. Just observe, evaluate and let go what wants to go from your life. At times at the moment you are not clear why you feel frustrated, or what is sticking to you. You need to listen to subtle cues and pick up on undercurrents.
The Weekly Outlook from 16th April
Everyone knows your heart is in the right place but they may not be clear about what you are driving at. So try to collect your thoughts before you dash into discussions. You know you need to get more discipline into your everyday schedules, and this could be the week to start. Domestic harmony is very important to you now. You want to step back from your recent busy schedule to take stock and put your feet up more regularly.
Your Monthly Horoscope for April
Racing around at speed, talking constantly, you'll give every impression of being on top form. Though behind the scenes you will be wrestling with a few frustrations and irksome problems that seem to have no easy solution. Just pace yourself, backtrack and unpick mistakes. And understand that this is a time of sorting out what to jettison from your life and what you want to carry with you for the future. That will not be a fast process, more a longish phase of sifting, sorting and refining your options and deciding what will really suit you. At home there will be indulgent support from the family and chances to snuggle down. You'll turn your mind to ways of brightening up the decoration since you'll want beauty and elegance around. Your schedule will slow after the 20th giving you even more chance to wind down. Try to push unsolvable problems to one side when you can.
and Next Month's Horoscope for May
Snuggled down happily at home in in familiar surroundings you won't want to venture far for three weeks. This is your chance to wind down down, be indulged and have thinking time to get recent events into perspective. The family will rally round and there'll be heart-to-heart chats to sort out a few tangles and make you feel good. One triumph at work or in your community activities will make you smile contentedly. From mid month you'll sense a restlessness that wasn't there before, as you consider ways of changing the ambience at home or even in the time ahead to move house. Uranus will stay at the foot of your chart for the next few years, so you will want to explore now possibilities. Suddenly you'll find your energy soars along with your determination and courage. You'll be in a dynamically go-ahead mood not allowing anything or anyone to slow you down. From the 21st you'll push thoughts of duty to one side and head for fun. This is the start of your sociable four weeks of the year, so refuse no invitations and motivate yourself to stir up more adventures, especially ones that will bring attention your way.
Year Ahead 2018
What do you want out of your life and your closest relationship? Those are your key questions through 2018 with the Eclipses in your own and your opposite sign. You'll start in a more independent frame of mind, making up your own mind what your priorities are. Though that will gradually change through mid year as you work out how to improve your emotional life. At that point being less self-sufficient and more adaptable will be the key to greater fulfilment. You can't be an island unto yourself.rnJupiter at your midheaven will bring success your way, so whatever you touch at work or in your community activities will work out faster and better than you expect. You'll glow with pleasure at the appreciation coming your way.rnHaving to juggle the demands of an extra-busy everyday schedule will scramble your brain at times, so stay focussed, make out to-do lists and take every chance you can get to wind down and de-stress. Money muddles may occur since you'll overlook important details or leave it to someone else. Going on a wing and a prayer usually doesn't work well where finances are concerned. So be sensible, better organised and not overly generous.rnKeeping an eye on health and fitness will also be an idea from July onwards, since you'll need to boost your stamina however you can. And not overload yourself. If you can reach better agreements with close partners then they can help take the load off your shoulders.rnLate in the year a wider circle of fun and enthusiastic friends will brighten your spirits.