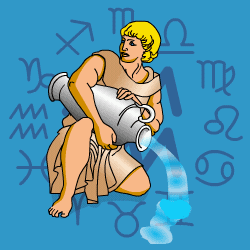 Aquarius
January 21 - February 19
---
Today's Horoscope for Tuesday April 25th
You are in a searching mood at the moment, wanting to ferret out fascinating bits of information, using your mind for research. Your mind is razor sharp, witty and fast moving. Let a blast of fresh air blow through since it will get rid of cobwebs. Your moods will be erratic and unpredictable just briefly, and you will not sit still for long. You will be reorganising at home or stirring up a bit of action elsewhere. Try to avoid getting pulled into tricky situations.
The Weekly Outlook from 24th April
This week try to decide what changes you can make in your life that will bring you more emotional security over the next 12 months. You want to feel that there is a reassuring nest which you can retreat to when the outside world gets too aggravating. Sharing your deeper emotions is not easy at the moment. There is safety in numbers for you just now so you are aiming for a wide social circle, rather than exclusive twosomes.
Your Monthly Horoscope for April
Racing along at top speed, you'll be talking constantly, rarely bored and very much on your toes. But you'll need to get your priorities straight and start making lists otherwise you'll end up running round in circles. There'll be heated moments at home and within the family, so you'll need to channel the energy of those close in more constructive directions. Your need to constantly be reorganising may not go down too well, so try to sweep them up in your enthusiasm. If you can open up and explain what's really bothering you behind the scenes, it'll help. No sense in keeping worries to yourself. Spending money on treats and indulgences will be all too tempting and very enjoyable. Try to be creative in thinking up new ways to boost your finances. In the final days you'll find the mood at home easier and more relaxed. You'll be keen to settle down with loved ones more often. Though you'll also be raring to go socially and as far as sporting activities are concerned.
and Next Month's Horoscope for May
You'll be spoiled for choice over whether to relax at home with your feet up or go off jaunting out on the party scene. The family will certainly appreciate you spending more time in their company, having heart-to-heart chats and mulling over old memories. And giving yourself a chance to get recent events into perspective will also help. But with your energy soaring you'll not be content with too much idle time. Your passionate enthusiasm will send you in search of social fun and games. You'll insist that loved ones follow suit which may not always meet with their agreement so try not to sound too bossy. A muddle over money around the 11th will be sorted quickly but could be forestalled if you stay on top of details. You'll be soaking in information from all around you and be keen to inject more adventure into your life. Even more entertainment will come in the final ten days. Just be patient with a friend who will be out of sorts.
2017 Year Ahead
After recent unsettled times, this could be your year for getting a grip. Your everyday schedule will still be helter skelter but you'll be more aware of the necessity for sorting out practical long term plans. Sitting down with older or more serious friends and taking sensible advice will keep you on the right track. Your social circle may be narrower than before but you'll know you can rely on the best mates who are around.rnJupiter in Libra for nine months will inspire you and boost your idealism. You'll want to find a dream or a vision that you can follow in the time ahead, which may include travelling further afield or opening your mind to new and exciting ideas. Your enthusiasm may run away with you at times so you won't always be realistic but by aiming high you'll get further than you might have done by being more cautious.rnJust give yourself time for private reflection since Pluto will keep pulling you down to examine what is really going on under the surface of your life. Try to be honest and own the darker feelings you have.rnThe February Solar Eclipse in Pisces will nudge you into getting your personal finances into better shape. Being pro-active will bring results, while throwing money around to impress which will be a temptation won't. By the August Leo Eclipse, you'll be turning your mind to your closest relationship, aware that being more adaptable will be vital to the development of good feelings between you.rnSuccess will come from October onwards in your career and community activities with admiration and appreciation coming your way.