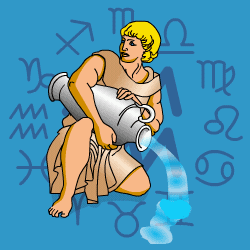 Aquarius
January 21 - February 19
---
Today's Horoscope for Tuesday October 17th
You are taking time and trouble to speak in as precise and effective a way as possible. Your ambitions will be helped by your communication skills, though you may come across as not emotional enough. You will want to be the one with your hands on the reins of control but you will need to force yourself to share more. In your personal life, your need to be in charge could be leading to disagreements, though you tend not to bring confrontations out into the open.
The Weekly Outlook from 16th October
Most of us like quite a lot of stability, so we get edgy when things happen unpredictably. Life begins to feel a little bit wild or unsettled. What you have to understand when the winds of change blow through, is that it's basically OK. Change can open you up to a life that allows you to be more yourself. At work you are the one who has all the relevant info down to the last detail. Just don't drown everyone in too many facts and figures.
Your Monthly Horoscope for October
Nothing ever moves as fast as you'd like when Mars sits in the most confidential area of your chart. But have faith that your discreet efforts aren't wasted since slowly you'll reach better agreements over your emotional life or your finances, which will make for greater security ahead. You'll find your feelings are more intense up to the 14th, so try to see where you're exaggerating one situation. Really most of all you'd love to be travelling further afield but if you are stuck you can always broaden the scope of your activities to bring you more stimulation. You'll be on the crest of a wave from the 10th with lucky Jupiter crossing your midheaven for a year ahead. Whatever you attempt at work or elsewhere in your life should work out better and more easily than you expect. You'll gain more standing in your community and find your confidence lifts as a result. In the final days you'll be firing on all cylinder and talking up a storm. With a real triumph on the 26th to make you smile.
and Next Month's Horoscope for November
With the intensely emotional Scorpio Sun, romantic Venus and lucky Jupiter all at your midheaven, you should be out sparkling in the spotlight socially, at work or in your community activities. This is certainly not the time to hide away and be shy. Showcase your talents and achievements and accept all compliments with a smile. You'll take the lead and find others follow along behind much to your delight. Friends will be keen to hear your fun, off-beat ideas so they'll be well-entertained. Just try to tone down your exuberant opinions after midmonth since you may not find they all meet with universal agreement and it would be a shame to spoil the mood. After the 22nd you'll be happy to step back slightly from centre stage to throw yourself wholeheartedly into team efforts or activities with friends.
2017 Year Ahead
After recent unsettled times, this could be your year for getting a grip. Your everyday schedule will still be helter skelter but you'll be more aware of the necessity for sorting out practical long term plans. Sitting down with older or more serious friends and taking sensible advice will keep you on the right track. Your social circle may be narrower than before but you'll know you can rely on the best mates who are around.rnJupiter in Libra for nine months will inspire you and boost your idealism. You'll want to find a dream or a vision that you can follow in the time ahead, which may include travelling further afield or opening your mind to new and exciting ideas. Your enthusiasm may run away with you at times so you won't always be realistic but by aiming high you'll get further than you might have done by being more cautious.rnJust give yourself time for private reflection since Pluto will keep pulling you down to examine what is really going on under the surface of your life. Try to be honest and own the darker feelings you have.rnThe February Solar Eclipse in Pisces will nudge you into getting your personal finances into better shape. Being pro-active will bring results, while throwing money around to impress which will be a temptation won't. By the August Leo Eclipse, you'll be turning your mind to your closest relationship, aware that being more adaptable will be vital to the development of good feelings between you.rnSuccess will come from October onwards in your career and community activities with admiration and appreciation coming your way.