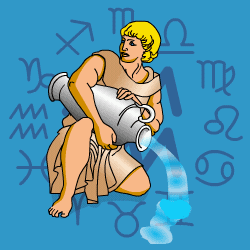 Aquarius
January 21 - February 19
---
Your Birthday Horoscope
IF IT'S YOUR BIRTHDAY TODAY your year ahead will be fast-moving, chatty though perhaps too honest and outspoken at times. You'll tell it like it is no matter the consequences. There will be opportunities around to improve your personal finances if you stay determined and on top of detail. Then you'll be able to spend on treats. Friends may be in shorter supply than usual but the ones around will be loyal and rock solid in their support. Success will come after mid year.
Today's Horoscope for Tuesday January 24th
Today the Moon is in easy aspect to Uranus, so your moods will be extremely lively and unpredictable for a little while. It will be almost impossible for you to sit still or stay in one place for very long. You will be skipping around here, there and everywhere, looking for entertaining conversations, wanting to swap new ideas, and in general be off doing anything that is not routine or humdrum in any way.
The Weekly Outlook from 23rd January
Maybe you will feel more self sufficient this week, but if you can't do that when the New Moon is in your sign, when can you? You will want to do anything which makes you feel at the centre of attention, even if it is just your own. If you are not being heard, you will just turn up the volume, or become sarcastic. You won't hold back or take hostages in arguments and definitely won't put up with anyone who gets in your way.
Your Monthly Horoscope for January
A slow start to the new year will give you a chance to reflect on recent events and get them into perspective. You'll have confidential matters you won't want to share so you'll need to dig deep within yourself to find your own answers. You'll treat yourself to a few indulgences and extravagances since Venus joining Mars in Pisces will make temptations irresistible. You'll expect loved ones to do all the running around and be more possessive than usual. Then suddenly towards the 10th you'll want more elbow room and be direct in your opinions which won't always go down well. A friendship will go through a troubled couple of days around the 19th. Try to bear with them and don't fly off the handle. Thereafter your birthday Sun will bounce you into a more outgoing and exuberant few weeks. You'll be speeding along in good style, looking great and making quite a stir.
and Next Month's Horoscope for February
Suddenly the sun seems to be shining on you with your birthday sign boosting your morale till the 18th. Your bubbly presence will brighten up every room and you'll be welcome wherever you go. Thoughtful gestures from everyday mates at work or in the neighbourhood will keep you smiling. And your silver tongue and compliments will win you new friends. You'll have a head filled with grand plans and dreams of travel or adventure, so it'll be a good time to plan a holiday. The Lunar Eclipse on the 11th in your opposite sign hints that taking close partner's views into account will be a help as you race ahead with your own schemes. After the 18th you'll turn your mind to your personal finances and start a push to improve your security. A busy schedule all month will keep you running and rarely bored though you'll get impatient with delays and mistakes, especially towards the final few days. Be more cautious.
2017 Year Ahead
After recent unsettled times, this could be your year for getting a grip. Your everyday schedule will still be helter skelter but you'll be more aware of the necessity for sorting out practical long term plans. Sitting down with older or more serious friends and taking sensible advice will keep you on the right track. Your social circle may be narrower than before but you'll know you can rely on the best mates who are around.rnJupiter in Libra for nine months will inspire you and boost your idealism. You'll want to find a dream or a vision that you can follow in the time ahead, which may include travelling further afield or opening your mind to new and exciting ideas. Your enthusiasm may run away with you at times so you won't always be realistic but by aiming high you'll get further than you might have done by being more cautious.rnJust give yourself time for private reflection since Pluto will keep pulling you down to examine what is really going on under the surface of your life. Try to be honest and own the darker feelings you have.rnThe February Solar Eclipse in Pisces will nudge you into getting your personal finances into better shape. Being pro-active will bring results, while throwing money around to impress which will be a temptation won't. By the August Leo Eclipse, you'll be turning your mind to your closest relationship, aware that being more adaptable will be vital to the development of good feelings between you.rnSuccess will come from October onwards in your career and community activities with admiration and appreciation coming your way.