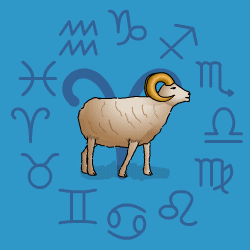 Aries
March 21 - April 20
---
Today's Horoscope for Monday September 25th
If there are delays, don't get discouraged. Just sound bright, breezy and bouncy, leave it for three or four days and hey presto it will all work itself out. Attitude of mind may be more important than anything else. Think positively and it will work. Persuade loved ones that you really can achieve more than they imagine. You know it just takes effort, paying attention to detail and all those boring things. You'll resist skimming along at top speed because you know that makes you careless.
The Weekly Outlook from 25th September
This week doors will open to show you opportunities. The only thing to be wary of is assuming that the good luck will last forever. Your romantic life may feel more ethereal, so you are cruising along in good style. Astrologers always say that Neptune misleads because it makes you see companions better than they are. Life through a soft focus lens. But do you need to see all the flaws? Enjoy your vision while it lasts.
Your Monthly Horoscope for September
There will be some fun, flirting and dancing until the 20th with romantic Venus in flamboyant Leo. But otherwise it'll be work, work, work. Never your most glamourous month of the year, you'll be applying yourself with vigour to tasks in hand. At times you may resent not getting more appreciation for your efforts but you can always take pride in what you're doing for its own sake. Remembering to put as much energy into staying fit will also help since you'll need to boost your stamina. Early on your attention will wander but then you'll get into perfectionist gear determined only you are capable to doing everything well. Try to delegate otherwise you'll end up over-stretched. There may be differences of opinion or delays towards mid month, so be patient and listen to feedback. In the final days partners will leap in with a helping hand, so with more cooperation you move faster. Ignore any mistakes, since what may seem like a failure initially will suddenly turn into an opportunity.
and Next Month's Horoscope for October
Just when you should be swinging along amiably hand in hand with close partners, you'll be landed with problems at work or obstacles to overcome. Until mid-month you'll need to be persistent, self-disciplined and just keep pushing on. Looking after health and fitness will be important so don't over-do work or anything else. And avoid getting into no-win discussions until the 12th since they'll be a waste of energy. Jupiter then changes sign for the first time in twelve months bringing better luck with joint finances over the coming year. Even better you'll find you leave the past behind more easily than you expect, and open up to new levels of intimacy. The love and affection of your significant other will be there more obviously from the 14th for a few weeks, and you'll be in social demand as well. In the final days you'll be less drained by chores, getting more help and be blessed by a stroke of good fortune.
2017 Year Ahead
There'll be more adventure around in 2017 to keep you bouncing, and much of the uncertainty of last year will be fading away. The tremendous upheavals of the past four years will also be calming down. You'll still be pushing determinedly to find a better direction for yourself in your career and life in general. And your wonderfully resilient rubber-ball quality will come handy when certain ideas or projects don't work and you leap into trying again with the next grand scheme. Close partners at work and at home will be there for you with support and high hopes. Their advice may veer to the over optimistic at times but they'll do your morale good. Any relationships which have past their sell-by date and where you don't see a future, will be quietly dropped with no fuss or regret. The Pisces Eclipse in late February is a hint to step back, gain perspective on the past and give yourself time to reflect. By August you'll be ready to promote yourself more vigorously. Not that you'll be a social wall flower. Since Venus in your own sign in February, March and May will surround you with admirers. In the final three months you'll be into a year-long phase of positive change, financially and emotionally. Money will come in with less effort from joint ventures, or unexpected wins, bonuses, inheritances. You'll be dropping your defences and moving closer to the important people in your life. Overall you'll have more confidence to push for what you want and mix the best of the old with the best of the new.