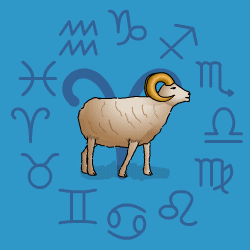 Aries
March 21 - April 20
---
Today's Horoscope for Saturday November 25th
There will be a feeling of relief or release, because you're pulling yourself away from old restrictions, whether it's difficult relationships or attitudes of mind that have been sticking you in the same place. You may be restless, even impatient, but will certainly be having fun. Then suddenly you will have a bolt from the blue that finally gives you the solution to some problem that's been niggling at you for quite a long time.
The Weekly Outlook from 20th November
You may be quite obsessed about your love life. You want more passion, or something rather unusual. Anything frankly which gets you away from the everyday routines. You definitely want to have more depth in the relationships you've got. Or you'll be looking for others in which you can really consume yourself. Because you come across as confident and honest, you will be a popular companion at work and in your leisure activities.
Your Monthly Horoscope for November
Not normally your favourite month of the year, you'll be more enthusiastic and optimistic this time round. The intense, emotional and secretive Scorpio Sun isn't your cup of tea but with expansive Jupiter close by, you'll sense that the universe is in a generous mood where you are concerned. Close relationships and joint finances will flourish in coming months so you'll be secure and snuggling up closer. Close partners will be firing on all cylinders, argumentative at times so you'll need to stay calm and be as co-operative as possible. You may exaggerate a few situations, being either wildly for them, or just as vehemently against. So try to tone down your reactions or discuss decisions with those close before acting impulsively. Just after mid-month, be prepared to duck and wait out a tricky dilemma. Being confrontational won't bring results. In the final week you'll be aiming higher, looking for adventure and finding stimulating companions.
and Next Month's Horoscope for December
A lively start to the month will see you wanting to throw everything up in the air and march off to do your own thing. Just don't expect close partners to be quiet. They'll speak their minds forcefully and neither of you will be happy to compromise. Luckily by the 3rd Neptune will be around pouring soothing balm on agitated nerves and smoothing over rough edges. Luckily your adventurous spirit will be to the fore so you'll be exploring new social venues and mixing with the fun crowd when you can. Though in quiet moments after the 8th you'll be pushing hard behind the scenes trying to resolve highly personal and financial dilemmas. Don't expect quick or easy answers. Be persistent and flexible. A significant shift comes on the 20th when Saturn moves into Capricorn, its' first sign change in over two years. Until 2020 you'll be working harder, taking on more responsibilities and getting better organised. You'll be invited out to special social occasions in the final few days and be putting on a sophisticated and charming performance.
2017 Year Ahead
There'll be more adventure around in 2017 to keep you bouncing, and much of the uncertainty of last year will be fading away. The tremendous upheavals of the past four years will also be calming down. You'll still be pushing determinedly to find a better direction for yourself in your career and life in general. And your wonderfully resilient rubber-ball quality will come handy when certain ideas or projects don't work and you leap into trying again with the next grand scheme. Close partners at work and at home will be there for you with support and high hopes. Their advice may veer to the over optimistic at times but they'll do your morale good. Any relationships which have past their sell-by date and where you don't see a future, will be quietly dropped with no fuss or regret. The Pisces Eclipse in late February is a hint to step back, gain perspective on the past and give yourself time to reflect. By August you'll be ready to promote yourself more vigorously. Not that you'll be a social wall flower. Since Venus in your own sign in February, March and May will surround you with admirers. In the final three months you'll be into a year-long phase of positive change, financially and emotionally. Money will come in with less effort from joint ventures, or unexpected wins, bonuses, inheritances. You'll be dropping your defences and moving closer to the important people in your life. Overall you'll have more confidence to push for what you want and mix the best of the old with the best of the new.