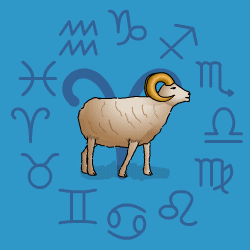 Aries
March 21 - April 20
---
Today's Horoscope for Sunday June 24th
You may be taking other people's comment too personally. You are more sensitive and moody than usual, so you'll want to retreat into your shell if arguments flare up where you feel your views are being personally attacked. You may be feeling bored with practical concerns now and want to withdraw slightly. You'll be asking yourself deep questions about the meaning and purpose of your life. The real answers may lie away from the physical world and in reaching instead for more spiritual beliefs.
The Weekly Outlook from 18th June
You yearn to feel rooted in a familiar place and with the people who make you feel most relaxed. You also now have a chance to improve your intimate surroundings. What you want is a beautiful home with an atmosphere of elegance and comfort. All you really want is to make that special someone in your life happy. You're feeling very lively so you have the courage to go off and do all sorts of things you haven't been able to do before.
Your Monthly Horoscope for June
A non-stop go first three weeks will find you chatting constantly and running in all directions. Boredom won't get a look in but you'll need to be well organised, write out to-do lists, otherwise you'll end up going in circles and getting in a muddle. Your wits will be sharp and your tongue sharper at points so try to tone down jokes at others' expense. One close partner will be prepared t give as good as they get, so be warned. Luckily there'll be chances to wind down and cuddle up close at home until the 13th. And you'll be planning to spruce up the decoration at home. Just don't get ahead of yourself with grand schemes and ambitions since the 7th may see a minor slump when you can't be bothered and nothing works out as you expect. Your social life will bounce into an enthusiastic few weeks from mid month with invitations and compliments coming your way and loved ones rally round to give you attention. In the final ten days you'll want to spend more time in familiar surroundings and cut down on too much rattling around.
and Next Month's Horoscope for July
Normally a hyper-active sign, for once you'll want to anchor yourself down at home, to relax, indulge and have heart-to-hearts chats with loved ones. The Eclipsed Cancer Sun mid-month makes this a key moment for family and domestic matters as you ask yourself what changes you want to put in place emotionally or practically to give yourself more satisfaction in the time ahead. Ask for what you need. Good news on the cash front early on will allow you to expand certain plans and give you peace of mind. Friends will be dynamic, at times argumentative, but you'll rarely be bored when you're in their company. Although you'll want to push aside outer ambitions at work and elsewhere for a few weeks you'll still need to sort out one tangle towards the 12th. With Venus in Virgo from the 10th onwards you'll be happy to help out for the remainder of the month and take pride in what you achieve for its own sake. A more social phase in the final ten days will find you in exuberant form though also more competitive.
Year Ahead 2018
Home, friends and romance are all areas highlighted by 2018's Solar Eclipses so will be your priority. Review, discuss and adjust what isn't suiting you any longer. Happily Jupiter moving through Scorpio will allow you to embrace change in a positive way, with beneficial results, emotionally and financially. Money will come in unexpectedly and you'll let your defences down to allow for more intimacy. Though towards midyear you'll find your finances move into a roller coaster phase, both up and down, so you'll need to budget sensibly.rnIn your career or community activities you may be weighed down by work and responsibilities so will be sticking to the straight and narrow. Everything you've pushed and prepared for should be bringing in a harvest. Though past mistakes may also surface to be sorted out.rnIn the first few months you'll be widening your circle of friends and sorting out longer term plans. With a major push from March onwards to move towards your goals and fulfil your ambitions. It'll feel like pushing boulders uphill at points but perseverance will win through.rnThen from midyear you'll want to slow down to focus on family and domestic matters and to liven up your social life. It won't be easy juggling close relationships and duties in the outside world. But needs must for a fulfilling life. From November you'll be aiming higher, keen to broaden your horizons and find time for adventures or more stimulating hobbies.